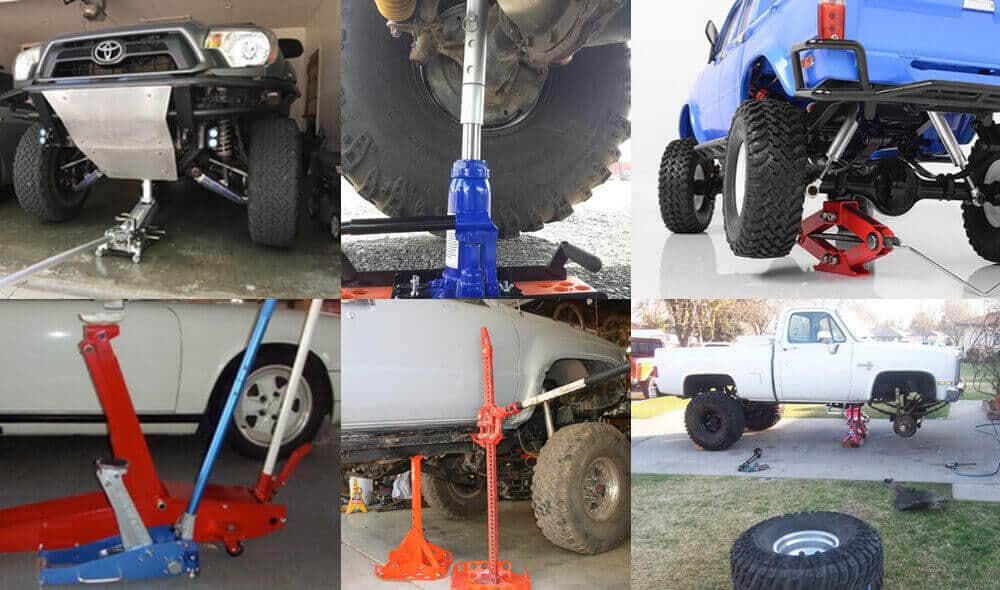 A lifted truck, of course, will be 3-inch taller than the standard pickup. As such, you will need a jack that can handle that extra height. However, most standard jacks are only capable of 18 inches lift. Hence, it will often not suffice to deal with the higher suspension lift of the lifted truck.
Imagine one of the tires of your lifted truck goes flat, and when you are about to replace the flat tire, you discover that you have only a standard jack at hand. Your frustration would indeed shoot up to a record high, knowing that the standard jack would not suffice to jack up your truck.
For example, if your vehicle comes with a leaf spring suspension, you might as well have a jack that can handle that additional height. You will need a jack that goes up to 20 inches high or more. So, before even considering buying your lift kit, you might as well shop around for a specialized jack designed for handling that extra height.
---
Best Floor Jacks for Lifted Trucks
Floor jacks are the most common jack type in the market today, and it is often used for repairs and maintenance. There are myriads of floor jack's brands and models in the market today. Hence, choosing the right one becomes a bit challenging for first-timers. To facilitate the choosing process for you, you can check out the following floor jacks most recommended by experts:
COOKE Pro Eagle 3 Ton Big Wheel Hydraulic Off-road Jack
The COOKE Pro Eagle "Kratos" is ideal for extreme vehicles or race trucks. This jack was awarded the best new off-road jack at SEMA, and it won this award for a good reason. This jack is a well-tested jack by experts, including drivers, shop- owners, and racers. It is best for off-road usage. It also comes with many key features that make it a worth-buying tool.
The COOKE Pro Eagle 3 Ton is a very sensitive jack. When you make a small release of its handle, the truck will drop more quickly than the slow-drop down by other jacks. This feature is due to its having a combination of new hydraulics. Hence, don't be shocked by its responsiveness.
The COOKE Pro also features heavy-duty composite wheels that are non-pneumatic and come with sealed ball bearings on each its wheels. It also features solid steel axles along with its all-aluminum construction.
Compared to the Powerbuilt 620422E, it is lighter and more portable at 60lbs. It also features an 8″ extension and a 13″ upgrade. Moreover, it comes with off-road mounts.
The Pro Eagle 3 ton will provide more lifting power. With its extension, this jack is perfect for lifted trucks. But the most obvious benefit of this jack is its capability to glide over any rough path or surface.
---
Powerbuilt 620422E Heavy Duty 4000 lb Triple Lift Jack
If you want to get a reliable and heavy-duty jack, you should consider the Powerbuilt 620422E. The Powerbuilt 620422E is a versatile jack for workshops' and lifted trucks' owners. It comes with a patented design that incorporates the padded lift rails along with a removable lift saddle. These two features make this jack a powerful and versatile tool. You can use it for specialty vehicles, especially with lifted trucks.
The Powerbuilt 620422E has a lift capacity of 4000 pounds, making it a reliable jack. Moreover, it is ruggedly built, which makes it last longer than other jacks. It also comes with the necessary safety features that include a broad base for more excellent stability and tie-down points.
Besides, it comes with a locking bar for keeping the jack in place once it has already lifted the vehicle. Its weight, of course, is a hefty 85 pounds, which is not perfect for portability. However, it also features a set of wheels that cancels out its non-portability issue.
---
Sunex 1410 10-Ton, High Height, Pin Type, Jack Stands
The Sunex 1410 Jack stands come in pairs for supporting trailers, trucks, and equipment. It features a four-legged steel base with a support tube. This support tube is made of a heavy schedule pipe for extra stability and strength.
The support tube has holes in multiple locations for facilitating pin height adjustment. You can attach the height adjustment pin to the stand to prevent any loss. Moreover, it also features a broad saddle together with locating lugs support while positioning the vehicle frame.
The Sunex 1410 Jack Stands is designed for holding up to 10 tons. Nevertheless, it is engineered for taller usage than other jacks. It comes with a minimum height of 28 inches. Hence, you will surely not use this pair of jacks for smaller cars.
The Sunex 1410 Jack Stands is designed for holding up to 10 tons. Nevertheless, it is engineered for taller usage than other jacks. It comes with a minimum height of 28 inches. Hence, you will surely not use this pair of jacks for smaller cars.
When it comes to stability, this pair of jacks proves to be highly stable with legs made of heavy schedule pipe. These jacks do not rely on a latch but use a pin to insert into the center hole for consistent support.
One downside of the use of these pair of jacks is its larger footprints. Yet, this pair of jacks is reliable, especially if you don't have a vehicle lift.
---
XtremepowerUS 8 Ton Air/Hydraulic Long Ram Jack Piston Ram 8-Ton
The XtremepowerUS 8 Ton is another excellent option that you can use for engine hoists, cranes, and many other usages. Using this jack, you can quickly raise more oversized loads without exerting more significant effort on your part.
The XtremepowerUS 8 Ton comes with a hydraulic cylinder that lets lower oil pressure to raise a vehicle. With its hydraulic design, it can reduce its wear, extending the overall life of the unit.
High-quality oil powers its hydraulic cylinder, giving it better resistance to rusting. It also lets the unit handle the vicissitudes of temperature from 105 degrees down to 40 degrees.
The good thing about this jack is that it offers a dual-function option. This dual-function option lets you choose between pneumatic operation and manual operation. This gives you more versatility in its use. Lastly, XtremepowerUS 8 Ton is made of high-grade steel and built according to high standards for more outstanding durability and quality.
---
Hi-Lift Jack HL484 48″ Hi-Lift Black Cast and Steel Jack
It's the most portable jack for lifted trucks and can be used on any ground conditions. The Hi-Lift Jack HL484 features a versatile, rugged jack with the ability to perform various heavy-duty tasks efficiently. It is a cast and steel jack that comes with four high strength and stamped steel parts. This jack is less expensive than other jacks. Nevertheless, it shows high-quality.
Hi-Lift Jack HL484 has a tested capacity of 7,000 lbs. It also features 4660 rated capacity. Despite its relatively light construction, it has a high rated capacity. However, its tested load capacity is 7000 pounds, which is enough for lifting most models of lifted trucks.
Another noteworthy feature of this jack is its two-piece handle design that reduces the bending risk under pressure, which is a frequent issue in most mechanical jacks with a single handle.
It is also very safe to use and is equipped with a shear bolt for preventing the jack from loading more than it can bear. Of course, it is perfect for use in your lifted truck, and you'll be impressed with its performance.
---
Conclusion
With its large axles and wheels, the lifted truck will be 3 inches taller than the standard pickup. Thus, the standard jack will never be able to handle the lifted truck well. You will need a jack that can handle the extra height of the lifted truck; moreover, you will need a heavy-duty hydraulic jack with 2 to 15 tons capacity. This heavy-duty hydraulic jack can take the load and ensure that you are safe when working on your lifted truck.
Just imagine if you are not using a heavy-duty jack, the jack may wobble under intense load, and your safety will be compromised. Hence, it will help if you choose a jack with the qualities mentioned above to ensure that it can handle the task and secure your safety while working on your lifted truck.
Other Top-rated High-Lift Floor Jack for Trucks
Buyer's Guide: How To Choose The Right Jacks for Lifted Trucks
Whether you are driving an SUV or a 4×4 off-road truck, you should have the correct jack stand for lifting it in case of an emergency; moreover, the lifting must be done safely. It will help to consider the following essential factors to consider when buying a jack for your lifted truck:
Lift Capacity
Jacks are incredibly safe to use and reliable if you use them correctly and use the right one for your vehicle's weight. Jack stands come in different types. They are also categorized according to weight capacity and height. The jack stand's weight capacity is expressed in tons.
The ideal weight of a jack stand is 3/4 of the given load. If the load is 4 tons, the jack should have a lift capacity of 3 tons. Moreover, the jack stand should have a robust structural strength. Otherwise, it will collapse under the suspended load's weight, and such an incident might be fatal. So, ensure that you get the jack stand with the most appropriate lift-capacity.
Adjustable Height
Lifted trucks usually have four distinct lift points. If it is a Hi-lift farm style jack, you need to lift from the bumper. Thus, you need to measure the bumper's distance to the ground to get a good idea of the minimum lift requirement.
Remember, most suspension systems necessitate an extra 3-4 inches of lift capacity to lift the wheels off the ground. Hence, it will be best to get a jack that can provide about 4 inches of lift, including the height measurement of the ground's distance to the jack insertion.
With the right jack, you can raise the axles of your lifted truck to the desired height. The jack stand's style determines the level of saddle's adjustability. Besides, knowing the length between the jack insertion point and the ground will help you determine the minimum distance required for lifting loads.
Structure Strength
Jack stands come in many types of materials and made. Many heavy-duty jack stands are wrought in forged iron or heavy-gauge steel materials. However, your choice of a manufacturer may play a crucial role in the type of jack stands you will have.
You will find jacks with aluminum frames. Of course, aluminum jacks come with lesser weights. Moreover, they resist more the onset of corrosion, compared to forged-steel jacks. Nevertheless, if you opt for pin-type or ratchet jack stands, it will help if you go for steel materials, given the more tensile strength of steel.
Lifting Speed
Another factor to consider when choosing a jack is the lifting speed. Some jacks like that of the hydraulic jack are often tiring and frustrating to use. You will need to make repeated movements to lift the saddle, which is quite frustrating for many. Moreover, it is cumbersome to use.
Hence, when buying a jack for your lifted truck, you need to look for something that comes with quick adjustment mechanisms. Go for something with ratchet bars for superior lifting strength to let the saddle bars effortlessly reach the desired height.