June 7, 2023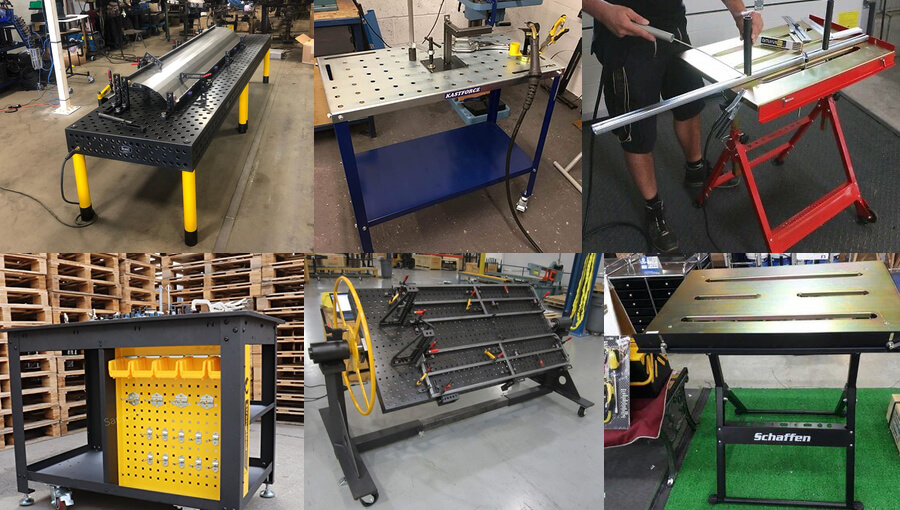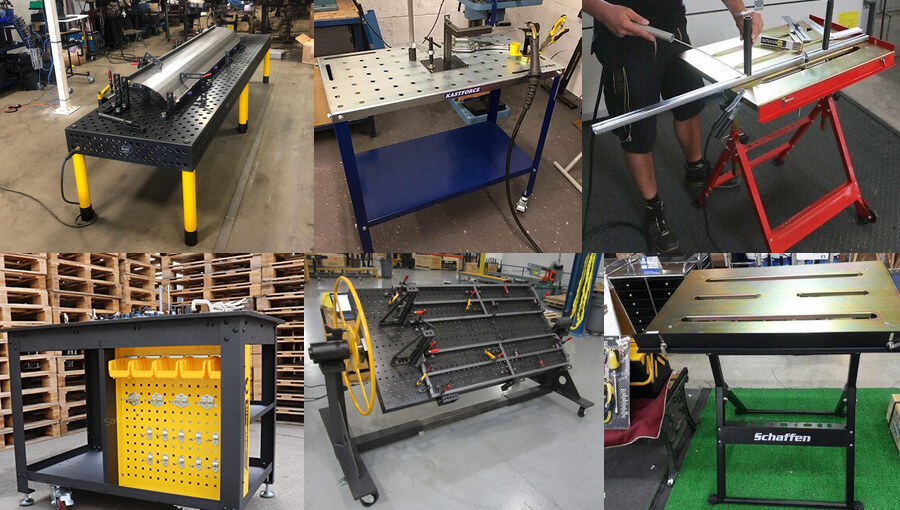 Imagine you've been welding for several hours, and your body is sweaty and enervated from being in the same position for a long time. You shift position, but you still feel some pain in your back. You want to take a break, but you need to finish your work quickly. So, you plod on, not thinking that you will surely experience soreness in many parts of your body afterward. You can avoid such a predicament, however, if you would only use a quality welding table.
With a quality welding table at hand, you won't be forced to crawl around and assume an unhealthy posture while welding. You would also not need to kneel for long hours just to reach out to your materials and equipment. Moreover, with a quality welding table, you can efficiently breeze through any welding project without having a sore and bruised body afterward.
Steel welding table, aside from being a non-fire hazard, lets you easily attach your work clamp to it. The sturdy surface of steel welding table likewise provides you with a strong flat surface to work on. It also lets you organize your tools and workpieces on the table in such a way that the cable and the work clamp are positioned far from your welding tools. Lastly, you can easily sport various comfortable positions while welding with the steel welding table at hand, and you can properly position at the right place and height the smaller pieces of metal that must be welded together.
Best Welding Tables In The Market Today
Whether it be a career or a sparking passion, welding requires a good, stable welding table to in order to ensure a perfect weld safely and comfortably. There are different kinds of welding tables meeting various requirements. So before making a decision, on the one that perfectly suits your needs, whether it is table portability or the right welding table kit, take a look at this summary of necessary welding table information and things to consider, when investing in the perfect work surface for your welding projects.
1) BuildPro Welding Table by StrongHand Tools 
You should check out the BuildPro Welding Table by StrongHand Tools if you're looking for an industrial-grade welding table. This table is engineered for a fabrication shop that sees many workloads. This table is wrought in welded steel that comes with leveling legs that you can adjust. Moreover, its top offers a working space for precision. Its tabletop is about 5/8″ thick made of steel plates attached to four robust steel beams.
You can reset the plates wider to expand the table. The top plates also come with 5/8″ holes aligned in a grid pattern (2-inch apart). You will find the plates of this table about 1-3/4″ apart. Thus, these plates form slots, providing you enough gripping edges for your materials.
You will also find holes drilled onto the plates' ends, allowing you to attach BuildPro's fixtures anywhere on the tabletop. This table, of course, will provide you with enough flexibility for almost unlimited fixtures. Thus, you can maximize the use of the many modular fixtures of BuildPro to create a production line that fits your space.
Pros:
It offers a working space for precision working.
It comes with advanced fixturing sets.
You can adjust its top plates to expand its working surface.
It comes with leveling feet.
It is sturdy, being made of robust steel.
Cons:
It is expensive. 
It is pretty heavy.
---
2) Miller 951413 60SX Arcstation Fully Loaded
A larger, more robust, and fully equipped version of the ArcStation, the Miller's ArcStation Fully Loaded is built to withstand up to 1000 pounds. Making it the ultimate welding table for hefty, complex projects. The tabletop is made of steel with the left section consisting of x-pattern clamp slots, about 3/16-inch thick and the right side being about 3/8 inch thick.
Some of the features of this time-saving supporter include ball-bearing drawers, a vice that is easy to move about. Ease of movement is made possible due to the hollow tubing of the table, interior and exterior shelving, a tool rack and welding gun holster (see full specs). Moreover, it is easily portable thanks to included casters. Once in place and secured, it is effortlessly stabilized and leveled with the help of adjustable feet.
If you´re looking for an affordable, quality work surface designed to increase welding efficiency, this is the table that fits the bill. This table will save time as well as money while working on any welding project.
---
3) Strong Hand Tools Fixture Point Welding Table and Tools Kit
Strong Hand Tools Fixture Point Welding Table is a special fixture point table by Strong Hand Tools designed to make it easy to set up fixturing components. This 82-pound sturdy table with a steel alloy table frame provides maximum stability, longevity, and comfort while supporting your welding fixtures. It features a 28-piece startup component and clamp toolkit that can be used with square stock. The 36" long x 24" wide and 4 mm thick tabletop surface offers total fixture set up flexibility. This is due to 16 mm holes spaced in a 2" x 2" grid pattern where you can insert Fixture Point Clamps and Components at any point across the table surface. The table can be used with or without the adjustable leg frame, making the tabletop height alterable between 34" with the leg frame down to 6-1/4" without it, offering maximal working comfort as a result.
If you are looking for one of the most accommodating and best-rated welding tables guaranteed to enhance your welding experience, this may be a perfect choice.
---
4) Strong Hand Tools Nomad Welding Table
Extremely portable and flexible, the Strong Hand Tools Nomad Welding table is suitable for just about any type of welding. Whether it be spare time projects or complex, professional work, this 44-pound light table with only two wheels has a 20×30 inches surface area comprised of a foldable body, which makes it easy to move around and store. Despite its small size compared to some of the other welding tables, it features a special extender which allows you to join several tables — creating up to a total of 12.5 square feet of working surface.
The strong, 14-gauge thick tabletop is intended for lightweight work, supporting up to 350 pounds. It can be rotated forward and backward up to 35 degrees, making it especially suitable for positionally challenging welding work. This will allow you more flexibility in reaching tight spaces. It also features three horizontal slots with which you can easily clamp and secure objects. As well as retractable guide rails that give additional support and help secure your projects.
Additionally, this it has extendable legs, making it possible to adjust the table to your preferred height. Available at a great price, this table exceeds basic welding requirements. It offers a flexible area to perform complicated welding jobs involving high precision safely and comfortably.
---
5) Welding Station by Miller Electric
This welding station has a large working surface of 29 inches by 58 inches. It also comes with a maximum carrying capacity of 1,000 pounds. This welding table is perfect for stationary and industrial applications. It also comes with several excellent features to make your work easy.
Half of this table comes with slots arranged in an x pattern. Thus, you can clamp down multiple fixtures onto it. It also comes with a dust tray for reducing clean-up afterward. Moreover, it comes with a durable frame that features a crossbar design. Besides, it is pretty durable, as vouched by several of its users.
Pros:
It offers a large working surface.
It comes with an X-pattern slot arrangement for clamping.
It is durable.
It has a high carrying capacity of 1,000 pounds.
Cons:
---
6) Rhino Cart
Rhino Cart basically comes with everything your clamping table would need. The Rhino, of course, is undoubtedly one of the most durable tables in the market today. With its excellent quality, it is undoubtedly an expensive option and costlier than other options.
As a specialized welding table, you can use it for any big welding project. Moreover, it has a working surface designed for precision working. It will definitely let you achieve the setup you would love to have. Moreover, it has a carrying capacity of around 1,500lbs and comes with durable caster wheels. These wheels allow you to roll the table around to where you can conveniently work.
Pros:
It provides a sizeable working surface.
It comes with multiple clamping pieces.
It has a high loading capacity.
It comes with 63 clamping holes.
Its caster wheels allow for better movement.
It is durable.
Cons:
It is expensive. 
It is quite heavy at 500 pounds.
---
7) ArcStation Workbench by Miller Electric
Another welding table offering by Miller Electric is the ArcStation Workbench. This one is a more expensive option, but it is almost like the welding table of Strong Hand Tools. It features stable legs. With its sturdy legs, it can carry a heavier load. Nevertheless, it sacrifices a bit of portability for stability and higher carrying capacity.
You would surely love the slots that come with this table. These slots are configured well and come in X shape arrangement instead of parallel lines. It is, however, a bit sturdier than the Nomad table of Strong Hand Tools.
This welding table does away with the clamping and locking devices. It is around forty-eight inches high when folded and approximately thirty-five inches tall when unfolded. Besides, its overall depth is around six inches. Moreover, its load capacity is about five hundred pounds.
Pros:
It offers a better working height.
It is very stable.
It comes with clamping slots, and it is of high quality.
Cons:
It is affordable. 
It doesn't come with clamps.
---
8) Champ Welding Table
If you are looking for a convenient table on which you actualize your welding activities, you should check out the Champ Welding Table. With the use of this table, you can weld small components together with ease. It is tall and can come in handy if you want to meticulously weld small components.
However, if you are used to working on quality welding tables with many fixture points, you may get disappointed with this table. It doesn't come with fixture points that you can see in other welding tables. Yet, you will find its torch loop handy.
The Champ Welding Table also doesn't come with sufficient room for huge projects. It also doesn't come with height adjustments. However, it is within the affordable range.
Pros:
It is inexpensive.
It is high at 37.5 inches.
It allows you to work on it 360 degrees.
It comes with caster wheels.
Cons:
It lacks fixture points.
It is unstable. 
It doesn't provide enough diversity and flexibility.
---
9) Dewalt Portable Steel Welding Table
The Dewalt portable welding table comes with a rectangular top lined with holes. It is 18 by 46 inches in surface area and is made of durable steel. Moreover, it has a carrying capacity of 1,000 pounds. Its legs are foldable for easy storage. Plus, it comes with a double lock system. You can use it with extended legs. You can also adjust its height by an inch increment up to thirty-six inches.
This portable welding table weighs around forty pounds, and it comes with a handle for easy portability. It also has a tool ring in one end for holding the torch and other tools. Additionally, it comes with a grounding stud. Nevertheless, this grounding stud, along with a tool ring, may interfere with the storage process. It also comes with a huge sticker covering the table that takes time to do away with.
Pros:
It comes with foldable legs.
It has a grounding stud.
It also comes with a tool ring.
It is portable.
Cons:
Its tool ring and grounding stud interferes with the storage process.
It comes with a giant sticker.
---
10) Hobart 770786
The Hobart 770786 is wrought in quality steel, and welded base and legs bolster its weight. You can fold it quickly, and it is pretty easy to store away, given its awesome portability. It is around thirty-five inches long and nineteen-and-a-half inches wide. It also weighs approximately 47.5 pounds.
Hobart 770786 can support a maximum weight of 350 pounds. Moreover, you won't need to assemble it for it is already assembled. Its top is corrosion resistant. Plus, it comes with a 30-day return policy.
Pros:
It needs no assembling.
It is foldable and portable.
It is budget-friendly.
It has a solid construction.
Cons:
Its quality may be a bit questionable.
It is only suited for small-scale projects.
---
Buyer's Guide: Factors to Consider When Purchasing a Welding Table
As you search the market for the best welding table, you may get surprised by the fact that the market is awash with myriads of welding tables. This fact makes it more confusing for you to select the best welding table for your needs. But if you know the following factors to consider when buying a welding table, you can quickly narrow down your options to the best options:
Table Size
When it comes to choosing a welding table, you got a variety of welding table sizes to choose from. Welding tables may be as small as thirty square inches to more than 100 square inches surface area. In-between, there are many size options. Welding tables, moreover, may be taller than ordinary tables. The heights of most welding tables may range between 25 inches and 40 inches. Besides, they may come with adjustable height.
When choosing a table, it is better to go for a table with a larger working surface. Moreover, it will help if you figure out first the space allotted for the welding table. With a larger table, you can keep your materials off the floor and comfortably move around your table to weld different parts of the projects. Nevertheless, if you have limited space, you will need a smaller table to give you enough elbow room to move around.
Usage
When you weld, you can use various materials with different shapes and sizes. You will also find various types of welding equipment and rods. Moreover, you will have multiple welding projects that may be small or big. So, when buying a welding table, it will be best to consider the applications and usage of the table.
What you would often do on that table should be a foremost consideration. Bearing this in mind, you will be better positioned to choose the right welding table for your needs. If you have multiple projects, for example, you might as well opt for a broader table that comes with various features. It should also be of excellent quality if you will use it for heavy projects.
Price Range & Budget
Since welding tables come in various designs and features, you will also discover that the welding table price range is from $100 to $1,000 or more. You will find at the higher end of the price spectrum welding tables that offer value in form and come with multiple functionalities.
Moreover, the surface of these welding tables can support both welding and plasma cutting, as well as grinding projects. They also come with add-on storage spaces for welding equipment, tools, and protective clothing. Such a bench-type table may also come with a welding gun holder for extra convenience.
You will also find these high-end welding tables perfect for industrial applications. They have high load ratings and are designed for heavy and more demanding welding jobs.
You will also find welding tables with prices under $500. These welding tables are perfect for use by DIYers and work well for smaller applications. Welding tables within this price range provide easy storage, portability, and minimal working space. Yet, many of them are also of excellent quality and durability. They may come at a relatively low price, but they may provide you good value for your money for several years.
Safety
Welding is such a risky job. So, if ever you would purchase a welding table, it will be helpful to opt for something that has more safety features. You can go for a metal table, for example, because it is less fire risky. With this welding table, you can attach your clamp to the workbench. This ensures that the parts on the worktop are connected electronically to the surface. Moreover, in this way, you can ensure that the cable and clamp aren't on your way while welding.
With an excellent working table, you can improve the safety level of your works. Besides, it prevents you from bending uncomfortably while engaged in welding. Hence, it lessens the risks of you developing body pains afterward.
Movement
When shopping around for a welding table, it will be best to choose a sturdy table—something thick and with structural integrity. So, when selecting, you should check the legs and see if they are very sturdy. Make sure that they stabilize the tabletop likewise.
The legs should keep the table from making too many movements. Moreover, you should ensure that the legs can bear the weight that you load onto the table.
Leveling
When working, it will be helpful to have a leveled table, for a level working surface is crucial to the accuracy of the results of your welding job. If your working surface is wobbly or not leveled, you will find it challenging to calibrate your measurements. You will also find it difficult to get suitable angle sizes. Beveling will also be a huge headache, leading to poor results.
Hence, you should go for a high-quality table that offers you a level working surface and more excellent stability. It should also have adjustable feet to keep the working surface level even if the table is standing on unlevel ground.
Portability and Versatility
When choosing a welding table, always go for something portable. If you would need to move around more often, it will be beneficial to have something that you can turn and move around. If possible, go for something compact and lightweight. Such characteristics will favor you when storing and moving your welding table around.
You should also invest in something with wheels for easy portability and transportability. In this way, you can easily push around your welding table from one place to another.
Motion Variation
When welding, you don't want to lifting your materials more often. You only want enough flexibility to move around your materials. Hence, you want your welding table choice to allow you to move around your materials 360 degrees. In this way, you will not need to be lifting the material around to gain the right welding angle.
If you can get a table that allows you more motion variations, you would feel fortunate as a welder. With significant motion variation, you can make cross and edge joints with ease.
Height
When welding, you would surely want to have a taller welding table suited for various types of welding applications. Taller tables help you avoid bending down more often. Moreover, it allows you a better view of your materials. Without bending much, you protect yourself from developing a sore back. Moreover, if you don't bend, you can stabilize your arms better, allowing you to weld with confidence and consistency.
It will also help if you have a welding table that has provisions for height adjustment. Using a table equipped with a height adjustment system, you can find the most comfortable height for your table while welding.
Location
When selecting a welding table, you should also consider where you will locate or position your welding table. If you have a large workshop, you can always go for a larger welding table. Moreover, you should consider whether you will be transporting your table more often from one point to another. In such a case, you would need a table with wheels.
You should also consider whether you will use your table for industrial purpose or only in your garage. If you would utilize it outside your house, you want it to be corrosion-free, something with powder-coating. Taking note of the location will help you make a wise decision when choosing a welding table.
Welding Screen
Another consideration is the availability of a welding screen. Some welding table comes with a welding screen feature that comes in handy in protecting your eyes from damage. Of course, you can buy this welding screen as a separate product. But if you can buy a welding table equipped with a welding screen, it will even be better.
Caster Wheels
I have been mentioning motion variation and movements before, and one way to provide your welding table with enough flexibility is by having caster wheels. Caster wheels come in contact with the ground and enable you to move the table from one place to another. These caster wheels should also have brakes. These caster wheels would help you move the table around. They should also be adjustable, meaning you can move them up when you want the table to stand on stable legs without wheels.
Heat and Electric Absorption and Dissipation
When welding, you usually create much heat, which produces molten metal and sparks. So, it will be better to find a welding table capable of absorbing all this heat and dissipating it. Such a table can help you reduce the risk of fire.
Moreover, your welding table should be made of materials that are capable of dissipating electricity. It should be capable of accommodating the ground lead, allowing you to clamp the materials onto the table. In this way, you will have a safe and productive place to work on.
Functionality and Features
When welding something, it is important that the materials that you are welding together are properly clamped down to the surface. Of course, there are various welding positions, and sometimes you will not have the luxury of using a welding table when welding. Yet, if you are using a welding table, you must clamp your materials down to prevent them from moving as you weld. Hence, when buying a welding table, make sure that it has a provision for "holding-down" clamps. It should likewise have rails on the sides that would be useful for storing and hanging clamps. The rails will provide you with a ready location for clamping your ground. The welding table should also have a welding gun holder attached to the table at 45-degree angle. This welding gun holder would provide you with a safe place to put your welding gun after every use.
Welding Table Dimensions
The dimensions of your welding table will surely be dependent on the workspace available in your workshop. Hence, before you zero in on a welding table, make sure that you know the exact space wherein you would position your welding table. You should also still have ample space to move around your welding table while welding, and for this reason, you should choose a welding table based on your available workspace. Moreover, you should choose a welding table with the proper height to allow you to work comfortably on it while standing or sitting on your welding stool.
Greater Mobility and Flexibility
When welding metals, it is of primary importance that you can move around your materials with ease and flexibility. For this reason, you should opt for a welding table that could also serve as a functional cart. Remember that more often you would be moving around heavy materials before, during, and after welding; hence, if you are working alone or with someone, you would surely need to lift heavy materials. With a movable welding table at hand that can readily serve as your welding cart, you can easily facilitate the moving of heavy materials from one place to another.
---
Should You Build or Buy a Welding Table?
There are basically two ways by which you can acquire your own welding table, i.e., you can either build your own welding table or buy one. If you are going to construct your own welding table, you definitely need time and effort in building it. Moreover, at the onset, you must create your own welding table design and have the necessary tools to realize that design. If your design is great and you follow it through, you'll surely end up with an awesome welding table. But if your design is defective at the onset and if you lack the skill to actualize your design, you may end up with a sub-standard welding table. Hence, in most instances, many welders usually opt for a ready-made welding table to spare themselves the hassles of building one.
On the other hand, if you are going to buy your own welding table, you need to consider several factors as guidelines to help you zero in on the right welding table. Some of these factors include the load capacity of the table, the strength of the table, the resistance level of the table against stroke impact, the quality of materials, the manufacturers, and many more. Furthermore, you may be limited in your choices by your budget, and if you have limited budget, you may end up buying something that is subpar with your expectations.
Conclusion
In conclusion, regardless of your individual needs, the most important factors to consider when buying a welding table are whether it is a safe and stable working space — subjecting you to a minimal risk of accidents. Moreover, the ideal welding table should be designed to give a steadfast performance long into the future.