June 7, 2023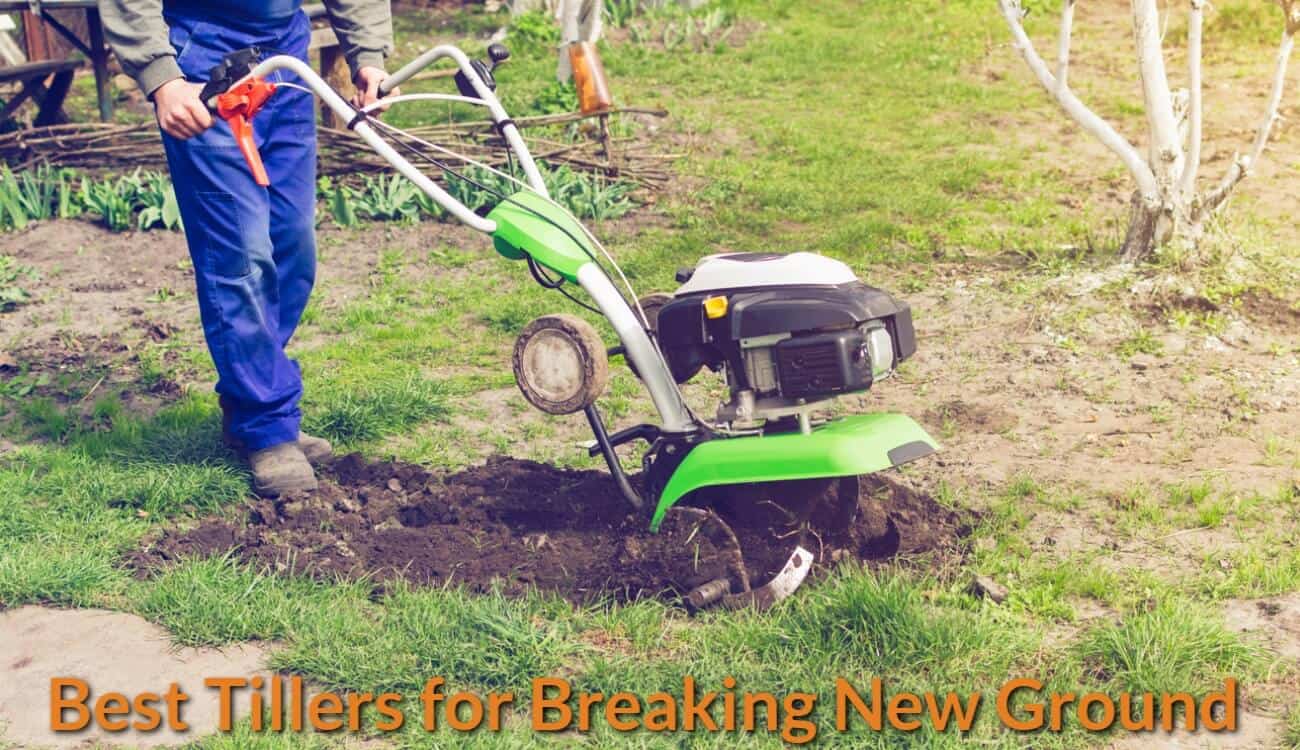 The cultivator is used chiefly to mix already loose soil, while a tiller is responsible for breaking up hard ground. So, basically, you will need both pieces of equipment when you start your own garden. Nevertheless, in this article, you will learn more about the essential factors to consider when selecting a tiller. Besides, as you read through this article, you will eventually get acquainted with the most recommended tillers by the experts for breaking new ground.
You can never cultivate healthy plants and vegetables in hard soil. This is because hard soil is very compact. You need to use rototilling to prepare the soil for cultivation. Well prepared ground allows the roots of the plants to move through the soil to find nutrients. And the job of cutting through hard soil is best achieved using a rototiller.
Rototillers can cut through difficult grounds, churn over the soil, and loosen up clods. They can thoroughly prepare the soil for cultivation. They can also mix in nutrients and improve the soil. Thus, at present, rototillers are indispensable implements in many farms around the world.
Most Popular and Highly Recommended Tillers on the Market For Breaking & Tilling New & Hard Ground
1) Champion 19-Inch Dual Rotating Rear Tine Tiller (Self-Propelled Agricultural Tires)
This is a versatile rear-tine tiller. It has a tilling width of 19 inches. It can dig up to 8 inches. It features a dual rotation tilling capability. This feature enables it to switch from forward to reverse movement easily. Thus, it is very maneuverable and easy to use. It is powered by a 212cc engine. This engine is powerful enough for heavy-duty works. It features a cast iron, a gear-driven transmission that is housed in a sturdy cast iron case.
It uses the 13-inch agricultural tires with the self-propelled function. Thus, it is capable of moving and cross over the uneven terrains more smoothly and quickly. It also comes with 13.8-inch tines that are made of hardened steel. These tines are capable of dual rotation tilling. If you're serious in having a good tiller at hand, you should take this Champion tiller into consideration too.
---
2) Husqvarna CRT900L
The Husqvarna CRT900L is definitely a good choice when it comes to equipment for tilling your garden. It features an easy-to-start mechanism. It also has a very reliable Briggs & Stratton engine. It also comes with a counterweight capability that allows the machine to enhance its functionalities. Using a counterweight, you can improve its stability, provide better balance when in operation, and increase the weight of its wheels. It also features counter-rotating tines. This feature is perfect for preparing the soil for cultivation and deep digging. You can also utilize its forward-and-reverse capabilities. Thus, it is highly maneuverable and offers fantastic control even for beginners.
The Husqvarna CRT900L has a 17-inch tilling width capability. Thus, it can get the job done faster than other tillers. It also comes with chevron tires that provide it with awesome traction on different terrains. It is known to be well-balanced, easy to drive, and very powerful. Thus, it is often considered as a wise choice.
It comes with seven-depth adjustments that allow for remarkable tilling versatility. It also features a reverse gearbox that improves maneuverability. Lastly, its 205cc offers an optimal capability to address heavy-duty tasks.
---
3) Southland SRTT196E Rear Tine Tiller
The Southland SRTT196E Rear-tine Tiller is capable of tackling even the most challenging terrain. This gas-powered tiller starts up easily via its simple, easy recoil start. It is also powered by its 196cc, 4-cycle, 9.6 foot-pounds OHV engine. With this powerful engine, it can easily pulverize the soil. Its tines measure 11 inches, and they are self-sharpening. These tines come with an 18-inch width tilling capability. It can tear through the ground up to 10 inches deep. It can also adjust the tilling depth of its tines since it comes with a depth regulator lever.
It features a gear-driven system that allows for both reverse and forward tilling. Its heavy-duty pneumatic tires can plow through any type of terrain. The Southland SRTT196E has tines that counter-rotate. This feature enables it to break ground quickly. As mentioned above, its tines are self-sharpening. Thus, you don't need to worry about its tines becoming dull. The Southland Rear-tine tiller is undoubtedly a wise and great choice if you intend to buy a tiller.
---
4) Poulan Pro PPCRT17
The Poulan Pro PPCRT17 features 13-inch counter-rotating tines that make it easy for its users to operate. You can use this tiller for both small and large tilling tasks. It has the power to break hard uncultivated soil. It is powerful and is reliable. It is designed for making heavy works easy. It can tear through compacted and clay-like soil and uproot roots underground.
It is equipped with a powerful LCT overhead valve engine. This type of engine is designed to run more efficiently for many years. It also features adjustable split loop handles that make movement and maneuverability comfortable and relaxed. It also features an adjustable depth stake that enables users to control the depth of tilling and its speed. It likewise comes with a two-year limited warranty.
The Poulan Pro PPCRT17 has a solid construction. Its powerful engine complements this solid construction. Hence, it is perfect for different heavy-duty tasks. It also comes with a heftier price tag. But its price is commensurate to its excellent functionalities.
---
5) Mantis 7920 2-Cycle Tiller Cultivator
The Mantis 7920 Tiller Cultivator is said to be the lightest tiller at hand. It weighs barely 20 lbs. However, it is a heavy worker. It is also heavy-duty. It features a 3-speed 540W motor that makes it one of the most popular garden tillers. However, feedbacks from consumers indicate that this tiller is not suited for tilling new grounds. Hence, if you intend to till hard soils, you should relent from buying this one. On the plus side, it can surely do precision weeding aside from tilling the ground.
It can definitely dig, till, cultivate. It can be durable, and it comes with a five-year consumer warranty. It is powered by its 2-cycle commercial engine that is set over the tines for maximum digging and rototilling power. It is also perfect for tilling raised beds and small gardens. It can dig up to 10″ deep and is capable of 9″ tilling width. It features soft flared grips for convenient operation. It also has a built-in carry handle for convenient lifting. It also has folding handles for easy storage and transport.
---
6) YARDMAX YT5328
The YARDMAX YT5328 is a powerful yet compact tiller. It features front tines that are self-propelled. Its engine propels the transmission and rotates its tines at a remarkable 180 rpm. This rotation is quite fast to break up ground and dirt. Its engine complies with the standards of CARB, and for this reason, the fuel it burns does not produce many pollutants.
Its operator's manual indicates that its engine is a 97cc, though it is described as having a 98cc engine on some online platforms. This tiller is only ninety-five pounds and comes with tines that you can remove. Plus, it features a tilling width that you can adjust (11,18,& 21 inches).
You can quickly adjust its tilling depths from seven inches to eleven inches. With its maximum tilling depth of eleven, you can use it to dig deep holes for tree planting. It is also capable of sharp turns, and it can double up as a cultivator. Besides, a corrosion-resistant (steel) cover also shields its tines.
Pros:
It is easy to set up.
It is also easy to operate.
It can tackle even the hardest soil.
Cons:
Its oil filter cap is at an off-position.
The tine shield features sharp corners that could have been a bit rounded bit. Moreover, the shield is not adjustable.
---
7) Tazz 35310
This tiller is a front-tined tiller that you can transform into a cultivator by removing the outer tines as well as the side shields. However, as a tiller, this equipment can break up ground pretty well.
It is equipped with a 79cc engine that is enough to get through the tilling process with ease. Moreover, it offers its users three tilling widths with a maximum width of 21 inches. It also offers four height positions for its handle for more convenient operation.
Besides, it provides a maximum tilling depth of eleven inches. It has a drag stake that is adjustable for easy adjustment of depth. Moreover, its center of gravity is low, with the engine being situated near the ground for better stability and balance.
Pros:
It is lightweight and well-balanced.
Its engine is powerful enough to do its job.
It is convertible to a cultivator.
It comes with four handlebar height positions.
Cons:
It isn't easy to start as other tillers.
Its 79cc engine is not as powerful as the other tillers.
---
8) Earthwise TC70016
If you're looking for a quiet electric tiller, you can check out the Earthwise TC70016. It comes at an affordable price and has an excellent design and features. You can start it easily. Moreover, it is equipped with a decent 13.5-amp motor. It can plow through sun-baked clay and rocky soil with ease.
The TC70016 can till 16″ wide along its path, though this width is quite limited and may make you impatient to complete your tilling task quickly. It also has a padded full-length handlebar that is comfortable to hold. Additionally, it comes with a safety-release bar for reducing hand fatigue. As an electric tiller, however, it offers less power compared to the gas-powered ones.
Pros:
It is affordable.
It is easy to operate and never runs out of fuel.
It is ergonomically designed.
Cons:
It has a limited tilling width.
The cord limits your reach.
It is not that durable.
---
9) Sun Joe TJ604E
The Sun Joe TJ604E is another excellent option if you are searching for an electric tiller. As an electric tiller, you are sure that it will never create that much noise pollution when you operate it. Nevertheless, it is less powerful than its gas-powered counterparts. Its max speed is 370 rpm, which is way below the speeds of its competitors.
Just like the Earthwise TC70016, the Sun Joe TJ604E can till up to 16 inches wide. So, you can definitely complete your tilling task in less time. It can also dig up to 8 inches deep. Besides, its handle folds for easy storing and transporting.
Pros:
Its tilling depth is up to eight inches.
Its handle folds for easy storage.
It offers a quick start.
It doesn't produce fumes.
Cons:
Its tilling width is limited at 16 inches.
Its motor only has a maximum speed of 370 rpm.
---
10) Mantis 7940 Cultivator (Gas-powered)
The Mantis 7940 comes with a 25cc engine (4-cycle) made by Honda. It is a reliable and popular tiller choice for breaking new ground. Moreover, it doesn't require fuel mixing. It also comes with curvy tines capable of a maximum speed of 240 rpm. It can also till up to nine inches wide and ten inches in depth.
The Mantis 7940 is both a tiller and a cultivator. You can set up its tines to only cultivate the soil's upper layer. Besides, it can handle hard ground and other challenging tilling tasks.
You can also adjust its tilling speed according to the ground you are tilling. Plus, this tiller is portable, being foldable. Moreover, it is lightweight at 24 pounds. Lastly, it comes with a two-year warranty.
Pros:
It is a powerful tiller and can handle hard soil.
It is portable and lightweight.
It also doubles as a cultivator.
Cons:
It is a bit expensive.
It tends to bounce back when it hits rocky soils, according to some users.
---
Buyer's Guide: What Type of Tillers Should You Use To Breaking New Ground?
At the onset, you should carefully choose the right equipment for your tilling needs. This will help you do your job effectively and efficiently. Some machines are designed for tilling. Some, however, are designed for mixing hard soil. While some can perfectly loosen the garden bed. Hence, at the onset, you should know what you need and buy the appropriate tools to address that need.
When it comes to contemporary tillers, you basically have two choices. You can either go for a front-tine tiller or settle for a rear-tine tiller. Yet, there is a third choice–the mid-tine tiller. This third option is less common although it is available on the market. You must remember that your decision hinges on the type of tasks that you want to achieve.
What is Front-Tine Tiller?
Front-tine tillers have their tines located in front of the equipment. It is usually located under the motor. It rotates in a forward motion. The wheels of the machine are located at the back of the equipment. This design allows the machine to push the tiller forward.
This type of tiller can handle the usual tasks performed by gardeners every year. It can break the ground moderately. It can loosen the soil. It can perform digging across small to medium-sized gardens. It is also easy to use and maneuver because its wheels are located at the back. You can reverse it easily or turn it effortlessly.
What is Rear-tine Tiller?
Rear-tine tillers have their tines at the back of the equipment. Thus, their wheels are set in front. Some rear-tines tillers have tines that rotate according to how the wheels rotate. They are called "SRT rear-tine tillers." Hence, if the wheels rotate clockwise, the tines also rotate clockwise. Some rear-tine tillers, however, have counter-rotating tines (CRT).
Rear-tine tillers can break hard ground more effectively then the front-tine tiller. They can also loosen rocky soil. They can perform digging of large gardens and even small farms. They are large. Hence, they are difficult to steer or push. They packed more power, however, because you can leverage the machine weight for extra power.
Rear-tine tillers can break hard ground. They can also loosen rocky soil. They can perform digging of large gardens and even small farms. They are large! Hence, they are difficult to steer or push around. They are packed with more power for you can leverage the machine weight for extra power.
---
Key Factors to Consider When Buying a Tiller
Having identified the types of tillers, we will now discuss the key points to consider when buying a tiller. Careful identification of these key points can help you zero in on the right tiller for your needs. Here are these key factors to consider:
Garden or Land Size
The type of tiller you should choose should depend on the size of your garden. You can invest in small electric tiller if your garden is small. But if your garden is large, then you should choose a tiller that is heavy-duty. Something that could run all day and can cover a huge patch of ground. A gas-powered tiller may be the most appropriate for this task.
So, your budget is a determinant in the type of tiller you can buy. At the onset, you should set a budget for the tiller. Then, you can search for tillers within that budget range. You should not sacrifice efficiency over saving something. Tillers are worthy investments. Hence, it is wise to allot the right amount of money when buying one.
But you should also remember that buying something that is way too big for your garden isn't good. It is also a waste of money. So, you should only buy something that really fits your garden needs.
Power Source
When it comes to a power source, you can power a tiller in three ways: by electricity, manually, or gasoline. So, there are basically three types of tillers, namely: manual, electric, and gas-powered. Of course, your choice of tiller boils down to what power source is available to you.
If you live in an isolated area devoid of an electrical connection, buying an electric-powered tiller is ridiculous. Moreover, it is wise to choose the cheapest power source available to you to save on your gardening expenses.
Tines
Tines generally come in two types: the front and the rear tines. Both types of tines can efficiently break new grounds. But when it comes to reliability, the rear tines perform better when engaged in heavy-duty tasks. Rear tines necessitate an engine to power them because they are heavier than the front tines. So, when trying to dig onto any hard and dense ground, it will help if you use tillers with rear tines.
Engine
Another critical factor when choosing a tiller is its engine. Tiller engines come in two types: electric and gas-powered engines. Each type of engine comes with its pros and cons, and knowing these pros and cons will help you decide which engine is suited to your needs. Moreover, if you select an electric tiller, you will also need to ask yourself whether you like a battery-powered or a corded one. If you have a large garden, using a tiller with a cord can be cumbersome. A battery-powered electric tiller, however, is limited by the runtime of its battery.
On the other hand, if you use a gas-powered tiller, you only need to load it with fuel. Besides, you can use the gas-powered tiller even if you are far from an electrical outlet. Moreover, you can use it anywhere, even if your garden is located in a place bereft of electrical connection.
Depth that You want to Dig
The majority of rear-tines have adjustable tines that could reach down to 8 inches. If you would till within this range, then the rear-tine might do well. However, if you intend to dig up to 10 inches, then you should look for a machine that could go that depth.
Soil Type
Soils vary in quality and hardness. Some are rich in nutrients. Some are loamy, while some are fine. If luck is on your side, your soil garden soil could be free of weed and rich in nutrients. You can also have loamy fine soil that would not need heavy tilling. So, in a way, your choice will also hinge on the type of garden soil you intend to till.
---
Frequently Asked Questions
Knowing the critical factors to consider and the most recommended tillers in the market today leads you closer to finding the best tiller for your needs. Nevertheless, you may also find these frequently asked questions helpful in your search for the best tiller for breaking new ground:
What is Better Between the Front-tined and the Rear-tined tillers?
When it comes to which is better between rear or front-tined tillers, the answer is usually dependent on your needs. You will find the rear-tined type more reliable and more powerful if you till a sizeable land. It can provide you with top performance and allow you to tackle more challenging tilling tasks.
Nevertheless, if you will only use your tiller in your backyard garden, you won't be needing a powerful one that emits lots of noise and fumes. You would only need something electrically powered, something to maneuver well around a small garden. It is overkill, therefore, if you would buy a rear-tine tiller for a small garden.
Is the Rototiller Capable of Cutting Through the Grass?
Well, most rototillers can cut through grass with little or no problem at all. Yet, if the grasses are tall, you may find your rototiller getting entangled with the grass, and this entanglement can cause delay to your work. It will be best to use a string trimmer to trim the overgrown grasses. You can also utilize a lawnmower and set it up on its lowest setting. Then mow the grass as low as possible.
When is the Best Time to Till New Ground with Tiller ?
You can use a tiller if the ground needs breaking up or preparation. Yet, the apropos time for preparing the ground is at least several months before you plant. But to know if it needs tilling, you should try to squeeze a handful of soil into your hand and ball it. Then, try to press your finger a bit against the ball. If it crumbles, then it is already time to till.
Many gardeners plant their soil during spring and summer. Hence, you can till your land during early winter or fall. If you intend to till during spring, you should at least wait a bit until all the frost is gone. Check if the soil has already dried out.
As a caveat, don't till the ground when it is saturated, for you may have long-term problems with soil compaction if you would do so. Moreover, your tiller may get clogged up, compromising the motor of your tiller.
How Can You Remove Grass Using Tiller?
You can use the tiller to cut grass by running the tiller over the grass to break the grass into clumps. Afterward, you can remove the cut grass with your rake. You can begin cutting grass using your tiller by letting the blades dig down into the grass bottom. You can then set the tiller by pressing its clutch lever. Let the edges of the tiller dig first before you move it forward. Let the tiller play with the grass until the roots of the grass come out.
You can go on with these steps until you till the whole lawn. Tilting the tiller a bit forward to let the tongs dig into the ground would be a good thing to do. The tongs will draw the equipment forward as you plow through the ground. It will be best likewise to set the depth of the tiller to four to six inches so that it can turn the grass.
---
Conclusion
As mentioned above, your choice of a tiller boils down to the abovementioned factors such as budget, quality of tines, engine, durability, maneuverability, and even warranty. Any of the brands as mentioned above have been known to perform well. But if money is not an issue, you should always settle for a brand that has sterling and proven quality and efficiency.
Tilling is already a tradition as old as several millenniums. Tilling, of course, comes with many benefits—it can aerate the soil, mix organic materials, and cut and kill weeds. Moreover, when you engage in tilling, you can gain a hefty workout that can really make you sweat. In ancient times, they used plowshares and other crude implements to till the land. Yet, in our contemporary time, you only need to purchase a tiller.
With the right tiller for breaking new ground, you will be able to aerate the soil, mix organic materials onto the soil, and even cut and kill weeds. Besides, you can shorten the time and lessen the effort you would spend preparing the ground for planting if you can zero in on the best tiller for your gardening needs.