June 7, 2023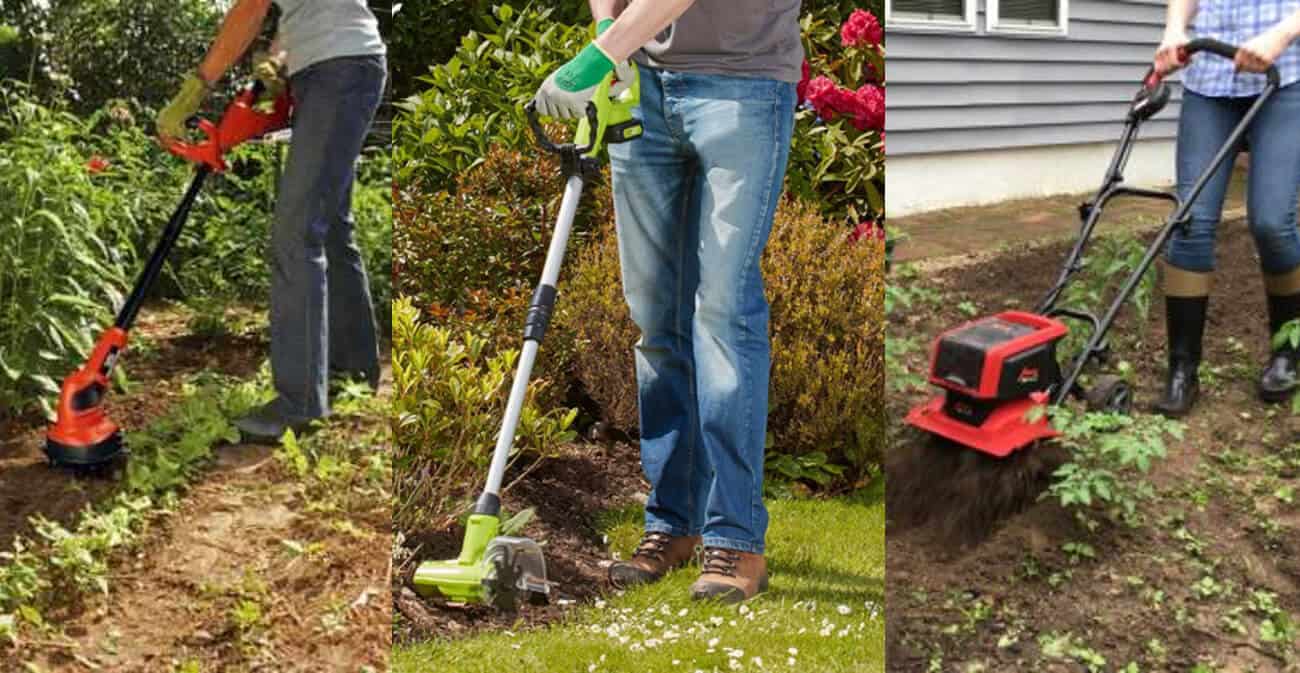 The battery-powered tiller is the most versatile and useful land tillage equipment if you want to prepare your small-size back-yard or garden for vegetable and small corp planting area. Tillers are not the most powerful implements for preparing the land for cultivation. Yet, they can serve their purpose. They are motorized cultivators that have rotating blades or tines. Thus, they can surely work the soil. Moreover, they are either drawn by a tractor or self-propelled.
They are sometimes called "Rototiller" and sometimes Rotavators. Rototiller, for example, is a small rotary hoe that is also a brand name. It is generally used for domestic gardening. Another brand of tiller—the rotavator—has also become synonymous with the term "tillers."
Tillers are light, inexpensive, and easy to operate! They are convenient for light-duty gardening. They are also either corded or cordless. If you just want to loosen up the soil of your garden, you might be only needing a battery-powered cordless tiller.
Advantages and Disadvantages of the Use of Cordless Tillers
The cordless tiller comes with some advantages over the corded tiller. Its two most obvious benefits, of course, are portability and transportability. With the corded tiller, you are limited by the cord's length and the electrical outlet's availability. Moreover, you may accidentally trip over its cord. Its cable may also inadvertently damage some of your plants as you drag the corded tiller across your garden. With the cordless tillers, however, you don't need to worry about all these problems. As long as you have fully charged the battery of the cordless tiller, you can use it anywhere there is a need for some tilling.
With the cordless tillers at hand, you don't need to buy gasoline, and you will never have any use for gasoline. Moreover, the cordless tillers do away with the need to pull over again and again the starting cord. However, when using the cordless tiller, you must ensure that you charge its battery fully.
On the other hand, the cordless battery-powered tiller is also fraught with disadvantages. First, the battery-powered tiller is not as powerful as the electric-powered one. Moreover, the less expensive the model of a cordless tiller that you buy, the greater the chance that it would have shorter battery life. Thus, there is a big chance that you will need to frequently replace your battery if you have bought it cheap. It is likewise not ideal for heavy earth-turning jobs.
Furthermore, if you are very new to tiller or considered as a gardening beginner, you would surely appreciate the use of cordless tillers. Some gardeners, however, make use of the cordless tillers to complement their more powerful cultivating equipment. They make use of it to weed a garden that has already been cultivated by more powerful tillers.
---
The Most Recommended Battery-powered Cordless Tillers on the Market Today
As mentioned above, there are many brands and models of cordless tillers on the market today. To help you choose a good product that could address your tilling tasks, here is a list of the most recommended brands and models on the market today:
---
1) Greenworks TL80L210 Pro 80V 10-Inch Tiller
Greenworks TL80L210 Pro 80V 10-Inch Tiller is battery-powered. It can engage in tilling up to 40 minutes once you fully charged it. It is easy to assemble, and very lightweight. Moreover, it is easy to maneuver. Although a bit pricey as compared to other models, it is a certified kick-ass cultivator.
It features four forward-rotating steel tines that are removable and very flexible. These tines have ten inches tilling diameter. These tines are also capable of 5-inches tilling depth. Greenworks Pro features a brushless motor that provides greater torque. Its motor works quietly and is characterized by longevity. It also comes with a 4-year tool warranty and 2-year battery warranty. Greenworks TL80L210 is surely a wise investment.
---
2) SuperHandy 40V Cordless Electric Tiller
If you are looking for an electric power tiller that is friendly to the environment, you can check out the SuperHandy 40V Cordless Electric Tiller. It is easy to control and is rigorously tested for consistency and power. It comes with two 20V batteries that can supply a cumulative 40 volts to this tiller. It has a 1.3kW maximum power output, capable of rotating at a maximum of 7000RPMs.
The good thing about this electric tiller is its innovative and compact design. It has four tines (forward-rotating) that you can adjust and replace. Its tilling width is 355mm or 14 inches.
The SuperHandy Electric Tiller can dig down to 150-mm depth. For this reason, you can quickly and efficiently work the soil using it.
This electric tiller has an ergonomic design of its handle, offering improved balance while you operate it. It also comes with guards against overheating. One caveat, however, is this, that you should not use it on stone, metals, and rocks.
---
3) Black & Decker LGC120 Cordless Garden Cultivator/Tiller
BLACK+DECKER LGC120 is designed for light gardening and landscaping tasks. Considered as one of the best electric tillers on the market today, it comes with an ergonomic design with its telescoping shaft that readily adjusts for perfect position and length. Thus, there is no need for you to bend while operating it. It comes with sharp-counter oscillating blades that are known for durability and efficiency. It is also characterized by its powerful transmission with dual tines for breaking up soil. It is powered by a 20-volt MAX Lithium-ion battery. This means it has a longer lifespan than those with ordinary traditional batteries.
It can cultivate an area of around 325 square feet per charge. Its counter-oscillating tines ready prevent the weeds from entangling its tines. It also comes with a 2-year limited warranty. Out of the box, it includes battery and energy Star-qualified charger that can fully charge the battery within 8 hours. This model is surely a wise buy for anyone who is engaged in tilling and cultivating tasks.
---
4) Greenworks 10-Inch 40V Cordless Cultivator
The Greenworks 10-Inch 40V Cordless Cultivator is a good alternative to a gasoline-powered tiller. It comes with a 40V Lithium-ion battery that able to deliver more consistent power. It features four adjustable 8-inch of forward-rotating tines for tilling into the soil. It also allows for adjustable tilling width 8.25″ to 10″ which brings in reliable tilling. It can till up to 5-inch deep.
This cultivator comes with a durable gear drive transmission that can easily handle tough areas. It also comes with awesome safety features that include Easy Start 2-Steps Switch meant for preventing any accidental start. This startup feature eliminates the usual problem that comes along with a gas-pull cord. Moreover, it is easy to assemble and is easy to use. Thus, buying this model is undoubtedly a wise decision for this unit can surely facilitate the tilling and cultivating of your garden.
---
5) Mantis 3558 Cordless Tiller/Cultivator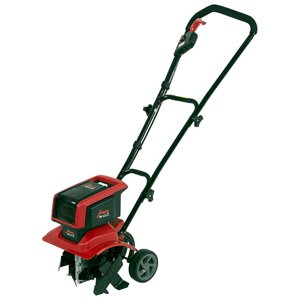 The Mantis 3558 Cordless is a powerful cultivator/tiller that can perform well. It features a two-speed motor that could allow for both high-speed tilling and low-speed cultivating. It comes with sturdy 16 steel-power trowel tines that will surely do the job of tilling and weeding for you. It is capable of 12″ tilling width that is perfect for tilling narrow garden rows, raised beds, and almost any size of an area. It is very lightweight and weighs only 26 pounds. Hence, it is quite easy to use and maneuver across your garden.
It is quiet when in operation. Moreover, it does away with the dirty gas and the need for dirty fuel. It is powered by one Lithium-ion battery that can do up to 30 minutes of actual task. You can also get a replacement for its battery from its manufacturer. Lastly, it is easy to transport with its three wheels.
---
6) Earthwise TC70040 11-Inch 40-Volt Lithium-ion Cordless Electric Tiller/Cultivator
Earthwise TC70040 is a cordless 40V tiller and cultivator. It weighs 24 pounds. It can surely help you keep your yard or home garden beautiful all year round. It is also capable of 11″ cutting width and 8″ cutting depth. It comes with four steel blade tines that are surely efficient and reliable.
It comes with an auxiliary handle for easy and comfortable grip. This unit is surprisingly strong as attested by some of those who have bought this unit. Its design is user-friendly, and its blades and tines appear to be sturdy and durable. If you are looking for a tiller/cultivator that is very affordable, this one is surely a good choice.
---
---
---
Buyer's Guide: Factors to Consider When Choosing a Cordless Battery Operated Tiller
If you are a meticulous buyer, you would surely refrain from impulsively buying a tiller. You would not immediately shell out your hard-earned money for a model of tillers that you haven't yet carefully researched on. You would beforehand weigh a brand's positive features. You will also figure out the essential factors to consider when buying a cordless tiller.
The fact is that there are myriads of tiller brands on the market today, and you will surely get confused as to which to buy. To guide you in buying, we have delineated here the salient features that you should look for when purchasing cordless tiller:
Battery Power
Tillers have commonalities; yet, they also vary according to the types of batteries that power them. There are tillers run by traditional rechargeable batteries. They don't last long in use. Compared with the Lithium-ion powered tillers, they are primitive. They also need to be wholly drained before they can be recharged. Lithium-ion batteries, on the other hand, last longer and they can provide consistent power when used. You can also recharge them even if they are not yet totally drained.
Tines' Speed
Majority of tillers come with only one speed. Yet, some models offer variable or multiple speed options. Given a choice, you can go for one of those models that offer multiple speeds. Multiple-speed tillers, of course, provides significant advantages over the single-speed cordless tillers. You can adapt their speed according to the type of ground you are tilling. Moreover, you can prolong the life of your motor as well as the other parts of your machine if your tiller has variable speed because you can adapt its motor's speed based on the type of ground you are tilling.
Blade
The durability of the blades of a tiller is critical to the longevity of the tiller's lifespan. Hence, it is crucial that you look for a cordless tiller that has quality blades and good configurations. Aside from the battery and the speed of tines, the quality of the blades plays a crucial role in the efficiency of the tiller. You should not shortchange yourself by choosing a tiller with non-durable blades. Moreover, you should select a brand whose blades are of efficient configurations for optimal and effortless cutting of soils.
It Should Be Easy to Use
There are myriads of models and brands of cordless tillers on the market today, and this fact can make it difficult for you to choose the right one for your tilling needs. Yet, it is always good to go for a model that provides great ease of use. It should be easy to maneuver. It should have wheels that allow you to drag it easily across your garden. Moreover, it should have comfortable handles that don't strain your arm and hands along the way.
Design and the Control Panel
Battery-powered tillers, though similar among each other, still vary in designs. Some have not-so-user-friendly designs. Some, however, have carefully thought-of ergonomic designs. Hence, when shopping around for a cordless tiller, look for something that doesn't feel cumbersome when used or seems bulky to you. Look for something that has an ergonomic design.
Moreover, its design should be user-friendly. Take time to figure out how the design locates each control. Ease of access to these controls can help you prevent accident along the way.
Capacity for Variable Depth Tilling
Plants are cultivated according to various depth. Some need deeper cultivation while others can survive even in shallow depth. Hence, when choosing a cordless tiller, go for a model or brand that offers variable depth capacity. This is to ensure that you can go deep for cultivating new grounds and go shallow for aeration or weeding purposes.
Warranty
Many brands only offer a limited one-year warranty for their cordless tillers. But you will never know how long a cordless tiller will efficiently function before it exhibits some malfunctioning. Good and well-known brands usually protect their customers by offering more extended warranties for their products. Hence, it is also essential to take note of the warranty that comes along with a cordless tiller product. It is also wise to assume that the longer the warranty term that a product has, the greater the confidence of its manufacturer about its products.