June 11, 2021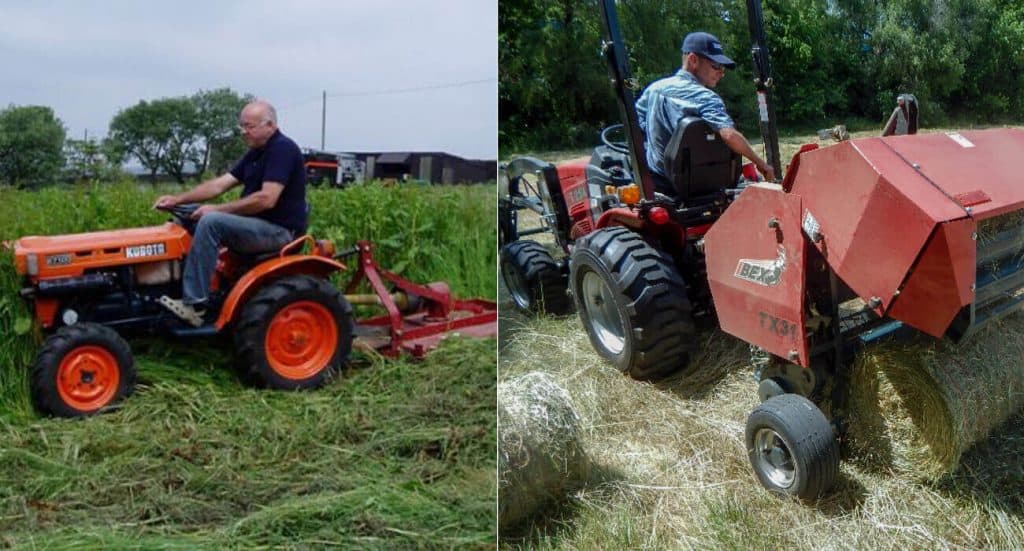 Owning a small farm can be very gratifying, especially, if you can grow a variety of livestock and plants that can sustain your daily needs. However, owning a farm also requires accomplishing many daily activities and mundane tasks that can become onerous over time. As your age increases, the daily farm chores that you had gotten used to accomplish manually when you were robust and young become so tiring to the point that you would long for machinery that can help you mow, dig, push, pull, and maintain your homestead or farm.
At present, many farmers and lifestyle block owners use a tractor to help them accomplish the daily farm chores such as mowing overgrown grass and unwanted thickets or moving loads such as hay, compost, and manure. A tractor fitted with a power take-off or PTO attachment is a versatile piece of equipment that provides a robust means to power your every farm activity.
---
Small Farm Tractor Activities
Having a farm, regardless of its size, constitutes many farming activities. It is no easy job to work on your farm or homestead without any form of assistance. Depending on the type of works and the size of your property, you can employ a walk-behind 2-wheeled hand tractor for a limited task like tilling the land or a tractor that offers a wider range of applications. Relative to its size, capability, and power, the tractor, with the right implement, can be employed to complete the following activities:
1) Bush Hogging
Bush hogging is one of the foremost tasks for tractor in a farm. This task prevents your farm from being taken over by grass and shrubs, turning your farm back to its original landscape. Bush hogging is regularly done to maintain your farm in its most productive form. Nature is persistent enough that in about three or more years of neglect, your farm would be immediately covered with a tremendous amount of unwanted vegetation and weeds. 
2) Tillage Activities
Before planting crops, the soil should be prepared by performing a variety of tillage activities. These activities include plowing, rototilling, harrowing, and cultivating the soil. Manually preparing a hectare of land for planting, even with the help of draft animals, can be very exhausting and backbreaking. These tasks become a lot easier using a tractor.
3) Planting Crops
Crop planting is a tedious affair for farmers. The mechanization of this farming method has transformed planting into fun-filled activity and has dramatically increased the speed rate of planting crops. Tractors with planter implements are very useful in planting row crops like grains and cereals, vegetables, and fruit-bearing plants. It is likewise suitable for planting forages.
4) Harvesting Crops
Harvesting is another tiresome task for farmers even with the aid of animal power. The introduction of tractors, as well as harvesting implement, has paved the way for crops to be readily harvested without being spoiled or run over. Moreover, the harvest is automatically separated from the waste materials such as hay.
5) Haymaking
Tractors are exceptional equipment in a farm or ranch as they can do a multitude of tasks like haymaking. Like other farm activities such as tilling the soil, planting, and harvesting crops, haymaking is not just one task but actually consists of many specific tasks bundled into one. Haymaking includes mowing, tedding, raking, baling, and wrapping. Additionally, after the bales are wrapped, the bales are hauled and unloaded.
6) Front End Loader Work
Aside from its use for routine farming tasks, the tractor that is equipped with a front loading implement such as bucket or fork can do many other tasks. With a front-loading bucket implement, the tractor can also be used for removing snow or moving or hauling materials around the farm. It can also be used for handling waste materials, soil and other materials that cannot be manhandled.
There other farm activities that the tractor can handle and do. Some of these activities include pumping water for irrigation, chipping, shredding, and mulching trimmed tree branches and shrubs for disposal or for mulching materials.
---
Things to Consider Before Buying a Tractor
Before buying any specialized equipment like a tractor for a small farm or homestead, you need to identify and make a list of your tractor requirements. You also need to consider every hidden item or thing that can suddenly surface after buying a tractor. For example, you might choose a tractor that does not meet your required power or does not suit your work type. This things-to-consider and your list of requirements will help you zero in on the most suitable tractor for your needs. Here are some things you need considering before buying a tractor:
1) Purpose and Usage
First, you need to consider is the fact that you must be able to identify what are the tasks in your farm that the tractor will engage in. You also need to know if the tractor has the necessary power or capability to complete the works at hand. Moreover, you need to identify the necessary tractor accessories and compatible implements you need to have to accomplish the tractor's tasks.
2) Tractor Brands
In buying a tractor, you also need to consider the availability of spares, compatible accessories, and other after-sales client support. Buying a tractor from a particular manufacturer that doesn't have a dealership in your state or country can be nightmarish if the tractor breaks down and spare parts supply is lacking. All tractors, for example, require a periodic oil change and part maintenance or replacement. If the brand of tractor you happen to buy doesn't have robust after-sales support and spares are unavailable, replacing a broken-down part of your tractor would be very frustrating.
Tractors come in different brands and models. Buying a tractor from the big-named brands like John Deere, Kubota, and New Holland can be very advantageous, especially, if you buy it from an official dealer near you. Some tractor brands or manufacturers may disappear and reappear over time (e.g., the recently revived Massy Ferguson).
Do not rely on unknown brands that offer extra discounts and other sweet deals for you might end up spending much on a piece of junk. You should at least do some research, not just on the machinery, but also on the manufacturer. You also need to be extra diligent when choosing the right tractor, for a tractor is a long-term investment.
3) Tractor Size and Power
Your choice of a small farm tractor should depend on both the size of your farm and the tasks that you need to accomplish. There are four tractor's size categories, namely: subcompact, compact, midsize, and the full-size tractors. The compact and the mid-size tractors are the most appropriate for small farm works. Compact class tractors are mostly rated at around 27 horsepower and can accommodate implements with hitch category of Cat-0 or Cat-1. However, some compact class tractors are too wide for Cat-0 implements.
Mid-size tractors, on the other hand, had a power rating that varies from 35 to 65 horsepower and can accommodate Cat-1 to Cat-2 implements with minimum power. Some tractors with more than 50-hp engines are great options for "economy PTO." This power-take-off (PTO) options have shaft-to-spin engine that spins at its proper rate while the tractor engine spins slower.
The subcompact tractors are enlarged lawn tractors that have insufficient power and capacity for small farm activities. The full-size tractors, on the other end of the scale, are too large and powerful for small farm tasks.
4) Transmission Option
Most tractors that are currently offered on the market are equipped with a hydrostatic transmission. These tractors are very similar to the car's automatic transmission. This type of transmission eliminates the need for constant shifting of gears and is very convenient during tillage, crop planting, and harvesting activities, wherein you need to drive for long hours. However, the hydrostatic transmission is costly to repair once it breaks down.
The classic manual transmission, on the other hand, has its own merits like its extra low gear. This low gear provides extra torque when pulling heavier objects. Moreover, the manual transmission is cheaper and easier to repair.
5) Two- or Four-wheeled Drive?
At present, four-wheel drive or 4×4 is the norm, especially, among light trucks and SUVs. In the same way, farm tractors are currently marketed with four-wheel drive option. When operating on soft ground or snow, traction is everything. Since you double your traction with four-wheel drive, it is surely important to choose four-wheel drive tractors when working on the soft and muddy parts of your farm.
6) Power Take Off
A tractor can only accomplish a certain farm activity with the correct implement. Most farm machineries are driven by the tractor through its PTO feature. Moreover, Power Takeoff or PTO is essential when driving various types of farming implements. At present, most tractors have "live" PTO option wherein the PTO-driven implements, and their hydraulic continuously work even when the clutch is engaged.
7)Three-Point Hitch
Farming implements are mostly towed behind the tractor during operation and raised during movements. To facilitate these tractor actions, a three-point hitch is needed to attach any farming implement to the tractor. With this type of hitch. You can raise and lower the implement during operations. It is important to note that the tractor, the 3-point hitch, and implements should always be compatible. If the tractor's engine rating falls on a certain hitch category (e.g., Cat-2) the hitch and the implement should also fall under the same category.
Moreover, before buying any accessory, it is important to check its compatibility with the tractor. The attachments between the tractor, hitch, and the implements should also be compatible. You should likewise check if the attachment fits together as there are proprietary issues between manufacturers with regards to some attachment designs.
---
Tractor Accessories and Farm Implements
Small farm tractors need farm implements and accessories to perform their activities and intended tasks ably. Some accessories like the frontend loader bucket and hydraulic backhoe are factory-installed to the tractor to entice prospective buyers. At times, a three-point hitch attachment at the tractor's rear is included on the dealer's display along with many farm implements. Some of these implements and accessories include:
1. Plow – is an implement that is drawn behind the tractor and is used to prepare the soil for planting by loosening or turning the soil. Some of the commonly seen tractor plow implements include the multi-furrow reversible plow, non-reversible mold-boards, and chisel plow.
2. Harrow – is a tractor implement used for shallow tilling, covering the seeds, and killing weeds. It is usually drawn behind the tractor using a drawbar attached to a 3-point hitch.
3. Planter – is a PTO-driven implement designed to sow seeds and cereals.
4. Bush Hog – is a PTO-driven implement used to cut weeds, tall grass, and shrubs.
5. Hay Rake – is an implement that is used to collect and arrange straws or hay into windrows.
6. Hay Baler – is a PTO-driven farm implement that collects and compresses hays or straws into bales. Bales can either be cylindrical or rectangular in shape that are arranged and allowed to dry to preserve the hay's inherent value.
7. Forks – are front-end hydraulically-operated accessories that are used for carrying heavy and cumbersome materials around. The forks usually replace the loader buckets.
Aside from these above-mentioned implements, there are specialized PTO-driven implements that can be attached to the tractor via a three-point hitch like the auger and wood chipper/shredder. These PTO-driven implements are optional equipment for your farming needs.
Final Thoughts
Whatever tractor design or brand you choose, your final decision of which tractor to buy still boils down to your budget. If money is not an issue, you can buy the most expensive and the most popular brand on the market today. But if money is an issue, before you settle with a particular choice, it would be better for you to at least have two or three model options. Don't settle for cheap brands for you may end up buying a substandard one. You should also consider the option of purchasing a second-hand tractor. If you have a mechanic by your side to check the tractor engine, transmission, and hydraulic lines, going for the second-hand option would surely be a salient option for you.