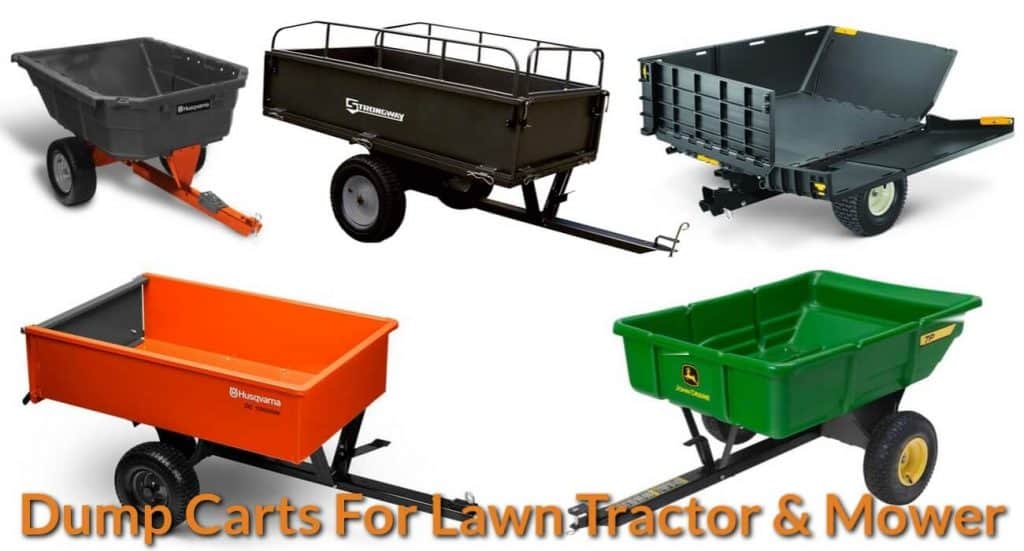 The lawn mowers or tractor dump carts are attachments that usually serve a specially important role. Namely, they let you tow or pull heavy loads behind your tractor. Lawn mowers or tractor dump carts are known by many names such as garden carts, dump trucks, utility trailers, utility wagons, and many more. Homestead owners and farm owners prefer the use of dump carts in performing garden and lawn chores. Because of their lightweight and minimal sizes, dump carts are ideal for use in the backyard and in the garden in moving heavy loads, and they can be easily attached to a small vehicle or a mower.
Dump carts are simple pieces of farm or lawn equipment. They are usually towed either by a riding mower or a compact tractor. They are generally used for hauling or moving farm or garden materials. Compared to wheelbarrows, they carry more materials. Why? Because their wheels support their load. The user's arms, on the other hand, support the load of wheelbarrows.
Compared to the utility trailers that have flat beds, the dump carts are formed like tubs that have solid wall construction. Hence, they can be used for depositing gravel, soil, and other heavy loads. These dump carts, therefore, should always be in handy in your garden or lawn.
There are factors that you must consider if you intend to buy a dump cart, and some of these factors include the following:
Best Lawn Tractor & Mover's Dump Carts In Market Today:
There are many brands of dump carts on the market today. This makes it a bit difficult for a prospective buyer to find the one for his needs. Hence, we have delineated here a list of the most recommended dump carts on the market:
Last update on 2021-07-29 / Affiliate links / Images from Amazon Product Advertising API
1) Agri-Fab 45-0101
The Agri-Fab Model 45-0101-999 is a 750lbs (340 kg) class dump cart. This cart employs a steel tub with a 12-cubic foot capacity. It is a useful tool for hauling loose garden materials such as mulch, gravel, and sand. Its bed size measures 49 inches long x 32.5 inches wide x 12 inches high. Two 16 x 4 inches pneumatic wheels support the bed when traversing through rough farm grounds. These tires give the cart its excellent mobility while being towed by an ATV, compact tractor, or a riding mower. Its axles (with grease nipple) are matted with grease to facilitate easy lubrication of the ball bearings.
This Model of dump cart also features a foot pedal for controlled dumping of its load. It also features strengthened tailgate guides. Its steel bed is coated with scratch-resistant paint to protect the metal from harmful elements and rough use. If well maintained, this dump cart would surely last longer.
---
2) Agri-Fab Poly Tow Behind Dump Cart, 800 lbs
Another Agri-Fab offering is the Agri-Fab Model 45-0519. This dump cart uses polypropylene bed, resting on a steel support. It also uses the same patented features found in other Agri-Fab carts. These include the foot-activated dump mechanism and the grease nipple on its axles. This austere-looking dump cart has a carrying capacity of 800lbs. Its bed is watertight and can accommodate up to 17 cubic feet of garden materials.
The 45-0519 has a pair of 16-inch pneumatic tires for smooth movement across any terrain. And its tow bar fits a wide variety of towing mowers and tractors. Furthermore, Its sturdy steel frame has powder-coated paint for added durability. This dump cart can last for many years especially if well-maintained.
---
3) Gorilla Carts GOR866D
The Gorilla Carts GOR866D is a heavy-duty, high-capacity dump cart of the 1200lbs class. This dump cart can transport a considerable amount of loads on its 40-inch long x 25-inch wide x 10.75-inch deep polypropylene tub. It also features a quick-release dumping system that allows quick turn-around. It can haul a considerable amount of gravel, sand, or any other garden materials. It also features the use of four 13-inch diameter wheels and a ⅝-inch diameter axle to support each wheel. Its four wheels support its loads. This allows the easy manhandling of this dump cart using the integral D-shaped handle on the tow bar. The same D-shaped handle also provides easy hookup to most riding mowers or compact tractors.
The GOR866D requires very minimal maintenance since it is made of polypropylene. Cleaning its polypropylene tub is also easy. Lastly, its tub is watertight and very efficient in moving wet garden materials.
---
4) Strongway Dump Cart – 1,200-Lb. Capacity, 5 Cu. Ft.
The Strongway dump cart uses four 13-inch diameter pneumatic tires. These tires readily support the cart and its load. It also has a watertight polypropylene bed liner on top of a sturdy steel mesh frame. This bed liner is removable. This bed liner also allows the smooth movement of loose garden materials such as mulch, sand, and gravel. Its side panels are also removable, readily converting this dump cart into a flatbed cart. This allows for the easy movement of its oversized load.
This Strongway garden cart can carry up to 1200lbs (544.3 kg) load. But it has a limited dumping capacity of 500lbs or 226.8kg. Its tub measures 44 inches long x 24 inches wide and has a capacity of holding 5 cubic feet of garden materials.
---
Nota Bene:
Some garden dump carts are tagged as ATV carts because they are designed for off-road usage together with utility task or utility terrain vehicles (UTVs) and ATVs. Their designs include high-ground clearance, durable axles, and large tires.
Lastly, the important thing to remember when using a dump cart is to figure out the mower's weight limit before using any towing vehicles.
Last update on 2021-07-29 / Affiliate links / Images from Amazon Product Advertising API
Buyer's Guide: Types of Vehicle for Towing Dump Carts
Dump carts are designed for easy towing, and it is this design that makes it advantageous for use in lawn or garden. It is lightweight and can be easily towed behind lighter or smaller mowers that most homeowners usually have in handy. These vehicles that can be used for towing dump carts include:
Garden or lawn tractors
Zero-turn Mowers
Rear-engine riding mowers
The only type of carts that you can tow behind a riding and zero-turn mowers is that of dump cart.
Different Types of Tow Dump Carts
There are myriads of carts available on the market today. But the quality of those dump trucks usually depends on the amount of money you are willing to shell out for a dump cart. The less expensive carts, for example, that cost less than $200 may look like the expensive ones. But if you are not trained to look at the difference between good ones and bad ones, you may end up buying a dump cart of less durability and quality. The less expensive, of course, may not last a year or two. Hence, if money is not an issue for you, you should go for the quality ones even though they are expensive.
Poly Tub Trailer
You can consider a poly tub trailer which is over $250. For many people, the poly tub trailer is the ideal one to buy. The tub of this trailer is of tough plastic material and is very durable and not known to crack. Moreover, it is water-tight, and you can effectively use it in hauling loads like messes and manure without these loads leaking out. Furthermore, you can easily clean it up using a garden hose.
Plastic Tub Trailer
On the other hand, you can also opt for the plastic tub trailer. The plastic tub trailer is like the poly tub in appearance, but they are less expensive. The container of the plastic tub trailer is also made of thinner material as compared to the poly tub trailer, and the tub can easily cave in. They are not designed to last long, and they will readily split, tear, or crack after several uses. You should not use them for hauling heavy loads if you want them to last a bit longer.
Steel Trailer
You can also opt for the all steel trailer which usually range in price from $150 to $500. These steel trailers are equipped with removable tailgate, and this feature is its greatest advantage over other types of dump carts. With the tailgate, you can dump your load cleanly. So, you don't need to use a rake or shovel to empty your cart. The downside of opting for an all steel trailer is that it is expensive, and if you want to find one that could handle heavy loads, you need to shell out more than $300 for one. Moreover, it usually rusts because it is made of steel. However, they are durable, and their bottom and sides are assuredly made of steel.
Structural Form Trailer
The structural form trailer is characterized by low-density polymer tub. Its price is usually over $250; hence, it is a bit expensive. Its tub is also extremely durable and tough. This tub usually comes with side pockets allowing for extensions on its sides. Some of the best manufacturers of structural foam trailers are Ohio Steel and Agri-Fab. Moreover, some brands of these structural foam trailers have tubs that do not stain or scratch. Some, however, do scratch and stain in the long run.
Dump Cart Classifications & Categories
Dump carts can be categorized into two based on their load-bearing (weight) or their volume capacity and Cart's tub materials.
1) Based on Their Load-bearing Capacity & Capacity
Many products use the load-bearing capacity rating rather than the volume capacity rating. Yet, the most common dump cars on the market today are those with 7-12 cubic feet capacity.
Based on their load-bearing capacity, dump carts are classified into two: 800lbs and below and 1000-2000lbs. The 800lbs or below carts use ¾ inch (19.05 mm) diameter axles. The 1000-1200 lbs. (453.6-544.3 kg) class, on the other hand, use 1-inch (25.4mm) diameter axles.
2) Cart Tub Materials
Another method of dump cart classification is according to the bed or tub materials of the carts. Dump carts may have steel, plastic, structural foam or polypropylene tub materials. Steel tubs may last longer with proper maintenance; but without proper care, they will rust. Polypropylene tubs are expensive but are more durable against elements or misuse. Plastic tubs are like polypropylene tubs but are thinner. But structural foam tubs are of low-density polymer materials. They are therefore very durable and very tough. Yet, stains on these tubs can accumulate faster when scratched.
Load Capacity and Cubit Foot Capacity/ Weight
Dump carts usually come under two necessary ratings of 800lbs or less and 1,000-1,000 lbs. The former makes use of 3/4″ axle, while the latter utilizes 1″ axle. Most dump carts are also equipped with a solid steel bar for supporting the axle. The listed weight is usually computed based on how much each bar will be able to hold before it begins to cave in or bend. The cubic foot capacity, on the other hand, refers to the tub's size.
Construction
The materials out of which the dump carts are made of are usually determined by looking at its tub. Hence, when people speak of the material that makes a dump cart, they typically speak of the material that makes up the tub. They also speak of the loads that could stain or scratch the tub like rocks, sand, soil, manure, etc. Generally, dump carts are made of two types of materials, namely:
Poly or plastic type of materials: The poly or plastic materials are ideal for lightweight loads. These materials are usually resistant to impact or corrosion.
Steel or metal materials: Steel or metals, on the other hand, are usually vulnerable to rusting and denting, but they are durable and can carry heavy loads.
Size
The sizes of dump carts are usually determined and defined by two criteria. These criteria are its cubit footage and its weight capacity. The cubit footage refers to the space capacity of the cart. The range of dump carts on the market today is from ten cubic feet to 22 cubic feet. The weight capacity, on the other hand, refers to the measurement of the maximum weight that a dump cart can carry or hold without caving in. The range of weight capacity of dump carts is from 350 lbs. to 1,100 lbs.
Additional Features of Tractor Dump Carts
Dump carts generally use different types of lifts. The lift is the mechanism that lifts and tips the cart's tub. These different types include the following:
Manual lift that you can handle manually. It has a handle that you can readily grasp to lift the tub.
Hydraulic lift that makes use of a mechanism that offers easy and smooth action and great facility.
Swivel Lift that lets you turn the tub and rotate it for easy dropping of its loads to the designated area.
Electric lift is powered by electricity. It is designed for use by people who need help with heavy loads.
Other Top-rated Mower & Tractor's Dump Carts