June 7, 2023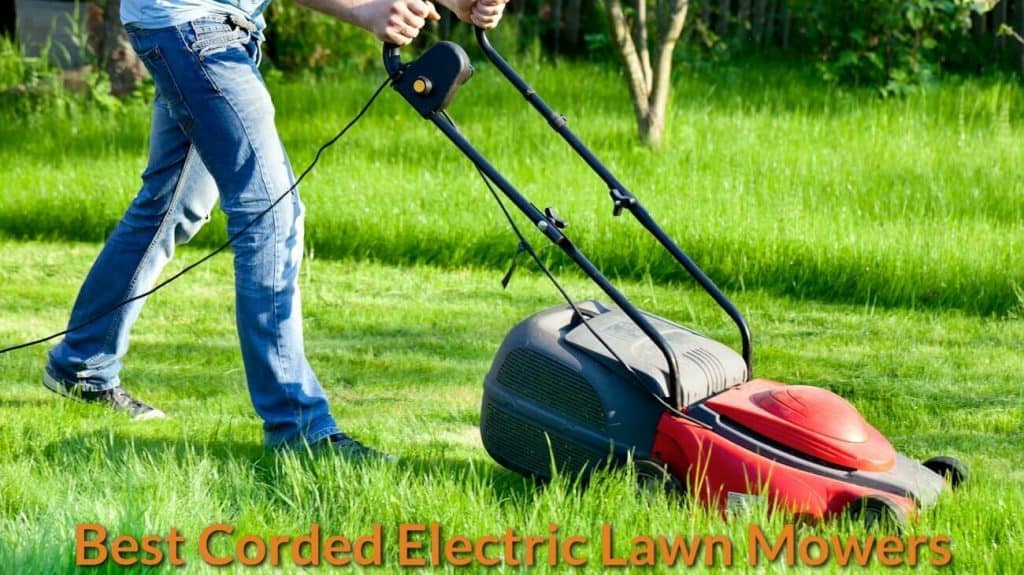 With the contemporary drive in technological development to turn everything into something eco-friendly, it is surely not a farfetched idea that gas lawn mowers will soon become a thing of the past because they use fossil fuel. In the past, gas-powered lawn mowers were the best options. But with the innovations in electric motors and battery technology, electric-powered lawn mowers have become the primary option for they are very efficient and eco-friendly at the same time.
There are various ways to maintain your lawn. One basic maintenance you can give your garden is by keeping the grass of your lawn well-trimmed. Yet, trimming a huge lawn isn't easy! It is often exhausting and time-consuming. However, you can make this job easy if you have a corded electric lawn mower.
When buying an electric lawn mower, however, you would be confronted with the dilemma of whether to choose a corded electric mower or a battery-powered electric mower. If your lawn is smaller to medium size, the ideal choice would be a corded lawn mower for it is lightweight, easy to use, and easy to start. It also does not have complex service upkeep compared to the gas-powered lawn mower. Moreover, its use is less cumbersome and is eco-friendly. It also requires less storage space. The runtime of the corded lawn mower also is longer compared to the battery-powered lawn mowers.
8 Top Recommended Corded Electric Lawn Mowers
There are many brands and models of corded electric lawn mowers on the market today. This makes it difficult for ordinary buyers to choose the right one for their needs. To make it easy for them to choose rightly, we have delineated here a list of the top-rated electric lawn mowers at hand.
1) Greenworks 21-Inch 13 Amp MO13B00
It is a powerful corded lawn mower that offers the best value for your money. Its 13-amp electric motor gives it enough power for cutting tough grass. With this lawn mower, you can easily trim and manicure your lawn according to your liking. Its durable 21-inch cutting deck is made of steel, and it can get the mowing job done quickly and efficiently. It also features seven-position adjustments. So, you can easily adjust the cutting height from 1.2 to 3.75 inches. It practically can handle all types of grass.
Greenworks 21-Inch Corded Lawn Mower MO13B00 sports a 3-in-1 feature that provides many options for disposing of grass clippings. You can either dispose of grass clippings via its rear bag or via side discharge. Furthermore, you can also use its mulching capability. It comes with 10-inch rear wheels and 7-inch front wheels. Thus, you can easily move it across your garden. Moreover, it weighs only 56 pounds.
The Greenworks MO13B00, of course, is larger and more expensive than the other types of lawn mowers. Yet, you can always rely on it, and it is undoubtedly a good buy.
---
2) WORX WG719 Corded Electric Mower
If you are desirous of a mower with a grass collection bag, you should consider the Worx WG719. You need not worry about collecting the grass clippings after mowing the yard with its collection bag.
The WORK WG719 is also lightweight, which means you won't be exhausting yourself afterward when operating this lawnmower. This lawnmower is only 48.5 pounds.
The WORK WG719 also comes with caster wheels that feature a locking system for additional maneuverability. It is likewise equipped with a collapsible handle that requires only a single touch. It is also easily adjustable, allowing for more convenient usage. The handle is also padded with foam for a higher level of comfort when you use it.
Pros:
It comes with a sturdy steel deck.
It is equipped with front caster wheels.
It comes with a reasonable three-year warranty.
Cons:
It is a bit noisy.
It is more expensive than other lawnmowers.
---
3) Greenworks 20-Inch 12 Amp 25022
This model stands out above the rest when it comes to power and reliability. It comes with a powerful 12-amp motor that brings awesome power and reliability to its users. It is also very durable with its 20″ steel deck. This design enables it to handle high volume of mowing tasks. The good thing about this lawn mower, aside from its awesome power, is its maneuverability. You can maneuver it on all terrains. This is possible because of its huge and sturdy wheels (10″ rear wheels and 7″ front wheels) that would allow you to drive it on any type of slopes.
It can handle all types of grass. It has a single lever that allows for seven-position height adjustments. It also comes with three discharge modes. This enables you to create mulch easily. It also allows you to dispose of grass clippings quickly. Operating with its push-button start is easy. It also has foldable handles for easy storage. Lastly, it comes with a 4-year tool warranty.
---
4) BLACK+DECKER MM2000 13 Amp Corded Mower
This Corded Mower is a popular corded mower that can continuously do the mowing job for you. It features "instant starting" every time you want to use it. It carries a 13 Ah motor for mulching, bagging, and side discharging. It also features an EdgeMax deck design. This design enables you to cut up to the very edge of the flower beds and fencing. With its use, you can give your lawn a highly manicured appearance.
The Black + Decker MM2000 is capable of a 20-inch wide cutting patch. It also comes with seven-setting height adjustments. With this feature, you can choose the height of cut from 1 1/2 to 4 inches. It also features carrying handles for easy transport. It comes with one-touch height adjustments likewise. This allows you to alter its height with a single pull of a lever.
---
5) GreenWorks 16-Inch 10 Amp 25142
The GreenWorks Corded Lawn Mower 25142 is a powerful lawn mower. It sports a 10-amp motor that can deliver awesome power. It can surely cut through stubborn grass. It has a durable 16-inch cutting deck that can quickly get the mowing task done. It is very efficient in manicuring any lawn. It also has a 2-in-1 feature that provides mulching and rear discharge capabilities.
It comes with 5-position height adjustments. Hence, you can readily adjust its cutting height from 5/8 inch to 2 5/8 inches. It is therefore perfect for cutting any type of grass. It also features two 7-inch rear wheels and 2 6-inch front wheels. These wheels surely make it easy for you to maneuver it in all types of terrains. It is also lighter than the abovementioned models of Greenworks. Furthermore, Its handles fold nicely downward for more compact storage. This model is also an excellent choice for the maintenance of your lawn.
---
6) 14" American Lawn Mower Company 50514 Lawn Mower
The 50514 Lawn Mower is a push model that will surely provide you with ample power. You can use it to work your small or medium lawn. It features a brushless motor (11 amp) and a fourteen-inch blade. In addition, you got five various cutting height options for this push model, ranging from one inch to two and a half inches high.
One sterling feature of this mower is its adjustable handle. Its handle height is adjustable. Moreover, you got the option of collecting clippings via the grass bag (16 gallons) or as mulch. This mower is also light at 21 pounds. Hence, it is quite easy to handle and push even along ascending terrain. It is also easy to store away.
Pros:
It has a reliable brushless motor.
5 adjustable cutting heights (1″ to 2.5″)
It is easy to start.
It comes with a cord retention hook.
Cons:
It is not efficient in handling tall grass.
---
7) Sun Joe MJ401E Mow Joe 14-Inch 12 Amp
The Sun Joe MJ401E Mow Joe 14-Inch 12 Amp Electric Lawn Mower is an affordable option when it comes to lawn mowing. It features a 12-amp electric motor that can get the job done for you. Its cord has a maximum extension of 100 feet. Hence, you can easily reach the hard-to-reach areas of your lawn. It also features a push-button start.
It also comes with a three-position height adjustments feature. You can adjust its cutting height up to 2 2/5 inches. It also comes with a detachable grass catcher for quick disposal of grass clippings. Its design is very compact. Moreover, it has rear wheels whose size is 5.5 inches. With these wheels, you can easily maneuver it from one place to another. It also takes up less storage space.
It has a hard-top grass catcher that you can easily detach. It also comes with a 14-gauge minimum-rated extension cord. Lastly, it is great when working on tight spaces and it can get the job done for you.
---
8) BLACK+DECKER MTE912 12-Inch
BLACK+DECKER MTE912 is a piece of great lawn mower equipment. It is characterized by versatility. You can use it as a mower, a trimmer, and as an edger. So, if you have a smaller lawn to work on, you may find this one a good choice. This is because it is designed for working on smaller gardens. Out of the box, you'll get an almost completely-assembled model.
This model is available both in cordless and corded version. It has a durable mower base deck that comes with four wheels. This high-quality deck secures the string trimmer/edger via its 12-inch cutting swath. You can quickly insert or remove the trimmer/edger via the quick release foot pedal. It also features the AFS Auto Feed System that allows for automatic and continuous line advancement. It has an ergonomic design. It is lightweight and has easily adjustable handle and height positions.
---
Buyer's Guide: Factors To Consider When Choosing A Corded Electric Lawn Mower
After carefully considering and comparing the different lawn mowers at hand, we came up with our buying guides on how to choose a corded model for your needs. Interestingly, there are many important considerations before a buyer should zero in on a particular corded electrical cord. These considerations include:
Grass Management System
The grass that was cut should also be carefully stacked away and disposed of properly. Hence, there is surely a need for a grass management system that is incorporated in the feature of the electric lawn mower. Some electric mowers usually have a three-in-one system. This system allows users to toggle between mulching and side-discharge. Mulching is the feature of the system that will enable it to catch the grass with a built-in bag. However, some mowers don't have integrated catching bag. For this reason, you need to choose between the two abovementioned options.
Cutting Width and Deck Size
One basic consideration you should bear in mind when buying an electric lawn mower is its deck size or the cutting deck width. This width usually comes in inches. The rule of thumb is that the wider the width of your cutting deck, the lesser would be the number of passes that you need to make to complete the cutting of your lawn grass. Hence, with a wider deck, you will consume less electricity. You will also use up less time in completing the task.
Pushed or self-propelled Lawn Mover?
Another consideration is whether you would need a lawnmower that is pushed or something that is self-propelled. The lawn mower that you need to push around is ideal for use when cutting through the smaller lawn and thinner grass. On the other hand, the self-propelled lawn mower can easily tackle thicker grass and weeds. Hence, if you only have a smaller lawn with thinner grass, it is advisable to go for the pushed one, while if you have a more massive lawn with the thicker outgrowth of grass, you should opt for the self-propelled one.
Adjustable Height
Experts would generally advise you not to cut the grass too low down to 30% of its height for this can make the blade of the lawn mower susceptible to damage. These experts are right for more often if you overdo the cutting of grass down to more than 30%, the blade of the lawn mower will become dull. Hence, it is advisable to opt for lawn mowers that are adjustable. Some adjustable lawn mowers, however, are difficult to adjust; while some have systems that allow for easy adjustment. You should first figure out if the lawn mower has this friendlier adjustable system before buying it. Moreover, the ideal lawn mower has varied height settings that allow you to have four choices of height adjustments. You should opt for this type of lawn mowers.
Runtime
The corded mower provides an unlimited runtime as long as there is no power outage in your place. However, its power consumption will add up to your electric bills. But if your home is equipped with a solar power source, you will surely need not worry about your electric consumption. Nevertheless, the only limitation of your electric mower is its battery. If it has limited battery capacity, your use of the electric lawnmower is at the mercy of its battery power. Moreover, you need to charge its battery once every hour to one and a half hours for optimum usage.
Self-propelled versus Push Model
When it comes to lawnmowers, you can either choose between a push model and a self-propelled model. Some users prefer to walk behind the mower and push it. Others, however, prefer lawn mowers that are self-propelling. As a caveat, if you have a larger lawn or yard, characterized by rough terrains, it will be best to opt for the push models. On the other hand, self-propelling models are faster, allowing you to complete your work faster. Moreover, with the self-propelling models, you don't need to exert much effort, pushing the lawnmower around just to accomplish the task.
---
Benefits of Using Corded Electric Lawn Mower
As mentioned above, generally comes with many benefits. Hence, if you are still confused whether to buy a gas-powered lawn mower or a corded electric lawn mower, it would be helpful to consider the following advantages concomitant with the use of corded lawn mower.
Is It Silent to Use?
Some conventional lawn mowers are really noisy when operated. Hence, they usually cause disturbance to neighbors and other people. If ever you would buy a lawn mower, it would be good to opt for something that could be operated silently. It can be operated more quietly as compared to gas-powered lawn mowers. For this reason, if you want something that is noiseless, the corded model is the one you should opt for.
Doesn't Cause Health Hazard
Another significant advantage is that it does not cause a health hazard, unlike the gas-powered ones that emit dangerous and harmful chemicals, since they necessitate gasoline combustion to operate.
It Should Be Powerful
There is a common notion that they are less powerful than their gas-powered counterparts merely because they are not noisy. This notion is incorrect, for it is not the level of noise created by the lawn mowers that indicates their power. The reality is that the electric powered model is as powerful or even more powerful than the gas lawn mowers. It can perform basically any task that a gas lawn mower can perform. Moreover, they rarely require any maintenance and repair.
Its Use is Cost-effective
If you ever opt for the gas lawn mower, there is a strong likelihood that you would be required to hire a professional who is adept in the use of the gas lawn mower. The fee you're going to pay the professional would surely add up to the cost of using a gas lawn mower. Moreover, you would need to refuel the gas lawn mower whenever you are going to use it, and these refueling would add up to the total costs of using the gas lawn mower. With the steady rise in the in the price of fuel, using a gas lawn mower would surely be more costly than an electric lawn mower. Furthermore, gas lawn mower requires constant maintenance and oiling which may further pad up your expenses.
Long Lasting Lawn Mower
Machines, like lawn mowers, need to be maintained on a regular basis to lengthen their lifespans. Regular maintenance, of course, is better than replacement or total repair. The corded electric lawn mower needs less maintenance, but it doesn't mean that you would engage in no maintenance of your electric lawn mower. You also must engage in little maintenance of your electric lawn mower to ensure that it will continue to function well for a more extended period.
Safe to Use
Well-maintained lawn mowers are definitely safe to use. But if they are in bad shapes or conditions, chances are, they may cause accidents that can lead to injury. To prevent accidents, you need to maintain your lawn mower in a topnotch condition. The use of gas lawn mower may be more prone to the accident because gas is a volatile substance. Moreover, gas spilling may be possible and may lead to an untoward incident. The only problem is that the possibility of being electrocuted; but this possibility is too remote to happen.
Efficiency
Lawn mowers that are less maintained would surely become inefficient, and it would take longer for you to finish the mowing task if you don't engage in regular maintenance of your lawn mower. Electric lawn mowers are known to be very efficient, and since they last longer, being of low maintenance, they can work at a high level of efficiency for a longer period of usage. This is the main reason behind the gradual shift of consumers to the use of electric lawn mowers from gas lawn mowers.
Low Maintenance Cost
Interestingly, since they are of low maintenance, they are also of low maintenance costs. Electric lawn mowers are characterized by the longevity of use and high level of efficiency even after long-term usage. Given a choice between low maintenance and high-efficiency lawn mower and high maintenance and less efficiency, you should opt for the former.
---
Frequent Asked Question on Corded Lawn Mowers
What is the Most Recommended Corded Electric Mower?
When choosing a corded electric lawnmower, it will be good to bear in mind that the best-selling lawnmower may not be the best corded electric lawnmower. Of course, more often, the top-rated brands sell better than those brands with low ratings. Moreover, you get what you pay for when it comes to a corded electric lawnmower. If money isn't an issue for you, you can always settle for a top-end yet expensive lawnmower.
But if you are short of budget, you can always settle for the best-selling yet affordable lawnmower in the market today. Moreover, it will be best to consider the abovementioned important factors to consider when buying a corded electric lawnmower.
Which is Better: Electric or Gas-powered?
Both the electric and the gasoline-powered lawnmowers come with their pros and cons. For example, gasoline-powered lawnmowers—powered by fossil fuel—emit hazardous chemicals that may harm your health. On the other hand, an electric lawnmower relies on clean power and thus is not risky to your health. Yet, the gas-powered lawnmowers are perfect for large lawns because of their more powerful capacity and engines.
Is the Electric Mower Quieter than Gasoline-powered Lawnmowers?
The good thing about electric lawnmowers is that they are quieter than gasoline-powered lawnmowers. In addition, they are quiet even when in full operation. Hence, if your neighbors can't tolerate loud noise, it will be best to opt for an electric lawnmower. On the other hand, the gasoline-powered lawnmower comes with a mechanical motor that elicits a loud hum or noise. Naturally, such noise can make your neighbor fuming mad at you.
Why Should I Choose Electric Lawnmower over Gasoline-powered Mower?
If you often work in small-medium-sized yards, it will be best to choose an electric lawnmower. An electric lawnmower can handle up to 2,700 square feet of yard. You can finish the mowing of an entire lawn of this size in just one charge. Moreover, electric lawnmowers are also compact and are quite convenient to store in your garage. Plus, it is environmentally friendly and less noisy when operational.