June 7, 2023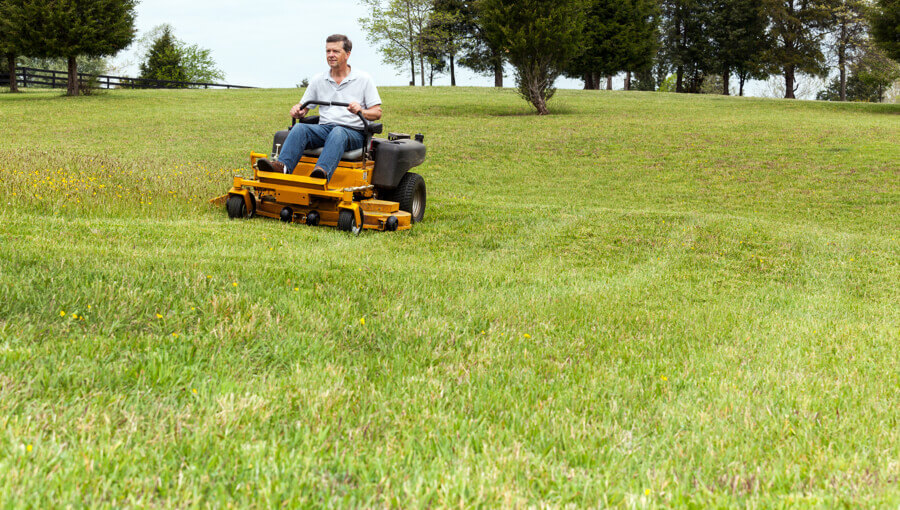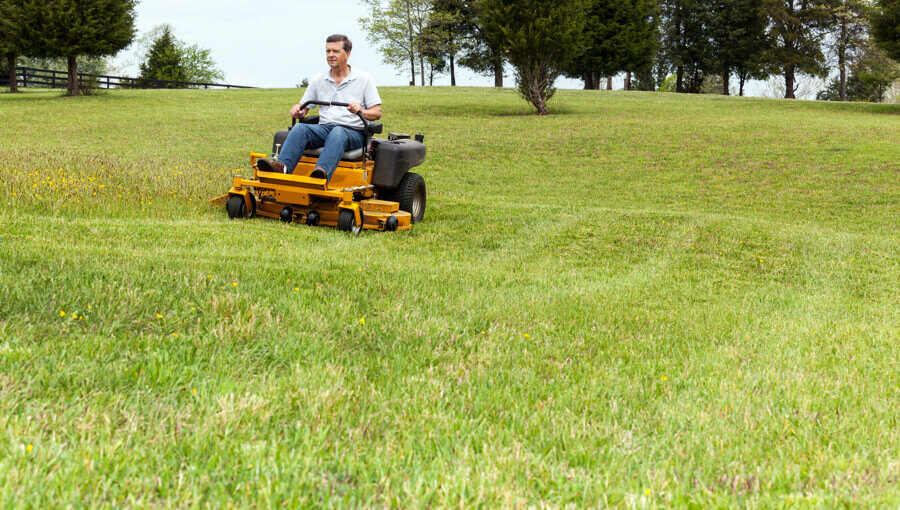 When it comes to handling a highly leveled lawn, you will surely find the zero-turn lawn mower very efficient and useful for this kind of slopped hill. But, there are some safety aspects that you must take into consideration too.
Zero-turn mowers, of course, are known for their greater agility and speed. However, it has a significant downside. This weakness is inherent in its design. Since it makes use of caster wheels in front of the machine for smooth steering, it can quickly and efficiently move along curbs and challenging areas to navigate. However, when it comes to moving through steep slopes, these wheels are not so much reliable and do not provide enough traction and stability.
You may argue that your zero-turn mower can perfectly handle steep grounds. In fact, my zero-turn mower can also handle up to 15 degrees slant without buckling up. But what I am trying to point out is that zero-turn mower's caster wheels are not comparable to the wheel stability and traction of the forward-steering mowers. They become quite challenging to maneuver once the slant is beyond 15 degrees. So, before you purchase a zero-turn lawn mower, you should try to figure out if the model you plan to buy is designed to handle steep inclines.
The Best Zero-turn Mowers for Hills
As mentioned above, if you are a beginner and are not quite experienced in mowing hills with the zero-turn mower, you may end up buying something that does not really address your needs. We have delineated here a list of highly recommended zero-turn mowers for you:
1) Husqvarna Z246 23HP 747cc Kohler Confidant Engine 46″ Z-Turn Mower
The Husqvarna Z246 23HP 747cc Kohler Confidant Engine 46″ Z-Turn Mower is a zero-turn mower that is popular among households and farms. It provides ease of use, and you can be very sure to have a smooth ride along slopes.
Husqvarna Z246 comes with a powerful engine that could mow around 2.4 acres of land per hour. It has a maximum speed of 6.5 mph. It also features a 46-inch reinforced steel deck with a two-blade cutting deck that has a 13-gauge thickness. It is also known for greater durability and power for tackling difficult terrains. You should not use this mower, however, when the ground is wet because this mower has enough power to tear up your ground.
It also features a mowing technology called "air induction" that leads to better grass lift and quality cut. This technology lets you produce a consistently clean cut every time you engage in mowing. Furthermore, it features a hydro-gear transmission system that ensures smooth movements and maneuvering on slopes. You will surely find this mower easy to operate.
---
2) Ariens Zoom 34 – 19hp Kohler 6000 Series V-Twin 34″ Zero Turn Lawn Mower
The Ariens Zoom 34 is a compact mower that is designed for tackling small and medium-sized yards or lawns with hills. It is a mid-range mower that is good for maneuvering along the tight spaces. It offers excellent maneuverability and is nicely designed with great color. It features a 12-gauge steel stamped deck that is 134″ wide. It also comes with 2 Spindles EZT Transaxles that provide quality results.
It features a powerful Kohler 6000 Series twin engine with 19HP and 660cc capacity. It would surely provide you with exceptional performance. It also features an electric start system along with a dual EZT transmission that allows for a more comfortable mowing experience.
Furthermore, it also features a 7-point deck height positions that range from 1.5″ to -4.5″, allowing you to set it to the desired cutting height. You can also add a trailer hitch kit to readily transform this mower into a multi-purpose machine. Lastly, it comes with an ergonomically designed padded seat for a more comfortable mowing ride experience.
---
3) Swisher ZTR2454BS Response 24HP 54-Inch B&S ZTR Mower
The Swisher ZTR2454BS Response is a powerful mowing machine that comes with an innovative rapid-response control system. The Swisher, of course, is a company that leads in manufacturing garden and lawn equipment. This offering of swisher is indeed a testament to the quality of its products.
It comes with a 24HP engine made by Briggs and Stratton. It has 54″ 11-gauge cutting deck along with three Gator mulching blades. It also comes with an 8-gallon fuel capacity. Moreover, it has a heavy-duty welded frame that would surely surprise you and enthuse you to buy it.
It also offers excellent maneuverability with Hydro-Gear 2800 transmissions along with an Ogura clutch. It also comes with other features like battery compartment, full-engine wrap, and cup holder. Its maximum speed is 8 miles per hour. However, the only downside in using the Swisher Response is that it is a bit noisy when operated.
---
4) Swisher Z3166CPKA
The Swisher Z3166CPKA features a 66 inches cutting deck that can deal with 15° slopes. This cutting deck offers enough width for taking on a sizeable lawn. It can mow golf fields, football pitches, and many other large areas. Hence, if you are desirous of having a commercial-grade lawn mower, you might as well check the Swisher Z3166CPKA. 
The Z3166CPKA is equipped with a 31-horsepower Kawasaki engine (999cc). It has improved efficiency, given its other components like the Hydro-gear Transmissions and the warner clutch (electric PTO). With this mower, you won't need to sweat yourself a lot because it doesn't necessitate much effort to operate it.
Its height adjustment is powered by electricity. It also comes with a suspension seat (high-back) that provides you enough comfort when working for several hours. Moreover, it has fantastic dual (LED) headlights. Hence, you can continue working even in the late hours of the day. Fabricated steel makes up its frame. So, you can assure yourself that its structure is durable and sturdy.
Pros:
It offers electric-powered height adjustment for its deck.
The deck is wide enough.
It can mow at ten miles per hour.
It comes with a powerful engine.
It comes with LED lights for working during late hours.
Cons:
It is expensive.
It is not suitable for domestic use.
---
5) Husqvarna MZ61
The Husqvarna MZ61 is one of your best options if you are looking for a riding mower. This one, of course, is a more expensive option, but it is worth buying. It is best for mowing hilly fields, and it should be one of your top options. It is powered by a 27-horsepower engine (Briggs Endurance) that provides it with remarkable speed. 
You will surely love this mower, and once you've tried it, it will indeed become an indispensable machine for your landscaping projects. It features excellent (high-back) seats, with handgrips covered with foam. It also features vibration-lessening material for making your ride smooth and fun.
The Husqvarna MZ61 features an eleven-gauge deck (steel-cutting), providing you with around 54-inches width of cut that is wide enough for tackling any sizeable field.
Pros:
It doesn't tire your hand with its hand grips that reduce vibrations.
Its seat offers excellent comfort.
It comes with an hour meter that indicates whether it's time for servicing your mower.
It allows for less stressful transitioning uphill.
Its design is professional and sleek.
It can provide precise maneuvering.
Cons:
It is a challenge to find a replacement for some components.
---
Conclusion:
Finding the right zero-turn mower to mow the sloped ground, as mentioned above, is not an easy task for beginners in the use of mowers, given the fact that there are myriads of brands and models of mowers on the market today. Yet, if you carefully read the abovementioned tips and follow our leads as to which zero-turn mowers are highly recommended, you can readily narrow down your choices to the best zero-turn mowers on the market today.
Buyer's Guide: Factors to Consider When Buying a Zero-turn Lawn Mower For Slope Mowing
There are myriads of zero-turn lawn mowers on the market today, and this makes it difficult for buyers to choose the ideal zero-turn lawn mower to buy. Hence, we have delineated here several factors that you should consider when buying a zero-turn lawn mower for hills.
And there are several essential factors that you need to consider when purchasing a zero-turn lawn mower for mowing hilly grounds. These factors include the following:
Usability on Hilly Terrains
Zero-turn mowers are not engineered for use on hilly terrains. Hence, it isn't a good idea to use it on hilly grounds. Before purchasing a zero-turn mower, it will be best to figure out if it is designed for operations on hills. Make sure that it is compact for such operations.
Mount Type
There are two types of mowers baed on the grass cutter mounting. At first sight, you may not be able to figure out what type of mount a mower has. Yet, upon closer scrutiny, you will readily see the difference between the two mount types. Based on the driver system, the two mount types include the mid-mount and the out-front mount.
Mid Mount
The mid-mount zero-turn lawn mowers have a mount that is suspended over a four-wheeled chassis. This type of mount offers a higher level of control and balance. It is safe to use, especially when tackling inclines, and it provides great performance.
Out-front Mount
On the other hand, there is the out-front mounted zero-turn lawnmower. This type of mowers comes with a centralized drive wheel system. In such type, the rear caster wheels help the front wheels. This leads to rare occurrences of loss of traction and loss of steering.
Speed
Many manufacturers usually advertise their products as high-speed mowers. They make the high-speed tag as their selling point. Yet, when it comes to zero-turn mowers, you should slow down when you are maneuvering up a hill or down a hill. As mentioned above, you should slow down to around 4 to 5 miles per hour when tackling hilly grounds.
Moreover, you should not make sharp turns when tackling a hilly ground. And you will surely be courting disaster if you do so. You should not think that—simply because the zero-turn lawnmower model that you've bought is advertised as high-speed—you could always drive on high gear.
Comfort & Ease of Driving
If you are not an experienced lawnmower driver, you should at least look for a model that is easy to maneuver and operate. In our opinion, you should go for rear-wheel-drive ones. The reason for this is that front-wheeled mowers are not prone to cutting on an inclined surface. Moreover, you should consider something that does not have speed as its selling point, for you don't need much speed when tackling hills. You should go for a decently moderate-speed lawnmower. In a nutshell, you should go for something that you can easily control and drive.
Safety Features
If you are often tackling a 15-degree incline or more, you should go for a front-wheel driving mower or a walk-behind one. This will help you avoid getting entangled in injury or accident when driving down or up a hill. You should also buy mowers with a safety seat belt along with protective roll bars. Roll bars can surely protect you from injury in case the mower rolls over. You should maintain slow speed likewise while tackling hills and ensure that you are engaged in accurate steering if you are using a zero-turn lawn mower to avoid an accident.
Quality
Zero-turn riding mowers can be categorized according to quality grade. These categories include Estate/Midgrade and commercial. These categories also include Economy and Industrial grades. Hence, before making a purchase, it will be best to understand the difference among these quality grade categories to know which one will be appropriate for your needs.
---
How To Drive Zero-turn Mowers to Mow Slopes?
As mentioned above, you should refrain from using your zero-turn mower when working on more than 15 degrees inclines. However, if you plan to operate the mower on a steep hill with a 15-degrees slope, you need to make some adjustments to keep it safe.
Speed Adjustment
One adjustment is in its speed. You should slow down your mower to 4 to 5 miles an hour so that you can safely handle the steep. Slowing down to this speed gives you enough traction to safely work out the hill and help you avoid a tip over.
Avoid Making Turns on The Slope
Another thing you should bear in mind when using your zero-turn lawn mower is that you should avoid making turns when threading the incline. If you want to make a turn, you should drive beyond the slope and make your turn on level ground. You should do this until you have covered the entire slope.
Frequently Asked Questions
If you know the essential factors to consider and the most recommended ZTR in the market today, you can indeed zero in on something appropriate to your needs. But it will also help if you are familiar with the following FAQs:
Are the Zero-turn Mowers Designed for Hills?
As mentioned above, most zero-turn mowers are not engineered for hilly operations. So, one downside of using a zero-turn mower is that it will be a challenge to use it on hilly terrains. Since most zero-turn mowers come with caster wheels that enable easy steering, you may think that you can manage using it on hilly terrains. These wheels, however, are not designed for multiple turns on hilly terrain. As such, the level of risks involved in operating a zero-turn mower on hills is high.
Do Zero-turn Mowers Operate Well on Hills?
It is a fact that ZTR mowers can be agile and speedy. Nevertheless, ZTRs are not ideal for use on hilly grounds, and they will perform poorly. Of course, they can operate on slopy grounds less than 20°. But more than that, you must relent from using your ZTR. However, if you are desirous of using a ZTR on very steep slopes, you might as well be very careful as to which ZTR model to choose. Select only those which are designed for steeper slopes.
Can You Use a ZTR to Mow a Steep Hill?
If your land is dotted with steep hills that you would like to mow regularly using your ZTR, it will be helpful to invest in a ZTR with rear weights as well as tire chains. When working a steep slope, you should also be wary of your turns and speed. Make sure that you mow cautiously and slowly.
You can also mow the slope downhill, for it is easier. But you will have more traction if you maneuver uphill, considering that the weight of your ZTR is channeled more to the rear wheels. Nevertheless, when you drive downhill your ZTR, the mower weight is directed chiefly on the front wheels, making the rear wheels light, and you would begin to lose your traction.