June 13, 2021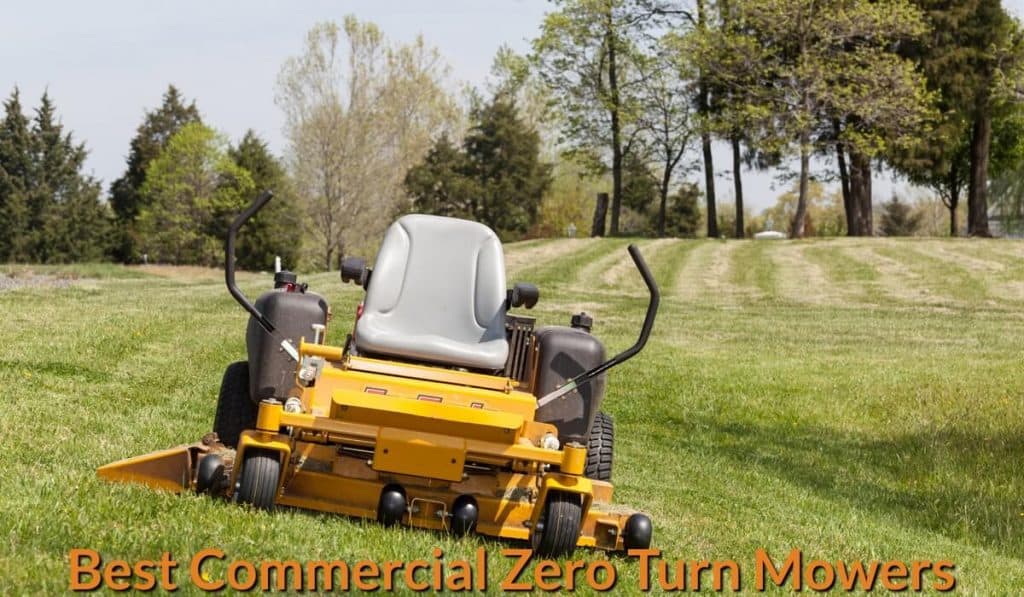 If you are a commercial landscaper, you should invest in a zero-turn mower. In fact, a zero-turn mower should be one of your must-have equipment. Why? Because this machine is indeed a powerful machine that is far better than a conventional ride-on or walk-behind mower. If you need to cut a large tract of land regularly, you would surely make your cutting job a breeze with the use of a zero-turn lawnmower.
What is a Zero Turn Mower That Used For Commercial & Business Purposes?
A zero-turn mower is a riding lawn mower with a zero turning radius. Turning radius, of course, refers to the smallest circular turn that any vehicle can make. A vehicle like a lawnmower, for example, turns at a certain radius, and the smallest arc that it could take to turn is referred to as the turning radius. In the case, however, of the zero-turn mower, its turning radius is basically "zero." This means it is flexible and versatile enough to cut through curbs or difficult-to-reach areas with ease.
A zero-turn mower is ideal for use in a large yard that regularly needs cutting. It is ideal for use by professional landscapers likewise who got lots of cutting to do. It provides facility and convenience and saves you lots of time that you would otherwise use for cutting. Even if your yard is small, you can always opt for a residential zero-turn lawn mower. It will surely make cutting a breeze for you. Furthermore, it can enable you to go around the bushes, trees, islands, and even flower beds with ease. You will surely appreciate the facility of using the zero-turn lawn mower.
Factors to Consider When Buying a Zero Turn Lawn Mower For Commercial Uses
The most recent rollouts of zero-turn lawn mowers have four wheels equipped with swiveling back and front tires that readily rotate even in the opposite direction. This gives the zero-turn lawn mower its unique ability to move and turn with almost zero-turn radius. Moreover, they come with easy-to-control interfaces and feature great maneuverability that you would never see in a conventional lawn mower.
Choosing the right zero turn lawn mower, however, is not an easy task given the myriads of models and brands of lawn mowers on the market today. Hence, we have delineated here the factors that you should consider when shopping around for a zero-turn lawn mower.
1) Consider the V-Twin Engine
If you want to buy a zero-turn mower, you should go for models with v-twin engines. Mowers with v-twin engines are known for their more powerful performance as compared to other types of engines like the single-engine ones. Moreover, the V-twin engine provides more comfort when riding and better durability.
2) Choose The Lawn Mower With Better Deck Designs
Decks typically come in two types of designs, namely: the welded and the stamped deck. These two types of deck also differ in their performance. The stamped deck features one piece of steel which can work well on flat terrains that require less effort and work. On the other hand, the welded deck is designed for heavy-duty tasks. It features several steel pieces that are joined together to absorb more significant shocks and stress. Hence, it surely performs well in rough terrain and does heavy works without giving you any problem.
3) The facility of Use
If you are going to buy a zero-turn lawn mower, you should opt for something that has an easy-to-navigate interface and easy to operate control system. You don't want to buy something that would be a headache for you to operate. You should also buy something that could readily handle the regular tasks for which you intend to use it. This will save you enough time and effort into your cutting tasks.
4) Go for oOne That Provides Great Control
Different types of mowers also carry different control systems. You will find mowers with lap bar control. You will also find mowers with a steering wheel. Moreover, you will find some with joystick control. You should, however, choose something that is a breeze to operate.
5) Choose The fuel-efficient Model
Mowing lawn usually takes several hours. Thus, you would surely consume a lot of fuel to complete your mowing tasks. This means you would need a mower that comes with a high capacity tank. It should also efficiently consume fuel. You will find mowers with engines that have a 3.5-gallon capacity tank. You will also find models with 8-gallon capacity. Go for a mower, therefore, with a tank capacity that could address your regular mowing tasks.
The Three Highly Recommended Commercial Zero-turn Lawn Mowers
To facilitate the process of buying a lawn mower, here are three of the most highly recommended zero-turn lawn mowers on the market today:
1) Poulan Pro P46ZX, 46 in. 22 HP Briggs & Stratton Zero Turn Riding Mower
The Poulan Pro P46ZX, 46 in. 22 HP Briggs & Stratton Zero Turn Riding Mower is a machine that could facilitate your mowing job. It can speed up your work and is very effective. It is a zero-turn mower that features one of the most advanced designs for mowers. It is built with durable materials and is designed to last for several years. It will surely reduce your working time and also lessen the effort that you would exert mowing the lawn. It is a smart machine that is worth investing in.
It has a 22-horsepower engine that is built by Briggs and Stratton, a leading engine provider. This company boasts of several decades of manufacturing and designing engines that exceed expectations. It works precisely and with ease, allowing you to move swiftly from one curb to another because of its very compact design.
This Poulan Pro P46Z model can cover a large tract of ground with its 46-inch wide mowing path. It also comes with an ergonomic design that would let you comfortably slide into its driving chair. It also features six cutting heights options, allowing you to adjust its cutting height to the desired cutting height.
---
2) Husqvarna MZ61 61 in. 27 HP Briggs & Stratton Hydrostatic Zero-turn Riding Mower
The Husqvarna MZ61 61 in. 27 HP Briggs & Stratton Hydrostatic Zero Turn Riding Mower is a mower that would radically transform your way of working. It features the best qualities that you would ever look for in a mower. It has an intuitive interface that facilitates its operation. When it comes to design, it is undoubtedly meticulously designed with a heavy-duty steel frame.
The Husqvarna MZ61 61 in. 27 HP comes with a hydraulic system that makes it one of the best mowers on the market today. It also features a steel deck with an almost perfectly designed structure that you can maintain easily. You can also adjust its armrest and back seat to provide you with comfortable riding experience.
The design of this mower is perfect for mowing for several hours. You can ride this mower all day long without really exhausting or tiring yourself much. The machine may require several days of breaking in, and at first, it may be uncomfortable. Lastly, it is designed to cover a large tract of ground in a shorter time.
---
3) Troy-Bilt Mustang 54 25HP 54-Inch Zero-Turn Mower
Another reliable mower that you can buy is the Troy-Bilt Mustang 25HP. It features a sturdy body that would surely bear the rigor of covering a large tract of ground. Its 25-HP engine is very powerful and made by Briggs and Stratton, a company that is known for manufacturing top engines.
With the Troy-Bilt Mustang 54 25HP 54-Inch Zero-Turn Mower, you can surely cut down on your mowing time and come out less exhausted. It also features a power take-off technology that lets you stop and start it quickly. It also comes with a 54-inch cutting deck. It is also equipped with four deck gauge wheels along with a rear roller for increased efficiency. It will surely improve your speed in cutting and eventually enhance the ROI of your landscaping business.