June 7, 2023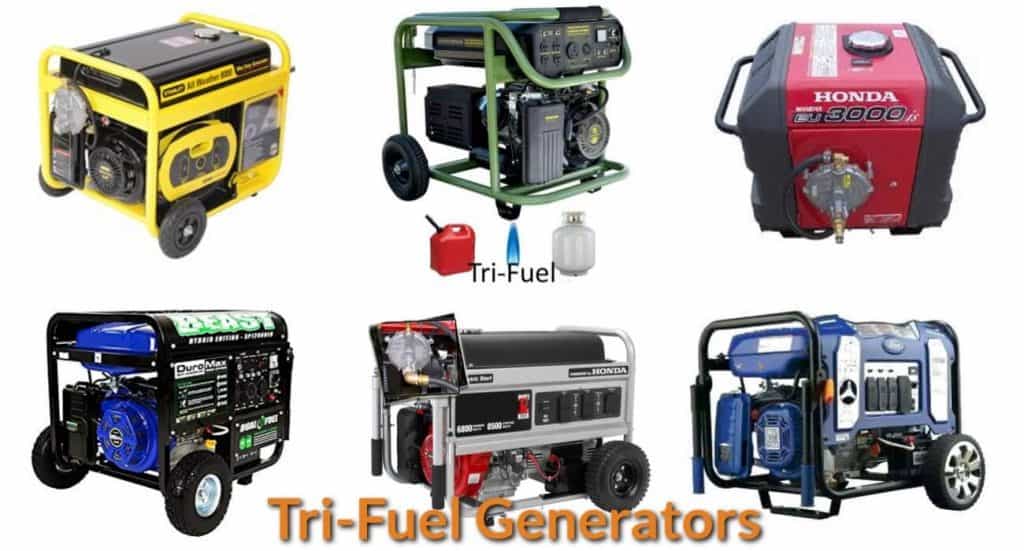 Should you use the tri-fuel generator instead of the dual-fuel model? We are now living in a world where natural calamities are becoming superlative in nature. Words like the super typhoon and super hurricane have become a household terminology. Supervolcano and mega-tsunami likewise have become very common terminologies in the news like its precursor term—the super earthquake. The abovementioned terms refer to catastrophic events, and their aftermath usually brings in power outages. These power outages may last for a couple days, weeks, or even months, depending on the severity of the damages on the existing infrastructures.
In case of a power outage, it is important to have a portable or RV generator at hand to provide the necessary power, especially, during emergency situations. One advantage of having a generator at hand is that it can provide electrical power wherever and whenever you need it. Generators are either gasoline- or diesel-powered engines to drive the induction motor that converts mechanical energy into electrical energy.
---
5 Most Recommended Dual and Tri-fuel Generators
Are you spending time trying to figure out whether to choose dual fuel or tri-fuel generator for your use in your household? Well, the same thing happened to me several years ago, which prompted me to do exhaustive research on which type of generators to choose for my household. To my surprise then, I discovered that there are portable hybrid generators that run in both LPG and gasoline.
These hybrid generators provide you enough flexibility in regulating the costs of operating your generator, choosing your fuel, and the runtime of your generator. I have also found out that there are tri-fuel generators that offer similar benefits as the hybrid ones but with the extra convenience of having more fuel options.
---
1) Champion Power Equipment 100416 (Tri Fuel)
The Champion 100416 (TRI Fuel) can be operated on propane, natural gas, or gasoline. It comes with gas propane and gas hoses, and it is ready for operation out of the box. This generator is a portable generator with starting wattage of around 10000W and 8000W rated wattage when running on gasoline. When running on propane, its rated wattage is 7200W with a peak wattage of 9000. When running your generator on natural gas, it has a rated wattage of 7000W with starting wattage of 8750W.
Many food truck owners and campers opt for this generator because of its acceptable noise level and longer than average running time. This generator is likewise popular among homeowners who want to utilize their devices even during a blackout.
This generator delivers both 120 and 240 Volts for its users. It is also rated for a 74dBA noise, which is slightly louder than a vacuum. Moreover, it is easy to use and provide, and its controls are easily accessible. It also has an 8.5-gallon fuel capacity with around 12.5 hours of run time. On propane consumption, it can achieve a five-hour runtime.
Pros
It is easy to operate and operational out of the box.
It features an electric start.
It comes with a three-year warranty.
Cons:
It doesn't feature a remote start.
---
2) DuroMax XP12000EH (Dual Fuel)
If you are desirous of a reliable and powerful generator, you should check out the DuroMax XP12000EH. It comes with a sturdy design that features an electric start. It also comes with solid tires that are designed for rough terrain. Besides, its frame is made of sturdy metal with an insulated motor mount.
The DuroMax XP12000EH is nicknamed "the beast" because of its power. It can provide you with energy for seven hours when in half load on whatever fuel type. It also comes with a 50-amp outlet for maximum load.
The DuroMax XP12000EH is a dual fuel generator. It is portable and affordable. It can deliver a power surge of 12,000 watts and rated power of 9500 watts on gasoline. However, when operated on liquid propane, it can provide 11,400 watts of surge power and running power of 9025 watts.
Pros:
It is heavy-duty.
It is portable.
Cons:
There were reports that it is lackluster when operated using LPG.
---
3) Sportsman GEN4000DF (Dual Fuel)
The Sportsman GEN4000DF features a compact frame. It is a dual-fuel generator that comes with 3500 rated wattages and 4000 starting wattages. It is perfect for RV travelers and homeowners who need a backup power source. It has a 120V output. When operated on gasoline, it delivers a 3500W running wattage and 4000W peak wattage. When run on propane, however, it provides a rated wattage of 3100W and a starting wattage of 3600W.
Using a traditional pull-start mechanism, you can easily start and operate the Sportsman GEN4000DF. Its noise rating is at 69dBA. It also has a 3.6-gallon fuel capacity, with a runtime of up to 12 hours.
If you survey its control panel, you will find five AC outlets, two duplexes 120V outlets (20A), and one 120V receptacle (30A). Additionally, it comes with one DC outlet. It is also RV-ready with its TT-30R receptacle.
Pros:
It is silent at a 69dB noise rating.
It is great when use as a backup power source.
It is affordable.
Cons
It seems incapable of holding four gallons of fuel but instead can hold only three gallons of fuel.
---
4) Pramac Tri Fuel Generator 7,200 Watts
Pramac Tri-Fuel Generator is another excellent option when it comes to tri-fuel generators. Its engine is a 14HP engine and is perfect for any situation. It can deliver enough power to keep operational your home appliances if there is a blackout. Moreover, it is portable. You can easily haul it up into your RV. Besides, it features a sturdy construction for long-lasting durability.
When it comes to portability, it comes with rugged wheels on its rear with pulling levers that are foldable. Hence, you can easily move it around even if it is a 200-pounder generator. It can generate more than 7000 watts, enough to keep your home running with power for 24 hours when you operate it on a half-loaded LPG tank.
This generator creates clean energy. Its starting wattage when run on natural gas is 7300 Watts, while when run on gasoline and LPG, its starting wattage is 7500W. Its running wattage on gasoline and LPG is 7000W, while when on natural gas, its running wattage is 6700W.
Pros:
It is heavy-duty.
It has a maximum runtime of 24 hours.
Cons:
---
5) Champion Power Equipment 200961 (Dual Fuel)
If you want something that is compact and quiet, you should check out the Champion 200961. It is a lightweight and compact dual-fuel inverter generator. It also has a 185Wrated wattage and 2500W starting wattage. Besides, it is perfect for tailgating and camping buffs. It is also an excellent backup power source and can deliver a 120V output.
The good thing about 200961 is that it can be daisy-linked with another compatible generator. Moreover, it is silent with a 53dBA noise rating. You can also start it using a pull-start mechanism.
Its EZ Start Dial allows you to start this generator with ease. Besides, its control panel lets you easy access to the different controls. It has a 1.1-gallon fuel capacity for a maximum of 11.5 operating hours. On the other hand, its 20-pound tank of propane can operate for up to 34 hours.
Pros:
It operates quietly.
It is compact and quite portable.
Cons:
The customer support may be less accommodating, according to some users.
---
---
Dual and Tri-Fuel Generators
Life without electricity is undoubtedly a terrible thing for modern humans. Without a functioning HVAC, lights, or refrigerator, the life of modern humans would surely be a bit difficult. A portable generator, therefore, can readily provide power for your lighting, air conditioner, and refrigerator, as well as for charging your smartphones and computers in case you need to communicate with other people around the globe. After such calamities, you would also notice a surge in the prices of basic commodities like food. Gasoline, for example, can become scarce and very expensive, and if your generator is only powered by gasoline, you may find it hard to secure the necessary supply of fuel for your generator. On the other hand, if your generator is dual- or tri-fuel, chances are, if you could not find gasoline supply, you can still look for another form of fuel to run your generator.
While the diesel-powered generators are the more cost-effective and more efficient means of providing power for a longer period, they also have some drawbacks. Diesel generators are complicated machines that are considerably heavier and louder than the gasoline-powered or tri-fuel generators. On the other hand, gasoline-powered generators are lighter, quieter, and more convenient to operate than diesel generators. Moreover, gasoline engine can readily run on other fuel like propane and natural gas with some modifications on the fuel supply system. The ability of the gasoline-powered generators' internal combustion engines to run on both gasoline and propane led to the development of dual-fuel generators. They are both similar in their fuel configurations except that tri-fuel has an extra fuel type option, i.e., natural gas.
---
Should You Use The Tri-Fuel Generator?
This type of generator uses gasoline, propane, and natural gas as fuels. Gasoline (or gas for Americans, petrol for British) easily degrades and has the shortest shelf life of all these fuels. Despite this shortfall, many household machineries (like lawnmowers, chainsaws, and wood shredders) and cars use gasoline to run their engines. Tri-fuel makes it is easy to switch from one fuel to another fuel.
Propane has a longer shelf life and can be stored for a long time like diesel. Propane is one type of liquefied petroleum gases or LPGs, but not all LPGs are propane. Moreover, propane tends to become denser in cold weather and thinner on hot climate. Hence, with the tri-fuel, you surely have a lot of fuel options to choose from.
The addition of natural gas hook-up makes the tri-fuel generator most ideal for home use. Natural gas does not need to be stored, but you will need the services of a plumber to hook it up to your household gas supply. Having the natural gas as a fuel option allows you to run your generator for a much longer period, for you are not limited by the capacity of the integral gasoline tank or the LPG cylinder.
---
Buyer's Guide: Factors To Consider When Choosing Between Dual and Tri-Fuel Generators
You need to consider these critical factors:
Usage Frequency and Duration
Do you need to power your home using your generator to minimize your electric bill or do you just want to use it in times of emergency or recreation? Do you need to run your generator for the duration of the power outage or only during night times to provide light during nighttime? Always remember that the frequency and duration of use contribute to the wear and tear of the generator.
What Type of Fuel You Frequently Use to Run Your Generator?
What fuel do you intend to use most of the time? Gas provides higher surge and running wattage; however, it can readily deteriorate your generator engine over time due to its short shelf life. On the other hand, using natural gas as your primary fuel provides an uninterrupted supply of fuel sans that over-dependence on the generator's fuel capacity or contents of a propane LPG cylinder. But natural gas does not provide the same surge or running wattage like that provided by the gasoline or propane. Using propane as fuel allows similar wattage rating to that of gasoline and shares the same drawback of being dependent on the limited amount of fuel storage. Moreover, propane allows the generator to run more efficiently as it has a longer shelf life.
Where Do Going to Use Your Generator?
Aside from using your generator at home, you can also use your generator during road trips, tailgate party, and other outdoor activities. This answers what type of multi-fuel generator is suited for your need. If you frequently use your generator at home, you should choose the tri-fuel generator. If its use is for outdoor, you should choose the dual-fuel generator.
Power Outlets
Tri-fuel generators feature several different types of power outlets. So, when selecting a tri-fuel generator, it will be best to consider how many power outlet types are there. The number of outlets would determine how many devices you can power off using the generator.
The typical generator comes with four 120 volts outlets (household-style). With this number of outlets, you can power almost all your devices. It is also helpful to consider whether it comes with a (120V/240V) twist-lock style power outlet for some large appliances like freezers and refrigerators. You can also look for something with USB charging ports for charging mini-electronics gadgets.
AVR System
The AVR system or automatic voltage regulator system allows you to regulate the voltage output of the generator. It keeps the generator's voltage output within the allowable rated output range. Such a feature is crucial if your electronics are sensitive to power fluctuation.
For example, a slight surge in the power output of your generator may prove damaging to your electronics like smartphones and computers. Nevertheless, you won't need an AVR system for your larger appliances like the refrigerator.
Fuel Tank Capacity
When selecting a tri-fuel generator, you need to consider the fuel tank capacity likewise. Yet, the fuel tank capacity only plays a critical role if you are powering your generator with gasoline, for if you are using natural gas, you can get your fuel through the pipelines, while propane has its tank. The capacity of a fuel tank differs from one generator to another. You may find, for example, a 15-gallon tank. You will also find a 7-gallon tank.
Moreover, the tank capacity more often dictates the size of the generator. It also dictates the frequency of refueling your generator. A smaller tank, of course, requires more frequent refueling.
Extra Features
You may want, for example, to look for something that has certification from the Air Resources Board if you are worried about the effect of the generator on the environment. You may also look for a brand that is known for good customer service.
Warranty
A tri-fuel generator is not cheap. It is, in fact, expensive. So, it should be durable and long-lasting. As a buyer, you would also want to ensure that your purchase comes with a reasonable warranty. At least, it should come with three years of warranty like those of Kohler and Wanco. So, before purchasing, it will be helpful to check the warranty that comes with it.
---
Advantages of Using Tri-Fuel Generator
Since its introduction into the consumer market, its popularity has substantially grown and has slowly replaced the first-generation single-fuel generators in many homes. This growing popularity of the tri-fuel generator can only be attributed to its benefits. Some of the readily identifiable benefits include flexibility, adaptability, mobility, and convenience.
Flexibility and Adaptability
It has the ability to switch from one fuel to another to suit the prevailing weather or climate. The inclusion of natural gas hook-up made it possible to use your household gas supply to run your generator, especially during winter seasons when the pressure in the propane cylinder drops due to low temperature. In the event that your gas supply went offline, you can readily switch your generator back to gasoline or propane.
Mobility & Portability
Due to the portability that the tri-fuel and dual-fuel generators inherited from the first-generation, mono-fueled portable generators, the tri-fuel generator remains compact and lightweight enough to be manhandled and transported anywhere. Along with the option to run on three different fuels, the tri-fuel model has arguably become the favorite among many people.
Convenience
The ability of the tri-fuel model to switch from one fuel to another is unparalleled among portable generator class. While the power provided by this generator type is not so large, it is enough to power most average-sized homes. Moreover, in the event of a disaster and its aftermath, you can run the tri-fuel generator using any fuel that is available. If the power and gas lines are knocked out, you can buy propane LPG from any supermarket. You can also use some amount of spare gas from your car.
---
Frequently Asked Questions
Aside from knowing the essential factors to consider and the most recommended dual and tri-fuel generators, it will likewise help if you know the following FAQs about dual and tri-fuel generators:
Where Should I Bolt in the On-demand Regulator?
You can secure the on-demand regulator anywhere on the generator's frame. But when securing it, you need to ensure that you don't drill into any critical component. You should also avoid hitting the gasoline fuel tank. Besides, you must place two bolts to position the regulator securely.
Nevertheless, you should refrain from placing more bolts, for it may muddle the appearance of your generator, and water may enter the generator when it rains.
Is It Advisable to Remove Later the Natural Gas Conversion?
Of course, you can remove the natural gas conversion kit. However, removing it requires you to reverse the installation process of the natural gas conversion kit. Nevertheless, the bolt holes will remain etched onto the generator's frame, and you can never undo it.
So, if you are considering removing the conversion sometime in the future, you can mount it on the frame handle frame instead of mounting it on the generator's frame.
What Will Happen If There is Space During the Conversion Behind the Air Filter?
If you discover a space behind the air filter's housing after installing a spacer between the air filter and the carburetor adapter, you might have gotten an incorrect conversion kit, or it is poorly manufactured. This space may become an issue because it will let unfiltered air seep into the carburetor.
To do away with space, you can add a metal gasket or a custom rubber to fill in the said gap. You need to ensure that the filler fits precisely the space between the air filter and the carburetor.
What Fuel is Cheaper to Use for a Generator: Gas or Propane?
When it comes to what is cheaper, I think gas is more inexpensive than propane. Of course, propane will be less costly initially. But it produces less energy. For this reason, you will need more propane to make more energy than gasoline and spend more on propane. Another thing is that gasoline is readily available than propane. But when deciding on which fuel to use, it is best to consider your needs.
Which is the Most Efficient Fuel for Generators?
If you are bent on buying a tri-fuel generator, it will be best to know which fuel is the most efficient for a particular generator. When it comes to efficiency, the one with the highest efficiency is diesel. So, you would buy less diesel to power up your generator as compared to other fuel. For this reason, you will also not spend much on diesel.
The sad thing is that most tri-fuel generators do not have diesel tanks or diesel as an option. So, if the tri-fuel generator only has propane, gasoline, and natural gas as options, your best choice among these three is gasoline.
Propane, however, has a lesser per gallon price than gasoline. So, it lessens the expenditure you will incur between these two fuels. Propane, moreover, is easier to get as compared to gasoline. Plus, gasoline is less clean than propane.
On the other hand, propane burns more efficiently than natural gas, though natural gas is less costly than propane per unit. So, to figure out which is less expensive for you among these fuel options, you should make a comparative analysis of the prices of fuel in your place.
Conclusion
Dual and tri-fuel generators indeed provide you with more flexibility when it comes to the fuel availability, running costs, and the runtime of the generator. In addition, during emergencies, you got options as to which fuel to use to operate your generator, allowing you to ensure that your generator will work during emergencies even if one of your fuel options is not available.
However, if you intend to buy such a generator, you need to know the factors to consider. In this way, you can make a wise purchase. But if you want to ensure that you will zero in on the best dual or tri-fuel generator, you can always check out the most recommended dual or tri-fuel generators in the market today, as listed above.