June 7, 2023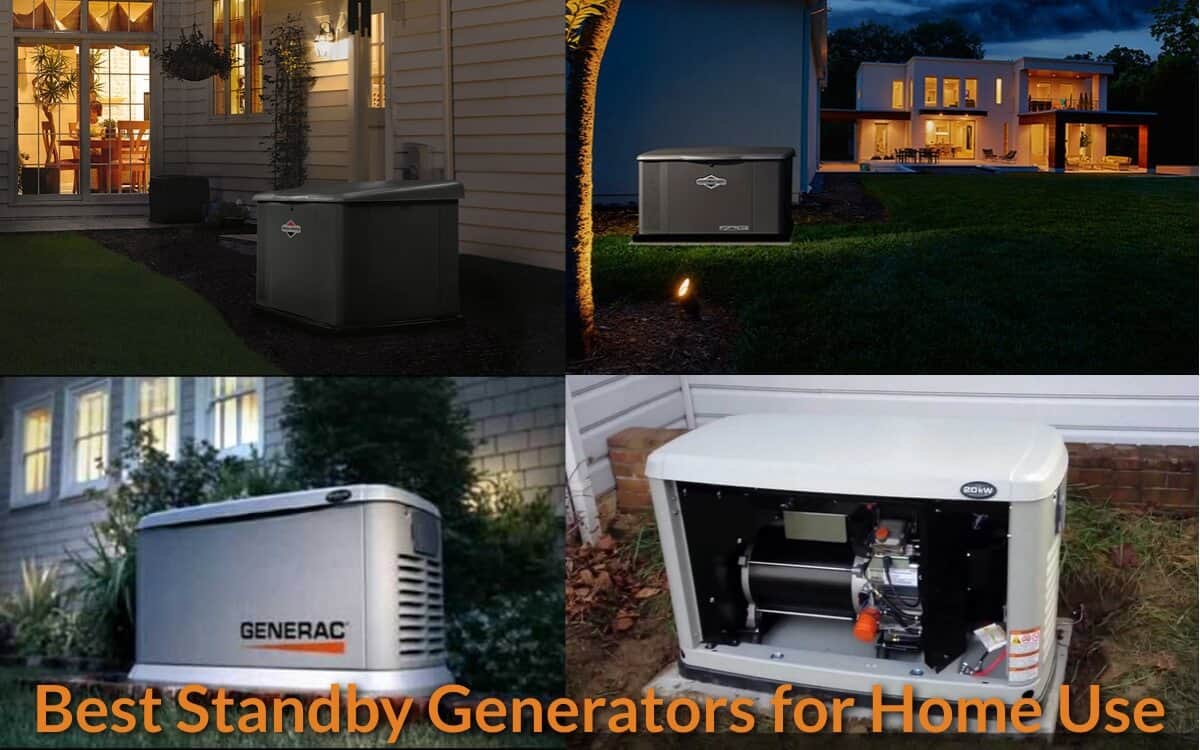 Home Standby Generator comes in different sizes and brands, but all provide similar functionality. It operates automatically and immediately within seconds of a power outage and begins supplying power to the house. The standby generator shuts off as soon as the utility power returns and goes back to standby mode. Each brand has specific features and benefits that suit different household's electricity needs. It is important to analyze the features that each brand offers and decide on the right generator for your home or business.
A prolonged power outage is a real nightmare, especially during extreme weather. Many basic household chores and features which we usually take for granted, like laundry, vacuuming, cooking…. will have to put on hold. The refrigerator stopped functioning to keep your food fresh, lights go off, and you have to endure hours or even days of boredom. The extreme heat or cold can endanger the elderly, young child, and baby. Not to mention the potential losses to businesses too.
Those scenarios explained why having an emergency standby generator is a necessity for every household and business.
You can have peace in mind during a power outage. Critical household systems like refrigeration, septic systems running as usual, and your daily life goes on as usual. Your business operates as usual too.
Portable Generator Vs. Standby Generator
Most people tend to make a desperate decision during a major power outage or around significant storms, and end up buying a Portable Generator in a rush to get the power-up and running. Unfortunately, people lose their life to carbon monoxide poisoning related to portable generator every year.
In general, it is advisable to own a Standby Generator over a Portable Generator.
It offers more features and benefits than a Portable Generator.
Even though portable generators are more reasonably priced, but they tend to be substantially less powerful, and they do not turn on automatically when power is down.
What Makes A Best Standby Home Generator?
Has potential to monitor utility supply electricity and switches on when the utility company and vice versa do not cover needs.
Weekly "exercise tests" are performed to check if all the components are working or not and ready to go whenever the need for them arises.
Is connected with the natural gas line to ensure a consistent and indefinite supply of power.
It is hooked up via a transfer switch to the home electric circuit so that you do not need to unplug anything.
Has weatherproofed enclosures to ensure durability and longevity in the use.
Standby Generator Buying Guide
There are many manufacturers making different brands and models of Standby Generator. Making a purchase decision involves a tedious process in evaluating which brand or model that best suits your household or business needs.
Here are a few important factors to include in your evaluation list, to help pick the right generator for your home or business.
1) Wattage
The amount of power a generator can deliver is measured in watts, and it determines how many lights and electrical appliances can run at once. Thus, it is important to know the power needs of your home and to decide if you want to only keep the central system like the refrigerator and air conditioning is running, or to power the entire house.
List down the devices you consider essential to keep your home as comfortable as possible during an outage and measure the amount of energy needed to keep them powered.
One important note to bear in mind is, the total wattage needed to start up the devices will require a lot more than just keeping them running. Thus, you need to look at the start-up wattage instead of the maximum wattage of a generator.
2) Transfer Switch
A generator needs a switch to turn it on during an outage. An automatic transfer switch allows your generator to automatically switch on within seconds when a power outage is detected.
Getting the right switch is just as important as getting the right generator. You will need to know the amperage of the home electrical service panel. It is very important to get the same amp switch as your home's panel. You can contact the electrician or the installer to verify this for you.
3) Fuel Type
Most standby generators typically run on Natural Gas, Liquid Propane or Diesel. Different fuel type will have different installation requirements and hence the cost of installation.
4) Cost of Installation
You should not install your own standby generator to save some amount of money. As this is a significant project which requires correct tools, skill, and precision. A slight error during installation can be a downright disastrous, a time bomb waiting to explode. You will need to get quotes on installation cost from certified electricians or installers. This cost or money is worth spent to safeguard the well-being of your family members and the safety of your home.
---
Recommended Standby Generators For Home Use
1) Generac Guardian Series 8kW Natural Gas/Propane Standby Generator
It is considered one of the best small size standby generators and is fully equipped with 8 kW Guardian Series Generac. Availability of Generac OHVI engine is the main difference between the Guardian Series and the CorePower Series.
This engine adds significant value to the generator due to the OHVI's extended life span, increased maintenance interval, and higher performance.
This standby generator always provides with clean power, which is of utility quality so that you can easily plug your electronics with microprocessors in. You can heave a sigh of relief with plugging in of electronics- even with the most sensitive ones.
---
2) Generac Guardian Series 5871
This 10kW Guardian series can power more than the essential household electronics. Apart from powering lights, refrigerator and A/C (or heating), there is still buffer for watching TV, computer or using some kitchen appliances.
These Guardian Series standby Generators are designed and programmed to run weekly "exercise tests" to ensure the condition and workability. Therefore there is no load on you to do the tests. It does come with the built-in automatic transfer switch; this backup generator will be activated once the power blackout is detected.
---
3) Briggs & Stratton 40445
It is a budget-friendly generator, which ensures you are able to keep essentials powered during an outrage. This generator is a lifesaver during those times.
This model is quite basic and can be considered as an entry-level standby generator that will keep the few of your essential appliances running, and most of the lights lit up.
It is crucial to keep in mind that 800-watt rating is only effective when propane is used. In the case of using natural gas, then the user is looking at a maximum rating of 6000 watts.