April 15, 2022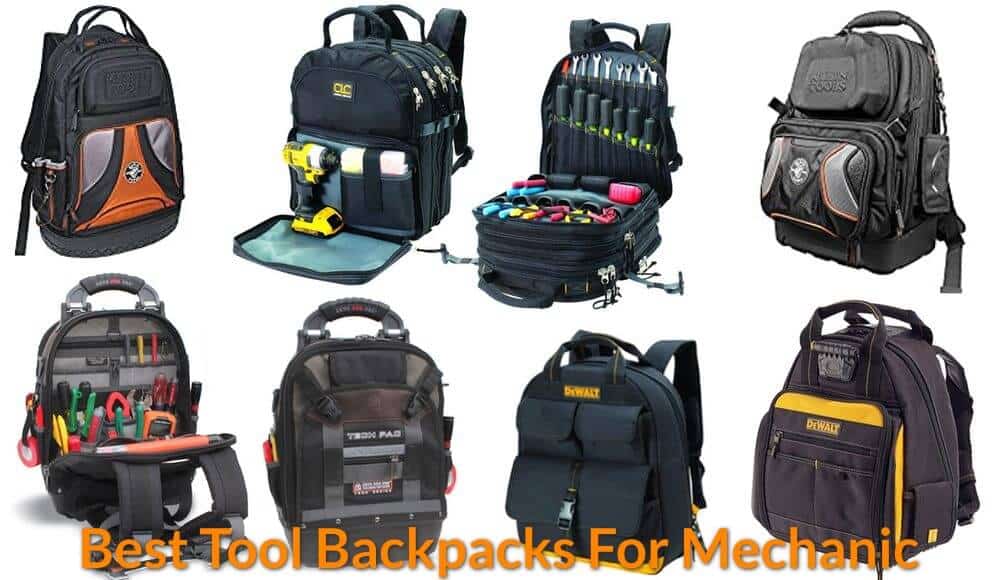 If you are required to carry a lot of tools at a time at your job, then getting the most suitable tool backpack available for purchase will be a relief to you, it will give you the advantage of efficiency and productivity. It doesn't matter whether you need the best tool backpack as a mechanic or for any other profession; you will find this product very important and helpful as it helps you stay organized.
Most Recommended Tool Backpacks for Mechanic
---
1) VETO PRO PAC TECH-MCT Tool Bag
The Veto Pac tool bag is a light and compact bag that has 44 pockets and a center panel that can hold more than 50 tools; it is a durable and light bag to carry. It serves its purpose as a repair, service or installation bag. It features two storage bays and side pockets that are neoprene and can carry extra products such as flashlights, measuring tape, and pens.
The Veto Pac backpack has a patented center panel, made with heavy-duty construction materials. It has a base that has been fortified with stabilizing injected molded waterproof material that keeps water out and the tools dry and safe even in harsh conditions.
The base, which is quite thick, is made from polypropylene while the body of the bag and its handles are made from weatherproof Denier nylon. The bag features D rings and a stainless steel clip used in holding the tape. It comes with shoulder straps that have paddings for extra comfort.
---
2) CLC Custom LeatherCraft 1132 75-Pocket Tool Backpack
The CLC Custom LeatherCraft Tool Backpack is a heavy-duty backpack that has 75 pockets for storing tools, six zippered compartments, sleeves, and loops.
It also has sections that allow the professional to compartmentalize his tools and keep them organized in groups. The tool backpack can hold a 14-piece wrench in one part and hold a cordless drill in another section. It comes with adjustable shoulder straps that are padded and handles for extra comfort. This backpack comes with a 7″ * 5.5″ plastic tray that helps you organize small tools like screws. The bag can hold multiple tools such as an electric drill, plier, testers, wrench set, and a whole lot more. It is made from durable ballistic polyester material.
---
3) Milwaukee (15″) Jobsite Tool Bag
If you're looking for a durable tool backpack, you can consider the Jobsite Tool Bag by Milwaukee. It may be more expensive than the other options, but it is indeed known for its durability. It is wrought in (1680D) nylon (ballistic) and comes with various hard-shell compartments. Thus, you can assure yourself that your tools and equipment are safe inside this backpack.
You can store your tools and drill inside this backpack, including your safety glasses and electronics, without worrying about them getting damaged. Its base can resist impact and protect this backpack from accidental drops. Moreover, its base allows you to set this bag upright when you put it down. It also comes with an excellent harness that is padded and made of breathable materials.
Pros:
Comes with a breathable padded harness.
Durable.
Cons:
More expensive than other options.
Heavy.
---
4) DEWALT DGL523
The DEWALT backpack is a lighted tool backpack. The light can be directed towards your work station or into the bag to help find tools or parts. It features three levels of light output, which allow adjustments for a greater area of illumination. It has a maximum light output of 39 lumens.
This backpack comes with a padded web handle and shoulder straps that are adjustable, and also a broad padded back for added comfort. It also features durable, padded base feet that help to reduce abrasion and wear.
It has 48 internal pockets that help the user to stay organized and productive and nine outside tool pockets, which allows for quick access to tools that are used frequently. The pockets in this backpack will help a professional or even a DIY handyman well organized while providing the appropriate space for all sizes of tools, parts, and accessories.
The DEWALT tool bad can hold extension cords, a drill, pliers, drill bits, wrench sets, screwdrivers, electrical testers, and any other tool or parts that can be placed inside a tool backpack.
---
5) Klein Tools 55421BP-14 Tool Bag Backpack
This tool backpack features 39 pockets for keeping tools. It has a front molded pocket that can house safety glasses and front zipper pocket to put small parts. The base of this backpack is made with a durable molded material that keeps it safe from scratches and abrasions; it also keeps water out. It has a bright orange interior that makes finding tools easy. The material used in constructing this backpack is a 1680D ballistic weave that has a completely molded base. It features paddings in its shoulder strap, which makes carrying it easy and comfortable.
The Klein tools backpack comes with features such as a front zipper pocket that can house small tools or parts, interior pockets that are long and can house tools such as a screwdriver and a durable, molded base that keeps the content of the bag safe from the elements of the outside world.
---
6) CLC Custom Leathertcraft 1134
The Custom Leathertcraft 1134 features 44 pockets and sleeves that offer you various storage options for your mechanic accessories and tools. It also comes with two Velcro straps for securing your power drill. Hence, you don't need to worry about your power drill being shaken much while inside the bag.
It is around 16 inches high and appears to be a less bulky choice. Moreover, it comes with a few small external pockets for storing your pencils, pens, and flashlights. It also features two zippered compartments for storing your drill and battery, and other tools.
Pros:
Comes with an exterior pouch.
Features rubber feet for keeping its bottom dry.
Cons:
Lack of smaller pockets for tiny objects.
The straps may not be that durable, according to some users.
---
7) OISTRIA's Mechanic Tool Bag Backpack
The Mechanic Tool Bag Backpack consists of 74 pockets in total, which is more than enough space. It has inner compartments for power, electric and air tools, and zipped pouches and sleeves to safely store your tools.
It comes in sections that allow the user to organize his tools according to their uses accurately. The backpack comes with areas where you can place extension cables, screwdrivers, pliers, etc. For example, the backpack has a device knapsack that can hold a 13-piece wrench in one pocket and a cordless drill in another pocket. The bag has a hook, loopholes, and flaps to cover the pockets where the tools or devices are being stored.
---
8) ToolEra's Tool Backpack Hard Hat Capacity
If you're looking for a high-quality backpack, you better check out ToolEra's Tool Backpack. It features 50 pockets and 3 padded compartments. It is also a large capacity backpack, making it the favorite and best option for plumbers and other mechanics. Its linings are colored bright orange, which facilitates the spotting of your tools.
This backpack comes with padded straps that you can easily adjust. With its adjustable straps, you can easily find the most comfortable setup for the straps. It also has a carry handle made of rubber for easy portability. This backpack comes with enough room for extension cords, tool trays, hard hats, and other tools. This bag is wrought in (1680D) nylon. Thus, it is strong and waterproof.
You will also find 3 (padded) mesh pockets on its exterior for storing your tools and items that you want to access quickly. Besides, it comes with a sleeve section that you will find in the main compartment, which is perfect for keeping your iPad. Another compartment can hold your laptop. You can also lock its zipper sliders and release them quickly.
Pros:
Features 50 different pockets.
Comes with padded compartments.
Durable and waterproof.
Its straps are conveniently adjustable.
Cons:
---
9) Rugged Tools Worksite Tool Backpack
Another backpack made of (1680D) polyester is the Tool Backpack by Rugged Tools Worksite. Being made of polyester, it is a certified durable backpack that can bear rough handling and beating. It features a reinforced zipper that doesn't quickly get jammed. With this backpack, you can organize your tools conveniently.
This backpack comes with around 68 pockets, including a pocket for tape measure, utility strap, laptop sleeve, safe pockets, along with utility organizers. These myriads of pockets provide you enough space for carrying your drill, level, electronics, screwdrivers, wrenches, and other tools.
It also features a hard bottom that is molded to give this backpack a flat bottom for standing straight. Its bottom is designed to resist damages and protect against the harsh elements of nature like water, snow, rain, and mud. Besides, it has a sleeve that is padded for keeping your laptop protected and safe.
Pros:
Features 1680D polyester.
It comes with many pockets and storage options.
It comes with a design for rough and harsh environments.
It features reinforced pockets and zippers.
Cons:
Clips and straps seem to be not durable, according to some users.
---
---
Buyer's Guide: Factors to Consider When Buying A Mechanic Backpack
Being a mechanic would often require you to travel to places wherein your service is needed. So, it will help if you are always prepared and on the go, with your tools well-packed for easy mobility. But you will not achieve such maximum mobility if you don't have the best tool backpack at hand. With the right tool backpack, you can organize your tools and carry them anywhere you need to work.
The tool backpack is like a handy tool bag. It can provide you with an excellent amount of storage to keep your tools organized. Moreover, many tool backpacks come with ample storage areas for sizeable tools like a power drill and its batteries. Tool backpacks likewise come with higher durability, though they appear like ordinary backpacks.
Bag Size
The bags size depends on the weight and number of tools you intend to carry with you to work. A typical big backpack usually measures around 15 inches long or even longer and is about 12 inches thick. The thick backpacks typically have extra space where you can put your power tools aside from your essential hand tools.
If most of your tools are at your work sites such as your garage or shop and you don't carry a lot of tools to your workplace, then a small backpack should be sufficient. Some backpacks look thick, but they look this way because of the reinforcement they have in place.
These backpacks are usually reinforced with paddings and plates along their sides and bottom; this allows the backpack to carry heavy loads without the bag tearing. The work you do and the types of tools you carry will determine what size your tool backpack should be.
Some jobs require you to carry large tools while others don't, this is why a mason will need a larger tool backpack, and an electrician will need a small backpack.
It Should be Handy and Fit for a Handyman
Your choice of a mechanic backpack should be a handyman type. It should allow you to store and organize your tools inside it like a real handyperson. Moreover, it should come with many pockets to allow you to compartmentalize your tools and accessories. With an impressive organization of your tools, you will have easy access to your tools and accessories and would look very professional to your clients.
Weight Distribution
When it comes to the weight of backpacks, you will discover that there are heavy, light, and ultralight backpacks. The heavy backpacks can weigh as much as six pounds, while the lightweight backpacks are just under six pounds. However, the ultralight backpacks are just under two pounds. Depending on your preference, you should choose a backpack that can handle your tools without weighing much on your shoulders.
Zip Style or Bucket Style
It will help to choose a tool backpack that comes with sturdy closures. It should have zippers that are sturdy and strong and do not jam quickly. This is because you can never secure your tools if the zippers of your backpack jam after several usages.
If you are not working on elevated platforms or places, choosing a backpack with a bucket-style opening will be best. While if you work in a construction site that requires you to climb to your work or crawl into tight spaces, you might also opt for zip-style closures.
Materials and Fabric
You don't want your tools soaked in water because your backpack is not of waterproof materials. You want a tool backpack made of 100% waterproof fabric. You will also find backpacks that are not waterproof and only made of non-durable plastic. So, be very careful when choosing.
When choosing a backpack, you should look for something with a rubber tray on its bottom. With the water tray at the bottom, you can assure yourself that it is waterproof and that it should have rubber feet to elevate it a bit from the ground.
Check If It Has Rigid and Molded Base
A good backpack should be of a durable material like heavy-duty plastic. It should be well-stitched, melded, and glued for better durability and reliability. Moreover, the bottom should be firm so that it could support all the weight of the tools.
The tools that you put inside your backpack should never be capable of punching holes onto the bottom. Hence, it should have a molded base to keep your tools in the right place. As mentioned above, the base should also be waterproof.
Storage and Compartments
A good backpack is one that has a lot of compartments and pockets that aren't needed. The higher the number of pockets, the easier it is to put your tools in order. As said earlier, the size of the backpack you purchase depends on your profession; you may not need all those pockets.
Organizing backpack pockets is very important because different tools need different ways of handling and storage. The right bag should have pockets of various sizes for different tool types. A well-organized backpack will help you arrange the tools in an easy to find manner. It also saves you time when packing and unpacking. The backpack might even have a pocket for fragile electronics such as a tablet.
If you will be hanging tools in the loop, then it has to be strong enough to withstand the weight of the instrument and keep it from moving around. Depending on your profession, you might not need pockets that have covers on them, or you may need them.
Some professions might need this feature, and they include mechanic; they need the pouches to store varying sizes of bolts and nuts, carpenters also use the bags to store nails and screws of different sizes.
Material Used
The material used in making the backpack has a role to play in how durable it will be in the long run. This is due to the fact there are materials that have high durability when compared to some others.
No matter your profession, purchasing a durable and robust backpack should be your priority. You can avoid the bag from suddenly ripping apart and spilling its content while you're in the middle of a job. The backpack should be made using sturdy materials such as canvas, denim, and polyester. It should also be made to be tough, make sure the seams are double stitched.
Ensure that the shoulder straps are fully padded and wide enough for your comfort. The majority of the best tool backpacks have hard-molded bottoms. This gives the bag a flat base, which allows you to place the bag on any surface without it falling over. Most tool backpacks have rubber bases, so you don't have to worry about the surface you put it on.
Budget
Almost everyone has a budget set aside for a new tool backpack. Although, if you want the best tool backpack, then you have to lenient with your budget. The best ones are usually more expensive than the basic backpacks, but the price is not the principal measure of the bag's quality.
The most expensive backpack is not necessarily the one with the best quality. There are some options that have high quality but are reasonably priced. Do not focus entirely on the price of the bag when shopping for a tool backpack. Make sure that the features of the bag are worth its cost.
Durability
The backpack should be made from a durable and robust fabric. It should be adequately stitched at its seams with a durable thread and padded with tough waterproof adhesives.
This must be done; this allows the backpack to carry the weight of the tools without ripping and also allows the withstand the harsh working environment. The zips and other locking mechanisms need to be sturdy and durable because the bag will continuously be opened and closed, so the zips and buttons need to be long-lasting. If you get a bag that is constructed with waterproof materials, then the bag is a top-notch model. This protects the bag and its content from harsh weather, dust, moisture, dirt, and even mildew.
Bases that are rigidly molded are produced from heavy-duty plastic combined, glued, and stitched to the durable material used to make the body of the tool backpack. This creates a bucket-like base that is quite useful. The advantage of this bottom is that the tools can't pierce the bottom of the bag or make a hole due to friction. The mold's rigidity offers the bag a strong base and allows you to organize the backpack easily. It can be placed vertically, leaving your tools where you put them. It protects the tools from water and physical abuse.
Comfort
Ensure you get a backpack that has padded shoulder straps; this will not allow the bag to dig into your shoulders. They also help evenly distribute the weight of the backpack over a broader surface to reduce fatigue and discomfort. A backpack usually weighs 30 to 40 pounds, and the straps should be able to carry the weight.
It is best for your backpack to have a padded back in order to prevent the tools from poking into the back of the person carrying it. Not only should the back be padded, but it should also be adequately ventilated. A person sweats while working, and the material of the backpack should be able to let air enter to prevent the occurrence of prickly heat.
---
Conclusion
Finding the backpack that allows you to carry all your necessary tools safely as a mechanic is indeed useful and rewarding, for, with the right tool backpack, you can increase your efficiency and productivity. As mentioned above, finding the perfect tool backpack may prove a bit confusing, given the myriads of brands and models of tool mechanic backpacks in the market today.
Nevertheless, if you know the critical factors to consider and the most recommended tool mechanic backpacks in the market today, you are indeed closer to zero in on the ideal tool mechanic backpack for your needs. Equipped with these pieces of knowledge, you can quickly zero in on a tool backpack that is truly handy to you.
---
What Would You Usually Put Into Your Backpack?
You can be a painter, carpenter, mason, plumber, electrician, or handyman, and each of these occupations has its own set of tools. So, you better figure out what you would often have in your backpack before buying one. Moreover, depending on your work, you would usually bring some accessories and other stuff you can't do away with while you engage in your work. All these other things you need to consider when buying a backpack.
Is the Mechanic backpack Washable?
Yes, it is okay to wash your backpack. You can use soapy water to clean it. It'll help if you refrain from using harsh detergents like alkaline and bleach products, for they may damage the nylon materials out of which your backpack is made. You should also never machine wash your backpack and put it in a dryer for it may get damaged. After washing your backpack, you can hang it upside down to let it dry naturally.
What is the Price Range of Backpacks?
Most backpacks are affordable, and you won't spend more than $500 on a backpack. If you search online, for example, for a tool backpack, you will notice that most tool backpacks are within the price range from $45 to $300. Of course, the higher quality backpacks are more expensive, though the backpack's price should not be the sole determinant in your choice.