June 7, 2023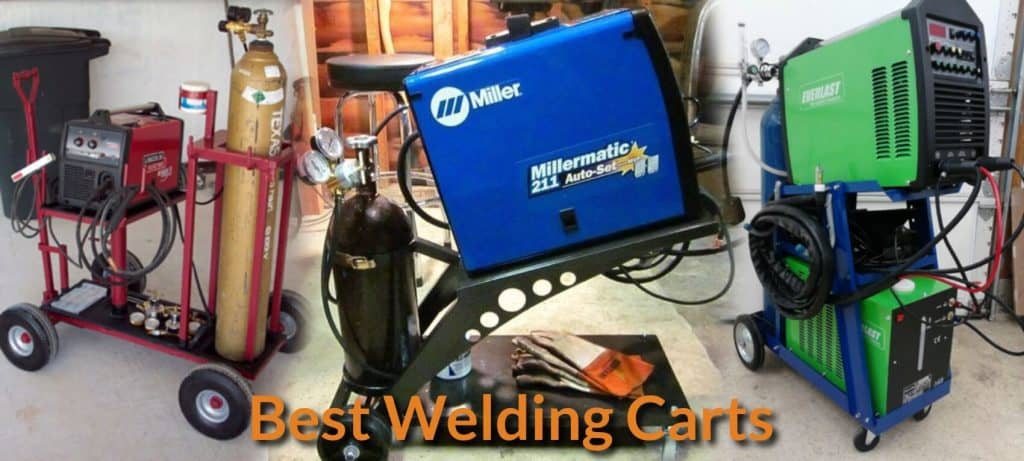 Welding is surely not a task for the weaklings, for it is a task for those who are made of stronger of fibers because it entails moving heavy gears and materials from one place to another. Yet, this should not deter you from developing the skill of welding, for the problem of lifting and moving around of heavy gears and materials can be easily resolved if you have a welding cart.
Recommended Welding Carts 2019
---
1) Eastwood Plasma (3-Tiers) Welding Cart
One popular welding product brand is Eastwood. One of its offerings is the Plasma 3-Tiers Welding Cart. It is arguably a good pick among welding carts. It is durable and sturdy. Moreover, it offers up to 350 pounds of carrying capacity, which is pretty remarkable for its size. It also comes with three tiers for storing and organizing your things and tools.
This welding cart also comes with front and rear wheels. The wheels in front are smaller; while the rear wheels are large. These wheels allow for smooth and easy movement across any floor. It also comes with a satisfying three-year warranty which is a great bonus for those who would like to buy this welding cart.
Pros:
It is large enough to accommodate most of your welding equipment and accessories.
It has a higher carrying capacity.
Comes with a long warranty.
Cons:
It doesn't come with drawers.
---
2) Goplus Welder Cart (4-Drawer Cabinet)
Another excellent welding cart option is the Goplus Welder Cart. It comes with two shelves wherein you can store some of your tools and materials. It also features four drawers on its underside for storing some small tools and accessories. The top drawer comes with a locking system; hence, you can lock it.
The dimensions of this cart are 28 by 28 by 15 inches, which is sizeable enough as a welding cart. It also weighs around 100 pounds. Moreover, its top shelf is a sloped one for easy access to the controls.
The downsides of buying this welding cart include its heavy built. Besides, it is costlier as compared to other carts. Nevertheless, it is solidly built and features a shelf at the back for gas cylinders. Plus, it comes with two chains for securing those cylinders.
Pros:
It is a perfect choice with many storage drawers.
It is sturdy and durable, being made of solid steel.
It comes with two chains for securing the gas cylinders.
Cons:
It's heavier compared to other carts.
It is costlier.
---
3) ZENY Portable Cart
This ZENY welding cart has a distinct ledge for resting item, which is reachable during welding and four drawers. The shelf at the top is located at a higher height when compared with other carts; it is a plus point as welder settings can be adjusted without needing to stop.
It is easier to keep consumable items away from dirt and dust. For a cart, which can hold more than 100 pounds, it's surprisingly light, but this does not include the bottle.
In spite of a neat paint job, it is better to have a finish, which is powder-coated. For the cost and other features, this cart is well worth the money, which makes it hard not to include it as one of our favorites.
---
4) Hot Max WC 100
In 2nd place comes plasma cutter/welding Cart or also known as Hot Max WC 100, which comes with the finish, which is powder-coated. The height is similar, but ZENY cart is lighter when compared with this. But the size is right for a large number of plasma cutters or portable welders.
If you are comfortable with exposing items to workshop dirt or grinding dust, then you should go for this cart since it has plenty of open space. Although useful to have an area which is sealable space, it has enough space for consumable boxes when required.
It's a robust cart and comes with a steady steel handle on the front, which keeps out of wiring or leads.
At the back of the trolley, there is room for safety chains and gas tanks for keeping them. Overall a lot of thought is put in designing of this cart.
---
5) Klutch 48410 2-Tier Welding Cart
It is a remarkably tall cart (35 ¾", which is 6 inches more than standard) with a standard length of 27 1/4″ and a tad wider body (18 ¾"). It is much more suitable for a taller person having a bulkier kit.
The wheels are well made. The back wheels are made of a hard rubber instead of plastic or stiffer PVCw. This suttle difference in material helps them carry the weight better and also gives the cart a little bit of an extra bounce. This design is practical, as the cart weighs 46 lbs., which is heavy and relatively bulky if you want to move it around. The wheels function most of the time fairly smoothly.
The safe-like locked container at the center contributes to the extra weight. Since the steel construction is durable, makes it hard to break into. So the lock becomes the only area of concern. It's not the best lock available, but it is enough to keep snooping people and casual thieves at bay.
---
6) Metal Man UWC2 Universal Welding Cart
This is a welding cart that was designed based on the needs and comforts of plasma cutters and welders in mind. This cart allows for easy maneuvering, in spite of the heavyweight of welding accessories, machines and other equipment.
It comes with a single-cylinder rack and can hold up to 80 pounds of weight and a tank of the diameter of 7.5 inches. A security chain is available to help hold the cylinder in its place. Additionally, to accommodate certain welding equipment, this design comes with a slanted top shelf.
Making things easier, especially when moving the cart, a fold-down handle was added to the cart's overall design. These handles also allow for easy accessibility to welder controls. The wraparound cable holders are the new add-on to its construction, which helps in the organization of the cables and helps in keeping the area clear of tangling, ugly cables.
It can hold up to 110 pounds. It's consdered quite durable and robust since it's constructed with all-steel build. It comes with a powder coat finish, which makes it resistant to corrosion and rusting, thus making this cart life cart investment.
---
7) Yaheetech 3-Tier Welding Cart
This cart can hold up to 176 pounds of goods and is an astonishingly low-priced model. But if the cart is filled up to its capacity, then it is not so easy to maneuver, but with the low weight, it can be easily moved.
The welding bottle is secured firmly to the cart frame with the help of dual chain clamp. The height is perfect for quickly getting access to your welding. It does not come with a powder-coated finish, which affects its durability. Despite that, it's an excellent affordable alternative and worth spending the money.
---
8) Lincoln's Welding Cart
If you're looking for a small welding cart, you can check out Lincoln's Welding Cart. It weighs around 27 pounds and comes with two shelves. It also has a compact design that can provide you the minimum storage requirements for your welding tasks.
Lincoln's Welding Cart comes with a cylinder holder that can hold your 80 cubic-foot cylinders. It also comes with a long handle that you can also use as a hanger for wrapping cables. Thus, you can neatly organize everything while you work.
Lincoln's Welding Cart, however, has a high price tag, considering that it only comes with two shelves. But when it comes to better mobility and compactness, this cart excels well.
Pros:
It comes with a compact design that is simple and sleek.
It is wrought in durable steel.
Comes with a cylinder holder.
Lightweight.
Cons:
• It has less storage space.
• Its price is a bit high.
---
9) Metal Man UWC1
The Metal Man UWC1 is another excellent option if you're looking for a compact cart. It comes with a foldable handle that takes its design to a higher level. With its compact design, you can easily fit this cart into tight spaces. It is durable and tough, and it comes in three model options (light, medium, and medium-duty (with handle).
You can stuff it with many tools and accessories, considering that it can bear up to 110 pounds. It can also handle 80-pound cylinders that are seven-and-a-half inches in diameter.
It also comes with a sloped top shelf that lets you easy access to controls. Moreover, it comes with cable holders for wrapping around your cables. It also comes with two shelves. Besides, it comes with a 90-day warranty on its components. One downside in buying this welding cart is its price.
Pros:
Compact cart with simple design.
Fold-down handle is very convenient.
Can handle up to 110lbs.
Got ample space for an eighty-pounder cylinder.
Cons:
• It only comes with two shelves.
• It is pricey for its features.
---
10) Chicago Electric (MIG/TIG) Welding Cart
The Chicago Electric Welding Cart is considered the highest-rated cart, considering it is also a budget option. This fact only indicates that a budget option can also be your best option. This cart comes with 3 tiers. It is also wrought in durable and sturdy materials, being made of steel. This steel is coated with powder to enable it to withstand harsher elements.
This welding cart also comes with two chains, and these chains secure the gas cylinders. Moreover, it features a top shelf that is sloped for better access to the control panels. It can also accommodate both TIG and MIG welders. Hence, you will surely have no problem with this cart when it comes to storing your welders. Besides, it comes with a safety hook for hooking your welding gun when it is not in use.
Pros:
It is durable, being made of steel coated with powder.
It features three tiers.
It is a budget option.
Cons:
Its wheels seem a bit weak.
---
3 Major Types of Welding Cart
Welding carts come in different varieties and types. They can also be categorized, for example, according to the number of shelves. You can also categorize them according to configurations. Below is a rundown of the different types of welding carts that you will see in the market today:
1) Single-shelf Carts
You will find carts that have a single shelf. You can find these single-shelf welding carts mostly in home workshops. These carts are good for the storage of machinery and small tools.
2) Two-shelves
You will also find two-shelves carts, and these carts, of course, are larger than the single-shelf carts. They also come with more storage space.
3) Three-tiered shelves
You will also see carts with three-tiered shelves. An example of a welding cart with three-tiered shelves is the Rovsun. Three-shelves carts allow you to have enough storage space for your tools, letting you organize your tools and equipment neatly and nicely.
4) Welding Carts with Multiple Drawers
There are some carts with extra features like four separate drawers for extra storage space. You can store your heavy-duty machinery and materials onto these welding carts with ease.
---
Things to Consider When Purchasing a Welding Cart
Welding cart should be sturdy and durable to fulfill its functionality. For this reason, when buying a welding cart, you need to consider several factors to ensure that you would get your money's worth. Here are some factors that you should bear in mind when buying a welding cart:
Tiers
One of the primary reasons why you would want a welding cart is for the organization of your tools and accessories. Your welding cart, therefore, should be able to bear all the heavy tools you are using. It should also have a design that lets you organize your things and tools in such a way you can access them quickly. Such a design usually has multiple tiers. Most welding carts, of course, come with three tiers for easy organizing of tools and accessories.
Dimensions
The first thing you should consider in a welding cart is its dimensions. Even if it has three tiers, it should still have the exact dimensions you would like to have. Welding carts may come in different dimensions like 30″ x 20″, 20″ x 40″, etc. So, you should check if it has the ideal dimensions for your needs, for you would not want to be returning something that would not fit inside your workshop.
Weight Capacity
Another factor worth considering is the welding cart's weight capacity. Ask yourself how much weight it can handle safely and comfortably without caving in. Bear in mind that the gas cylinders and welding machines can add up to the overall weight carried by the welding cart. So, when considering weight capacity, it will be best to consider likewise the welding cart's sturdiness and the material it is made of. Inspect its design and build if it can support all the materials you expect to load onto it.
Shelf Angle
Another factor to consider is its shelf angle. It is more convenient to have an angled shelf for the easy setup of your welding equipment. Besides, the shelf should allow you to have easy access to the control panel. The panel should be facing slightly upward. In this way, you can quickly read the displays on the machine and access its controls.
Wire Hooks
Another thing that can help you organize your things and equipment is the wire hooks. Without wire hooks, you can expect the wires to be scattered all over the place where you are working. When working with many machines, you can expect lots of wires spread around. Scattered wires can be a safety hazard, for you can trip over these wires. If you have wire hooks, you can keep the wires organized. You can also minimize the safety hazards that come with lots of wires.
Number of Shelves
As you shop around for a welding cart, you will find that most welding carts come with up to three shelves for storing your equipment. If you have two welders, you can fit these two welders onto a cart with three shelves. So, before buying a welding cart, it will help if you check its shelves if they can accommodate two welders at the same time. If it comes with a door chart, you should also check if you can open the door for easy access to settings.
Durability of Construction
Durability does not only pertain to the materials used for constructing the welding cart; it may also pertain to how these materials were constructed. If the materials out of which your welding cart is made are not durable, your welding cart may fail to serve its purpose of carrying heavy stuff. For this reason, you should opt for a sturdily-built steel welding cart to ensure that your welding cart will be truly durable.
Size of the Welding Cart
The size of your welding cart will determine how much materials and equipment it can accommodate and how easily you can move it from one place to another. Hence, when choosing a welding cart, make sure that it would readily fit into your shop and you can easily move the cart around your workspace. Moreover, you should figure out beforehand where you are going to store your welding cart and if you can safely store your welding cart in that place after using it.
The Quality of Wheels
The usual problem encountered with a welding cart involves the wheels of the cart. Weakly constructed wheels would surely immediately breakdown. Hence, when selecting a welding cart, make sure that you get the cart that has wheels with the hardest rubber. Moreover, you should opt for a cart with large wheels for purposes of maneuverability and portability.
Ample Storage Space
When selecting a welding cart, make sure that you select a welding cart that could readily accommodate your different welding tools and accessories. The more organized the storage spaces provided by your welding cart, the better you can organize your welding tools and accessories. Moreover, you should consider the number of welding materials that you would fit into your welding cart when welding. Additionally, you should also consider the storage space wherein you are going to park your welding cart after every use.
Capacity in terms of Weight
This is a primary and critical factor when choosing a welding cart. As a welder, you can readily calculate the maximum weight capacity of the materials and equipment that you would put on your welding cart. A precise calculation of this cumulative weight would help you determine the ideal welding cart that you would be needing in your welding shop.
Extra Features
Welding carts may look the same, but what distinguishes some welding carts is their extra features. These excellent welding carts come with additional features like awesome compartments that come in many sizes. These compartments can accommodate specific tools as well as safety chains for shielding gas bottles. Moreover, you should look for additional safety features to make your work safer.
Budget
One factor limiting your options is your budget, and you can only buy a welding cart according to your budget. The price range of welding carts is from 50 dollars to 100 dollars. Yet, you can also find high-end (premium) carts that may cost more. If budget is not an issue, you can always get the best welding cart for your welding needs.
---
Advantages of Using Welding Cart
There are many obvious advantages derivable from the use of a welding cart. As mentioned above, it provides great portability and flexibility for the welder. As a welder, you wouldn't want yourself to be laboriously lifting most of the time all the heavy welding machines like the plasma cutter. You would surely want to conserve your energy and reduce fatigue. Moreover, you would not want to strain your back by frequently lifting your heavy machines. With the welding cart at hand, your job of lifting these heavy machines could be readily facilitated.
Some welding carts have provisions for carrying and organizing the essential welding tools, accessories, and supplies of a welder. As a welder, you can easily organize these accessories, tools, and supplies around or on top of the welding cart. Lastly, a welding cart affords you inevitably maneuverability and ease of movement. With the use of a welding cart that could be easily maneuvered around your shop, you can significantly facilitate the movement of materials and tools inside your welding shop.
---
Should You Get A Welding Cart?
Any welding shop usually requires various equipment and tools. It also must have multiple power options, protective gears, good ventilation, welding helmets, reliable welding machines, and gloves. Likewise, it also necessitates having various accessories like those of saw, grounding cables, sandpaper, wire brushes, grinder, and cleaning tools. It must also have plasma cutters and cutting torch, plus provisions for shielding gas, electrodes, welding wire, torch tips, and welding machines. With all these equipment, tools, and materials at hand in a welding shop, welders can quickly do their welding jobs. Yet, sometimes these materials and equipment may end up all spread out across the shop. Welders, therefore, need to have a keen sense of organization to keep their tools and materials organized, and for this reason, they would surely need a welding cart.
The cumulative weight of most welding materials, equipment, and tools may be several hundred pounds. Without a welding cart at hand, a welder will surely find it hard to move all these materials and equipment from one place to another. Hence, aside from providing organization for these myriads of welding materials and tools, a welding cart can also provide greater flexibility and mobility for welders.
---
Frequently Asked Questions
Aside from knowing the factors to consider and the most recommended welding carts by the experts, it will also help if you are acquainted with the following frequently asked questions about welding carts:
Why Should the Top Shelf Be Angled or Sloped by 10 degrees?
There are many reasons why the top shelf is often angled. First, it offers the operator a nice view of all his tools and equipment. Second, it puts the operator in a better position to view his machines from a safe distance. Third, it also lets the operator get easy access to the control system of the welding machine.
Can the Front Wheels Allow the Welding Cart to Swivel or Turn?
Of course, the front wheels of welding carts are usually designed to allow for easy swiveling and steering of the cart. Without these swiveling front wheels, you will indeed find it hard to maneuver your welding carts to the best position for working.
---
Conclusion
If you're an experienced welder, you can easily weld your way into making the ideal welding cart for your personal usage. Yet, it may require time and effort on your part, and if you have many projects, you may find it hard to find time for making your welding cart. Nevertheless, if you are a crafty and ingenious welder with enough time, you can surely create a welding cart that is far superior than those which are sold in the market.
If you buy welding carts, however, you can save on energy and time. Plus, you will get to choose the best for your needs without dropping a sweat. Online, you will find myriads of welding cart options.
One of our favorite options is the ZENY Welding Cart. It is very affordable, and it is lightweight. It also allows for more storage spaces that you would surely appreciate. However, if you are looking for a welding cart that is best for money, you can check out the Yaheetech (3-Tier) Welding Cart. It is low-priced but is excellently designed.