June 7, 2023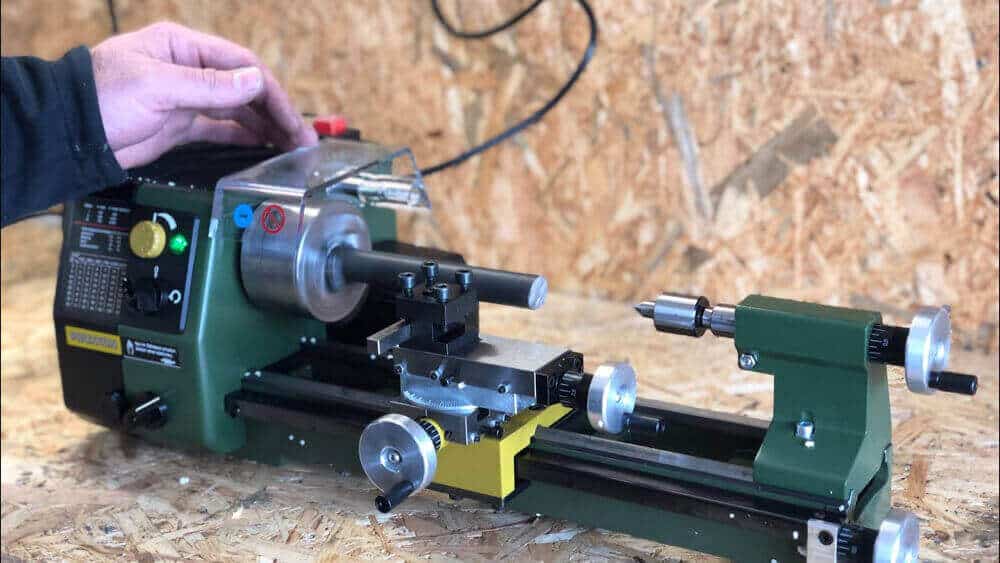 Metal lathe machine is very useful on creating and shaping the rounded metal and hardwood parts.
We all know that having the best lathe in your home workshop will go a long way when it comes to dealing with metals. Picking the right lathe is a complicated process, and you need to know what you are going to use the lathe for, and you should have a clear vision.
Metalworks is not only for the professionals; you can also do metalworks as a hobby or even try to teach your friends at home. For whatever reason you want to use your metal lathe, you need to know which ones are the best in the market and which ones will suit your needs.
Best Metal Lathe Machines for Home Workshop
Here we will look at some of the best metal lathes you can pick from the next time you plan to get one. We will look at the different types and the features that they come.
1) Grizzly G8688
The Grizzly G8688 comes in a relatively compact and small size. Nevertheless, you can never underestimate its power. In fact, when it comes to versatility and performance, it is high ranking. It is definitely a small but powerful machine and derives its power from its powerful three-quarter HP motor. Moreover, it offers variable speeds from 0 to 2,500 RPM. It also comes with user dials that provide metric readings. 
The Grizzly G8688 is perfect for hobbyists and small jobs. It offers various accessories that facilitate its use. Besides, it comes with a three-jaw chuck that is three inches in size. This chuck also features external jaws. It also features, four-way turret post, along with a six and one-fourth faceplate and service tools. Moreover, it comes with a steady rest.
Pros:
Compact and small for easy positioning. 
Variable speed. 
• It comes with durable gears and parts that allow you to perform medium-sized projects. 
• It is versatile enough. 
Cons:
It may wobble when you use it on metals that are thick.
---
2) BestEquip Metal Lathe 7″ x 14″ Mini Metal Lathe
The best quip mini metal lathe is one of the best metal lathes for home workshops. That is so because of the many advantages that come with the machine. When you are looking for a machine that can serve all your purposes in your home workshop, the best-equipped variable mini lathe is the best choice.
It comes with a 550W capacity and a voltage power of 110 volts. It is powerful, and when it comes to handling your metal works, it is just intense. Its speed and working capabilities have made it one of the most liked metal lathes by most people with homework shops.
To start with, Best equip can fit on any benchtop with ease, which means it is portable. Best equip comes to a quick-change tool post that helps you achieve various positions when operating the machine. It has the inner cutting position, face cutting position, and the bevel cutting position.
All these positions are made possible by adjusting the compound rest and changing the angle of the post. The professional cross slides are designed to move freely, and it comes with an abrasive resistance for the feed rod. It has a variable speed of up to 50 to 2500 potation per minute for both forward speeds and reverse speeds. The mini lathe can be operated automatically or manually by a simple adjustment of the auto-feed rate.
The best thing about this mini lathe is that it is versatile. It can be used in sampling areas, mini precision processing parts, or even modeling and sample processing work. The metal lathe comes with a 3-jaw self-centered chuck, which is used to set cylindrical materials steadily. It has a spindle accuracy of 0.0004 inches or 0.01 mm, and it comes with a backsplash. The spindles are supported by a roller bearing tapes for accurate precision.
The seven by 14 inches metal lathe is durable as it is resistant, and it has accurate professional rotations. The tapers that come with the metal lathe are MT3 for the spindle tape and MT2 for the tailstock tape. A direct current motor drives the mini lathe, equipped with nylon gears, and the bed of the metal lathe consists of high-grade iron. If you are looking for a metal lathe that can perform various tasks in your home workshop, you need this lathe.
Pros:
Comes with different speed controls.
Durable and very versatile.
Comes with an easy to use manual.
Portable and easy to work with.
Cons:
Not suitable for complex projects.
---
3) Grizzly G0602 Bench Top Metal Lathe (10 x 22-Inch)
Most people who buy metal lathes always want a machine that can be easily moved from one place to another without difficulty. It is always stressful trying to move a heavy machine just so that you can operate it. The Grizzly mini metal lathe is simple, and it is easy to move. It is meant for minor projects at home and does not require a lot of learning to operate it.
The grizzly horsepower benchtop 10 inches by 22 inches metal lathe comes with lots of thread ranges, a wide bed, and a larger chuck. The grizzly a v way hardened bed, and it comes with an oil bath gearbox. Some other specifications include a direct current motor of 1HP, 110 volts, and a 13.6-ampere capacity. It has speed ranges of between 150 to 2400 rotations per minute.
The swing over the bed is 9 to 1/2 inches, and the swing over cross slide is 6 to 1/8 inches. The distance between centers is 22 inches. The spindle thread is 1 to 3/4 inches times eight turns per inch. It can turn some heavy loads with a tailstock of MT3. It comes with both a 3-jaw chuck and a 4-jaw chuck to enable your carry out various projects.
It also has a chip tray, backsplash, steady rest, and a follow rest. It has features like a 25 mm spindle bore, a lead screw with 3/4 to 12 turns per inch. It comes with manual instruction just in case you are having difficulty assembling the metal lathe. For super-accurate cuts, the grizzly comes with a full-featured carriage and an apron assembly.
Pros:
Portable and easy to move.
Comes with different speed settings.
Come with an easy to use manual.
Can handle complex projects.
Cons:
---
4) Erie Tools 7 x 14 Precision Bench Top Mini Metal Milling Lathe
The Erie mini metal milling lathe can create precision parts for metals, wood, and even plastic parts with no problems. Once you buy the Erie 7 by 14 precision bench milling lathe, it will come with an adaptor, carbide tipped cutter kit, slides, and a complete set of plastic gears that you can always change are using the lathe. I am called the seven by 14-inch lathe because it can provide a swing capacity of up to seven inches, and the space between the centers is 14 inches apart.
That means if you are handling metals with the same length, you can easily use the Erie metal lathe for your small home workshop projects. The lathe can be used to drill, cut, and even bend or turn metal. The multi jaw chucks are meant to hold metal pieces or sometimes wood tightly in one place when operating the metal lathe.
The Erie has an optional auto-feed that can always be adjusted to meet the client's needs depending on the project you are dealing with in your workshop. The metal lathe has a 5/16-inch capacity tool. The capacity tool can allow a maximum of metals to be mounted at one given time, and it will cut them simultaneously with precision.
The rotation per minute is reliable as it can rotate up to 2500 RPM. Before buying a metal lathe, most people always love to check on the specifications, come with the mini tool, and Erie has some excellent specs that include a cross slide travel of about 65 mm and a tailstock taper is MT2. You cannot miss out on the variable speed when you buy one of these metal lathes. It uses 120 volts, 60 Hz, 400W, and the spindle accuracy is 0.0004 inches.
The thread per inch is 12 to 52 TPI. The longitudinal feed rate is 0.1 mm to 02. mm. The top slide travel is 1.38 inches, and the swing over the bed is 7 inches, which is equivalent to 180 mm. The spindle taper is an MT3. Once you purchase yourself one of the Erie bench mini metal lathes, the company will transport it is a safe package, ensuring that it will not get damaged during transportation. Most of the time, they are packaged on a wooden crate, which has several inches of foam around the product to ensure protection.
You will not need to worry a lot about assembling the mini tool as the machine comes with a manual instruction that you can always follow when you get stuck. But if you are looking for efficiency and high production, you will need to try this machine. It is very versatile when it comes to functionality.
Pros:
Wide variety of speeds.
Very versatile and can be used for both metal and wood.
Portable and easy to move.
Comes with a manual instruction.
Cons:
Many plastic gears and parts.
---
5) Shop Fox M1015 6-Inch by 10-Inch Micro Lathe
The shop fox bench sized micro metal lathe is very portable, and it has a perfect size. It is versatile and can do a variety of tasks for your home workshop. It has an MT2 spindle tape and MT1 tailstock tape. If you have your small home workshop, the shop fox M1015 mini lathe is perfect for you.
It is designed to fit small areas and is economical to produce small precision parts, thread parts, and fitting parts. Its dimensions are 27 3/4-inch length, 11 1/2-inch width, and a height of 12 inches. The metal lathe has both manual and automatic feeds. The manual feed has a handwheel that can move the carriage both left and right along the lathe's bed. It weighs around 78 lbs. The lathe has a feed clutch suitable for engaging and disengaging the feed from manual to automatic.
The shop fox micro lathe is suitable for model makers, weekend machinists, toolmakers, and gun hobbyists. The toll has a swing over the saddle of 5 inches and swings over a cross slide of 4 1/8 inches. It uses a direct current of 110 volts,1.2 amperes, and 1/5 HP. It also comes with a turn per inch of 16, the rotation per minute ranges from 100 to 2000 RPM. The swing over the bed is six inches, and the distance between centers is 10 inches.
For you to get the perfect desired threads per inch, it comes with a ratio threading chart. The lathe can cut threads of various inches from 16 inches on the lower side to 24 inches on the higher side.
Pros:
Comes with various accessories.
Very affordable and economical.
Perfect for both newcomers and professionals.
Has a convenient control panel.
---
6) Shop Fox12 by 36-inch Gunsmith Lathe M1112
The M1112 gunsmithing metal lathe can cut 29 different metric threads with ease, and to be able to cut all the 29 threads, it has gear changes to make the work easier for you. It has a motor of 2HP, 220 volts capacity, 12 amperes, and its rotation per minute is 1725. It has a swing over the saddle of 11 to 11/32 inches, swings over cross slide of seven inches, swing over a gap of 17 inches, and swing over the bed of 12 inches.
The distance between centers is 36 inches, and its carriage travel is 24 inches. The metal lathe is not cheap, so you will need to dig deeper into your pockets. It comes with a 3 and 4 jaw chucks. The rotation per minute speeds ranges between 70 and 1400. The shop fox M1112 is made of an extended cast iron extended base and gear cover made of aluminum cast, precision bearings, and a ground gear.
It has a 10-inch faceplate and a set of six gear changes for easy use and adjustments. The shop fox M1112 gunsmithing lathe is perfect for tolerance bearings, outdoor spindle support, quick gear change, and the longitudinal feed rate of 0.0011 inches to 0.0004 inches cross feed rate. It has a spindle tape of MT5, and it weighs approximately 1410 lbs. It comes with a quick-change tool post, which enables you to increase your lathe operations' speed.
It comes with one tool holder, and the changing of the tool post is relatively easy. You can always use the manual instructions whenever you get stuck. The shop fox comes with a carriage handwheel, a cross slide, and a compound handwheel. The slides are adjustable, and that allows precise adjustments and perfect angles. Operate the machine.
Pros:
Variety of working speeds.
Noise resistant.
Easy to adjust for various projects.
Comes with lots of features.
Cons:
Does not come with a chip guard.
---
7) Central Machinery Precision Mini Lathe
If you're looking for an affordable lathe option, you can check out the Central Machinery Mini Lathe. Despite its being affordable, it never compromises on its quality because it is still of high quality. It is perfect for use in home workshop likewise. You can use the Central Machinery Lathe to create bushings, turning, counter facing, prototypes, and models. 
You can also utilize this mini lathe in workshops, educational purposes, labs, and engineering settings. It is versatile and features settings that let you transition between manual modes and automatic modes with ease. Hence, you would indeed find this mini lathe an excellent option. Moreover, it is reasonably priced.
Pros:
Highly affordable option. 
High-quality mini-lathe. 
It features reverse, forward, and off functions. 
It offers variable speed from zero to two thousand RPM. 
It is known for its ease of usage. 
Cons:
It has an incomplete set of cutting tools. 
It is not designed for large projects.   
---
8) Mophorn 7×12
One versatile option that you can check out is the Mophorn 7×12. This lathe machine is known for its powerful performance when turning. Nevertheless, it can also cut and drill on your workpieces. It is versatile indeed, and you can utilize it to accomplish various projects without any hitch. If you want precision work, you can always count on this lathe. You can also use it when engaging in sample processing and modeling projects. 
A 3/4HP motor powers it. This motor is powerful enough to provide this lathe the needed boost to accomplish different tasks. You can also adjust pieces to suit your project best if you have the necessary changing gear. Besides, it comes with tools to close and increase its jaws. Such tools allow this lathe a solid grip on its materials.
Pros:
Easy to handle and use. 
• Reasonably priced. 
Cons:
Its motor has so much potential.
---
Buyer's Guide: Factors to Consider When Purchasing a Metal Lathe
Once you finally decide that you want to get a metal lathe, you need to know the features or other important factors to consider before getting on. Depending on the type of work you will use the lathe for, different metal lathes come with different designs, features, pricing, and functionalities.
Before you go ahead and get one, you need to know that it will suit your requirements and serve you the way you want. Knowing those requirements will not only provide you with the best product in the market, but you will have gotten the perfect solution to handling your homework shop; below are some of the things that you need to consider when purchasing a new metal lathe.
How Big Is your Home Workshop?
The size of your home workshop will play a very crucial role when it comes to choosing a metal lathe. The lathe used by professionals tends to be huge, which is understandable because of the amount of work they perform daily. If you want to get one for your home workshop, you need to consider your working area's size. Those machines are usually not easy to move around, so not every day will you change their position.
If your space is big enough and can handle the small metal lathe, you should go ahead and get one. But if you do not have space yet, it would be best first to find a convenient space of working with the lathe. Your working space should be enough to enable you to move freely without moving some materials.
Design
We all know that different metal lathes come with different designs, specifications, and sizes. Suppose you have a little knowledge of how to use a metal lathe. In that case, you can get yourself one which is more complicated and has many features and functionalities, but if you are still new in the world of metal works, getting a simple not so very complicated lathe will be the best idea. You should also not buy a machine which is too complicated for you. When buying a lathe, you should also get one that comes with a manual. The manual will always come in handy if you ever find yourself stuck when operating the machine.
Affordability
If you intend to have a home shop one day or get a replacement, you will need to save some money first. As most of them are not cheap. Metal lathes usually are somewhat expensive, so before you venture into the file, you need to know your budget. Knowing the price will be so helpful because you do not ever want to go to a shop, and you are short of finance. But different metal lathes come with different prices, so it would be best if you do your research before deciding on which one you will get for your home workshop. If you do not plan your finances early enough, you might end up having a machine with low quality.
Applications
When you intend to buy a metal lathe, you need to know the applications it is going to serve. If your intended application is enormous or massive, you will need a metal lathe with a vast distance and width between the center. Most home workshops tend to have a metal lathe with a smaller swing distance between them. You will need to know the amount of work you intend to use the lathe. If the metals you are handling have a small diameter and a small width, you will have to get a small size. But it is best to start with the smaller metal lathe and that day you will have a lot to deal with, and you can always get a bigger one.
Additional Features
When considering what type of metal lathe to buy for your workshop, you need to get one that comes with extra functionalities. All metal lathes indeed come with almost the same features, but there is always that extra feature that will catch your eye. With the latest technologies, different metal lathes will come with extra features that will suit your project. Try and get one that has that extra added advantage.
Frequently Asked Questions
Aside from learning the essential factors to consider and most recommended metal lathes in the market, it will likewise help if you are cognizant of the following frequently asked questions about metal lathes for home shops:
Which is the Best Metal Lathe for My Home Shop?
Any of the abovementioned lathes can be your best option for your home shop. The lathes mentioned above are all durable and provides the best features. They are also powerful enough to help you accomplish your small tasks without a hitch. Nevertheless, if you are going to ask us about our best pick, we will say without reserve that our best choice is the Grizzly Industrial (10″ x 22″). This lathe is definitely robust and will never let you down when you engage in your many small projects.
Which Lathe is Best for Beginners?
If you are a tyro in drilling and metal cutting, you need not tinker with the more complicated lathe machines. It is better to start small and compact. Start with a simple and easy-to-use lathe. Our best choice for beginners, of course, is the shop fox M1015. It is beginner-friendly and features an easy-to-navigate control panel. Another good option for beginners is the Central Machinery (7″ x 10″), for it also has a simplistic design.
How to Choose a Metal Lathe?
If you want to zero in on the best metal lathe for your needs, it will be best to familiarize yourself with the essential factors to consider when buying a metal lathe. From there, you can inch closer to selecting the ideal one for your needs. You can also check the most recommended models and brands in the market today if you want to ensure that your choice will be best for you. Experts' recommendations will indeed matter most if you want to zero in on the best one for your needs.
---
Conclusion
Having learned much about the most recommended lathes for home shops, you can now confidently decide which metal lathe to choose for your home shop. The ideal metal lathes for home shops, of course, should be compact and small. The metal lathes mentioned above are easy to maintain as compared to industrial metal lathe machines. Nevertheless, they come with different price tags. If you got no budget issue, always go for quality lathes.
Your lathe choice should also allow you to accomplish your small projects without giving you any problems. Moreover, it should provide you consistency and efficiency, so it must be of high quality. Besides, if you are a beginner, you should choose something easy to operate. Lastly, you will surely zero in on the ideal lathe machine if you take note of every pointer and information you've read from this article.