June 7, 2023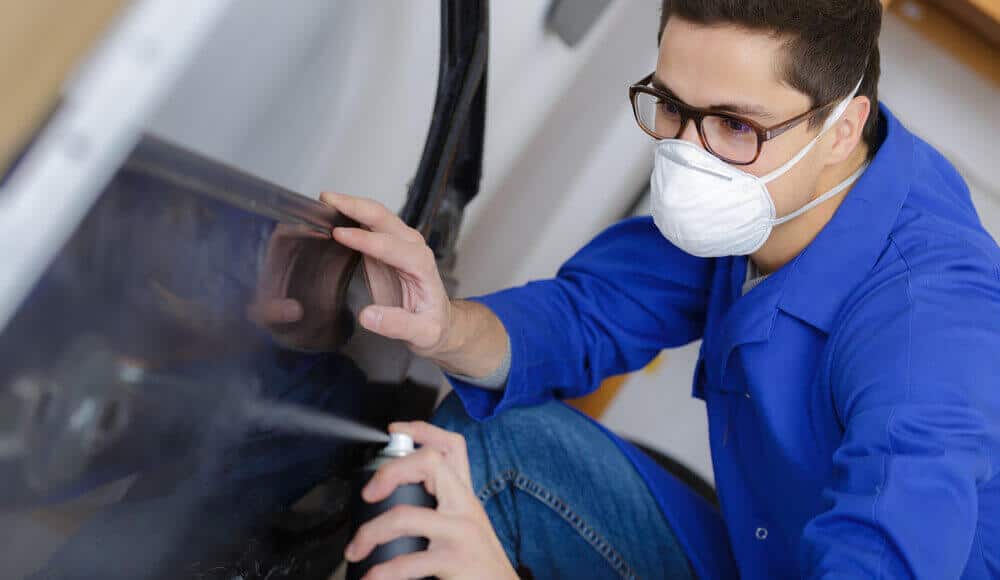 A close friend of mine casually asked me the other day why my car looked brand new even if I have been using it for almost five years. I smiled at him and whispered a secret—It is because of the clear coat which gives my car that extra protection from scratches, keeping it bright and smooth.
Of course, you will not want a car that looks like a rundown toy! You want your vehicle to look great. You want it sleek and shiny, knowing that it adds up to your image. Moreover, the looks of your car say something about yourself.
Nevertheless, it is hard to preserve the car's sleek and shiny appearance, especially if you are frequently using it. One proven way to keep your vehicle looking great is to add a clear coat on your car's painting job. Aside from protecting your car's exterior from scratches and nicks, it also protects it from UV light and other damaging external factors.
Recommended Automotive Clear Coat Spray Cans
Clear coat is a non-pigmented body varnish applied over the base coat to bring out the base coat's clarity and depth. Yet, as mentioned above, there are myriads of clear coat brands in the market today, which may make choosing the right one challenging. It will help to check this list of the most recommended clear coat brands to get the best result for your car:
1) USC Spray Max 2K High Gloss Clearcoat Aerosol
If you're looking for a proven clear coat spray can, you should check out the USC Spray Max 2K. It boasts of two essential components for a perfect shiny finish. Moreover, it is easy to apply, flows smoothly, and dries quickly for a long-lasting and high -gloss finish. Its aerosol spray also features a liquid activator for keeping it great looking.
You need to shake the can to activate the aerosol. Then, you can apply it over the car's surface. You don't need to engage in mixing, thinning, or reducing to make it ready to use. Hence, it is convenient to use and much faster to apply. Additionally, the good thing about the USC Spray is that it comes with a custom-made spray nozzle that provides a quality spray gun.
The USC Spray Max 2K also lasts longer, compared to other clear coat aerosol sprays. The USC Spray can be stored at 68 degrees Fahrenheit up to 48 hours. Hence, you will have ample time to get your job done without any deterioration in its aerosol spray quality.
---
2) Maxima 78920-2PK SC1 High Gloss Coating
If you want a superfine and high-quality finish, you can always opt for the Maxima 78920-2PK SC1. It is designed for use on power sports vehicles. It is best used for bikes, racing cars, off-the-road cars, and many more.
The Maxima 78920-2PK SC1 complements almost all types of materials. Hence, you can use it over plastic, regular paint, and fiberglass. Besides, it provides a smooth finish that offers a new and glossy look for your vehicle.
This clear coat offers easy clean with incredible results, making your vehicle look great. Moreover, it lasts longer compared to other types of aerosol spray. You don't need to apply it more often. Nevertheless, you can ensure that your car would look great even after a long drive.
The Maxima 78920-2PK is water-resistant and leaves the finish a long-lasting luster and glossiness. Besides, it is engineered for use by world-class racers and people who want to challenge their possibility limits.
---
3) KBS Coatings 8114
The KBS Coatings 8114 comes with a formulation that you can directly apply over other coatings. You can also apply it to steel surfaces. Moreover, you can use it over painted surfaces.
The good thing about KBS Coatings 8114 is that it is long-lasting and stiff compared to other clear coats. It also offers water-clear gloss and remains flexible, capable of performing even in the most challenging settings and environments without turning yellow.
It is resistant to cracking or peeling. Moreover, it is UV resistant and remains stable under UV lights. It also offers high chemical resistance. However, it finds it hard to stick to materials like brass.
The KBS Coatings 8114 does not provide a quite glossy appearance as compared to other clear coats. Besides, the finish tends to look a bit cloudy. So, if you are looking for something that can make your car look new, you should look elsewhere.
---
4) SEM 13013 Satin Clear Color Coat
The SEM 13013 Satin Clear Color Coat comes in a 12-ounce aerosol can, capable of covering 10 square feet. It can cover a large surface of your car. It is fade resistant as a spray-on satin-gloss aerosol.
It is perfect for restoring or changing the glossiness of vinyl and plastics. You can use it to refinish the interiors of your vehicles or your motorcycle seats. It can also improve the car's velour and carpet's appearance.
The SEM 13013 is easy to apply, for it is a spray-on product. The coat also quickly dries up and adheres well while maintaining its flexibility as it hides small scratches. It may not be the best protection for your car against UV light. Nevertheless, it doesn't crack because it is flexible. For this reason, it can maintain a nice aesthetic look even for a long time.
---
5) Dupli-Color BCL0125 Clear Exact-Match Automotive Top Coat
If you're looking for the most affordable clear coat, you better check out the Dupli-Color BCL0125. It is less expensive, yet, it does its job well. The Dupli-Color BCL0125 is relatively easy to use. It also comes with an easy-to-adjust EZ touch 360° nozzle. This nozzle can deliver a broad spray pattern, rendering a smooth and even coats over your car's exterior.
The Dupli-Color EBCL0257 comes with an acrylic lacquer composition that you can apply over Dupli-Color's automotive paint or factory-finished paint. Moreover, it is perfect for extensive touch-ups for the car, car accessories, and motorcycle body parts.
The good thing about the Dupli-Color BCL0125 is that it is quick-drying, drying up within 30 minutes. It can also create a protective clear coat that is long-lasting and durable. With its high-gloss finish, your car's looks will significantly improve.
---
Conclusion
As mentioned above, there are myriads of clear coats at hand, and selecting the most suited for your car may prove complicated. Yet, if you know the salient factors to consider and the most recommended clear coat brands in the market today, you can make a wise purchase and correctly zero in on the right brand for your need.
---
Buyer's Guide: Factors to Consider When Choosing a Clear Coat
Given the myriads of clear coat brands in the market today, you may get confused as to which one to choose. It will help if you know the following factors to consider to zero in on the right clear coat brand for your car:
Compatibility
You cannot merely choose any clear coat that you can get hold of. You still need to know if the one you will use is compatible with your car paint job. Moreover, it will be wise to determine first the type of paint that your car surface has. Is your car's paint acrylic enamel paint, urethane paint, or acrylic lacquer auto paint?
Before the introduction of high-tech polyurethane paint into the market, most cars featured acrylic lacquer or acrylic enamel paint. Each of these paint types has its distinct characteristics. Once you've determined the type of paint of your car's exterior, you can find the most compatible coat paint.
Application Factors
Another factor worth considering is the application factor. When applying a clear coat to your car, it tends to react with the environment's chemicals. Hence, when using it, you should ensure that you have a controlled setting as possible. It will help if you can make the application inside an enclosed garage away from dust, sunlight, and rain.
It will also help to be extra careful in doing it inside an enclosed garage, considering that such coatings bear hazardous chemicals. You need to weigh between the need for a controlled environment and minimizing the health hazard risks involved in doing it inside a garage.
Moreover, it will be best to choose a clear coat suited to your area's weather. For example, check for something that does not bubble under high humidity. Besides, you should select fast-drying ones when you live in a dusty place.
Application Pattern and Convenience
When buying a coat paint can, you need to consider the convenience factor when applying it. There are two ways to apply the clear coat; either you can use a paintbrush or spray it over with the spray can or with a hose attachment. Using a paintbrush, of course, is laborious. So, ensure that your choice will provide you the ease and convenience when applying the clear coat.
Scratch Resistance
You would surely like to add a top coating over your car's paint job to provide your car with extra scratch protection. Hence, when selecting a clear coat, you need to choose something that offers the best scratch protection for your car. Moreover, it will help if you choose one that can hide existing scratches, including minor dents.
Level of Gloss
Another worth considering factor is the level of glossiness that it provides. Some clear coats offer a higher gloss coat than others, giving a matte clear coat. So, if you got all the money in the world, you should go for the one that can provide the highest gloss coat for your car. Using the best quality, you will ensure that the clear coat will bounce light better, creating a glossier vehicle appearance.
UV Light Resistance
Paint damage from UV light is a perennial threat to car paint. Moreover, if you live in a place near the sea or areas near the equator, your car will be more susceptible to UV light. It will help if you consider buying a clear coat with a UV light protection feature.
Is It Transparent?
Of course, the term clear coat implies transparency. It will be useful to ensure that the clear coat you will apply will be transparent when applied over the base paint. Otherwise, the base paint's color may change. Moreover, it is good to select one that amplifies the color of the base paint. It should be transparent like a glass coating that makes the paint stand out and become glossier.
Value for Money or Price
If you do not care much for money, you should always go for the most recommended clear coat brands. I would not recommend that you consider the price as your basis for buying a clear coat. Remember that it is your car's looks and appearance that is at stake here. So, go for the best instead of going for the cheapest. You can make sure, in this way, that your car will be protected and look good.