June 7, 2023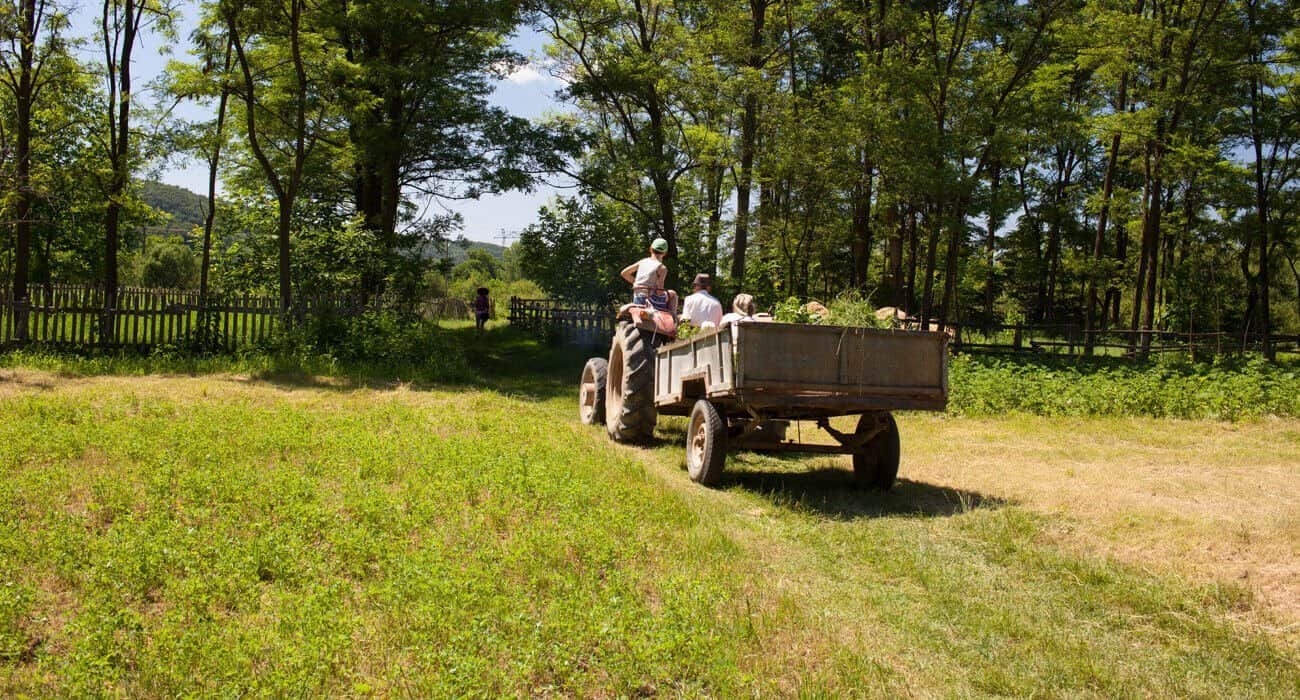 Utility trailers are also termed "lawn tractor trailers. They are used to transport or convey huge materials and items, including other vehicles like those of the ATV's and small mowers. With the utility trailer at hand, you can easily carry big pieces of equipment over long distances and across huge tracts of land. Moreover, the utility trailer is valuable and indispensable to ranchers, landscapers, and outdoor enthusiasts. Furthermore, the utility trailer is heavier and bulkier than those of dump cart, and for this reason, they are not designed for light garden and lawn works.
The most distinctive features of a utility trailer are the following: It has straight side and front panels; it has a flatbed on which tires can readily rest; it has the drive-up ramp, and it is characterized by sturdy axles with shocks.
Factors To Consiser When Choosing A Suitable Trailers For Your Tractor
Size and Built of Utility Trailers
Trailers are designed to bear heavy loads, and as such, they should be almost indestructible and should be sturdy. Hence, utility trailers are generally made of solid steel materials. Trailers likewise vary in sizes, and their sizes vary in space capacity or dimensions. The range of the dimensions of utility trailers is usually 4 x 6 feet for two rear-tine tillers and small riding mower and seven by 12 feet for carrying a large tractor. The gross weight rating (GVWR) of trailers also commonly known as the maximum weight that the trailer can hold safely range from 1,200 lbs. to 3,000 lbs.
What is GVWR of A Lawn Tractor Trailer?
Utility trailers have GVWR which refers to the maximum weight that a trailer can safely carry. Manufacturers, however, set the GVWR in conjunction with the weakest component of the trailer. However, this setup is a bit confusing, for there is also the Gross Axle Weight Rating which refers to the weight rating that the axle can bear. The good thing, however, is that residential class trailers generally have the same GVWR and GAWR. But sometimes, the GAWR is set lower than the GVWR. This is to ensure that the trailer can comply with the level of restriction it is capable of.
The GVWR also determines the payload, and it is the payload that most trailer buyers want to know before buying a trailer. Most prospective buyers really want to know how much he can cram into a trailer that he intends to purchase. The payload is usually calculated by subtracting the empty trailer's weight from that of the GVWR. If, for example, you see a trailer that has a GVWR of 3,000lbs and with a dead weight of 1000lbs, this means that the trailer is allowed to bear around 2,000lbs.
Always Check the Manual for Vehicles that Can Tow a Trailer
Utility trailers are heavy and sturdy. As such, not all vehicles can tow behind the utility trailer. With their rugged sturdiness and solid construction, utility trailers can be towed even across rugged terrains. For this reason, you would surely need a powerful vehicle to tow the trailer behind. These vehicles may include trucks, professional-grade zero turn mowers, garden tractors, UTVs, and ATV's. It is essential to figure out the weight limit of your vehicle before even trying to tow a utility trailer. You can get an inkling on the weight limit of your vehicle by checking its product manual.
As mentioned above, your vehicle manual can provide you with your vehicle's maximum towing weight. Moreover, once you have determined the maximum towing weight of your vehicle categorically, you can then subtract the weight of the trailer from this maximum towing weight. The result would be the payload amount that your vehicle can haul theoretically. This actual result, however, will be further limited by your trailer's rating. It is also important to figure out if your vehicle can safely stop or pull the trailer for if the payload weight together with the weight of the trailer is greater than the weight of your vehicle, chances are, you will find it hard to stop your trailer and your vehicle. Moreover, if your vehicle doesn't have a hitch, it would be good to install a hitch for easy towing of the trailer.
Applications of Your Trailer
Your choice of a utility trailer also usually hinges on the applications for which you are going to use the trailer. If you intend to use your trailer for hauling lighter equipment, you may opt for the 4 by 6 feet utility trailer, 4 x 7 feet utility trailer, or 5 x 8 feet utility trailer. For medium sized equipment, the 7 x 12 or the 5 x 10 feet trailers would be great. If you intend to haul, however, medium to large equipment, you may be needing a larger one like the 6 x 16 feet Landscape Trailer. Always remember that there are myriads of sizes of trailers and the intended use for your trailer will surely factor well in your choice. Lastly, you should buy an enclosed trailer if you want to keep your load protected and unaffected by the changing weather.
---
Best Lawn Tractor Dump Trailer
1) King Kutter XB Dump Trailer
This 1.5-ton trailer is suited for general gardening, landscaping, and construction. This trailer is designed for off-road use not exceeding 20MPH. It utilizes the ball hitch, Swivel clevis hitch; swivel 2in.
And it uses the tuft tires with a load capacity of 3000(lbs) and 70 x 50(L x H)(bed size) Tire Size: 18 x 8.5 x 8(in.) tire dimensions. The overall dimension of this trailer is 60 x 108 x 48(in.)
The QC is connected to an installed single-acting cylinder at the hand pump. It also comes with a jumper hose, which is 6′ with QC ends. By disconnecting the cylinder hose at the hand pump and connecting it to another end of the jumper hose, you can dump from the tractor. And you join the other end of the jumper hose to the tractor hydraulics. If the tractor port has a float or is set up for a single-acting cylinder than it's at its best, it can work only one port of a dual-acting pair, but one will be sending pressure to the port, which is not connected. In the process, one will be activating the hydraulic relief as the trailer is lowered. When the float is present at the rear remote, you can put the lever in float so that the bed can be lower by gravity; it's just like dumping with a hand pump.
---
2) Bannon 3-in-1 Convertible Logging Wagon
It is a top model as it is excellent for hauling heavy garden implements. The steel frame is molded from heat-treated materials, and this helps to prevent the cart from folding.
To ensure that heavy-duty task works efficiently, the booms of this tractor dump carts are made from hardened steel. With a length of 72 inches and a width of 38 inches, this cart has a high carrying capacity of up to 36 cups. It is an excellent cart for someone on a budget. The tires in this cart are professionally treaded as to ease the maneuverability either in wet or rocky areas.
To carry heavy loads, the design of this wagon has the quality two inches channel adapter, so that one is at ease while attaching this dump caret to ATV or a tractor.
It also comes with a quality tie-down strap, which helps to make sure that the load will remain intact during the process of transportation.
Pros:
Comes with sturdy and upright log bolsters.
Comes with rugged and 100% steel mesh bed.
Steel frame handles are durable
Easy to assemble
Presence of dual-design pneumatic tires helps it to handle any terrain.
Comes with pass-through swivel.
Cons
It is relatively a heavier dump cart.
Difficulty in assembling of parts.
---
3) Bannon Utility Trailer (1600-Lb. Capacity)
This Utility Trailer from Bannon is quite handy. It has 60 inches in length and 30 inches in width a steel bed, which helps it hold up to 1600 lbs. It comes with flared side panels, which effectively contains the load. But while loading bulky loads, they can be removed for increasing capacity. There is a little bit of assembly required with this utility trailer.
It comes with dual-action 3-point hitch, which is built-in and makes the connection to the tow vehicle easy and quick. Presence of dual 18 inches pneumatic tires gives a smooth rolling ride, irrespective of the terrain.
Side panels come with a flared design, which helps in increasing the storage capacity. These flared side panels can easily be removed for easy conversion to flatbed-styled trailer suitable for heavy loads. The fold-down tailgate is also removable, and they double up a loading ramp for quick and easy bed access.
---
4) Strongway Dump Cart (1,200 Lb. Capacity)
These five cubic feet, Strongway dump cart, is suitable for handling all kind of dumping needs and that too with ease. The capacity of this cart is at 1200 lbs. The bed size of 24-inch X 44-inch is big enough to haul and unload equipment and supplies around farm, yard, and nurseries. On one hand, the large size of the bed helps in holding a large quantity of the stuff be it garbage or any other thing that one wants to carry, on the other hand, its easy-dumping mechanism helps to load and unload materials very quickly. It comes with a steel frame, which is durable and meshes deck. To add to its versatility, this dumping cart has removable and fold-down side panels. One can use either one of them or even both when the situation desires.
The unit can either be hand-pulled or can be attached to the lawn tractor. For easy transporting, the pull handle can be converted to a trailer hitch assembly. Just by pulling the pin and removing the handle, you can attach it to pin hitch either your lawn tractor or ATV. This easy to connect hitch pin makes it one of the best tows behind a dump cart. Also, it comes with rust-free poly liner functions for cart covers, which are convenient for workspaces. This increases durability. Thus, making this cart a good investment for years.
---
Other Top-rated Dump Trailers for Tractor