June 7, 2023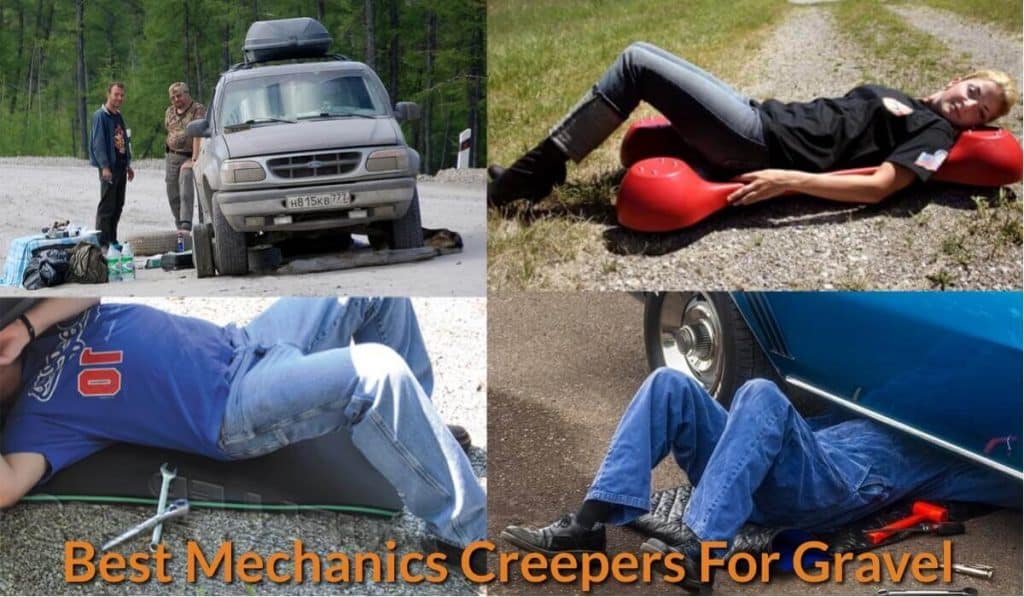 There are several things you need to emphasize when choosing a creeper that you can work comfortably under the vehicle on the gravel ground that full of small, hard, and sharp edge crushed gravel stones. The creeper design, sizes of casters, creeper material, padding, clearance, and types of gravel ground are all the factors that you should take into consideration. We will discuss more in detail in this article.
As mentioned above, mechanic creepers come in different designs and forms. Some mechanic's creepers, for example, are like rolling seats that let you work around a vehicle while seated. Some mechanics creepers, on the other hand, are like rolling benches that enable you to slide easily under a vehicle without dirtying your back. There are also mechanic creepers that have both functions all mixed-up in a piece of single equipment like a seat that could function as a rolling bench.
---
The Most Recommended Mechanic Creepers on the Market Today
Expert mechanics are always on a lookout for the best mechanic creepers on the market today. This is because they want the best creeper when they work. Here are the mechanic creepers that they mostly recommend:
---
1) Dale Adams Enterprises The Bone Rough Rider 7031 Mechanic's Creeper
The Dale Adams Enterprises The Bone Rough Rider 7031 Mechanic's Creeper is a highly recommended creeper that is unmatched when it comes to the aspect of mobility, especially, on rough terrain. It features a unique shape of the molded body in a single piece. It also comes with large wheels that have diameters of 5 inches. It has a 2 5/8″ inch clearance from the ground that allows you to work comfortably underneath your car. Its wheels don't sink in soft ground or surface, and its large diameters can easily roll over gravel. You can also replace its large wheels, and you can buy this replacement on Amazon. However, you may not be needing a replacement wheel because its wheels are known for durability. Lastly, its maximum carrying capacity is 400 lbs.
---
2) Traxion 1-100 ProGear Wide Body Creeper
The Traxion 1-100 ProGear Wide Body Creeper is a wide-body creeper that comes with a low-profile design. It features a wide contoured deck for maximum comfort, and its drop deck doesn't come with pinch points. It also features big 5-inch casters that would surely give you enough clearance from the ground. Its maximum weight capacity is 201 pounds.
This Creeper is an inexpensive mechanic creeper option. It comes with an outrigger frame design like a horse carriage, with sticking-out wheels on its both ends. Despite its large wheels, its design is a low-profile design that lets you conveniently slide into it without feeling cramped. It also allows you enough working space underneath the vehicle. Its full deck is cushioned and well-contoured to let your body easily fit into the deck. Lastly, it will enable you a 2-inch clearance from the ground.
---
3) Pro-LifT C-9100 Black 450 Pounds 40″ Foldable Z Creeper- 450 LBs
This Pro-LifT's foldable Z Creeper features a 2-in-1 design that allows you to transform the unit into a Z-shaped seat. With this feature, it is highly versatile. It also features thick padding on its header and seat for absolute comfort. Furthermore, it features six three inches swivel caster wheels that are sturdily attached to the frame for greater mobility. These wheels are mounted using full bearings that make their movements easy and swift. They are also oil resistant for preventing slippage.
It also features a 40-inch frame structure made of steel along with 3-inch wide swivel wheels for supporting a maximum weight capacity of 450 pounds. Its only downside is its design. It doesn't have a low-profile design which means you will be less comfortable when using it, especially if you are working underneath a car with little ground clearance.
---
4) OEMTOOLS 24972 Racing Body Board EVA Foam Creeper
The OEMTOOLS 24972 is portable and convenient to use mechanic's creeper. This mechanic's creeper comes with pads made of EVA foam. It is also impact-resistant, so you can ensure that your mechanic's creeper is durable when you are working.
This mechanic's creeper is durable, being made of ethylene-vinyl acetate. It is also portable and quite convenient to carry around. Moreover, it comes with 2 tool compartment cutouts to let you store your tools and other small parts. You can also carry and use this creeper anywhere, for it is lightweight.
---
5) Omotor Automotive Creeper
The omotor Automotive Car Creeper is perfect for use when there is almost no clearance between the ground and the car's underside. It is perfect for very tight and narrow spaces. Using this creeper, you can lessen the level of stress when working in tight and narrow spaces.
This creeper also features a silky and smooth surface that lets you slide with less effort while you tinker underneath a vehicle. It's also very durable and features an oil and water-resistant surface.
It also provides sufficient support to your body while remaining very stable. Moreover, you can easily store this away by rolling it up. It is also very portable.
---
6) Access Tools RC1 Roadside Creeper (Mat)
The Access Tools RC1 Roadside Creeper (Mat) is a low-clearance mechanic's creeper that is perfect for those who are working as professional automobile mechanics. You can use it to access the underside of the automobile. Moreover, with this mat, you can tinker underneath the automobile with ease.
You can also use it when working on your vehicle's tires while kneeling on this mat. Besides, it is designed to withstand the onslaught of rain and snow. You can also use it on uneven grounds like gravel and mud. In addition, it's surface resists oil and water.
It is two by four feet large, and you can fold it in half for easy storage. In this way, you can fit it easily behind your truck seat. Its foam is around three-quarter of an inch thick and comes with carpeting. Additionally, it comes with a handle for easy handling and transportation.
---
7) Traxion 1-500 VersaMat
The Versa Mat can offer you a reliable cushioned surface when you are tinkering underneath an automobile. It features a very thick and firm cell foam pad that can provide you with exceptional protection and comfort. It also features a double-stitched upholstery that is relatively easy to clean and is durable.
This utility mat is designed to cover a large area to make you feel comfortable while working as a mechanic. You can use it in your garage or yard or when engaged in a roadside emergency. Besides, it is easy to store, considering its compact profile.
You can easily roll it up into a small size. Moreover, its foam is covered with a canvas that is sturdy and heavy-duty. You can use it on any type of surface without worrying about it being easily damaged.
---
8) ATD Tools ATD-81015
The ATD Tools ATD-81015 is a perfect creeper for anyone who works on a hard surface. It is hard and is perfect for working on gravel surfaces and any surface littered with small stones. Despite not having wheels, it is useful for those who tinker underneath vehicles. It is hard, providing you with a sturdy and comfortable platform to work on.
This one is also an ideal gift for your husband or anyone who does the creeping underneath the car. Nevertheless, it is not wide enough. But it comes with four compartments (cut-out) for keeping small parts within your reach.
---
Conclusion
Choosing the right mechanic creeper is difficult if you consider the myriads of brands and models of creepers on the market today. Yet, given the abovementioned factors to consider and the three most recommended creepers at hand, you can readily select something that would surely live up to your standards.
If you are a professional mechanic, you would surely love to have the best creeper, and you would be meticulous in choosing your mechanic creeper. Your comfort and safety, in a way, hinges on the type of creeper you are going to use. Thus, it is important that you carefully weigh the factors to consider and only settle for a mechanic creeper with sterling qualities.
---
Buyer's Guide: Things to Consider When Buying a Mechanic Creeper
Since there are myriads of designs and models of mechanic creepers at hand, choosing the best one becomes a bit of a headache. Hence, to enable you to easily zero in on the best mechanic creeper on the market today, we have delineated here the factors that you should consider when buying a mechanic creeper:
Features
Whenever we buy something, the first thing that we usually consider is the features. Similarly, when purchasing a mechanic creeper, you need to look at its features. You should consider, for example, if the one that you are going to buy has an adjustable headrest. Ask yourself, likewise, if it has wheel locks. Does it have tool holders? Many mechanic creepers are bare and sans of these features. But you would surely love something cool to use, ergonomically designed, and is safe to use.
Does it Roll Perfectly?
One crucial factor that you should consider when buying a mechanic creeper is its roll. Does it provide quality rolls? Does the size of the casters allow for a quality roll? The size of the casters should factor well in your choice because the larger the casters are, the easier your creeper could roll over rough terrain and cracked surface, though small casters would be perfect for level ground.
The downside, however, of larger casters, is that it limits your movement under your car. As much as possible, you want to be as low as possible to the ground when working underneath your vehicle. If your creeper is high because of high casters, you may end up cramped underneath, and your movements could be hampered. This may be a non-issue, however, if you have jacked up your car. Another thing is, you should choose steel casters that are easy to roll and are durable.
Durability
You should go for creepers that are known for durability. Generally, creepers should have a durable design and should be able to sustain and withstand any tough environment. Hence, you should consider creepers with great made. Steel frames, of course, are considered the most durable material for creepers. Steel framed creepers are also known to last for several years.
You should also consider the durability of the casters. Steel frames may last longer, but if the casters are weak, they may fail easily. Hence, it is also crucial that the casters are sturdily made and attached to the steel frames. You should also check the padded vinyl if they are well made so that you could be sure that it would not rip easily.
Floor Clearance
You should not overlook this factor, for it is very critical to your efficiency when using a mechanic creeper. The higher the creeper from the ground, the lesser your working space underneath. This factor is critical; therefore, if you are working underneath a car with less clearance from the ground. Ideally, you should go for a mechanic creeper that has a low-profile design that does not exceed beyond 2 inches. This will give you enough leeway when working underneath your car.
So, you also need to consider the size of the caster wheels, and the frame of the caster wheels for it is contributory likewise to the amount of clearance you will have while working underneath the vehicle.
Ease of Transport or Portability
There will be higher chances that you will be tagging along with your mechanic creeper to the place where the car has stalled. In such a case, you don't want to be carrying something too heavy or too difficult to move around. You would surely want something lightweight and compact.
Of course, you may be thinking that steel-framed creepers are undoubtedly heavy, and you may want to consider plastic creepers. Although each of these options may have its pros and cons, when it comes to portability, the plastic ones are surely more desirable.
Level of Comfort
This factor, of course, is essential when choosing a creeper. As a mechanic, you would usually spend much time underneath a vehicle while doing repairs or maintenance. Hence, you don't want to be soring your back or neck while working underneath your vehicle. You want utmost comfort so that you will not injure your back or neck. For this reason, you should carefully consider if the creeper you intend to buy will give you a high level of comfort during long periods of work underneath your car.
Padding
Prolonged lying or kneeling on a hard surface like metal or wood may cause knee pain afterward. Moreover, it may lead to other health issues like pain in the back and a sore body. So, to minimize injuries due to prolonged lying or kneeling, you should choose a mechanic's creeper that comes with added padding for extra comfort and support.
With added padding, you can work longer underneath the vehicle, without worrying about after-work soreness and pain in the back. Thus, it will be best to consider a creeper with extra padding when choosing a mechanic's creeper.
Casters
To make a mechanic's creeper very efficient and helpful, it should have high-quality casters. Most creepers come with four or six casters. These casters are positioned underneath the creeper to bear the weight of the mechanic and for easy rolling over.
In addition, the wheels should be larger and have edges that readily grip and moveable on the gravel ground. In this way, you can quickly move the creeper around even across the uneven ground like gravel. It should also have an excellent surface and suitable size for more comfort and convenience. Furthermore, if you looking for a gravel creeper that comes with caster wheels, make sure the wheels are wide and high enough to avoid been stuck on the gravel surfaces. Smaller wheels are more easily swallowed into the ground that are filled with smaller gravel stones.
Mobility
When selecting a creeper, you should consider its mobility. The casters, of course, play a crucial role in the mobility of a creeper, but overall, a creeper should be mobile enough so that you can quickly move it anywhere you would need it.
Of course, it should have a low-profile design. With a low-profile design, you can quickly get it under the vehicle. It should also have built-in handles for easy storage and carrying around when you are not using it.
---
FAQs
What is the Optimal Height of the Creeper for the Purposes of Working on the Gravel Ground?
When it comes to mechanic's creeper, the lower the mechanic's creeper, the better for the mechanics. The reason for this is that, as a mechanic, you will have better clearance when working underneath a car if the mechanic's creeper has a lower profile, and the more clearance, the more convenient it will be for you. Nevertheless, if you are working on a larger vehicle on a rough and uneven gravel surface, you should go for a creeper that comes with oversized casters or a wheelless creeper.
How to Clean the Creeper?
Mechanic's creeper should be designed for easy cleanup. It should allow you to clean its padding area with ease. So, when choosing a mechanic's creeper, go for something relatively easy to clean. Go for heavy-duty fabrics like vinyl, for these materials are pretty easy to clean using a disinfectant. They also allow for a thorough wipe-down.