June 7, 2023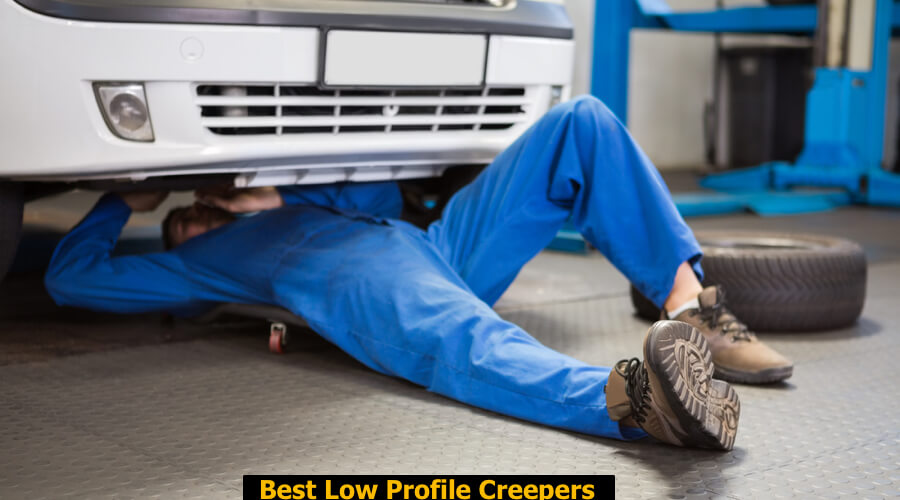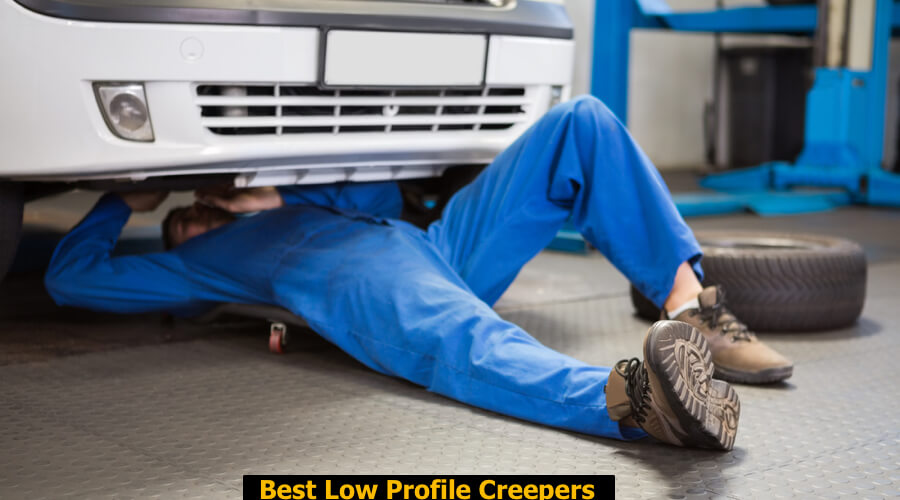 A low-profile creeper is an indispensable piece of equipment in the arsenal of every mechanic when needed to work under the vehicles with low ground clearance. After all, they not only make work on the underside of vehicles more convenient, but they also ensure you can stay more comfortable throughout the entire process.
However, not all creepers are the same. More specifically, not all low-profile creepers can give you the height you need to roll conveniently under the vehicles with certain range clearance.
So if you're looking to buy a low-profile creeper, we have created a review of some of the best options to help you. We're confident you'd find something that suits your taste regardless of your budget, skill level, or preferences.
Most Recommended Low Profile Creepers
Here are some top options for mechanics who need low profile creepers:
1) Pro-Lift Mechanic Plastic Creeper 40 Inch
First on our list is the Pro-Life C-6040 which is 40 inches long and features a high-density polyethylene body or HDPE (a material with an impressive high strength-to-density ratio).
Another appealing quality of this low-profile creeper is how light it is. This is because the C-6040 (like many plastic creepers) was constructed using blow molding. As a result, the creeper weighs only 13 pounds.
Interestingly, the Pro-Life C-6040's sturdy build allows it to support weights of up to 350 pounds and a width of up to 19 inches alongside its 40-inch length.
Furthermore, its HDPE body ensures makes it is very durable and easy to clean.
We should also mention that the creeper has an ergonomic design and a padded headrest to provide optimum comfort even over more extended periods.
Pros
Low clearance
Solid and durable HDPE body
High bodyweight capacity
Ergonomic design
Lightweight
Two built-in trays for tool storage
Cons
---
2) Dale Adams Enterprises The Bone 6031
The most exciting feature of Dale Adam Enterprises The Bone 6031 creeper is its striking design. As the name implies, The Bone 6031 is designed like an actual, so you'd likely not forget about this creeper easily.
However, it's not just about aesthetics. The Bone 6031 also has an ergonomic design that offers optimum back support and keeps you comfortable for longer.
With regards to its body, this low-profile creeper features polypropylene copolymer plastic — which means it is super strong, durable, and easy to clean.
We should also mention that The Bone 6031 may just be the lowest creeper on the market!
Pros
Ergonomic 'bone-shaped' design
Strong plastic
Low ground clearance
Huge wheels
Easy to clean
Cons
---
3) Lisle 92102 Red Plastic Creeper
If you have a thing for misplacing your creepers in the workshop, the bright red color of the Lisle 92102 should be able to help you.
This USA-made low-profile creeper is perfect for exploring the underside of vehicles with low clearances. It also has a shape designed to fit the body, ensuring that your back has the support it needs to remain comfortable while you work.
We should also mention that the Lisle 92102 also has a headrest for increased comfort.
Pros
Very low profile
Lightweight and portable
Ergonomic design
Urethane rollers for uneven ground
Affordable
Cons
No padding
May not stand up to heavy-duty usage
---
4) GearWrench 86995 41″ Mechanics Creeper with Magnetic Trays
If you're on a budget but still want excellent value for your money, this 41-inch GearWrench 86995 may be perfect for you.
First off, this low-profile features a 41-inch long body, which makes it perfect for tall people. Furthermore, it has an ethylene-vinyl acetate padding in its mid-lower back region and headrest to ensure increased comfort and support.
However, the GearWrench 86995 design also ensures that the creeper doesn't lose its low-profile function.
In terms of its portability, this GearWrench creeper weighs only 13 pounds but can support up to 300 pounds. Also, it is equipped with six 3-inch ball-bearing thermoplastic casters to ensure easy movement.
Pros
Metal plates to hold magnetic accessories
Two magnetic tools on each side for tool storage
Ergonomic design
Larger wheels for hindrance-free movement
Lightweight with a decent weight capacity
Cons
---
5) Magic Creeper 51631
Mechanic creepers without wheels are rare, and the Magic Creeper 51631 is one of them. But, of course, this means that the creeper is perfect for vehicles with even the lowest clearances.
However, don't let its lack of wheels deceive you.
The Magic Creeper 51631 has a unique tubular shape and an inner layer that acts as a track to allow you to move up to five feet in all directions without needing to reposition the creeper.
Interestingly, the Magic Creeper 51631 is designed like a mat. This makes it super portable as all you have to do is roll it up, store it, or carry it around in your car trunk.
Pros
Wheel-free
Zero ground clearance
Effortless movement on all surfaces
Won't scratch your floor
Lightweight and portable
Easy to store
Cons
May bunch up with increased movements
---
6) 40 in. Folding Creeper Cool Weave
If you get under cars all day long, you may be interested in the durability of this 40-inch folding cool weave creeper.
This creeper combines heavy-duty weave fabrics with a steel powder-coated frame to provide a strong, durable and comfortable low-profile creeper. We should also mention that the folding cool weave creeper also features a padded headrest for increased comfort.
Furthermore, this creeper is lightweight and weather-resistant, which allows for convenient transportation and everyday use in various conditions.
Also, the folding cool weave creeper can support up to 350 pounds bodyweight.
Pros
Durable
Lightweight
It has a padded headrest
Easy to fold and transport or store
Cons
May not stand up to heavy-duty usage
---
Factors to Consider When Buying A Low Profile Mechanic Creeper
Here are some more details to help you pick out the best low-profile mechanic creeper from the options you now have:
Height and Clearance
While all the options on the list are low-profile, you need to consider how much space you'd have between your creeper and the underside of cars you'd work on. Your body size also plays a role. If you're larger than most people, you want to make sure you buy a creeper with a low enough profile to allow you to work comfortably.
Comfort
It is easy to spend hours working underneath a car. But, of course, if you've done this for a while, you'd know how painful and uncomfortable it can get after some time, especially without the proper creeper. Therefore, you want to get a low-profile creeper that offers you the comfort and support you need while you work.
Quality
While higher quality and more durable low-profile creepers usually cost more upfront, they usually turn out to be the better investment as they last longer. Therefore, you want to consider the quality of creeper options before deciding, especially if you plan to do a lot of work with your creeper.
As a rule of thumb, steel creepers usually last longer than plastic models but are susceptible to rust and may be harder to clean.
Maneuverability
You'd most likely need to move around while you work under the chassis of a car. Therefore, you need to ensure your low-profile creeper allows you to do this (regardless of the surface). Creepers with larger wheels usually fare better in this regard as they can quickly move over surfaces (and even smaller objects).
Also, the type of wheel — steel or urethane — also plays a role in your creeper's maneuverability.
Portability
Finally, you should also consider the weight of your creeper when trying to make a decision. Lightweight creepers mean easier portability which is ideal for mobile mechanics. Furthermore, if you move around a lot, investing in a fold-up low-profile creeper may be better.