June 13, 2021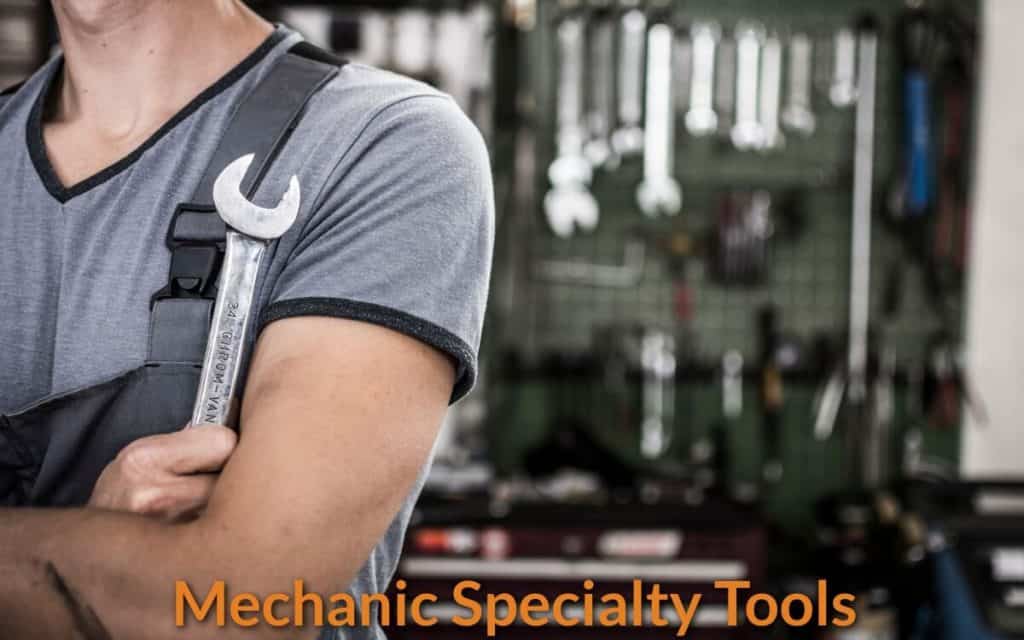 Professional mechanics always have the best tools at hand. Why? Because great tools make a mechanic a better mechanic. There are, however, myriads of mechanic tools out there on the market, and the act of choosing becomes a headache if you are just beginning to collect the necessary mechanic tools that going to make your repairing works progressed and finished in more efficient ways.. Hence, to help you in the choosing and buying process of these specialty tools, we have listed here the must-have mechanic specialty tools that every mechanic should have in his/her arsenal.
As a professional mechanic, you need to have the best tools in your shop. This is because your clients will usually rate your service based on the completeness of your tools. Moreover, with a complete set of tools, your jobs, as a mechanic, become manageable! So, in this post, we are going to list down the different mechanic specialty tools that you must have in your shop:
---
1) Locking Extension Bars
As a mechanic, one of the "must-have" tools you should have at hand is the locking extension bar. It is really frustrating in some instances wherein you find that the socket that you are trying to pull out from a very tight spot still remains on the bolt head even after laboriously trying to extract it.
The best way to avoid such a scenario is to get yourself a reliable locking extension bar. With the use of these specialty tools, you can readily pull out the socket via a pull-back motion. Once the socket is locked on, it will always come out together with the extension bar.
---
2) Nut Splitter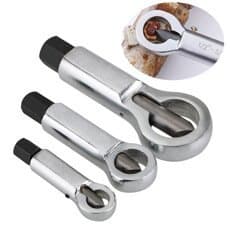 A nut splitter is a tool designed to remove an overly tightened and corroded nut from a bolt or stud without necessarily damaging the thread. You can use this tool by merely ringing over the nut and then turning the threaded shaft manually to split the nut and release it from the stud or bolt. The nut splitter is surely a very valuable tool for any mechanic who wants to excel in his work.
---
3) Flexible Sockets

Another set of tools that a mechanic should have is the flexible socket. Flexible sockets come in a shorter form as compared to the universal joint combo and ordinary socket. These tools can help you install and remove bolts in places that are really hard to reach. These tools, however, are a bit expensive. But they would surely make your repairs and mechanical works a breeze.
---
4) Oil Filter Wrench

If you are just a beginner mechanic, you will be left handling maintenance works like inspecting the machine, tire mounting, and even changing the oil. This is but natural for you first need to learn these rudimentary works before you can set your hands on the more complicated mechanical works. As you master these more menial works, you will soon get promoted to more complicated mechanical works.
Most of the times, while doing the less complicated tasks, you will need a reliable oil filter wrench. You should have different sizes of oil filter wrenches at your disposal so that you can use them for different sizes of oil filters.
---
5) Floor Jack

Generally, you would need two floor jacks if you are working on new models of vehicles. As a mechanical device, the floor jack is a handy equipment that could ably help you in lifting a car. A simple floor jack makes use of a screw thread for lifting. A hydraulic jack, on the other hand, makes use of hydraulic power.
---
6) Ratchets and Sockets

In most cases, you will be using 1/4 "3/8″, and 1/2" ratchets along with their matching socket sets. Hence, you should have these tools in your arsenal. However, when buying ratchets and sockets, you need to consider the quality and brand of the tools before shelling out your hard-earned money on such tools.
As a mechanic, you surely need to buy a set of these tools or a tool kit that consists of ratchets and sockets because they are indispensable. They may be expensive. But if you are on a tight budget, you can always chance upon these tool sets that are on sale. In fact, these tools are often on sale.
One caveat, however, when buying these tools is that you should always choose the metric set instead of the standard English system set for you will surely use metric tools in most of your works.
---
7) Screw Pitch Gauge

Another tool that can come in handy most of the times is the screw pitch gauge. The screw pitch gauge can help you find the right bolt for an application. It can help you quickly and accurately figure out the lead or pitch of a screw thread. However, you should find a high-quality screw pitch gauge that would allow you to select the right screw thread pitch easily.
---
8) Wrench Set

Another indispensable set of tools that will surely come in handy to you as a mechanic is the wrench set. These tools provide you with the necessary grip as well as the mechanical advantage for applying the necessary torque for turning objects like bolts and nuts. You can also use them to keep these objects from turning.
As you shop around for this set of tools, you should carefully choose quality tools because you will most likely use them in your job as a mechanic. "Wrench" is the standard term used in North America to refer to these tools. But in British or Commonwealth English, it is called "spanner." Wrenches come in open-ended or ring shapes.
If you want high-quality wrenches, you should go for chromium-vanadium alloy steels. These tools are most often chrome-plated to make them rust-resistant.
---
9) Slide hammer

The slide hammer is a handy tool for any mechanic. It is a tool that you attach to an object that you need to pull. You can use it for car repairs to remove bearings, pull dents, and strike an object that is hard to access. You can also use it to remove automotive parts, especially when you are stripping down a rundown car.
But it comes handy if you want to strike an inaccessible object from a difficult side. You can use it for removing, for example, a bearing located inside a wheel hub. It lets you access it even if it is inside the wheel hub. This allows you to replace this bearing.
The slide hammer transmits a sizeable impact force to the object that you want to pull. It saves you from striking the object to pull it.
A typical slide hammer has a long metal shaft that comes, at one end, with an attachment point. It also has a heavyweight end. You can easily slide it along the shaft. It also has a stop on the other end, opposite that of the attachment point. The force of the weight is then translated to the shaft. This, in turn, pulls the attached end along the weight's direction of movement.
You can attach the slide hammer to the object in various ways. You can screw thread it, use hooks, or use any other method.
---
10) Engineer's or Machinist's Vise

The machinist's vise is also known as the metalworking vise or engineer's vise. You can use it to clamp metal, especially when you are filing or cutting. The material out of which it is made is malleable cast iron or cast steel. Most vises, however, are wrought in cast iron. Additionally, the heavy-duty vises are mostly made of 65,000 psi ductile iron or 55,000 psi cast steel.
Most jaws of the vises are often replaceable or come separately. They are also engraved with diamond or serrated teeth. You can also get soft jaw covers wrought in copper, aluminum, plastic, or wood. You can use the soft jaw covers for delicate works. The jaw's width, of course, usually comes in the same size as the jaw opening of the vise. The engineer's vise is usually found bolted on the workbench's top surface.
The engineer's vise may come with other features like a small anvil on its body's backside. It may also come with a swivel base. It also has a homeowner version called "Homeowner Grade." This version is usually made of very low-grade iron or pot metal. Moreover, it comes with an exposed screw.
---
11) Locking Chain Clamp

You might have experienced gripping awkwardly shaped workpieces using a vise. Then, you might have failed to hold it securely. This is because the vise is not designed to hold objects like that. Instead, it would help if you had used a locking chain clamp. The locking chain clamp is designed to hold awkwardly shaped workpieces.
The locking chain clamp is made of heat-treated alloy steel. It comes with a classic trigger-release feature along with adjustable pressure. The chain locks around the object.
The good thing about this tool is that it can do what other gripping tools can't. It can lock around round pipes, threaded rods, rebar, and any other irregular shaped object. It is easy to use. You just wrap the chain around the workpiece. Then, hook it through the nearest link. Afterward, you squeeze the handle to lock the object in. It also comes with a quick-release lever for easy unlocking.
---
12) Mechanics Creeper

One of the most challenging aspects of being a mechanic is when you are working on the car's undercarriage. It can be very difficult. You usually do it when engaging in unexpected or routine maintenance. Tackling the undercarriage, however, becomes manageable with the use of a good mechanic's creeper.
A good mechanic's creeper, of course, should be able to support your body. It should also be easy to move around. Moreover, it should provide great comfort to you. It should also be slim to let you easily slide under low vehicles without hitting your head.
When choosing a mechanic's creeper, make sure you choose the best one. Remember, you will be working for long hours on it. Hence, it should have the right features and should help you navigate under the car with ease.
---
13) Hydraulic Gear Puller

The hydraulic gear puller is very important, especially when you are removing stubborn gears, flywheels, or pulleys. It is made of heavy-duty steel with reversible jaws. With its sturdy construction, it is perfect for outside and inside pulling.
You should get a multi-function hydraulic puller kit. This kit usually comes with 2 to 3 jaws function that lets you remove gears, bearings, hubs (especially axle hubs), sprockets, flanges, and races with minimal effort. The heavy-duty pullers with the puling capacity more than12-tons are more applicable to the bigger industrial machineries and vehicles such as truck, tractors, trailers, large industrial machines.
Hydraulic gear puller also comes with a safety flooding valve for preventing oil pressure overloading. It also has a flexible handle for easy operation. It is an essential tool for garage, machine, agriculture, and industrial uses.
---