June 7, 2023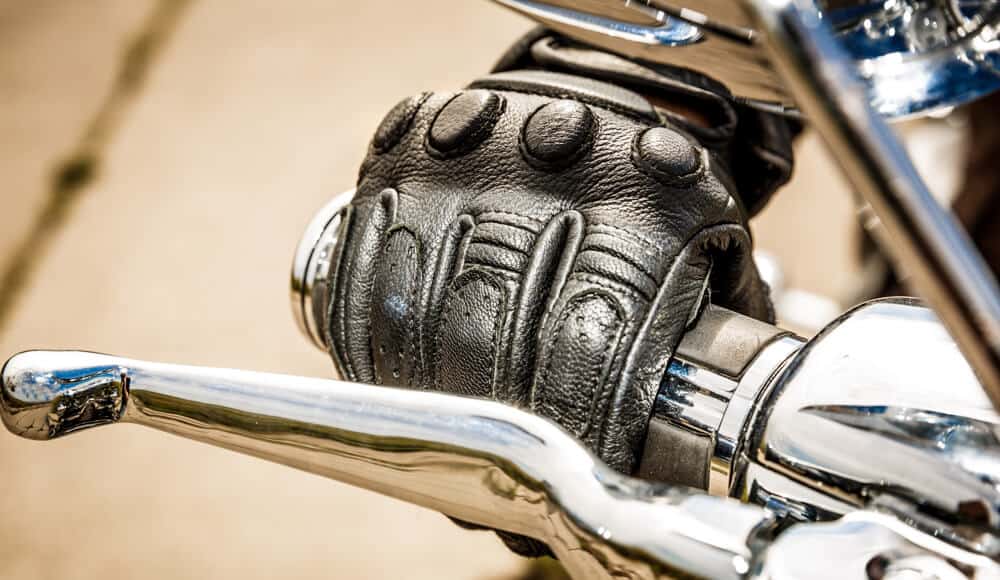 When you're driving your motorbike on the highway, you will feel vibrations originating from the engines and handlebars. Although these vibrations are fairly manageable, they eventually would become more intense during long-distance drives. As your wrist, hand, and forearm begin to tire, you would feel these vibrations more intensely, causing your hand to become more fatigued and numb.
Your motorcycle gloves, of course, can come in handy in this case, for they are your foremost defense against hand fatigue, and wearing them can prevent injury to your hands. In addition, motorcycle gloves come with vibration-reduction features that lessen the tingling and numbness in your hands.
Motorcycle gloves prevent the onset of hand maladies like Guyon's Canal and Carpal Tunnel Syndromes. Moreover, heated gloves protect your hands against numbness caused more by the cold weather and lack of blood flow onto the blood vessels of your hands.
Having the right glove is vital. It protects your hands from numbness, and they protect your hands in case of a fall, keeps your hands warms on long rides during cold nights. Riding without a glove on a cold night can cause damage to your knuckles and hands and could cause Carpal Tunnel Syndrome in some cases.
Apart from freezing, there is also the vibration that comes from the throttle and handlebars, which could lead to excess discomfort; the best way to minimize this is by getting a glove with shock absorption made into the palm of the glove. Most riders get gloves that are none padded at any retail store that they can find, but paying a little more for the right glove reduces the risk of getting the Carpal Tunnel Syndrome. Padded gloves work in a unique way to isolate the median nerve leading to Carpal Tunnel Syndrome.
---
Best Recommended Motorcycle Gloves for Numb Hands
---
1) Olympia Sports Men's All-Season II Touch Gloves
The All-Season II's are fantastic in providing an excellent, suitable, year-round glove. It has a reinforced gel in the palm of the glove that acts as a cushion for vibration and aids reduction of injuries caused by long hours of riding. They are a bit pricey, but if you are going to get only a pair of gloves, this is the best one. They may not be outstanding when it comes to low temperatures, but the All Season II's go well with other products such as a heated grip for all those harsh winter months. I had heard excellent reviews about these gloves, but I had no idea why people were in such awe of them until I started my research for this article. And as the name implies, they last all year long, making it durable and pocket friendly.
---
2) Cestus Vibration Series TrembleX-5 Neoprene Polychloroprene Anti-Vibration Glove
This is a fingerless glove that is covered with silicone Hexagonal memory gel on the palm of the glove that usually comes in contact with tools that reduce the effect of vibration and boost grip. Its snug spandex and flexible wrist strap make sure the glove is well fitted but still breathable.
This anti-vibration glove works by limiting strain. This works by absorbing vibration produced, and the impact felt when using heavy-duty tools. This is the use of the hexagonal memory gel pads design, which are placed at vital parts of the palm. It features an adaptable wrist strap and an EZ pull tab. Because of its fingerless feature, TrembleX-5 is a "convertible top" option which provides a silicon surface for a secure grip. It is a right for people who use impact tools, vibration tools, or for construction, demolition, pit crew, chainsaw artist, tree trimming, motorcycle, and industrial work.
---
3) Milwaukee Men's Motorcycle Riding Gloves
The Deersoft Fingerless Riding Gloves are made to perfection. It is durable, of high quality. They are made from highly durable deer soft leather, which is imported. They are suitable for the summer and also help eliminate the stress of the hand and also known to reduce hand stress.
They help minimize vibration with their gel-padded palms put inside ample soft leather. It has an easy adjustment; it offers a quick removal, they are perfect for any weather, and they are usually available in fingerless and full fingers. Due to their breathable nature, they are enjoyable to wear. While the grip that the gloves give ensures your safety while riding. They have a three-month warranty, which doesn't sound like a nice feature, but this is an excellent glove for those that ride all summer long.
---
4) Premium Men's Motorcycle Protective Gel Gloves
The market is awash with myriads of motorcycle gloves, but one good option at hand is the Premium Men's Motorcycle Gloves. These gloves are wrought in durable leather. Nevertheless, despite its better durability, the leather is soft and flexible. The leather also comes with a liner on the palm's back for reinforcing the palm.
The design of these gloves, of course, is meant for classic and modern motorcyclists. These gloves are likewise engineered using top-notch materials to distinguish these gloves from the commonly sold gloves. Being made of authentic leather, these gloves provide extraordinary comfort all the time.
Its comfortable liner also stabilizes hands and keeps them in the proper position. Moreover, these gloves come with an adjustable loop, as well as a hook strap system. They also come with gel pads along the wrist area and stretch panels to allow more unrestricted movement and more flexibility.
Key Features
Made of top-notch aniline goat leather.
Feature reinforced palm and liner.
Come with a gel pad on the wrist area,
Pros:
Wrought in durable leather.
Comfortable and Durable.
Offer excellent grip for easy access to controls,
Cons:
Some users complained of stitching issues.
Quality controls may be questionable.
---
5) Protect the King Motorcycle Biker Gloves
As its name implies, these gloves make you feel that your fingers are of the royals. These gloves are expertly engineered to give you a kingly feel. Besides, they are the best-rated touchscreen gloves that you can find. Launched three years ago in 2018, these gloves have since become one of the most recommended gloves for motorcylist.
These gloves are wrought in premium leather, and you can buy them in many sizes. The leather is made of organic material and is known for better durability. These gloves also come with double padding. This feature offers greater comfort against vibrations and abrasions. Hence, when you are wearing these gloves, you feel more comfortable in your hands.
These gloves also come with a pre-curved portion on the finger parts for reduced riding fatigue. Moreover, the knuckle guar provides better impact support. You will surely find these gloves highly satisfactory when you wear them.
Key Features
Made of top-notch leather.
Come with reinformed palm support (double-layered).
Make use of breathable technology.
Pros:
Made of quality materials,
Come with a reinforced design.
Offer better security for the wrist.
Cons:
They may not look stylish.
---
6) Gerbing T5 Hybrid Heated Gloves Kit
These gloves are made of fine leather, being made by Gerbing, which is known for best heated clothing. It is engineered to provide motorcyclists with the best comfort and convenience when driving.
These gloves can be paired with Gerbing's dual-zone controllers. They also come with microwire technology. In addition, these gloves are waterproofed and make use of micro-stainless steel fibers intertwined inside a waterproof coating. Thus, you will feel excellent comfort and heating when wearing these gloves.
Features
Advanced connectivity with other Gerbing Products.
Come with microwire heat technology.
Pros:
Offer an interconnected system for other Gerbing products.
Come with a lifetime warranty for its microwire heating system.
Cons:
They run larger than their actual size.
---
---
Causes of Numbness While Riding A Motorcycle
There several reasons why hand numbness might occur. Numbness is most common among steady riders. Some of the reasons why hand numbness may occur are nerve damage if nerves in the hand have been compressed for a prolonged period of prolonged exposure to the vibration of the handlebars. Some of the most common causes have been listed below and how to remedy them.
Vibration
This is the most common cause of hand numbness. The first thing to do is do a check-up on your bike, may sure nothing is loose or broken. If you do this and still notice that your bike is still vibrating a lot, then take it to your mechanic to have it examined.
If you later find out that there is something wrong with your bike and you do nothing, that could lead to terrible and not safe riding conditions. Take your bike for regular inspection and maintenance to avoid problems from arising, thereby giving you safe riding conditions.
If you, after all that your bike has no issues, then the next thing to worry about is reducing the amount of vibration that is felt by your hand. There are a series of ways to achieve this, the most common and easiest way is to replace your grips or get a glove with shock-absorbing attributes built into the palm. There are different series of gloves that are sold in the markets, they range from affordable to expensive, and some are in between. It would be best if you did your research before deciding on which glove to buy and which one will last you all year long.
Riding Style
Sometimes hand numbness is due to how hard the bars have griped when riding. It is unnecessary to grip the bars tightly. When next you feel your hands numbing up, try reducing the force on your grip, and see how that feels. When you make a few changes to your riding style, you feel the effect on your hands.
Bike Modification
If you have tried everything and nothing seems to work, check your bike for any modifications. If your bike's vibration is bothering you, later, you could try changing the angle at which your bars are placed to deal with the numbness issue. There are a series of options when it comes to modifications that will change how you grip your bars and avert hand numbness.
More Serious Causes
If you still feel the numbness even when you are not riding or after being off the motorcycle for a while or it becomes an everyday occurrence, then it might be a symptom of a more serious issue. Carpal tunnel is one of the severe causes. You should seek medical care if the numbness persists, if you just ignore it, it could lead to a more life-threatening issue and unsafe riding conditions.
---
Additional Tips To Reduce Motorcyclist's Hand Numbness
Motorcycle riders are not immune to forearm fatigue, hand numbness, and other forms of hand and arm issues when driving, especially for long-distance driving. The occurrence of these issues is not surprising because such issues are fairly common. Your arms, wrists, and forearms, of course, support your weight when riding. As such, they bear much of the brunt and impact when riding.
Medical experts say that hand numbness is more often caused by compression, irritation, and damage to the arm and wrist nerves. This nerve damage usually occurs in the median and ulnar nerves that run across the palms, constituting the exact points where you channel your weight when riding a motorbike. So, to help you reduce hand numbness, we have delineated here the 12 best tips provided by expert riders on how to reduce hand numbness:
Refrain from over gripping the bars and lighten up on your grip.
Don't overburden your wrists by putting most of your weight on the wrists. 
Channel most of your weight to your leg muscles and core abdominal muscles. 
When engaged in long rides, bring a small rubber ball with you that you can squeeze during breaks. 
Keep your hands relaxed and loosen up a bit with your upper body. Lightly touch and steer the bars. 
Grip the gas tank using your knees to channel some weight off your wrists. 
Shake your hands out every quarter or half an hour. 
Pump or squeeze your hands to release some muscle tensions. 
Remove your rings before you venture out. 
Do regular exercises when you are off the bike to improve your overall fitness. Strengthen your core likewise. 
Stretch your fingers oppositely by placing your hands backward. 
Move your hands sometimes out, just beyond the grip's end, and rest your pinky fingers on the end of the bar.
---
Conclusion
Numbness in hand is a terrible discomfort which could impair riding, but taking proper care could prevent that. Take your time to find the cause of the issue. Being exposed to these kinds of injuries for a long time could cause permanent damage along the line, so investing in your safety now is better than investing in hospital bills.
Riding your motorcycle relies significantly on your hand; thus, you need to choose your gloves with caution. Make sure it fits properly and is not too free at the fingertips. Do your research and find what glove suits you and where you could purchase it. Note that when a glove is worn over time, it will stretch, so it is excellent if you get a glove that is a tight fit at first. Know this, and a great glove should provide you with support, comfort, and protection in case you fall.
---
Other Top-rated Motorcyclist Gloves That Can Prevent Numbness