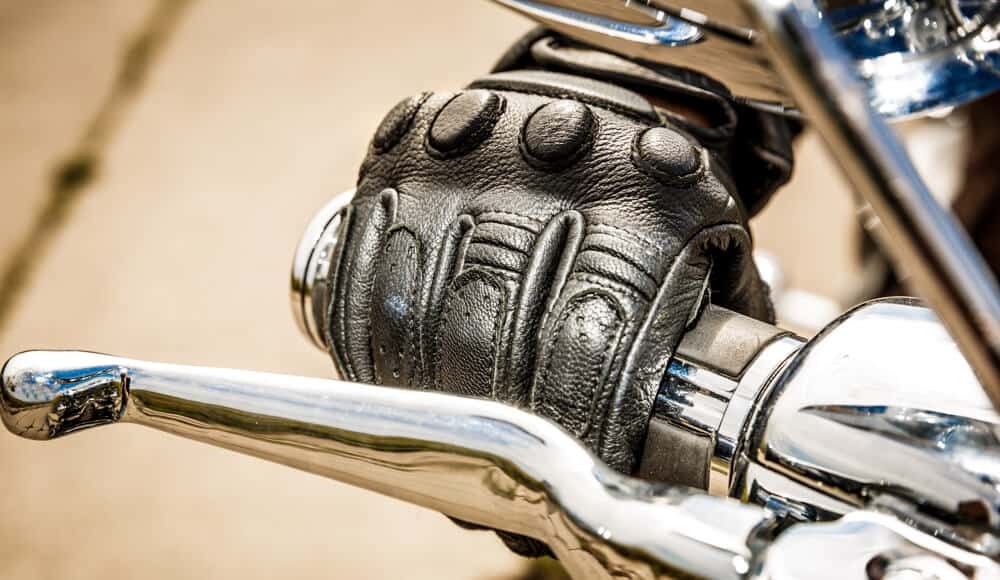 Riding a motorcycle is one of the most popular hobbies around. Whether you like off-road motorcycling, sport motorcycling, or cruiser motorcycling, you shouldn't forget your gloves, and they are significant.
Having the right glove is vital. It protects your hands from numbness, and they protect your hands in case of a fall, keeps your hands warms on long rides during cold nights. Riding without a glove on a cold night can cause damage to your knuckles and hands and could cause Carpal Tunnel Syndrome in some cases.
Apart from freezing, there is also the vibration that comes from the throttle and handlebars, which could lead to excess discomfort; the best way to minimize this is by getting a glove with shock absorption made into the palm of the glove. Most riders get gloves that are none padded at any retail store that they can find, but paying a little more for the right glove reduces the risk of getting the Carpal Tunnel Syndrome. Padded gloves work in a unique way to isolate the median nerve leading to Carpal Tunnel Syndrome.
Last update on 2021-04-19 / Affiliate links / Images from Amazon Product Advertising API
1) Olympia Sports Men's All-Season II Touch Gloves
The All-Season II's are fantastic in providing an excellent, suitable, year-round glove. It has a reinforced gel in the palm of the glove that acts as a cushion for vibration and aids reduction of injuries caused by long hours of riding. They are a bit pricey, but if you are going to get only a pair of gloves, this is the best one. They may not be outstanding when it comes to low temperatures, but the All Season II's go well with other products such as a heated grip for all those harsh winter months. I had heard excellent reviews about these gloves, but I had no idea why people were in such awe of them until I started my research for this article. And as the name implies, they last all year long, making it durable and pocket friendly.
2) Cestus Vibration Series TrembleX-5 Neoprene Polychloroprene Anti-Vibration Glove
This is a fingerless glove that is covered with silicone Hexagonal memory gel on the palm of the glove that usually comes in contact with tools that reduce the effect of vibration and boost grip. Its snug spandex and flexible wrist strap make sure the glove is well fitted but still breathable.
This anti-vibration glove works by limiting strain. This works by absorbing vibration produced, and the impact felt when using heavy-duty tools. This is the use of the hexagonal memory gel pads design, which are placed at vital parts of the palm. It features an adaptable wrist strap and an EZ pull tab. Because of its fingerless feature, TrembleX-5 is a "convertible top" option which provides a silicon surface for a secure grip. It is a right for people who use impact tools, vibration tools, or for construction, demolition, pit crew, chainsaw artist, tree trimming, motorcycle, and industrial work.
3) Milwaukee Men's Motorcycle Riding Gloves
The Deersoft Fingerless Riding Gloves are made to perfection. It is durable, of high quality. They are made from highly durable deer soft leather, which is imported. They are suitable for the summer and also help eliminate the stress of the hand and also known to reduce hand stress.
They help minimize vibration with their gel-padded palms put inside ample soft leather. It has an easy adjustment; it offers a quick removal, they are perfect for any weather, and they are usually available in fingerless and full fingers. Due to their breathable nature, they are enjoyable to wear. While the grip that the gloves give ensures your safety while riding. They have a three-month warranty, which doesn't sound like a nice feature, but this is an excellent glove for those that ride all summer long.
Last update on 2021-04-19 / Affiliate links / Images from Amazon Product Advertising API
Causes of Numbness While Riding A Motorcycle
There several reasons why hand numbness might occur. Numbness is most common among steady riders. Some of the reasons why hand numbness may occur are nerve damage if nerves in the hand have been compressed for a prolonged period of prolonged exposure to the vibration of the handlebars. Some of the most common causes have been listed below and how to remedy them.
This is the most common cause of hand numbness. The first thing to do is do a check-up on your bike, may sure nothing is loose or broken. If you do this and still notice that your bike is still vibrating a lot, then take it to your mechanic to have it examined.
If you later find out that there is something wrong with your bike and you do nothing, that could lead to terrible and not safe riding conditions. Take your bike for regular inspection and maintenance to avoid problems from arising, thereby giving you safe riding conditions. 
If you, after all that your bike has no issues, then the next thing to worry about is reducing the amount of vibration that is felt by your hand. There are a series of ways to achieve this, the most common and easiest way is to replace your grips or get a glove with shock-absorbing attributes built into the palm. There are different series of gloves that are sold in the markets, they range from affordable to expensive, and some are in between. It would be best if you did your research before deciding on which glove to buy and which one will last you all year long.
Sometimes hand numbness is due to how hard the bars have griped when riding. It is unnecessary to grip the bars tightly. When next you feel your hands numbing up, try reducing the force on your grip, and see how that feels. When you make a few changes to your riding style, you feel the effect on your hands.
If you have tried everything and nothing seems to work, check your bike for any modifications. If your bike's vibration is bothering you, later, you could try changing the angle at which your bars are placed to deal with the numbness issue. There are a series of options when it comes to modifications that will change how you grip your bars and avert hand numbness. 
If you still feel the numbness even when you are not riding or after being off the motorcycle for a while or it becomes an everyday occurrence, then it might be a symptom of a more serious issue. Carpal tunnel is one of the severe causes. You should seek medical care if the numbness persists, if you just ignore it, it could lead to a more life-threatening issue and unsafe riding conditions.
Numbness in hand is a terrible discomfort which could impair riding, but taking proper care could prevent that. Take your time to find the cause of the issue. Being exposed to these kinds of injuries for a long time could cause permanent damage along the line, so investing in your safety now is better than investing in hospital bills.
Riding your motorcycle relies significantly on your hand; thus, you need to choose your gloves with caution. Make sure it fits properly and is not too free at the fingertips. Do your research and find what glove suits you and where you could purchase it. Note that when a glove is worn over time, it will stretch, so it is excellent if you get a glove that is a tight fit at first. Know this, and a great glove should provide you with support, comfort, and protection in case you fall.
Other Top-rated Motorcyclist Gloves That Can Prevent Numbness