June 7, 2023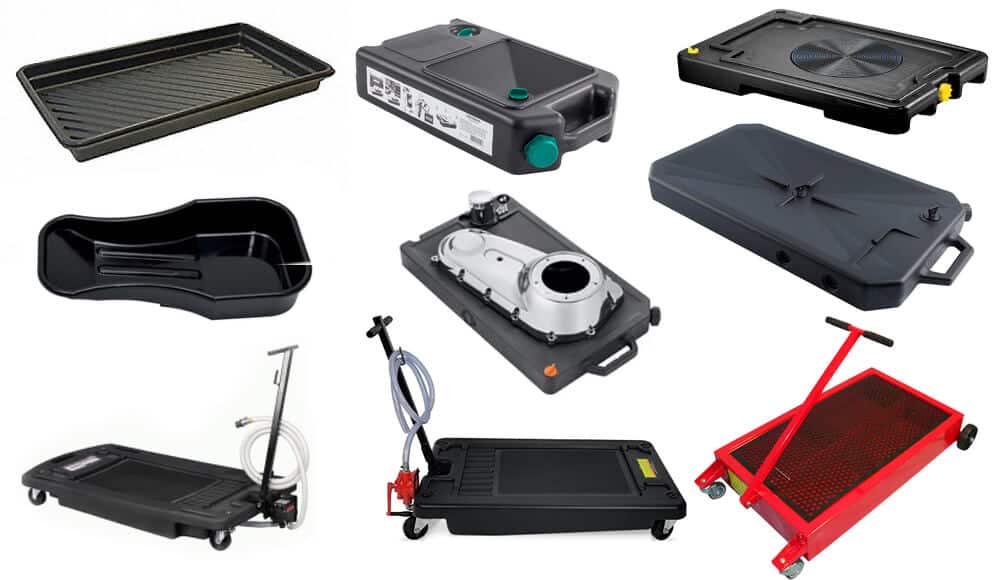 So, you need to change your car engine or gear oil, and now you intend to purchase an oil drain pan that can slip under the lowered car, especially the lowered-body sedan or sports cars. In this article, I have compiled everything you need to know to zero in on the right low-profile oil drain pan.
Of course, you may not think about the oil drain pan more often when everything is going smoothly. Yet, once you decide to do an oil change on your own, you will surely need one of these oil drain pans. Besides, with a low-profile oil drain pan at hand, you can make the oil change cleaner and quicker.
Essential Factors to Consider When Buying an Oil Drain Pan
Selecting an oil drain pan may be a bit confusing, given the myriads of options at hand. Nevertheless, to quickly zero in on the right one, you need to know the following essential factors to consider when buying an oil drain pan:
Capacity
It is pretty natural for drain pans to have a low profile. However, if it is too small, it will be incapable of handling all your car's oil. It should not be excessively large, likewise. Of course, the ideal pan can let you drain oil up to three times before you head to the recycling center.
The capacity of the pan is crucial if you are handling cars of different oil volumes. Moreover, a drain pan that can hold twice your car's quart capacity is a perfect choice. Most cars need 3 to 7 liters of oil for every oil change. Thus, you will need find an oil pan that can fill with at least 8 – 10 liters of oil.
Size and Shape
Another factor you don't want to overlook is the size and shape of the drain pan. Others don't give much thought about the drain pan's size and shape. However, this factor is crucial because you don't want to end up with a drain pan that does not fit well under your car.
Of course, drain pans come in various shapes and sizes. You may find taller and bulkier drain pans as you shop around for one. Yet, if you got a low-rider car, then you should carefully consider the size and shape of the drain pan that you will buy.
Opening
Another crucial factor to consider when purchasing an oil drain pan is the opening of the pan. The openings of most drain pans vary from each other. You don't want something with a narrow hole because it may fail to catch all the oil. On the other hand, a large aperture is ideal and is less messy, for you can aim the oil flow easily into a larger hole.
Draining Method
There are two types of draining methods. You will see pans that make use of the open-catch method. You will also see pans that come with the top draining method. The design of the open catch drain is bowl-like. It allows the oil to drain without the risk of splashing.
On the other hand, top drain pans come with a sealed top and a drain hole. The oil drains onto the drain pan's lid. Then, it is channeled to the drain hole, down to a container. You run the risk of oil splashes with this type of draining method. Yet, you can minimize such splashes by directing the oil into the hole.
Height
As mentioned above, you should consider the shape and size of the drain pan before buying it. Yet, aside from its shape and size, you need to consider its height. A taller drain pan may not fit well under your car if you have a low-ride car. Yet, a shorter one may not also be appropriate if you will use it on a lifted truck. So, you need to look at the height of the drain pan carefully.
Durability and Sturdiness
The pressure exerted by 5 quarts of oil may be too much for a not-so-sturdy pan. It will help if your container is sturdy and durable enough to contain and transport the dirty oil. Moreover, it should have features like integrated handles for ease of transport. If you want durability, you should look for pans made of high-density materials.
Ease of Storage
Some drain pans come with integrated storage for used oil. These pans are an all-in-one solution that lets you drain the oil and dispose of oil safely. These pans, however, are more expensive than ordinary pans. They are also sturdier, reducing the risks of an accidental spill of oil.
Ease of Disposing
You may find drain pans that do not let you quickly disposed of dirty oil. You shouldn't buy these pans. Instead, it will help if you choose oil drain pans that let you quickly dispose of used oil. You may think that the large-lipped pan may let you dispose of oil quickly. Yet, it is the other way around.
The one with a clearly defined spot will let you dispose of used oil more quickly. You should also go for something with an air vent to drain the used oil quickly. It will help if the air vent is open as you drain out the pan's oil.
Mesh Screen
Another must-have feature is the mesh screen. Some drain pans come with integrated mesh screen. Some, however, do not have one. So, when choosing a drain pan, go for something that has an integrated mesh screen. The mesh screen will come in handy when you accidentally drop a filter or drain plug into the drain. This mesh screen catches it. Thus, you avoid rummaging in the oil to find the drain plug or filter.
Locking Method
Another thing to consider when buying a drain pan is its locking feature. You will be transporting your pan to another place after you've drained the oil onto it. Therefore, the drain pan must have an effective locking system that seals the oil inside the pan. Moreover, if you intend to store the oil for a longer time, you need to choose a pan with a good locking system.
---
Most Recommended Low-profile Oil Drain Pans
Having known the important factors to consider when choosing an oil drain pan, you can now zero in on the ideal oil drain pan. However, to further facilitate the choosing process for you, we have listed here the following most recommended low-profile oil drain pans in the market today:
1) Goplus Portable Oil Drain Pan
The Goplus Portable Oil Drain Pan is perfect for draining oil wherein there is no hoist or pit at hand with a no-spill design. This oil drain pan comes with an 8ft hose to let you use the pan on many occasions. It can also contain up to 17 gallons of oil; thus, it is perfect for large jobs.
The Goplus Portable Oil Drain Pan comes with 4″ swivel casters for ease of maneuverability and transport. It also comes with a mesh gate for preventing debris and other materials from dropping into the oil.
This oil drain pan is constructed of high-impact polypropylene, making it very lightweight for easy transport and more extended durability. Moreover, it comes with a long-reach T-handle that makes it easy to position and drain oil under your vehicle. With its design, you can easily store it away when not in use.
---
2) TCMT Low Profile Oil Drain Pan
The TCMT Low Profile Oil Drain Pan is perfect for professional auto shop and home garage use. Its holding capacity is enough to drain multiple engines before heading to the in-house recycling center or tank. Its low-profile design is great for easy maneuverability. With this oil drain pan, you can reduce cleanup and mess when you change fluids.
This oil drain pan is reusable and is designed for low vehicle usage. Its low profile readily fits under any standard height motorcycles. Besides, this low-profile oil drain pan is designed for Harley-Davidson. Its dimensions are 26.8 x 15.7″ x 2.8″.
---
3) OTC 1577 Low Profile Fluid Receiver
The OTC 1577 Low Profile Fluid Receiver comes with a perfect design for catching waste fluid during repairs. It comes with four casters for easy and efficient maneuverability. It also has a very low-profile design that lets it slide easily under passenger cars.
It has a solid construction made of polyethylene plastic for heavy-duty jobs. Yet, it only weighs around 13 pounds making it very light and easy to handle. Moreover, it comes with a splash screen for preventing splashing and spillage. It boasts of a fluid capacity of 7.5 gallons.
---
4) GarageBOSS GB016 16 Quart Oil Tear Away Clean Drain Pan
The GarageBOSS GB016 comes with a tear-away sheet for catching the oil. Once you have drained the oil, you can peel it away or use a new one in place of it. You can also wash it instead and reuse it. Recyclable materials make up this tear-away sheet.
It is only 3.5 inches high. Thus, it can readily fit under any vehicle, especially those low-riding ones. With its rectangular design, it is pretty much stable and easy to transport.
Furthermore, it is durable, bearing a design that can last longer. Moreover, it comes with a recycle tear away clean sheet. It is also easy to handle and comes with a rectangular design for easy transport because it sits flat. You can buy the replacement sheets separately.
---
5) OEM TOOLS 87017 Low Profile Oil Drain Pan
The OEM TOOLS 87017 is a perfect choice if you want an oil drain pan that is not expensive yet very reliable. It features a 2.8-quart capacity to let you drain enough oil. It also features a low-profile design that is suited for use for different types of vehicles.
It comes with a large opening for a more comfortable collection of oil. It has a goose-shaped neck for ease of extension under the car.
Gauging from the reviews given by those who have used this oil drain pan, it is evident that they find this oil drain pan incredible. If you search for something that won't break the bank, but of high quality, you should consider the OEMTOOLS 87017.
---
6) New Pig Oil Pan
The New Pig Oil Pan is an enormous drain pan with dimensions of 40.25″ x 28.25″ x 5″. It can hold around 71 quarts of used oil. It is durable and sturdy. It is also an easy-lift pan that you can pour into a five-gallon bucket without collapsing or folding.
It features a thick and chemical-resistant polyethylene wall. Moreover, it can help you avoid oil stains in your garage. It is also easy to store when it is not in use.
---
Conclusion
One essential thing you can do to keep your car in the topnotch condition is to change your car's filter and engine oil regularly. Professionals usually do this for most car owners, though you can also engage in at-home oil changing. If you want to engage in at home oil changing, you will need a reliable and proven oil drain pan.
To zero in on the best oil drain pan and make a wise purchase, you need to know the essential factors to consider when buying an oil drain pan. Moreover, it will help if you know the most recommended oil drain pans in the market today. Equipped with this knowledge, you can indeed make an intelligent purchase.