June 7, 2023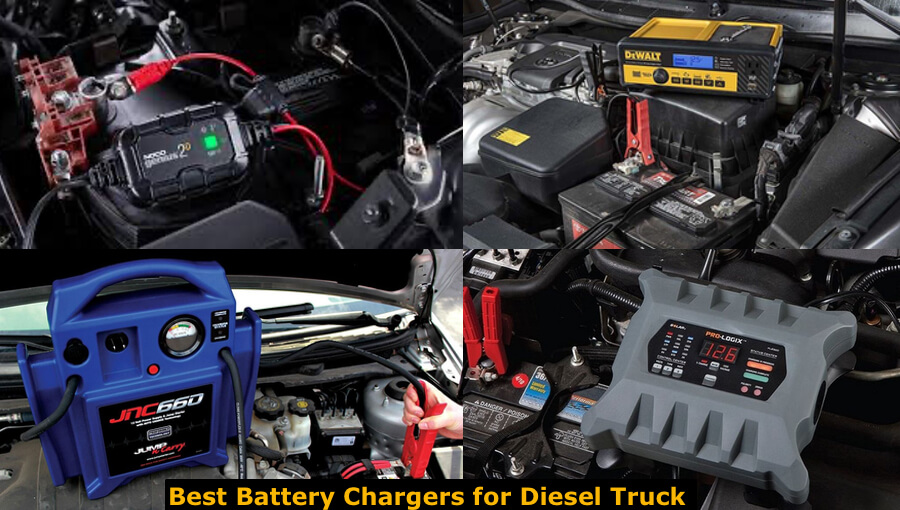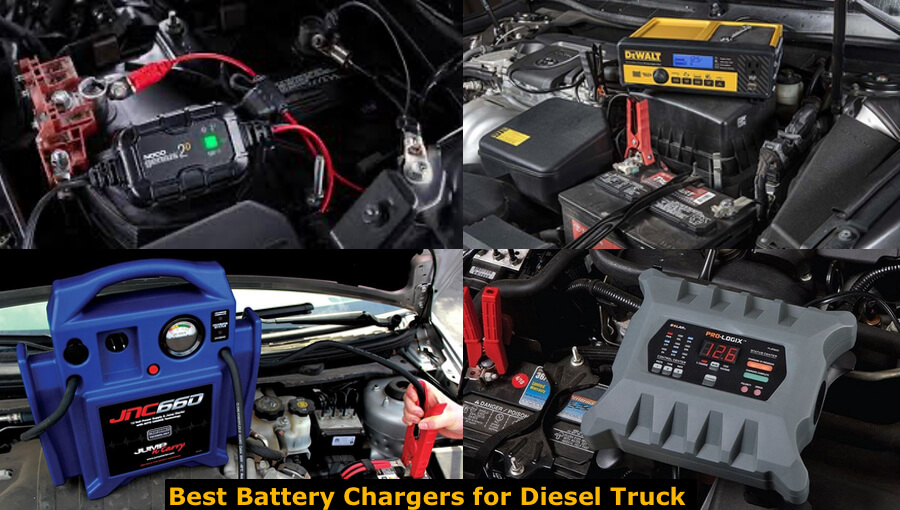 I was reading through a forum the other day, and one question that kept on popping up was all about why diesel trucks have two batteries. The answer is quite apparent—the diesel engine has higher compression and resistance than gas engines. Thus, it needs more power to get it started. Having a higher compression ratio is pretty advantageous, for the higher the compression ratio, the more efficient the engine is.
Yet, despite having two batteries, there will surely be instances when truck batteries would lose power for various reasons. You would surely get frustrated if your diesel truck batteries discharge, especially if you're all set to accomplish an important task with your diesel truck. So, having the best diesel truck's battery charger at hand—that could simultaneously charge two batteries—would be a welcome relief.
Most Recommended Diesel Truck's Battery Chargers
Choosing the best battery chargers for diesel trucks should not be a brain-wracking activity. Yet, given the myriads of options at hand, you might find yourself scratching your head in utter confusion when selecting a battery charger. To facilitate the choosing process for you, you can check out the following most recommended battery chargers for diesel trucks:
1) NOCO Boost X GBX155
Your primary option, of course, when searching for an excellent battery charger is the NOCO Boost X GBX155. It features all the qualities that a perfect battery charger for a diesel truck should have. It is designed for heavy charging and offers a high level of safety.
This remarkable battery charger showcases a 4,250-amp charger to allow a perfect jumpstarting of your batteries, even during harsh weather conditions. You can also use this battery charger to charge gasoline engine's batteries like cars, motorcycles, boats, ATVs, SUVs, vans, and many other vehicle types.
NOCO Boost X GBX155 offers fast recharging with its USB-C Power Delivery technology. It also has incredible thermal efficiency as well as management of power for better performance.
Moreover, its copper clamps are pretty effective, high-grade, and a bit larger than the traditional options at hand. It also comes with a cigarette lighter socket serving as a 12V DC portable power source for your other items.
Pros:
Powerful enough to charge diesel truck's batteries
Features durable clamps
Offers safe usage
Capable of jumpstarting even in harsh weather conditions.
Cons:
Doesn't come with any storage
---
2) NOCO GENIUS5
Another excellent battery charger rolled out by NOCO is the NOCO GENIUS5. It is an intelligent 6V and 12V charger. It offers a precision charging of batteries and a thermal sensor to detect the surrounding temperature. Moreover, it can change or enhance the charge to do away with over-charging during hot and cold weather. You can even charge your dead batteries.
NOCO GENIUS5 can also detect sulfation of batteries and the stratification of acid. Thus, it can restore the performance of your lost battery for better engine starts. This intelligent charger can come in handy anytime you need to recharge the vehicle's batteries.
This kit will give you everything you need to start charging your diesel truck batteries. The kit got four clamps, two self-tapping screws, four extension cords (10″), four interchangeable connectors, power cables, and a manual.
Pros:
Can support both 12V and 6V batteries
Delivers enough charging current
Helps avoid overcharging
Cons:
Clamp eyelets might not fit the battery
The user guide comes in hard-to-read small font.
---
3) AVAPOW Car Battery Jump Starter Portable
If you're looking for a battery charger that comes with many positive raves, you should check out the AVAPOW Car Battery Jump Starter Portable. Around 88 percent of those who have availed of this item gave it a positive review.
This battery jump starter is unbeatable when it comes to recharging batteries. As such, it is an excellent choice. It is also a heavy-duty charger and can recharge your batteries in all weather conditions. It is also easy to operate, and with a single press, you can jumpstart your dead car's dead battery.
AVAPOW Car Battery Charger also features a more enhanced current supply compared to the second generator battery chargers. It is also safe to use, protecting against short circuits and over-voltage protection. Moreover, it has an indicator that tells you if you are misusing it. Lastly, you will get everything you need in this kit to start jumpstarting your dead batteries.
Pros:
Heavy-duty and long-lasting
Compact and robust
Can be used in all weather conditions
Easy and safe to operate
Cons:
Might be suitable only for emergency use and not for professional use
---
4) SUNER POWER 12V Solar Car Battery Charger & Maintainer
If you are searching for a solar-powered one, you should check out the SUNER POWER Solar Car Battery Charger. It features solar cells (amorphous) that function well even if sun hides behind clouds. It can trickle charge your battery using the energy it collects from sunlight.
SUNER POWER 12V is perfect for recharging any battery of motorcycles, cars, marine, boat, tractor, Powersports, RV, and many other vehicles. It is easy to set up and install. It also doesn't over-charge or damages your vehicle's battery.
Besides, it features a blocking diode that helps prevent reverse discharging. Thus, you can avoid draining your battery with this charger. Its solar cells get covered with solar glass that can withstand pressure and heavy loads. Moreover, you will find this kit easy to set up and requires little maintenance.
Pros:
Easy to operate and set up
Energy-efficient and would not pad up your electric bills
Works even if the weather is cloudy
Portable and lightweight
Cons:
Warranty gets voided if you install it wrongly
---
Essential Factors to Consider When Buying a Battery Charger for Your Truck
If you know the best battery chargers for diesel trucks, you can quickly narrow down your options to the best battery charger options at hand. It will also help if you are familiar with the following essential factors to consider to help you zero in on the best battery chargers for diesel trucks:
Build and Quality
When buying a product like a battery charger, you would surely want something with a quality build. You don't want anything to do with lousy and poorly built products. Moreover, you want a battery charger that offers sterling qualities. Plus, you want a battery charger with innovative features and made of durable materials.
Higher Amps
Another factor you should look for in a battery charger is the amps. It should have higher amps for better performance and power. It should also tolerate heavy pressure while providing sufficient energy for your diesel truck's battery.
Quick-charging
Another factor to consider is the quick-charging capability of the charger. This capability might not be necessary, but it is a plus factor if your charger can quickly charge. Besides, such a charger will appeal much to those too busy with their lives that they could not spare much time waiting for their truck batteries to charge fully.
Capacity
The battery charger you need to buy must be appropriate to the battery you would like to charge. You don't need something that could recharge a 16V battery if your battery runs in 12 volts. So, it will help to match your needs with the battery charger's capacity.
All-weather Compatibility
When choosing a battery charger for a diesel truck, it will be best to select a weather-compatible one. It should run in all-weather conditions and charge your truck batteries even in extremely cold or hot weather.
Lightweight and Portable
You should also consider this factor because if you choose a portable battery charger, you won't feel any discomfort when using it. Moreover, you can bring it anywhere you need to recharge your truck's batteries.
Safety Features
The battery charger should also come with many safety features to not run the risk of hurting or injuring yourself when you use it. It should be waterproof, for example, and should be spark-proof likewise. Moreover, it should have a rubberized casing and other safety features that make its use safe and risk-free.
---
Frequently Asked Questions
Once you know the essential factors and the most recommended battery chargers, it will also help if you are familiar with the following FAQs about diesel truck's battery chargers, for they might also be the questions you have in mind:
Is It Possible to Trickle-charge a Diesel Battery?
Well, if you trickle charge your truck's batteries, you run the risk of damaging your diesel batteries, for you might overcharge the batteries. So, experts would not advise you to do so, even if you can.
How Many Batteries Does a Diesel Truck Have?
You will find that most diesel trucks come with two batteries to run efficiently. This is because their engines require high resistance loads and extreme power to start.
How Long Will the Diesel Truck Batteries Last?
The diesel truck batteries will last for a long time. However, their longevity will also depend on your manner of using and maintaining them. It also depends on how you drive and your other driving habits. Besides, the health of your vehicle will also factor well in the longevity of your batteries. On average, diesel truck batteries last anywhere between four to five years.
---
Conclusion
As mentioned above, choosing diesel truck battery chargers will prove confusing if you don't know the best options at hand and if you don't know the essential factors to consider. But if you choose one of the most recommended battery chargers mentioned above, you can assure yourself that you will have an excellent charger when you need to recharge your diesel truck batteries. Moreover, you will no longer get frustrated if your truck's batteries go dead or discharge.
If you're a mechanic or an aspiring one, you must have the best battery charger for your professional works. But even if you are just an owner of a diesel truck, you will find having an excellent battery charger a relief when your truck's batteries suddenly discharge or go dead.