June 7, 2023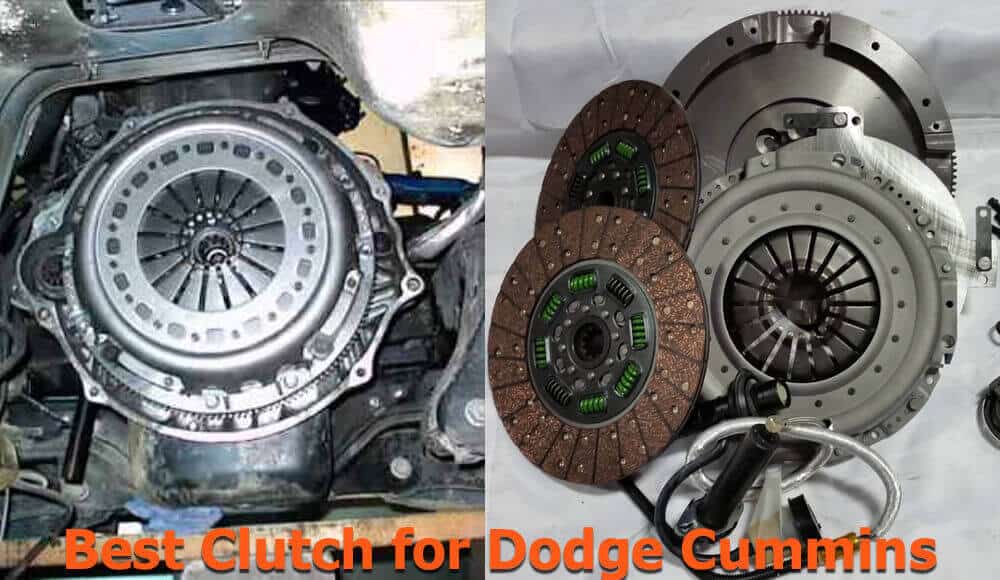 Most people thought of a Dodge Ram when they hear the brand Cummins. It is not surprising at all since it has become quite popular when they first came out, and the name stuck. However, Cummins offers four categories of automotive engines, such as Pickup, Light Commercial class, Medium-Duty class and as well as the Heavy-Duty class.
Cummins has been credited in being able to save the Dodge trucks from extinction in the 1980s by supplying Chrysler with their legendary diesel engines. If you are going to look at it now by today's standards, it is archaic, but back then, it was considered very much advanced as some even called or described it as light years ahead of its automotive rivals.
Top 5 Aftermarket Clutches For Dodge Cummins
1) South Bend Clutch G56-OFEK
Key Features: 13" Half Organic Half Feramic Clutch Kit, Flywheel, Hydraulics, 475 horsepower, 1000 ft-lbs torque, 25k towing capacity.
This single-disc unit clutch is for a 2005.5-2018 Dodge 5.9 and 6.7L Cummins. It will stand for any added horsepower and torque if there are aftermarket performance upgrades. However, it is still best to match the horsepower and workload to get better results. This G56 OFEK is a stage-2 clutch. It can handle the maximum power of 475 hp and 1000 lb-ft. While it is capable of towing up to 25k, it is not recommended to use for stock applications. It comes with a flywheel, throwout bearing, and other essential mounting hardware for easy installation.
It is best suited for those who want extra power as it can deliver superb towing power with great shift control and, at the same time, help you save money on fuel.
---
2) South Bend Clutch G56-OKHD Clutch Kit
Key Features: 13" Half Organic Half Feramic Clutch Kit, Flywheel, Hydraulics, 425 horsepower, 900 ft-lbs torque, 20k towing capacity.
It is the predecessor to the South Bend Clutch G56-OFEK. It can be used with or without the flywheel. The Kevlar organic disc comes with a full face, sprung hub style with a pressure plate style diaphragm, and the input spline quantity is 10.
---
3) Valair NMU70G56TRIPLE-NW – Cummins – Triple Disc Ceramic Clutch
Key features: 12" x 1.375" performance replacement, Ceramic Button Disk, 1000 horsepower, #3250 diaphragm pressure plate, flywheel, floater plates, bearing, and alignment tool.
The Valair NMU70G56TRIPLE-NW Triple Disc Ceramic Clutch is a 12-inch disc with a 1.375-inch input shaft that is best suited for street performance upgrades, which are used mainly for competitions. This is a non-stocking item that is built to order with SFI certification. It comes with steel roller bearing, floater plates, and a steel billet flywheel.
This triple clutch is highly recommended for those who need fast controls and will need it for competitions. It comes with a higher price tag as compared to the others due to its top features.
---
4) Valair NMU70G56DDB – Cummins – Dual Disc Clutch for G56
Key features: 13" x 1.375" disc, Ceramic Buttons, 800 horsepower, Billet Steel Flywheel, Steel insert, Pressure Plate Load, Release Bearing, Bolt Kit, and Alignment Tool.
This type of Dual Disc Clutch ceramic model is suited for 2005-2016 applications. It can provide up to 800 horsepower performance, which is best for heavy-duty towing jobs. It comes with a 13-inch disc and an input shaft diameter of 1.375 inches, a lever-type pressure plate. Furthermore, it can reach up to 10 for its input spline quantity, and other mounting components.
For those looking for a dual-disc clutch that can handle high performance towing or will be used for competitions, the Valair NMU70G56-01 is highly recommended, but you should expect to pay twice as much than usual for it.
---
5) South Bend Clutch SDD3250-6 Clutch Kit
Key features: Dual disc, half organic, half ceramic, 650 HP, 1300 lb-ft torque, 30k tower capacity, required hardware for easy installation.
This South Bend Clutch Kit provides high performance with 650 horsepower and 1300 lb-ft torque with a towing capacity of 30k. This is a stage 4 powerful clutch kit but not suitable for stock trucks or competitions. It can be used for Dodge Ram model years from 2000 – 2005. Expect some noise and slow shifts, but with the right amount of throttle, it can deliver the kind of power that you need.
---
6) LuK 05-108
If you are looking for the best entry-level clutch kits from LuK, you should check out the LuK 05-108. It is a product of innovative engineering. High manufacturing standards regulate its manufacturing. As such, you can expect awesome performance from this clutch. Each component is designed for fluid and flawless performance.
The LuK 05-108 is indeed compatible with any Dodge Cummins truck up to 2001 models. This clutch is also an excellent option for truck owners who want a replacement for their old clutch.
It is compliant with OEM standards and fits perfectly well with the Dodge Cummins. Moreover, this kit comes with every component you would need for a quick installation. Hence, you won't be shelling out extra money for any additional accessories when you opt for this clutch.
Pros:
It's compatible with a broad range of vehicles.
It is reasonably priced.
Reliable and efficient and offers excellent performance.
Cons:
• It has a varying lifespan.
• The throw-out bearing housing is wrought in plastic and seems a bit flimsy.
---
7) LuK Clutch Kit fits by EFORTISSIMO Racing
If you're looking for a clutch kit made by a leading American company, then check out the LuK Clutch Kit Fits by EFORTISSIMO Racing. This company boasts of more than forty years of innovating its designs of clutch kits. This model is designed for six-speed trucks, but you can use it for your Dodge Cummins.
This clutch kit offers an excellent performance you would surely appreciate. This clutch kit, of course, despite being excellent, is pretty much reasonably priced. Moreover, the complete kit is relatively easy to install, and you won't need to shell extra money for its installation.
Pros:
It is known for its excellent quality.
It is compatible with 6-speed models.
Wasy to install.
It is reasonably priced.
Cons:
It is only compatible with six-speed transmission vehicles.
---
8) Eft HD Clutch
If you're looking for a clutch kit produced by a leading manufacturer, you should check the Eft HD Clutch. This clutch kit can provide excellent performance. Moreover, it is not within the affordable range. This clutch kit is compatible even with models as old as 2005 and 1014. Besides, it is designed to outperform itself in whatever situation.
The Eft HD Clutch is compliant with OEM specifications standards, and for this reason, it will give your Dodge Cummins the extra boost it requires. Moreover, it is easy to install. Nevertheless, you may get frustrated because the kit doesn't come with the flywheel. So, you may be required to order one.
Pros:
Compatible with the 2005 to 2014 models.
Cons:
It doesn't come with a flywheel.
---
9) Stage 2 Clutch Kit
Wanting to upgrade or replace your older clutch, well, I think you should check out the Stage 2 Clutch Kit. This clutch kit would fit your Dodge Cummins. It is designed for old models, even those models from 1994 to 1997. It also provides your truck an incredible performance.
Produced by EFORTISSIMO, the Stage 2 Clutch Kit also offers excellent online technical support. Its components will surely provide enhanced torque output, reliable durability, improved efficiency for your vehicle. It may be costlier than other options, but the extra money you will spend on it will be worth spending.
Pros:
Top-notch quality.
It offers excellent performance.
It is suited for older vehicle models.
Cons:
---
Buyer's Guide: Should You Replace Aftermarket Clutch For Your Dodge Ram Cummins Engines
Most auto shop mechanics and technicians would agree that there are basically three common reasons why there is a need to replace the stock clutch for your Dodge Ram Cummins engines.
The first one is because the OEM clutch is totally worn out. The next one is the additional power performance for the Dodge Ram, and the third one is the need for more towing power without the slippage problem.
The Dodge Ram incorporated the Dual Mass Flywheel (DMF) clutch from 2005 up to 2015. This was done to minimize the regular vibration on the trucks and offer a car more-like vibe to the whole stick shift system.
However, some issues came about from those trucks that were upgraded to the Dual Mass Flywheel clutch. Modifications from the original equipment used such as increasing torque capacity can wear out the clutch since it was not originally designed for the upgraded torque rating. Most RAM truck owners shared the same sentiment, and the common feedback was that after just 40K miles, the clutch just easily wore out.
There is already a solution to this issue, which is quite simple and easy to do. Cummins produced the Solid Flywheel Conversion Kit precisely to deal with this problem. Using this conversion kit will provide additional torque rating, but it has a downside. The dual flywheel has to be converted to just a single one and that will bring back the vibrations that can be felt through the transmission.
Understanding Different Cummins Engines
The most popular engines are the 6.7L Cummins and the 5.9L , but each of these two has more types of engines under it. To discuss the best clutches for these engines, let us first briefly look into the different Cummins engines.
The 12-Valve 2nd Gen Cummins was a great improvement from the 1st Gen with new injectors, better turbocharger, and larger intercooler. Cummins even up the ante by making enhancements on the 24-Valve versions while retaining the same body style. It used a rotary electric VP44 fuel injection pump along with a 235 horsepower and 460lb-ft of torque capability.
Upgrading the Cummins Clutch
"Should I upgrade my Cummins Clutch?" is a common question from owners who encountered the following scenarios:
When the increased horsepower of your Cummins, Duramax, and Powerstroke went beyond what your current clutch can handle.
You were having difficulty in towing heavy loads, which were beyond the weight level that your current clutch can handle.
The current clutch of your truck has been worn out and needs replacement.
While vehicle owners share common reasons for thinking of getting an upgrade, not all of them need the same clutch upgrade. Some upgrades are not suitable for all customers. It is wise to get the appropriate clutch grade that would match or be compatible with your diesel engine truck instead of getting the most popular one.
Key Rules in Choosing the Replacement Clutch
The estimated horsepower (HP) of your vehicle should match the HP rating of the clutch or slightly exceed it.
Choose the SFI approved multi-disc clutch if you are going to use the vehicle for sled-pulling competitions.
If your truck regularly tows around 15,000 pounds or more and in excess of about 450 rear-wheel horsepower, the street double disc clutch is best suited for your vehicle.
A single disc clutch is not recommended for extreme towing or much higher horsepower.
Do not enter competitions with the street dual disc as they are not designed for it.
All competition multi-disc clutches should have a certification from the SFI.
Avoid using competition clutches for towing in the street as they are not user-friendly and extremely tough to use for towing.
A quality aftermarket clutch, assuming it will be properly driven, is expected to outlast the stock clutch by twice or thrice its normal use.
It is important to remember that things will feel differently when your vehicle has been modified above the limitations that it was designed for. A performance clutch becomes necessary because of these modifications. The appropriate clutch will help lessen the effects of these alterations.
Each clutch is designed with limitations and those with higher or even extreme horsepower are not the easiest to drive. Before making the upgrade, check the limitations of your truck as well as the driving skills to get the most suitable clutch for it.
Before doing the clutch upgrade, be reminded that no matter how high the horsepower, the rating, or how reputable the maker is, no clutch can be considered unbreakable. Use it properly and reasonably so it will last longer.
---
Essential Factors to Consider When Choosing Dodge Ram Cummins Replacement Clutch
The market is awash with different models and brands of clutches, and this fact makes the selecting process for an ideal clutch replacement challenging. Nevertheless, if you know the following factors to consider when buying a clutch replacement for Dodge Cummins, you will be a step closer to zeroing in on the best clutch for your needs:
Compatibility
When searching for a clutch replacement for your Dodge Cummins, you should first look at your option's compatibility. Ask yourself if the clutch is compatible with the model you are using. Compatibility includes compatibility in size, number of discs, as well as the desired model's transmission. You should also take into consideration the vehicle's power output. With this in mind, you need to select a clutch designed for your Dodge Cummins carefully. Nevertheless, many clutches are designed for a wide range of vehicle types. Yet, you must ensure that it complements the Dodge Cummins well in all aspects.
Material
Different manufacturers make use of various materials when manufacturing their clutch products, and if you are not wary of what you are choosing, you may not buy something durable and friendly to the environment. Since friction happens during the clutch engagement period, it will help if you select a clutch made of materials that can withstand constant friction.
Materials for making a clutch can be organic, ceramic, and many other materials. Organic materials are mostly used for vehicles that you use every day. But for racing cars, the material often used is ceramic. Other materials used for clutch manufacturing include cotton fabrics, steel, aluminum, vegetable fibers, polymers, asbestos, and fiberglass.
Activities You Engage In
If you frequently use your vehicle for your daily activities, you will need a specific clutch for such a purpose. You will also need a different clutch if you are desirous of additional speed.
If you use your vehicle for dragging heavy loads, you will also necessitate a stronger clutch. With a more robust clutch, you will have more torque and horsepower. Hence, it will help if you carefully consider the activities for which you use your vehicle to make an intelligent purchase.
Flywheels
The flywheel is a crucial component of the clutch that stores rotational energy in the system. The flywheels are also made of various materials. Steel flywheels are more durable and offer a more enhanced and more fluid driving experience. Moreover, it is better than aluminum flywheels.
Pressure Plate
The heart or workhorse of the clutch is the pressure plate. It provides the needed clamping force for the flywheel and disc. The ideal thing for a Dodge Cummins is a diaphragm pressure plate because it allows for a better driving experience while improving the durability of the vehicle.
---
Final Thoughts
Making an upgrade to the stock clutch makes a lot of sense, but you should always know your options before making a final decision. Only consider the options that are suitable for your engine. That being said, you should upgrade and enjoy the power of your Dodge Cummins again.