October 3, 2021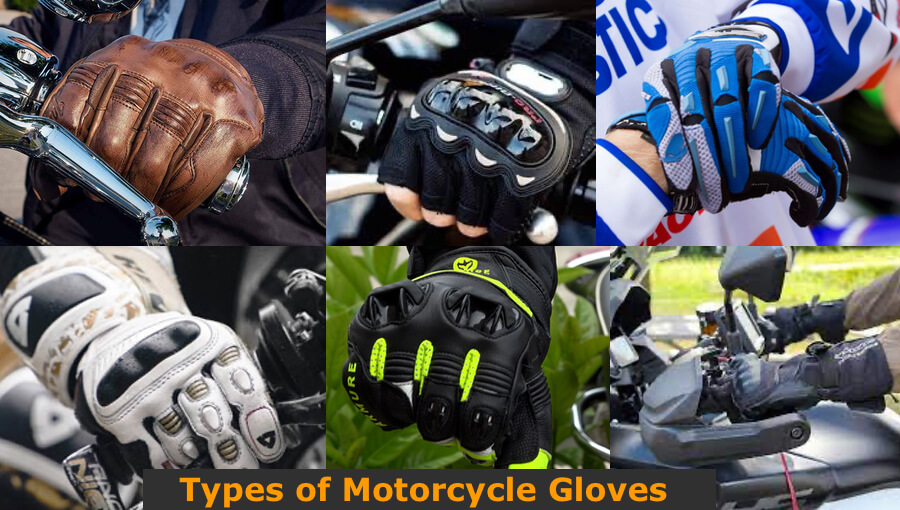 Motorcycle gloves are an integral component of every rider's equipment. Since it is natural for your hands to extend when you tumble, wearing gloves helps prevent them from bruising and scratches if you slip off your motorcycle. Additionally, keep in mind that a range of objects such as dirt and pebbles often fly up throughout riding, making your hands more vulnerable to injury if you are not using gloves.
They not only offer protection but also make you comfortable when riding in severe rain, strong gusts, and scorching heat, allowing you to concentrate entirely and remain attentive. Additionally, a decent pair of gloves will aid you in maintaining a firm gripping and operating the controls on your motorcycle.
As with most other products on the market, motorcycle glove manufacturers provide highly customized choices for every riding style, kind, and condition. Since not every pair of gloves is suited for every riding style or situation, it is significant to grasp the distinctions and make the appropriate selection.
Following the table, we have included every motorcycle glove categories we could think of. Note that specific characteristics and kinds may repeat since various individuals identify these glove varieties in distinct ways.
List of 11 Types of Motorcycle Gloves
1) Gauntlet Motorcycle Gloves
It is the most secure type of motorcycle glove. These gloves are the biggest and often include the most defensive measures. You will see riders wearing gauntlet gloves when they're on track or competing. They have a conventional glove design covering your hand and a more considerable wrist portion that reaches up to your forearm and over or under your jacket. It results in the formation of a continuous layer of security. The disadvantage of this level of protection is that they are hotter and more uncomfortable than other kinds of gloves.
---
2) Summer Motorcycle Gloves
The majority of motorcyclists prefer lengthy summertime long road trips on their motorcycles. If you are anything like this and this is your style, you're going to require a pair of hot summer gloves. Sweaty hands are inconvenient and even hazardous. Summer motorcycle touring gloves will take your hands warm and comfortable.
The first consideration should be ventilation. Consider gloves with vents or lightweight fabrics cleverly positioned in less critical areas to avoid jeopardizing safety. Search for gloves with cushioning and protection around the knuckles and palm from a safety point of view. Summer gloves with superior protection will include Kevlar, carbon fiber, or strong polymers in certain areas.
Summer gloves are intended for usage on the warmest days of the year. Typically, the back is made of breathable cloth, and the palm is made of leather. There are a few summer gloves made entirely of leather, but they include many holes for ventilation. Additionally, this kind of glove may consist of molded vents on the fingertips. These gloves are thin, breathable, and very pleasant. Nevertheless, you may discover that several choices are lacking security features, such as knuckle protectors.
---
3) Winter Motorcycle Gloves
Similar to summer gloves, winter motorcycle gloves are intended to keep your hands warm in chilly climates. It implies it is often constructed of thicker leather with more insulation. We have discovered that the primary value for thicker winter gloves is a restriction of flexibility, so ensure that whichever winter gloves you select allow you to move freely enough to manage your motorcycle.
You will like a set of winter motorcycle gloves if you are riding in chilly weather. These gloves are insulated and made of a heavier fabric. There are even some with built-in heaters. Choose gloves that are not too thick since the added weight will impair your mobility—further, characteristics such as waterproofing and weather resistance aid in keeping your hands dry and comfortable.
Moreover, heated gloves are available. We do not suggest them for anything other than very winter riding gloves because of mobility loss. However, if you ride in winter conditions, you should carefully contemplate them since frostbitten fingertips are also a problem.
---
4) Spring or Fall Motorcycle Gloves
We mentioned environments with cold and hot temperatures, but what about fall and spring? The warmer seasons do not overlook, as manufacturing companies provide excellent gloves for spring, autumn, and moderate weather situations.
It is a comprehensive selection of gloves, and obviously, you could select from many of the classifications above to suit your requirements for these temps. You are searching for breathability, fabrics that aren't too weighty or too light, little insulation, and protection qualities that are in the center of the range. We wear these gloves all season and have discovered that they are very flexible, convenient, and reliable.
---
5) Street Motorcycle Gloves
The term street gloves are often used interchangeably with cruising gloves, although we think they are somewhat distinct. As street motorcycles have grown in power and variety over the past years, we have seen a subtle shift in the gloves desired by those riders.
Whenever we talk about street motorcycle gloves, we refer to the next wave of riders and motorcycles. However, one overlap between street motorcycle gloves and cruising gloves is that both designs support the rider in an accident on rough road surfaces. Generally, these gloves have been manufactured of leather, but in the past five years, we have seen several lovely pairs manufactured of thick textiles or high-quality faux leather.
Street gloves are typically bulkier than off-road gloves and are ideal for use in a wide variety of weather situations. They will warm you up on a frigid autumn trip and comfortable enough in the summertime. Environmental protection water, wind, vents are very diverse in every area, and you may acquire a wide variety of gloves in this market. Without a doubt, make an inquiry.
---
6) Touring Motorcycle Gloves
A superb touring glove is difficult to surpass for touring and other street rides in all weather. These gloves are often designed with a complete gauntlet to enhance security against the weather, but shortened variants are available. Typically, textiles or a textile-leather hybrid uses in manufacturing. As a result, touring gloves may sometimes be very costly, dependent on the technological features and fabrics used. It is all worthwhile, though, while cycling in less-than-ideal conditions. So even if I am riding wearing street gloves on vacation, I will bring along a set of warm, weatherproof touring gloves. They have rescued my hands from agony on many occasions.
---
7) Dirt Motorcycles Gloves
Dirt gloves are compact, lightweight, and entirely tactile. They provide no collision protection, and as a consequence, they are unsuitable for street use. Dirt riders place a premium on control and agility over cumbersome protection or abrasion resistance. A light, permeable protective covering is sufficient for the majority of applications. Dirt gloves may only survive a couple of seasons due to their thin material structure and rough existence. Luckily for dirt bikers, gloves do not come any expensive, and it very affordable.
---
8) Off-Road Motorcycle Gloves
Sometimes identical to or equivalent to motocross gloves, these gloves design for trail motorcycle and dirt motorcycle riders who invest significant time out in the dirt and muck. These gloves are nearly always composed of synthetic fibers.
Since these riders are more likely to tumble on dirt than on pavement, off-road motorcycle gloves emphasize convenience, with vents and permeability, as well as lightweight, as primary characteristics. The other critical factor while jumping and attempting to manage a motorbike on loose soil is grip, and we have discovered that off-road gloves are the best option for sticky gripping bliss.
---
9) Race Motorcycle Gloves
A motorcycle rider's terrible situation is a collision during or after a race on a rough track at high speeds. Race gloves are usually full gauntlet type to defend the forearms. They include a significant amount of extra armor composed of carbon fiber, Kevlar, and other components to provide security in the case of a rapid accident.
Race gloves are not only for security; riders on a track need precise command of the throttle and other inputs to optimize track speeds and lap times. Additionally, you wanted plenty of vents to maintain your hands and fingers cool and drier.
---
10) Waterproof Motorcycle Gloves
When riding in cold or moderate environments, waterproof gloves often wear. They also use motorcyclists and others who spend extended amounts of time in the cold, damp outdoors. Additionally, they make an excellent addition for driving outside in bad weather or winter.
Numerous water-resistant gloves construct neoprene. It is a kind of synthetic rubber derived from chloroprene, or more precisely, polychloroprene. Occasionally, the outer layer of the gloves is composed of nylon and or lycra spandex to increase their flexibility. They are often layered with nylon to increase convenience, keep you warm, and make them simpler to slip on and get off.
---
11) ADV Gloves
Adventurers and dual-sport riders possess specific glove requirements, which is wherein the ADV classification came in. These short-cuff gloves are usually made of textiles or a combination of fabric and leather. Considering ADV or dual-sport, riders must move from the street to the trail and return. Maneuverability and excellent protection are necessary.
---
Motorcycle Gloves Material
Leather Material
Leather gloves have been prominent with motorcycle riders since the dawn of the riding industry and with justification. Leather is a sturdy material that also has a pleasant feel when fitted correctly. A further advantage of leather is its capability to conform to the rider's hand. As with motorcycle outerwear, leather gloves are often more costly than other materials, provide fewer waterproofing choices, and are not recommended through a year of riding. To prolong the duration, search for lining or vented leather gloves appropriately for cold or hot temperatures. Additionally, if you are headed to the track, leather is your only selection.
Advantage:
Resistant to Corrosion
Durability
From Hand to Molds
Disadvantage:
Significant Investments
Minimal Waterproof Choices
Textile Material
Manufacturers can design motorcycle gloves for every riding situation using innovative textiles. The most delicate waterproof gloves on the market are made of textiles. When I'm riding through inclement weather, severe heat, or freezing weather, I go for several of the material choices in my wardrobe. Textile gloves are also the most adaptable, so contemplate them if you require a glove to use throughout the year. Bear in mind that since textile does not conform to the shape of your hand as leather does, the fit will remain consistent over time. Additionally, please remember that some thermal liners available in cold-weather gloves may appear very thick.
Advantages:
Available water-resistant or waterproof variants
Multiseasonal
Flexible Fit
Disadvantages:
Mold does not conform to the hand.
Incidental one-time crash usage
Liners cause a considerable bulk.
Hybrid Leather-Textile Material
Both leather and textile have benefits. We can use them together. In general, a glove with a hybrid design has leather in areas where you will have to glide and textile elsewhere. Either waterproofing, stretch panels, thermal linings, or mesh for maximum airflow may be possible with this design. The best of both worlds finds in hybrid gloves, so it is certainly worth considering.
Advantages:
Resilient to corrosion
Multiseasonal
Offer water-resistant or weatherproof variants.
Disadvantages:
Substantial wear – and – tear.
Liners cause significant bulk.
---
Conclusion
Constantly keep in mind that the purpose of selecting motorcycle gloves is to complement the glove to your riding style, the riding you do, the climate conditions you ride in, and finally, the level of protection the glove provides for your hands and fingers in the event of a mishap.
We ensure this article has given you particular helpful advice and suggestions for selecting motorcycle gloves. Depending on your riding style or finances, we highly encourage you to try several sets before purchasing to ensure that you are comfortable and properly fit your hand. As previously stated, it may even be advantageous to possess several sets.