June 7, 2023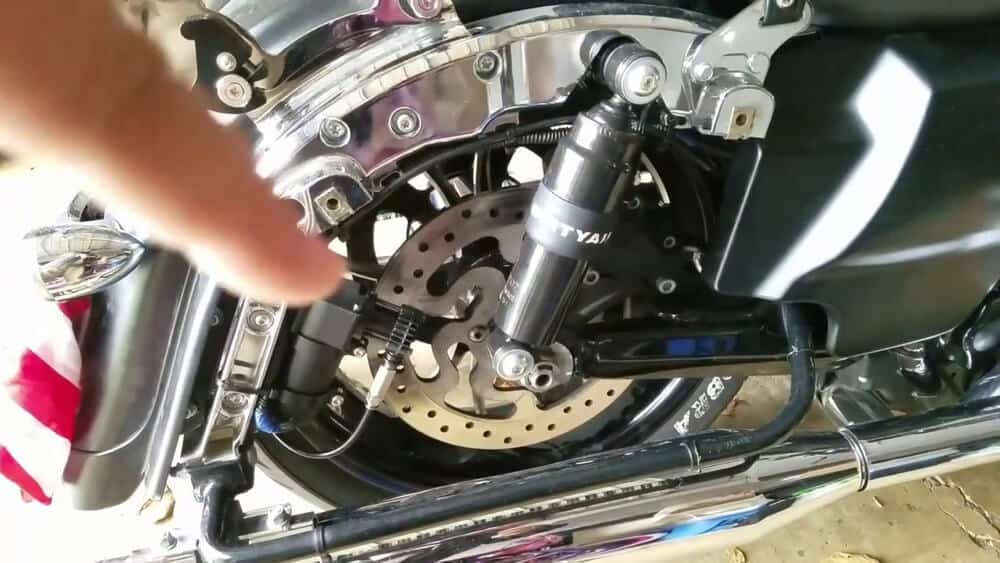 Air rides are commonly referred to as "the smooth ride" in a vehicle due to its active pneumatic suspension system, which is better than a spring or hydraulic system.
Air suspension kits are a helpful tool in the enhancement of a bike's overall health and performance. It features all the parts needed by anyone to install an air suspension, and its parts include a custom-built shock, an air compressor, a 200-PSI blow-off valve, airlines, and fittings.
How Does The Air Ride System Work On Motorcycle?
Air ride kits usually involve the installation of an air suspension system in your motorcycle. An air suspension system works by using inflatable air springs and also air to lower or raise the bike; however, it suits you. When your motorcycle is raised, you enjoy a smoother ride, and when it is lowered, it makes stability, handling, and generally, your driving experience to be more enjoyable.
Most times, kits usually feature shock absorbers and struts that absorb and reduce the impact on your suspension during a long drive or trip. With all the improvements these features add, you are bound to have an enjoyable and smooth ride. Handling with air suspensions are greatly improved.
Even with all these improvements, there is still more, and some air suspension kits enable your bike to carry extra weight without any stress. Load leveling kits help in keeping the motorcycle centered even when you are riding with someone else, and they work by lifting the rear end high enough to make up for the extra weight, thus preventing the sagging of the rear end. If you are riding alone, you could quickly bring the motorcycle the level you want to ensure a smooth ride.
In addition to their numerous benefits, they also provide you with convenience. Unlike regular springs, air suspension kit parts can be easily be fine-tuned and adjusted quickly, just at the push of a button.
Most Recommended Motorcycle Air Ride Systems
1) Legends Aero-A Adjustable Air Suspension
The new AERO suspension system has terrific benefits. The six external knob adjustments make fine-tuning of the rebound damping easy, which then provides the highest level of rebound performance for any riders' mass, riding style, or the ride quality of their choice. Any rider from light to heavy can easily adjust to their ride preference. No matter the style a rider likes, from aggressive to casual, they can easily tune to the quality of their choice. They are made in the U.S.A.
---
2) Arnott MC-2904 Fox Series FLH/FLT Air Suspension
The Arnott series uses an Adjustable Air Suspension System, specially designed for the "Harley Davison" model, which allows freedom of control. It features excellent settings for added relaxation and adjustable height during a fast ride. You enjoy a comfortable ride and safe riding conditions with the FOX shock's custom valving, made for your motorcycle.
Arnott's kit features a spring bladder that employs the use of a Trutech, and it uses a shock reducer design rather than a unit that is assisted by air. This kit usually features a FOX moveable rebound control dial enabling you to quickly adjust the shock's internal damping features, which have added comfortability. This characteristic is only found with this patent. Everything you need for easy and quick adjustment is in this kit. It includes a manual that explains everything, a wiring harness that is fused, an assembly relay, an inflation switch that is the handlebar-mounted, all the heavy tubing, wiring, cable ties, fittings, bolt covers, and accessories to aid mounting.
---
3) XFMT Adjustable Rear Air Ride Suspension Kit
This kit allows you to ride your bike without any air pressure, which eliminates rubbing. In other words, you could ride your bike without your tire rubbing against your fender; this is available in most '09 to later models and the '08 earlier models which have the stock rear tire.
---
4) XFMT Rear Shocks Absorber Suspension Electric Center Stand
This is an aftermarket kit, and it features a center stand, and it is 100 percent brand new. It is usually black, made up of aluminum, metal, and stainless steel. The bolting of this appliance is easy and straight forward; it makes use of a linear actuator in electrically lowering and raising of the legs. Its base has two aluminum legs, which help the bike sit up straight when it is parked. It also features a rear air ride suspension.
The kit is completely stocked with everything you would need when replacing any part of your motorcycle's air ride system; it includes height-adjustable air shocks. When completely collapsed, it is at about 9.64 inches (24.5 cm) and 14.17 inches (36cm) when it is fully extended. It permits the complete release of air, which lets you lower your bike by 2 to 3 inches. It takes just seconds to release air, which increases height that ensures an exciting ride. Nickel-plated brass high flowing pressure is used to force-connect fittings in the system while the manifold style dump valve blocks for excellent execution. It has all the needed parts for a completely functional height-adjustable rear air suspension.
---
5) Monroe MA785 Max-Air Adjust Shock Absorber
It is made to inflate and deflate loads, and keep the height. It has terrific attributes, let's check them out:
It has an upgraded shock absorber, a ½ inch piston rod; it is hard and has a precise balance for a great experience any time you use it.
Once you purchase this tool, you have it for an extended period and don't need constant servicing.
It is suitable for any weather due to its air-adjusted shock.
It has reduced friction and a smooth outcome due to its special modifiers.
Its valving range and extension cycle is one of the best in the market.
Its flexible compression range is a must-try; it makes your riding experience on a whole other level.
---
Buyer's Guide: Spring Ride VS Air Ride
Spring suspensions work by using a semi-elliptic leaf spring, which acts as a shield load from coming in contact with the road. Spring is one of the most common suspensions around; they feature multiple layers of malleable steel strips known as "leaf pack." A single unit joins these strips. Long, narrow, curved shaped plates are joined to the body of a trailer, which rests on top of the trailer's axle.
Most air rides use series of valves, airlines, and air springs bags instead of a steel suspension. The air spring bags are usually made from a rubber-like substance that is interlaced. It uses the same air compressor and air reservoir resembling a truck's brake structure. The air spring bags are pressurized with air, thereby producing a spring motion that lifts the chassis away from the axle.
Motors with air suspension often feel like they are gliding over any rough surface. Typical spring suspension isn't that smooth. What makes it more suitable is the fact that they are easily adjustable. Excessive speed is not advised when using an air ride because this could cause damage to its parts. The rides quality and comfort are the number one benefit of having this suspension. When it comes to trucks, adding an air suspension has both advantages and disadvantages. Some new trucks feature an air suspension option and also trailers.
This helps the driver in reducing the noise, vibration, and harshness, which in turn makes driving more enjoyable and reduces fatigue.