June 7, 2023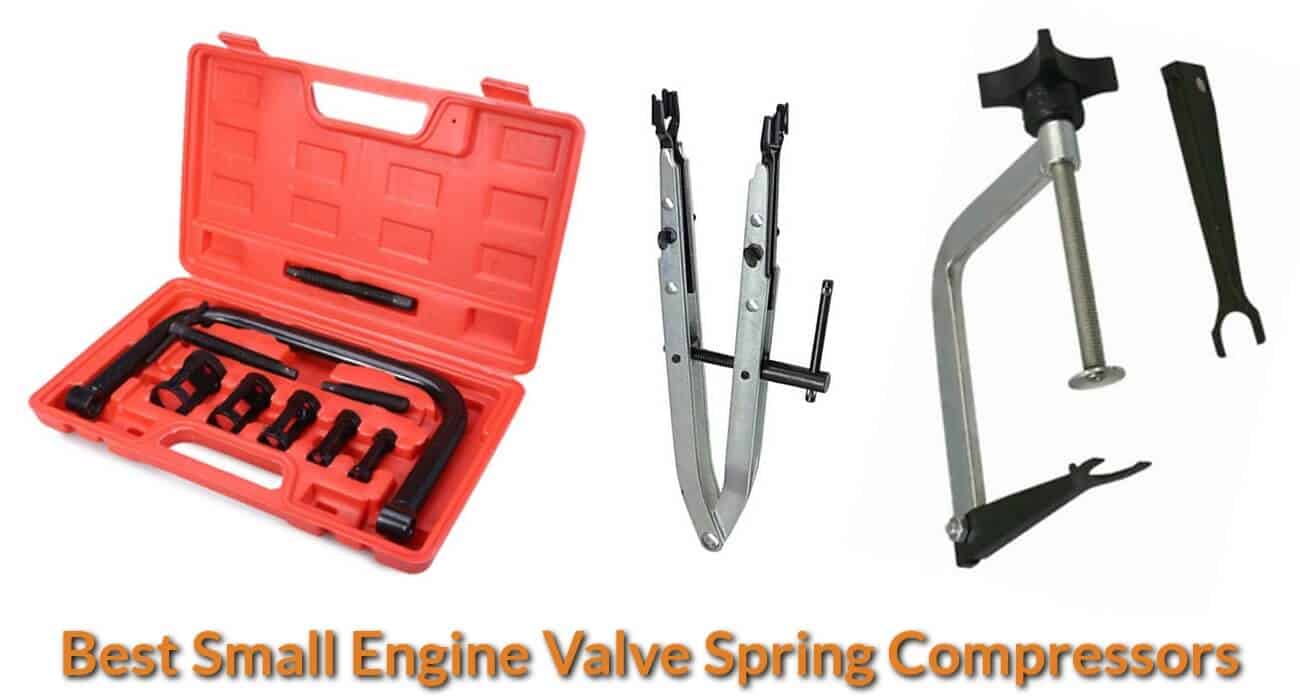 Anyone who has tinkered with a small engine would surely say that tinkering with the valve springs is darn difficult. For this reason, if you are of weak will and strength, you should never engage in it or try it. But although valve springs seldom break, sometimes you would need to remove or replace them in order to enhance the performance of your engine.
The way the valve springs are held posits difficulty, especially, if you want to remove them. This is because, within the cylinder head, the valve springs are meticulously held together under pressure by their retainers and locks. Hence, if you inadvertently released the retainer or lock, chances are, the valve spring could spring out, and this scenario could be a bit dangerous and tricky.
Best Valve Spring Compressors For Small Engines
1) ABN Auto Valve Spring Compressor C Clamp Tool Set
This valve spring compressor C Clamp set comes with 5 different sizes of adaptor that you on various sizes & types of engine. It can be used on small engines, small machineries, motorcycle, ATV and even car. The adaptor collects are in 1.75" (around 4.4cm) long with 5 different collet sizes of 16mm, 19mm, 23mm,25mm,30mm. And its jaw can be opened and extended up to 9.5" (24.1cm) wide.
It is made of heavy-duty metal with black oxide finish for stronger pressure and durable usages.
---
2) ABN 8" Inch Valve Spring Compressor, 3"-6.5" Capacity, 6 Small Overhead OVH Engine Repair Compressing Tool
This model is suitable for the small to medium sizes of engines. It's jaw or throat clearance is adjustable up to 6" wide with the capacity of 3" to 6.5". And it's valve collect holder is adjustable as well. Its operation is quite straight-forward by just adjusting the proper throat clearance and the collect size, and then press the handle down. And you will get the valve spring removed easily.
---
3) Briggs & Stratton 19063 Valve Spring Compressor
This valve compressor tool is a genuine part made by Briggs & Stratton for the smaller engines such as root tillers, generators, mowers, snowblower, leaf blower, weed trims, and even chain saws. It doesn't work on the oho style engine.
---
4) Stens 750-174 Valve Spring Compressor
Just like the Brigg & Stratton valve spring compressor that we have reviewed previously, it applies to all the small flathead engines. It is suitable for removing the valve spring with sizes between 3/8," and 1 1/8," and its clamping axial is adjustable from 5/8″ up to 2 1/2″ wide.
---
Other Top-rated Valve Spring Compressors For Small Engine
Best Method for Removing Valve Spring (Things You Must Know)
Experts concur in the idea that the using the valve spring compressor tool is the method. With this method, you will use a specially designed tool for removing valve spring called "overhead valve spring compressor." It is a tiny tool that is nifty enough for use in removing valve spring. Hence, if you are a very serious hobbyist and technician, you should always have this tool in your toolbox. It is a very compact tool that doesn't come with additional parts. Moreover, it is easy to stack away and to carry along with you. It is also very safe and easy to use.
For you to remove the exhaust and the intake valves, you would need to compress the small coil spring that holds in place each valve. Once you're able to reduce the height of the spring, you can then release the two-piece collar or keepers that keep the valve spring in place. Afterward, you can then lift the spring retainer and remove the valve from the cylinder head by merely sliding downward the valve guide. This may look simple, but sans the valve spring compressor, you will surely find it hard to do, unless of course, you are gifted with enormous strength.
1) U-Shaped / C-Shaped Clamp
There are different types of valve spring compressors. Yet, the most common is the manual U-shaped one. Its reach is fully adjustable and readily fits over different types of cylinder heads. It also has adjustable forks that are designed for easy adjustability. The only disadvantage of using this compressor is that you will be required to remove the cylinder head from the engine.
2) Fork-Type Valve Spring Compressor
On the other hand, if you don't want to undergo the hassle concomitant with the use of the manual U-shaped compressor, you can then use the fork-type tool together with the special air hose. This hose usually can thread into the hole of the spark plug and can connect to the compressed air line. This process allows the air to keep the spring valve against its seat. This will enable you to remove the retainer so that you can pull the spring. Lastly, the process of removing or replacing the valve spring is surely made accessible via the use of the valve spring compressor.
Different Traditional Methods of Removing Valve Spring
There are various methods of removing valve springs, and some of these methods are faulty and dangerous. These conservative methods include using large and bulky kits, socket and hammer, or compressed air. The use of large kits, on the one hand, usually necessitates the use of numerous parts, and this poses the risk of having some parts lost. The use of compressed air, on the other hand, maybe a bit tricky if you are not an expert in it. Moreover, compressed air isn't always available for use.
The use of socket and hammer, however, seems a bit crude and reckless, and there is a strong likelihood that you might hurt yourself while damaging the engine at the same time. This is because the socket-and-hammer method requires you to position the socket over the valve spring, and then you must strike the socket with a hammer. Since the valve spring is held under pressure, if you remove it using the socket and hammer, you run the risk of being hit by the valve spring. Hence, this method is definitely fraught with higher risks.