June 13, 2021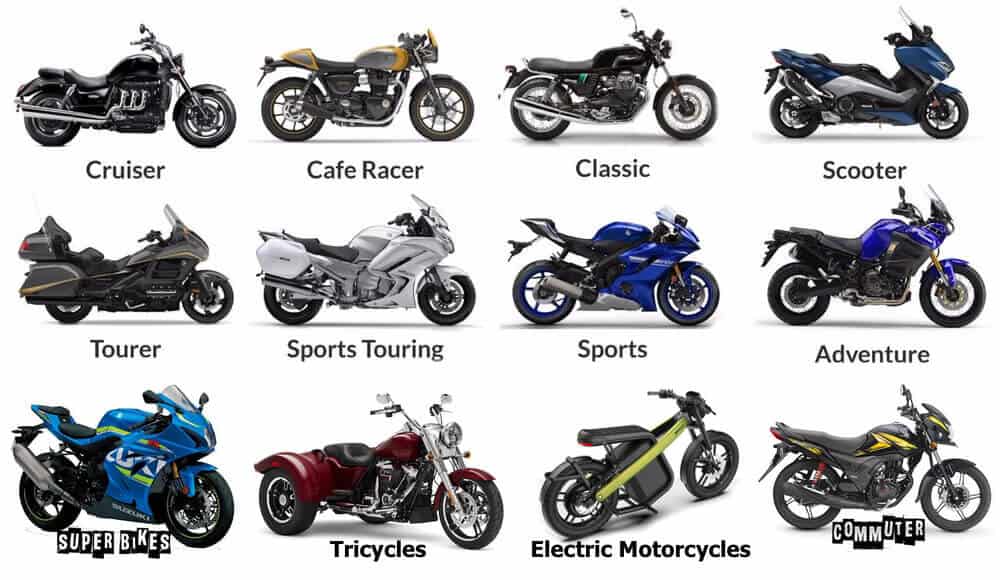 A lot of factors are considered before classifying motorcycles. These factors are based on the type of work or usage the bike will undergo or the specific purpose it was built for by the designer, and in some cases, both factors are combined.
Generally, there are six major categories for motorcycles. They are Sports bike, Cruiser motorcycle, Touring motorcycle, Dual-purpose motorcycle, Dirt bike, and Standard bike. In some cases, a seventh category, which is the sport-touring motorcycle, is included.
The difference between motorcycles and their relatives such as Scooters, Mopeds, etc. are highlighted in these classifications. However, in some classifications, all of them are regarded as motorcycles.
There is no world standard for the classification of all types of motorcycles. However, top bodies that sanction motorcycles sports, and the rules and laws put in place in different legal jurisdictions define what a motorcycle is, set safety rules, and covers the registration and licensing of motorcycles. While in manufacturing, sports, and media space, there are unofficial classifications of motorcycles.
Motorcycle Types & Categories
Scooters
Compared to motorcycles, the engine if a scooter is relatively smaller. They usually have an enclosed and compact chassis that helps them maintain a low level of noise compared to motorcycles. Also, this also makes them easy to clean. They have larger built-in storage devices than motorcycles. They are relatively easy to ride thanks to their automatic clutch and the continuously variable transmission that comes with them. Also, their engine is usually located as a component of the swingarm. This makes the engine move along with the suspension. The wheels of Scooters are relatively smaller than those of traditional motorcycles.
Underbones
Underbones are a type of motorcycle that is known for its considerable small displacement. They have close similarities to the traditional bike and the scooter. However, their wheels are relatively larger than those of scooters, and they come with an automatic clutch coupled with adjustable gear. Plastics and other related materials make up most of the body parts of the underbone as opposed to the conventional motorcycle. Although most of its components such as the fuel tank, splash guard, tube design, etc. share the same positioning and design of the scooter, it differs from the scooter in other things such as wheel size, engine design, and power transmission. All these are closely related to the traditional motorcycle.
Underbones are quite popular in Asia, such as Honda Super Cub. However, outside the continent, they are mistaken for scooters or mopeds.
Standard/Retro Bike
Standard motorcycles are renowned for their versatility. They are also known as naked bikes and sometimes roadsters. They are easy to recognize thanks to their moderate riding position. The bike is designed to have the rider sit in an upright position. It is the balance between two extremes, that is, the cruiser and the sports motorcycle. The rider does not lean forward too much as in the case of a sports bike and also does not recline, as is the case with cruiser bikes. The footpegs and the handlebars help to keep the rider upright without causing stress to the rider. As a result of this flexibility, and adequate power output, this bike is ideal for beginners. Also, it is relatively affordable.
The standard motorcycle can be regarded as the universal bike as it appeals to most bike users regardless of whatever extreme one chooses. The engine comes with either two- or three-cylinder layout between 600 and 900cc. Generally, this bike is suitable for people who need a compact bike to move around cities while still wanting to enjoy the highway. There are standard bikes that are regarded as non-retro standard bikes. These specific bikes have relatively higher performance than the average standard bike. They are closely similar to sports superbikes in terms of performance; however, they differ in terms of appearance and rider's comfort. Popular examples of standard or naked motorcycles are the Ducati Monster, Yamaha MT-09, Street Triple by Triumph, etc.
Adventure (ADV)
These bikes have an impressive appearance, an astounding engine as well as fuel tanks. They are designed for both off-road and on-road riding. They can go on long journeys, as you can guess from their name. The engines range between 700-1200cc. You can use these bikes to travel the world.
They can move with ease through smooth and rugged roads. However, it is essential to note that they perform exceptionally well on paved roads. As of the Adventure's body weight and the relatively short lifespan of tires, the off-road performance of this bike might not be top-notch. With the adventurer, you have a lot to do on paved roads or those graded with gravels or dirt.
Cruiser
Some features of this bike include; large engines, an exhaust that produces loud noises, raised handlebars, and a drooped riding position. This motorcycle is popular in the united states thanks to the presence of favorable road tracks. When it comes to cruisers, Harley-Davidson is the most popular brand in the world. Sometimes a cruiser is automatically called a Harley regardless of the manufacturer. However, they are other brands in the business of manufacturing cruiser motorcycles; examples are Japanese brands such as Honda, Yamaha, and Kawasaki.
Cruisers came into production around the early twentieth century in the united states. Manufacturers such as Harley Davidson, Excelsior, Henderson, and Indian made their mark in producing these bikes. The bike has a distinct structure. The hands of the rider are up as a result of the high handlebars, and the feet are set forward while the back is erect or reclined a bit. They are generally easy to ride and maneuver and have considerable low-end torque; however, it is not generally the same for the horsepower. They are usually equipped with V-twin engines or inline engines. There are power cruisers that offer riders better performance than the traditional cruiser, as well as increased horsepower, improved suspension, and more durable brakes.
Touring Bike
Touring bikes are built specifically for long-distance traveling. Some of the major features of these motorcycles are big-displacement engines, large screens, and fairings that provides ideal weather and protection from winds. Their fuel tanks also have large storage capacity, which makes them cover long distances before requiring a refill. The sitting position is upright and comfortable, and the bike has a sizeable storage capacity. There also provision for a passenger. You can find them in different sizes and weight capacities.
Touring bikes have been given various nicknames such as Bagger, dresser, full dress tourer, etc. sometimes it is used unfavorably, approvingly or jokingly, and refers to cruiser bikes with saddlebags. However, today they are now used interchangeably to point out a touring bike.
Superbike
Superbikes are considerably fast and give a whining sound as they move. They can hit speed well above 150 mph. They have relatively large engines and have the aerodynamics of racing motorcycles. However, they also come with a safety feature to prevent unnecessary issues that can result. There are various superbikes with the more powerful models costing fortunes. But there are still affordable around 1000cc superbikes that offer quite the experience.
Supermoto Bike
These bikes are designed for in-city riding but can also go on highway trips but at a controlled speed. It is the combination of a dirt bike with smaller road worthy tires and adjusted power to fit the riding demands of normal roads instead of trails that dirt bikes are designed for initially. The end product is a relatively light bike with a narrow chassis that is comfortable to drive, especially around towns and cities.
Supermoto bikes were originally built to race in competitions that wanted a blend of road, motocross, and track racing. It is usually a dual-sport motorcycle that is modified to produce this bike. The main change is in the tires which are exchanged for smaller road tires and rims. Their popularity has increased in recent times. You can find Supermoto bikes on the street more often than before, thanks to their affordability, excellent handling, sporty feel, lightweight, and durability.
Electric Motorcycles
If you don't like the vibration your traditional bike gives and you tired of switching gears, this bike is here to solve those problems. The bike just has a few requirements in terms of maintenance, which are: ensure there is air in the tires of the bike, inspect the brake fluid regularly and ensure it is adequate. Their popularity and adoption have increased the same as electric cars. The manufacturers have worked on increasing their range, and today you can find electric bikes covering close to 120 miles or above before requiring a recharge. Also, recharge stations are on the increase at different locations, such as hotels and parking spots. However, electric bikes are relatively more expensive than the conventional gasoline bike. It is also essential to drive them around known locations and destinations, especially areas where you can easily access fast chargers.
Motorcycle Tricycles
Tricycles are classified as three-wheel motorcycles. There are different types of three-wheeled vehicles produced by some manufacturers. They are usually categorized as bikes for registration and licensing in most parts of the world.
The Honda's Gyro range is a tilting tricycle that ensures all the wheels are on the ground when moving through curved roads. It has one front wheel that is capable of leaning; the two rear wheels do not lean. The MP3 tricycle manufactured by Piaggio has a pair of front wheels and one rear wheel, and they all lean. Also, there is the Yamaha Niken, although it is relatively small when compared to the other tricycles. This body size allows it to be classified as a motorcycle easily.
There are two main configurations for the wheel of motorized tricycles. They are the tadpole or the delta configuration. A tricycle with a tadpole configuration has two wheels at the front and a single rear wheel, while the one with a delta configuration has one front wheel and two wheels at the back.