August 27, 2021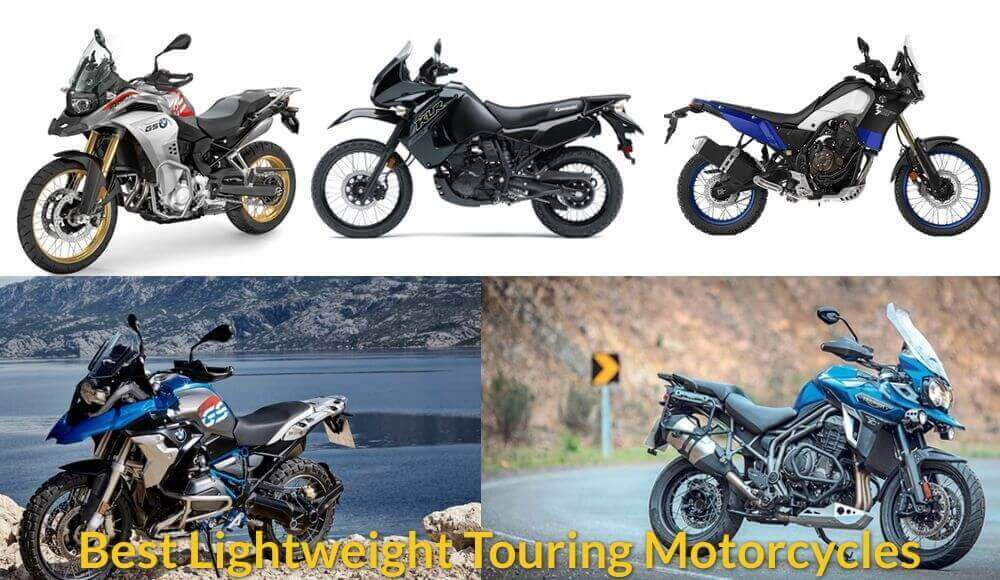 Lightweight Touring Motorcycles are often underrated, but they provide their owner with several advantages such as high maintainability, fuel economy; they feature high tech functions that are essential. They are easily managed when compared to others.
To create a bit of awareness for these beautiful and trusted steeds, we have chosen some of these wonderful bikes to show you under this category.
The arrangements of these motorcycles that we will be reviewing are from some top manufacturers in the market. Let us go through the list.
List of Top Lightweight Touring Motorcycles

Honda CBR250R (Best Lightweight Touring Motorcycle)
It may shock you to find a bike like the Honda CBR250R on this list of recommendations for the best lightweight touring motorcycles. Nonetheless, it's our best choice when it comes to lightweight touring motorcycles. This bike has a bulletproof body and quickly goes through miles, especially on the highway or secondary road cruising.
You don't have to spend every penny you're worth purchasing an expensive touring bike when the CBR250R and the new model CBR300R are available. You could just simply pick up one of these models from a local used market around you, get some saddlebags, and enjoy your ride. The CBR250R can go on long-distance tours, camping with some motorcycle friends, and any other thing you might need it for.
It is very comfortable even riding on the logging roads and forest roads. And you can also ride it on the singletrack trails and many road conditions. This bike can be ridden anywhere or in any condition thanks to its reliable engine along with the lightweight design of the motorcycle. To make the bike more comfortable for touring, you could throw on saddlebags or a hard case.
The CBR250R does not have an incredible number of features, but its simplicity allows you to focus on your adventure. It has functions that are easy to operate, and it won't leave you stranded when you're far from home. Its fuel economy is incredible and it will get you up to two hundred miles from a full tank of gas, which is incredible.
If you require a lightweight motorcycle that falls within your budget, then you should check out the Honda CBR250R, it is my personal favourite. It is a bike that you could just get on and be on your way without worrying about anything. Some people think that the CBR250R is too small but do not let that discourage you; it posseses more than enough power for any riding adventure you have in mind.
---
2020 Triumph Tiger Explorer 1200
The Triumph Tiger 1200 is a motorcycle that has incredible power and is comfortable, whether on or off the road, making it remarkable when it comes to performance. This motorcycle is a shaft driven triple at 1200cc; it comes with enough power. It gives the rider a combination of flexible power options, aesthetics to keep the rider on alert and lightweight technicality. Its gives you the choice of choosing from six types of riding modes that have been made to fit specific riding styles, with this bike modest 140-hp engine type, you can ride through everything from smooth city street to rugged terrains.
Two new special editions have been added to the 2020 Triumph Tiger 1200 series; these are the Alpine Edition and the Desert Edition. They both feature functional and aesthetic upgrades; the Alpine Edition uses the XRx as a base, and the Desert Edition was made on the Tiger 1200 XCx model. Let us explore what makes these two editions so unique.
The 2020 Triumph Tiger 1200 Special Editions come with two performance enhancers. It has an Arrow silencer at its rear end produced from titanium for the lighter weight of the motorcycle. Its handling has been incrementally improved and has more soothing sound output. It also features an up and down quick shifter.
---
BMW F850GS
The BMW F850GS is an excellent motorcycle for adventure touring that is available from BMW. The F850GS is easy to handle thanks to its lightweight and agile design; it is also fuel-efficient. This motorcycle is great for all kinds of tours ranging from long-distance tours to multi-day or local trips.
The BMW F850GS is much lighter than the R1200, and this makes it better suited for off-road trips where its not all about power. Cruising through or exploring off-road trails and logging roads with a lightweight bike can make all the difference in the world. Even with its small size, the BMW F850GS still packs enough power when you need it.
Underneath its bodywork, you will find a 4-stroke parallel-twin engine that is liquid-cooled. This engine pumps out 900 HP and 63 ft-lbs of torque at 6250 rpm. There is definitely enough power with the BMW F805GS, whether you are cruising on the highway or ascending a mountain trail.
The ergonomics of this motorcycle is equally comfortable. It offers a 33.9-inch seat, which gives the rider enough height to command the view of their surroundings. The F850GS also features an engine guard, an aluminum handlebar and an enduro tire equipment. Add these features with the available accessories from BMW, and you will have an exceptional lightweight touring motorcycle.
---
Kawasaki KLR650
The Kawasaki KLR650 has been an off-road choice for motorcycle touring and adventure rider since it coming out. The KLR650 shows its real power when its ridden-on dirt roads, secondary roads, or taken for off-road adventures, but it still quickly takes highway miles. The availability of this bike is amazing, whether it's new or used, and it's a great choice if you're on a budget for an excellent touring motorcycle.
Most people argue on if the 651cc engine will be big enough to take on a biking adventure. This bike can be ridden from Alaska to South America without having to worry about anything significant except essential bike maintenance. This is a lightweight touring motorcycle with its total weight at 400 lbs, and it can handle whatever you throw at it.
The Kawasaki KLR650 has quite a several features that make it adaptable to both adventure rides and long-distance touring. Its ergonomic are comfortable with an upright seating position. The handlebars and controls are within arm's length, and it also has forward placed footpegs to rest your legs on comfortably.
The KLR650 is not the best bike when it comes to fuel efficiency, but it is equipped with a 6.1-gallon fuel tank. This lets you go on long-range adventures without worrying about the fuel quantity or have you looking for a gas station. Due to this bike's popularity, the KLR650 has a lot of accessories and secondary add-ons available for purchase. You can find useful information ranging from maintenance to planning for a trip from an online community of enthusiasts that is quite extensive.
The rear suspension can be adjusted, depending on the condition. The bike has a large windscreen at its front. The windshield protects the rider from weather and also reduces wind buffeting. Most bikes feature a rigid rear cargo rack where you can tie down your travelling bag or join your motorcycle saddlebags or panniers.
---
Yamaha Tenere 700
The Yamaha Tenere has a liquid-cooled 4-stroke with eight valves engine. The engine size, power delivery and overall performance of this motorcycle are all you could want in a bike. It is a lightweight bike weighing 452 pounds and has none of the difficulty associated with other high-end adventure bikes. It has an engine power of 689cc and a fuel capacity of 4.2 gallons.
It is known to be simpler when compared to other competitors; it is straightforward and has no complicated electronics. It is an honest bike.
The ergonomics of this bike are said to be suitable for a person of average height, and even if you're a bit tall, you won't be uncomfortable or cramped.
---
Conclusion
The bikes on this list feature highly capable components such as significant ground clearance, disc brakes, heavy-duty suspensions. They also have some tech features such as ABS and traction control, practicality, overall reliability and great reliable engines.
After all that has been said and done, it all depends on personal taste and preferences when it comes to weight, fuel consumption, overall ergonomics, which will be decided on according to the user's body type.