June 7, 2023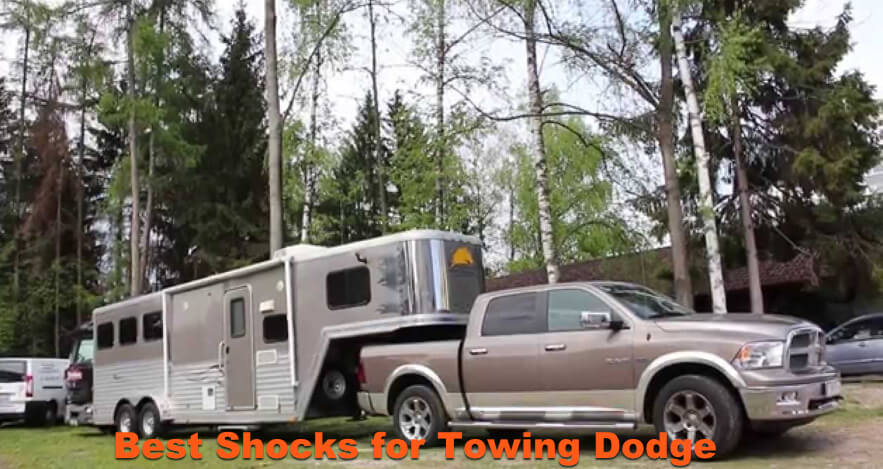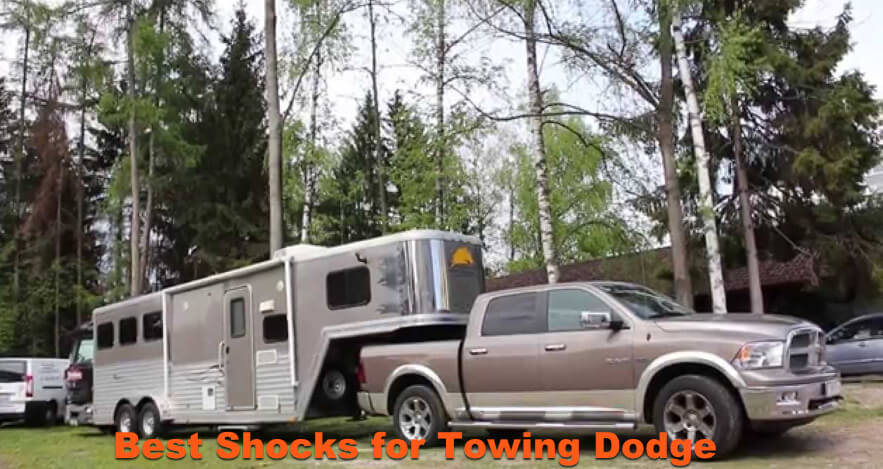 A friend asks me the other day about the best shock for towing Dodge. So, I've researched and considered my long years of experience in tuning Dodge trucks to come up with this article. Selecting a new set of shocks will improve your truck's smoothness on the road and your truck's handling, helping you get the most of your towing Dodge.
The shocks are one of the essential components of your truck's suspension. They help you enjoy a more pleasant ride in almost all conditions. Besides, they protect your truck's suspension system, when you are off the road or engaged in hauling heavy loads.
If you are a Dodge Ram owner, for example, and you intend to push your truck with heavy towing, it will help if you upgrade to a more efficient shock set. If you do so, you can improve your truck's performance and handling.
Factors to Consider When Choosing Shocks for Towing Dodge
Speed bumps and potholes may compromise and weaken a factory shock. So, if you want to raise your towing experience a notch higher, it will help if you replace the factory shocks with a quality monotube shock or strut. Yet, before searching for the shocks replacement, you should first research more about Weight Distribution Systems to figure out the maximum allowable weight that your vehicle can tow. Moreover, it will help if you know the following essential factors to consider when shopping around for shocks:
Your Truck's Make and Model and Model Year
Before buying a new set of shocks, you need to figure out the model year and make of your vehicle. For example, if you have a 2006 Dodge Ram 2500 diesel, you cannot buy something of a newer version or model. You should first check for the compatibility of the shocks with your vehicle. You also need to ensure that the set of shocks you will purchase will work on a 2×4 or 4×4 system.
Shock Type
As you shop around for a set of shocks, you will notice two main types of shocks: monotube and twin-tube. The monotube design is more expensive to choose; nevertheless, it provides reliable performance.
The twin-tube shocks, on the other hand, are perfect for traveling on the highway. It is also less expensive than monotube shocks. Yet, they are prone to aeration and fading. Thus, they will require frequent upgrades.
Shock Diameter
The shock diameter and size are essential factors to consider when shopping around for a new set of shocks. The shock diameter should match its intended use and truck weight. Of course, the larger diameter shock comes with more operating efficiency. Moreover, it comes with mounting hardware for added strength.
If you have a lightweight vehicle, for example, you can opt for the 2.0-inch shocks. Moreover, if your truck weighs somewhere between 5,000 and 7,500 pounds, it will help if you choose the 2.5-inch shocks. Additionally, if you have a more than 7,500 pounds truck, you should go for 3.0-inch shocks.
Lifted Truck VS Stock Truck
The thing is you can easily find shocks that will work well with the stock suspension system of Dodge Ram 2500 Diesel. Yet, if you have lifted your truck, the process of finding compatible parts becomes a bit complicated. Nevertheless, if you have added extra height to the vehicle, it will help if you go for a specialized set of shocks to fit your lifted truck.
---
Most Recommended Shocks for Towing Dodge
Aside from providing you with a smoother ride, shocks and struts allow you to drive safely. Yet, shocks come in myriads of brands and models. So, knowing the essential factors to consider when buying a new set of shocks will get you closer to the best shocks. Moreover, it will help if you know the following most recommended shocks in the towing Dodge market:
1) Rancho RS9000XL Adj Shock Rear Pair compatible with 2009-2016 Dodge Ram 1500
The Rancho RS9000XL is arguably the most recommended set of shocks for lifted vehicles. It provides power and extreme performance that are hard to match. The Rancho RS9000XL is massive, featuring a 70mm body. It is also gas-pressurized, but you can manually adjust it for more excellent performance in most conditions.
The shock absorber of Rancho RS9000XL is backed by impressive engineering. It also comes with features that separate it from the rest. First, it comes with a manually adjustable system allowing you nine different performance settings. These nine setting options let you adjust it to get you the right ride feel and responsiveness.
The size of the Rancho RS9000XL is massive, featuring a 70mm body. It can hold a considerable fluid amount for minimizing fading with extended rough spots and bumps.
Moreover, this shock can last longer because of its durable outer finish and its Nitro Carb rod (18mm), designed to prevent rusting over time. It also has an impressive protective boot and rebound bumper for a smoother ride on bumpy roads.
---
2) Rancho RS999269 Shock Absorber
The Rancho RS999269 Shock Absorber has all the features of the abovementioned RS9000XL since they belong to the same series. It features nine performance levels and is known as the first in the shock series with such feature. Moreover, it is designed for hard work and is ideal for lifted trucks and SUVs. It also reduces fade with its nitrogen-pressurized system to 120 PSI for reducing air-to-oil combination and lessening of the damping performance, foaming as well as fade.
The Rancho RS999269 Shock Absorber is known for its strength and durability. It comes with a piston rod (nitro-carburized) that is 18mm in length for resisting scuffs and rusting. Besides, it features (at its stress are) double-welded loops. It also comes with a 1.25″ iron piston (sintered) for greater structural integrity.
It can handle extreme vicissitudes of temperature because it comes with up to 2.75″ tri-tube body filled with fluid for all types of weather for smooth and hassle-free operation and a more remarkable ability to for holding out against temperatures (internal) ranging from -40°F up to 248°F.
The Rancho RS999269 can perform smoothly with its rebound bumper wrought in polyurethane and bushings, as well as Fluon-banded piston (graphite-filled) for better shock absorption and better responsiveness to road condition changes.
---
3) Bilstein 24-187374 Monotube Shock Absorber
The Bilstein 24-187374 belongs to a series of the gas-pressurized shock of the Bilstein 51 series. It comes with a monotube design that enables it to run cooler and efficiently operate. With a cooler and efficient operation, it has a longer life. Moreover, it features a collapsed length of 16.75 inches and an extended length of 26.73 inches.
The Bilstein 24-187374 features a 46-mm digressive piston with a self-adjusting valve that adjusts quickly and automatically to different road conditions. This feature enables you to have superior handling and performance across all types of terrain.
The Bilstein 24-187374 is not a one-size-fits-all shock. Nevertheless, it is tuned for specific applications. Moreover, it comes with a zinc-plated finish along with Triple-C technology coating. You can buy it individually with bushings, a black dust boot, and installation hardware. Bilstein offers a limited lifetime warranty for this product.
The Bilstein B8 5100 comes with a large fluid reservoir that offers supportive and smooth performance over bumps. Its monotube design—that features nitrogen and oil entirely separated from each other during use—reduces foaming to provide stiff support.
Hence, the Bilstein B8 5100 is handy to truck drivers who use their trucks more often. Lastly, this shock is quite a solid performer, and you can get it at a reasonable price.
---
4) Monroe 58640 Load Adjusting Shock Absorber
You might as well consider the Monroe 58640 if you're shopping around for a set of shocks for your 2002 Dodge Ram 1500 that is reasonably priced. This set of shocks are at the lower price range; nevertheless, it provides you value for your money. 
Monroe 58640 comes with all-weather fluid that contains special modifiers for reducing friction and ensuring smooth rod reaction. It also comes with entirely displaced valving that is tuned specifically for every application. Its valving automatically adjusts to extreme roads to provide a consistent ride for the driver.
The Monroe 58640 comes with a Fluon-banded piston. This Fluon band offers consistent sealing between the pressure tube and the piston, allowing for increased durability and better control.
Some users of this set of shocks, however, think that this set of shocks is not a heavy-duty option for Dodge Ram 1500. Instead, they rate this set of shocks as a stock replacement. Yet, given its reasonable price and its performance, it is a good buy if money is an issue for you.
---
FAQ about Shocks for Towing Dodge
Once you've known the different factors to consider and the most recommended shocks for towing Dodge, it will help if you get to know the frequently asked questions about shocks. Here are two of these questions:
Monotube or Twin-tube Shocks: Which is Better?
Both shocks, of course, can be of high-quality products, produced by established manufacturers. On the other hand, fly-by-night companies also manufacture these two types of shocks. Both also can perform the tasks of dampening your ride.
Both can play a vital role in your handling and braking systems. As such, both can be important in the vehicle's safe functioning.
When it comes to the quality of the ride they offer, the twin-tube design exhibits fluid flows from its inner chamber to the outer chamber via the dampening valves. However, in very intense and bumpy situations, the chamber's fluid may start foaming, which leads to a dramatic ride quality decrease.
On the other hand, the monotube design doesn't come with mixed gas and fluid because of its free-floating piston. This feature will never cause any foaming; hence, the monotube design is more reliable than the twin-tube system.
How Can You Check for Failing or Worn Shocks and Struts?
One of the telltale signs that your vehicle's shocks are worn or failing is leaking oil from the shock rod or shaft. If you notice oil leaking onto the strut or shock body, then, probably, the shock is failing or wearing out. If the shocks are too dirty, try to wipe off the shocks and check again for leaking oil after 50 to 100 miles. If there is apparent moisture or liquid around the body or shaft area, then it is a sign that your shocks are failing.
Another telltale sign that the shocks are failing is if you notice continuous bouncing up and down on the rear bumper or front bumper after you've stopped your vehicle. This sign indicates that the truck is only riding on its front coil springs or leaf springs. Another thing is that if you notice that the bushings or mounts are cracked or broken.
---
Conclusion
When choosing the best shock for towing Dodge, you better consider its salient features. The rated off-road shock absorber will excel at aggressive and bumpy terrain. Moreover, it will exhibit durability, longevity, and predictability for its suspension components.
The rated off-road shocks usually come with high-end components and features. Moreover, most higher-end gas-pressurized shocks can handle trailer loads, including present oscillation. Hence, it is better to settle for high-end gas-pressurized shocks if money isn't an issue for you.