June 7, 2023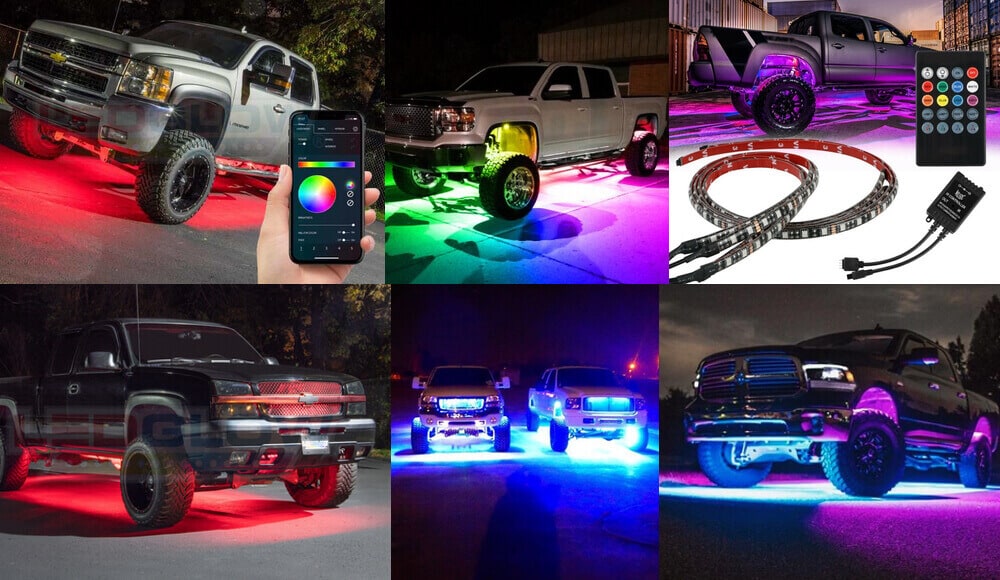 An underbody under glow kit is a popularly termed as a ground effects lighting. It is visual customization lighting for your Truck. This series of lights attached to your Truck's chassis lights up the ground just beneath your vehicle.
Simply stating, this kit is aftermarket customization.
Recommended Underflow Kits for Trucks
1) OPT7 Aura 4pc Underglow for Pickup Truck LED Lighting Kit
This kit entails a couple of things that you will love. First, it comes with all the colors you might want to grab. Color availability is an element that you must carefully look into, especially when it comes to underglow lighting kits.
At some point, some people want kits that can light all colors. For them, colors can set the mood. If you are one of these people, the OPT7 Aura All-Color is the one for the job. It proudly gives you all the colors you need. Its product name incorporated the label stating "All-Color".
Versatility is another important thing though. This underglow kit fits on any vehicle pretty much. Whether it is a van, an SUV, or a truck, the kit perfectly suits it. It comes with the mounting hardware that allows you to set it up in a slick and professional way. So, for garage owners and do-it-yourself enthusiasts, this makes an awesome pick.
Here's a thing though.
Wear safety equipment and gear every time you fit and mount underglow kits. Keep an eye on safety during installation. That's an important rule of the thumb.
---
2) LEDGlow 6-Piece 7-Color Underglow Kit
Is neon-LED hybrid possible? The LEDGlow stays pretty close to it. A neon underglow kit is famous for its glass tube that emits dazzling colors. LedGlow makes use of LED chips that are stored in glass cases. This kit contains six pieces of three unique sizes, namely: 44 inches, 36 inches, and 24 inches. Connect all these pieces through a 6-foot wire.
This kind of underbody underflow is also known as ground effects lighting. Indeed, this can make a really awesome statement. It illuminates the road just beneath your vehicle with seven vivacious colors. You can choose the lighting patterns from soothing to electrifying. This creates an absurd party vibe. What's amazing about it is the fact that you can control these lightings via remote control.
It has a waterproof glass tube. So, you can spray water into them during carwash. However, be careful because these glass tubes can be kicked up by rocks and any debris as you hit the road. This means that such underglow lighting is not the cleverest choice when you are a wild traveler. Lastly, LEDGlow gives you a 1-year warranty.
---
3) Megulla Underbody Waterproof Underglow Kit
Cars are exposed to moisture since they shield you from the rain. When they are not painted well or if they have slight scratches, the droplets of rain can leak into its cracks. This can cause pimple and rust.
Unfortunately, most car owners pay less attention to the car's underbody. I must say that this is the most overlooked yet very vulnerable part of a vehicle. Problems like night-time condensation and warm weather are common challenges.
It is in this context that Megulla's underbody underglow kit is created. It is intended to rate IP68. It is almost completely resistant to water and dust damages. This is the reason why it has a longer lifespan as compared to other underglow kit types in the market. Dust refraction and interference can't dim these lights because its silicone coating improves its lighting.
Moreover, the installation is so simple. Megulla has four malleable LED strips that are cut into 2-foot and 3-foot sections. It has an extra-extensive cable that connects the lights to a power source. These light strips are connected to your car through screws, brackets, and a combination of cable ties. On that note, you can manipulate it at a 33-foot range through an RF remote controller.
Additionally, set your chosen underbody kit in four levels of brightness and four color patterns. Most underglow kits offer 16 distinct hues. Simply set these hues to transition or fade smoothly. You can have them flash and strobe too. You can even sync them to your smartphone speaker or car's stereo for added entertainment. As a bonus, it entails a 3-year or approximately 30,000 hours lifespan.
---
4) LEDMIRCY Rock Lights Underglow Kit
Most drivers like are aware of mindful of shocks. Underglow kits usually encounter brunt as your vehicle moves. Expect that the road down there is dusty and dark. For LEDMIRCY, these challenges must not keep you from glamming your car up. Therefore, they have designed various solutions.
First, this kind of underglow kit absorbs crashes when it is mounted on rubber brackets. It protects your rock lights when properly installed on arched surfaces. Second, there is a built-in resistor in each rock light. This prevents untimely burnout. This element is vital because these lights can heat your underglow. How much more with ground heat and engine heat? Third, its powder-coated aluminum casing that surrounds the pod is designed to resist vibration and shock.
It has 10 rock light pods. Thus, each pod contains three LED chips containing emit 3W each. The entire underglow system is dustproof and waterproof and dustproof at an IP68 rating. Rust-proof bolts secure this underglow. Besides, its lens emits strong white light that is see-through.
LEDMIRCY rules every time rock lights fade. Its 10 pods give intense floodlight beams of 150° or more. It can lasts to half a decade or approximately 50,000 hours. It has a 12-month warranty too.
---
5) Xprite Car Underglow Neon Accent Strip Lights Kit
The Xprite underglow light kit gives out consistent bright neon light. Its awesomely clever combination of high-intensity SMD LED chips, and 3-in-1 RGB chips are the secret behind this. It can resist any form of bad weather conditions. Its rubber tubing is durable and flexible. Ideally, it can protect your vehicle from any form of damage from challenging road conditions.
Furthermore, the kit incorporates a wireless remote control that allows you to operate it in a 100-foot range. Its adjustability and "fast off and on" lighting response features are incredible.
It takes pride in providing eight preset static colors, four lighting effects, two preset jump functions, and two preset fading patterns. It is designed to have four music modes that flicker according to the rhythm that you are playing.
Also, it includes two four-foot LED strips and two three-foot strips. Its pre-applied adhesive tape and quick-connect plug make it easy-to-install. So, go ahead and set up anywhere in your vehicle's exterior and interior.
Lastly, the major shortcoming of these underglow lights is its weak adhesive tape. Accordingly, these tapes can strip, especially if you are driving at high speeds. Thus, the control box may also break down after some time. So, you may not be able to have power over its lighting modes.
---
Buyer's Guide: Factors To Consider When Buying A Truck Underglow Kit
LED Underglow Kits or Neon Underglow Kits?
LED and neon underglow kits are the two major types of "underglow kits". For some years now, neon underglow lights have amazed thousands of vehicle owners. However, such has been taken over by LED kits. You want to know why, for sure. Kindly read on.
Neon Underglow Lights
Neon tubes- this is what most people call them. Do you know that they don't just use neon to illuminate? These lights use noble gases too. Neon, as one of these noble gases, produces a red glow. Other gases produce other colors. For example, the yellow-colored light is produced by helium. Argon, on the other hand, produces either a blue or red hue. Thus, xenon gives out blue or green; and, krypton illuminates green or yellow hues. It is likely to pull off more colors by staining the glass tube with various colors.
LED Underglow Lights
On a similar note, LED underglow lights are more modern than their neon counterpart. I'm pretty sure that you know what "LED" stands for. Light Emitting Diode is responsible for lighting LED underglow lights. A single LED strip contains a dozen of tiny diodes that simultaneously create a shell of light.
Undeniably, LEDs' popularity as a lighting device is undeniable. It uses reaches further than underglow kits alone. They are utilized in almost everything like that in mobile phone light bulbs, traffic signs, billboards, remote controls, cameras, and many others. Brake lights and headlamps of cars even use them. That being said, it is the perfect time to have it take over underglow lighting.
How Are These Kits Use Power?
Neon underglow kits utilize over 70% more power as compared to LED. It is less efficient and excruciating to your car's battery. So, it is a wonderful idea to get an LED kit rather than neon ones.
Neon underglow tubes make use of too much power from your battery to produce heat instead of light. It results in pointless power spending. Worse, it can make the neon tubes very hot.
When it comes to the underglow system, be a little careful with safety and power consumption.
What about the Durability and Lifespan of the Kits?
As far as lifespan is concerned, results show that the LED underglow kits last for half a decade or more. Approximately, it is about 50,000 hours, on average. On the contrary, neon underglow lights can last for a decade, around 7 – 10 years. However, there are a few important components of the underglow kits that must be appropriately considered. This includes a transformer's life at roughly five years too.
There's no need to worry about it. Half a decade is good enough to have a replacement.
On concerns about durability, neon underglow tubes are more vulnerable to dent as compared to LED kits. The latter is shockproof. Specifically, neon tubes can easily break or crack whenever debris and small rocks come across it. When driving on rocky terrain, neon underglow tubes can break. When this happens, you need a replacement. LED strips, on the other hand, can still work even in the face of some damaged diodes.
How about the Installation?
Installing a neon underglow kit needs expertise and time. Neon tubes are sensitive and can damage easily. So, it must be installed with extra care. You, as the installer, must make sure to connect the tubes properly and cautiously. Unsteady installation of neon tubes can make them more susceptible to damage on rough terrains.
On the contrary, LED kits are way lot easier to set up. Simply plug-and-play, and you are good to go. First, mount the lights. Second, connect. Third, switch it on the power.
Price
As a result of higher production costs, Neon Underglow Kits are more costly than the LED ones.
Other Considerations
Customization: Do you want lights that glow and change colors? How about those that can be changed from the flashing mode to a steady one? You can customize your underglow kits by adding a music mode to it. The lights can flash according to the rhythm of the music that you play.
State Laws: When selecting an underglow kit, choose the lighting mode and color carefully. It could be helpful to check the state laws on this matter. Make sure to follow the rules of the state you live. Check whether or not flashing underglow lights are legitimately up to the standard. If not, never insist.