June 7, 2023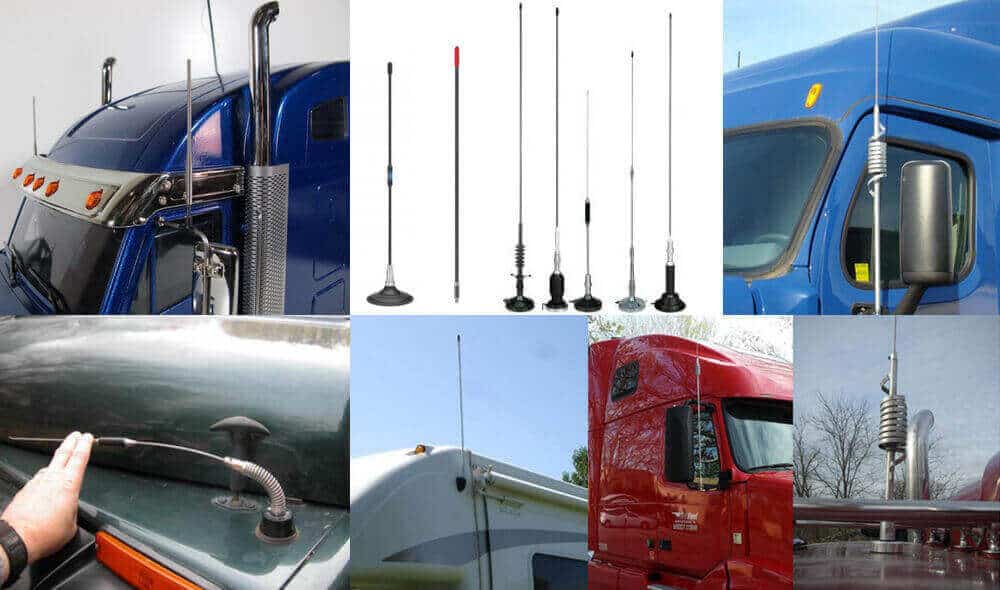 Have you ever watched the 1975 movie "Convoy"? If you did, you would have seen the heavy use of CB in that movie. Well, the film was set during the heyday of the CB usage sometime in the 70s. Although CB has already lost much of its original appeal, it is still popular among truckers. So, if you are one of those truckers who are spending time trying to figure out which CB antenna for your 18-wheelers/trucks is the best, you better read on through this article.
The CB is useful for short-distance person-to-person communication between two persons. It usually operates on 40 channels in the shortwave band and is very useful.
Even if you have an expensive CB radio, your CB's efficiency is determined by your CB's antenna. But with myriads of antennas in the market today, you may end up confused about which antenna to purchase for your truck. So, it will help if you know the different types of CB antennas and the most recommended models and brands in the market today.
Recommended CB Antennas For Semi-Trucks & 18-Wheelers
Now that you are cognizant of the different types of CB antennas, you can now proceed to familiarize yourself with the most recommended CB antennas for semi-trucks and 18-wheelers. Here is a list of the most recommended CB antennas by experts:
---
1) Solarcon – IMAX-2000
If you like a fiberglass type of CB antenna, you can consider the IMAX-2000. So far, it is the best fiberglass type of CB antenna in the market today. It is also compact and works well with the ground plane of IMAXGPK. It can handle up to five thousand watts and comes with maximum insulation of 14,500 volts. 
The IMAX-2000 comes with a durable mounting plate and can handle high wind. Its three sections are quick to assemble, and it is around 24 inches long when fully assembled. It also offers a wide range of bandwidth that goes beyond the traditional CB bandwidth range. Moreover, it provides a sleek feature and framework that you would surely love to have.
Pros:
It offers a wider bandwidth range.
It is designed for handling high wind loads.
It is easy to assemble.
Cons:
It isn't resonant at the upper 10-meter bandwidth.
---
2) Browning BR-28
The Browning BR-28 is a powerful antenna that can produce enough power. It is capable of handling 10,000 watts. If you have this antenna, you are sure to get clear communications, transmissions, and easy access to incredible power. The design of the antenna nice and sleek with its gold color that blends well with the overall design of any vehicle. 
The Browning BR-28 is around 49-inch long and made of stainless steel. It is also paired with a six-inch-long shaft wrought in stainless steel. These components make it easy for you to install this antenna.
You can get great signal and reception from this antenna even if you install it at a mid-height level. Thus, you won't be facing the same problem faced by other truck drivers when they place their antenna at mid-height level.
When it comes to mounting, this antenna comes with a three-way mounting system, making installation easy for its users. Its frequency range is from 25 to 30 MHz. Fortunately, you can extend the range of this antenna if you connect it to a CB radio that comes with higher power output. The antenna is easy to adjust. You only need to tune in the whip to adjust the antenna. It doesn't necessitate any additional tuning.
Pros:
It comes with a 10,000W power rating.
It offers an easy three-way installation.
It is long enough to provide optimal signal reception.
Cons:
It doesn't jive well with some radios.
---
3) COBRA High Gear (HG) Trucker CB Radio Antenna
As the new antenna of High Gear, this CB radio antenna is engineered for professional drivers who need a robust and reliable CB antenna. It is perfect for commercial equipment and semi-trucks. Yet, you can also use this if you have a smaller vehicle like a pickup truck.
It is a center-loaded CB antenna and it works well with co-phased or single antenna systems. It has a rating of 6000W, which qualifies it for handling powerful 10-meter radio signals.
Furthermore, It comes with a smart design that lets you mount it on different locations on your vehicle. Its construction is also of top-notch quality. Besides, it features a non-corrosive stainless steel whip that lasts long. Its frequency range is between 26-30 MHz. It is also designed to receive NOAA Weather Channel signals.
---
4) Wilson 2000 Trucker CB Antenna
The Wilson 2000 Trucker CB Antenna is highly touted as the best CB antenna for commercial equipment and semi-trucks. Yet, you can also use it for pickup trucks. It is cheaper than its pricier brother Wilson 5000. Nevertheless, it offers the same performance likewise.
With its excellent design and capability, it will waylay other comparative central-load models. The Wilson 2000 Trucker CB Antenna is a hell of a warrior. It comes with a 5″ shaft along with a 49″ stainless steel whip. Besides, it features a standard 3/8″ x 24″ chromed brass ferrule.
Moreover, the Wilson 2000 is rated at 3,500 watts. Its frequency range is from 26MHz to 30MHz. It also comes with a larger coil housing that increases its power handling.
---
5) Nagoya CB-72 28″ CB Antenna
As the latest addition to Nagoya's mobile antennas, this new antenna comes with dual connectivity. It provides smooth results on both GMRS and Ham bands. Moreover, its power rating is around 75W.
The Nagoya CB-72 28″ CB Antenna package comes with a heavy-duty magnetic base with 4.3m RG58A/A. It also features a coil spring base that comes with a lock nut. It also comes with a 10″ RG-316 cable to its handheld jumper (SO-239 to SMA-F).
As you open the package, you will see the heavy 3-3/8″ magnet at its base along with a rubberized pad on its bottom for scratch prevention. This antenna is pretty stable and won't move. Its total length is 21.2″ long, and its active element is around 19″ long and 1/16 thick. Its cable is about 14′ long and ends with a PL-259 connector.
The Nagoya CB-72's cable doesn't exhibit high loss and is quite resistant to crimping, pinching, and weather effects. It also comes with a 10″ RG-16 jumper with SMA-F and So-239 connector. Its cable will connect to any mobile transceivers, while its 10″ adapter jumper with its SMA-F allows for greater flexibility and connection to any handheld device.
---
6) LUITON CB Antenna
Another great CB antenna option is the LUITON CB Antenna. It features a twenty-eight-inch long antenna that is by far longer than other antennas. So, it can provide you with better reception. You can install the LUITON CB Antenna quickly out of the box. It also has a ten-foot coax cable that you can connect with ease to the CB radio. 
It is easy to mount with its three-and-a-half inches magnet, which is pretty sturdy and reliable in holding the antenna. Moreover, it is easy to move around or transfer the antenna's mounting to another point, depending on your preference.
With its strong magnet, you don't need to bore holes for mounting. It is also designed to capture every CB frequency at hand with enough clarity. Lastly, if you want to be up-to-date with the weather report, you will find this antenna handy, for this one is compatible with weather channel frequencies.
Pros:
It works well even during harsh weather conditions.
Its magnet provides a sturdy mounting for this antenna.
You can access many CB frequencies.
Cons:
Its cable (10ft) might not be enough for some users.
---
7) TRAM 703-HC Center Load CB Antenna
The TRAM 703-HC Center Load CB Antenna TRAM 703-HC Center Load CB Antenna is another excellent option for semi-trucks. The TRAM brand, of course, is a legendary antenna brand. The TRAM 703-HC covers all the CB frequencies, and hence, it is pretty much handy to have in your vehicle. It also features a 3.5-inches magnet mount that offers incredible performance. Moreover, it is easy to tune in.
It features a stainless-steel CB whip antenna, made from the best materials. With this CB antenna, you can stay connected. Its magnet, of course, comes with a firmer grip as compared to other brands' magnets.
The TRAM 703-HC is around 2 feet tall. It features a 17-feet RG58 cable, which is enough for cabling it anywhere you ground it. This coaxial cable provides a low-power signal for a more enhanced radio frequency connection. Moreover, you will find this antenna highly performing, and it tightly holds even if you are revving your vehicle at high speed. Hence, it is a perfect choice for semi-trucks.
---
8) Midland 18-2442 Mobile CB Antenna
The Midland 18-2442 Mobile CB Antenna is center-loaded; thus, it offers optimum efficiency that is hard to equal. It is engineered to capture better and stronger signals when you are on the road, given its long stainless-steel whip, around thirty inches long. It also comes with an impact-reduction system in the form of a thick spring wrapped around the antenna's base. This spring functions as an impact absorber to prevent damages due to impact while driving. 
The Midland 18-2442 Mobile CB Antenna is easy to mount, given its magnet-mounted design. Its bottom magnet is so strong and can keep the antenna securely in place. Moreover, the bottom magnetic base comes secured by a durable plastic cover that also protects the vehicle from any damage.
It is also worth noting that this antenna comes with a seventeen-foot-long coax cable. So, you don't need to buy the cable separately. Besides, the cable comes attached to the antenna, allowing you to connect it easily to your CB radio.
Pros:
It comes with a scratch and corrosion-resistant plastic cover.
It offers a maximum range of four miles.
It is cable-ready and connector-ready.
Cons:
The antenna may be susceptible to strong impact.
---
Conclusion
One apparent reason for buying a CB antenna is the ease of communication it affords, especially when you get weak signals or you've lost your mobile phone signals while driving. In such a situation, you need to boost your signal range, and thus, you will need a more powerful CB antenna. A reliable trucker CB antenna will surely help in such an unfortunate situation. Yet, it is not easy to select the best CB antenna, given the myriads of brands and models at hand. Nevertheless, it will help if you know the different types of CB antennas mentioned above and the most recommended CB antennas in the market today.
---
Buyer's Guide: Types of CB Antenna
As mentioned above, selecting the right CB antenna for your semi-truck/18-wheelers may prove to be difficult if you are new to buying this thing. The reason behind this is evident—they come in different types and brands. Hence, to help you in buying the best CB for your need, I have listed here the five popular types of antennas in the market today:
1) Fiberglass CB Antenna
If you want a durable CB antenna, you should check the fiberglass CB antenna. Fiberglass CB antenna, of course, stays intact for a very long time. Moreover, it is made of a fiberglass rod and is a perfect choice for larger vehicles. You can also mount the fiberglass antenna almost anywhere, even on hood channels, stake-holes, and mirror arms. Its range, however, is not top-notch as compared to other types of antenna.
These antennas are quite flexible and come with a universal thread to connect to any CB antenna mount quickly. If you intend to install this on the fender or bumper, you should choose a top-loaded antenna for excellent transmission. Besides, a three-foot antenna mounted on the fender will work perfectly well with most semi-trucks.
2) Magnet Mount CB Antenna
If you want an excellent CB antenna when it comes to ease of mounting, you should consider the magnetic CB antenna. It grabs firmly on the surface. It gets its ground from the magnet that attaches to the car body. This type of antennas comes with a straightforward installation process, which makes it very popular among many. This may not be the best ground connection to the car's body, and the magnet's size usually determines the firmness of the antenna's grounding. It's normally installed with the magnet mount, coax and whip in a set.
3) 102″ Whip CB Antenna
The 102″ Whip CB Antenna separates itself from other antennas because it does away with the use of a coil. It does away with the usual coil because it can transition to a perfect 1/4 CB wavelength. A whip antenna consists of a rod or a straight flexible wire, and its bottom end connects to the radio transmitter or receiver.
The antenna is flexible and doesn't break easily. Moreover, its name came from its whip-like motion when agitated or disturbed. It also has an omnidirectional radiation pattern.
4) Center-load CB Antenna
If you are a trucker, you might as well consider the Center-load CB antenna because it is called a trucker antenna. The usual center-load antenna comes with a stainless-steel shaft about a third of the antenna's length. On the other hand, the coil sits above this shaft and is encased in a plastic housing.
This Center-load CB antenna sports a thin whip feature made of steel. This type of antenna, of course, performs excellently, compared to similar mounted types of antenna. Yet, this type of antenna is more pricey than the other types of antennas.
5) No-ground Plan (NGP) CB Antenna
If your vehicle is mostly made of fiberglass, plastic, or wood, you should consider the NGP CB antenna. The No-ground Plan (NGP) CB Antenna is engineered explicitly for solving problems that come with the lack of counterpoise or ground plane.
Problems associated with ground plane include low performance and high standing wave ratio (SWR). Thus, the NGP CB antenna came to remedy these problems. It eliminates problems due to a lack of sufficient ground plane for the right operation. You can use the NGP antenna on any vehicle that does not come with metallic chassis.
---
Factors to Consider When Choosing a 18-Wheeler & Semi-Truck's CB Antenna
However, when it comes to the CB range, several factors may determine it, such as the antenna length, surrounding terrain, quality of the antenna, type of installation, and the ionosphere status. On average, however, the range of CB is between three to six miles, with the upper range at ten miles. In this article, however, we will give you a rundown of the best CB antenna for a semi-truck/18 wheeler truck to facilitate the choosing process for you.
Mounting Location
You will have many options when mounting a CB antenna, depending on the antenna type and the reception you would like to have. You can mount the antenna, for example, on the vehicle's roof, bumper, mirror bars, or even the truck's trunk. Yet, where you mount it depends more on your preference.
Nevertheless, it's good to consider that the higher the antenna mounting, the better it can transmit signals. So, it will help if you mount your antenna on a higher part of your truck for better transmission of signals. Moreover, you should maintain the antenna coil above the truck's roofline to lessen interference.
Cable Quality
Another important consideration when choosing a CB antenna is the cable quality. Many CB antennas feature a coax cable. But to ensure that you will have a quality cable for your antenna, it will be best to check the cable quality carefully, for the cable quality can indeed affect the CB signals. Moreover, it will be best to check if the kit you will buy comes with a coax cable long enough for your setup.
Antenna Coils
The antenna coils are the locations wherein the wire of the antenna winds into a coil. But why is it necessary for the antenna wire to take a coiled form? The reason is simple: the antenna loading coil consists of an inductor that is placed in series along the antenna to lower its resonant frequency.
For a CB antenna, the optimal length of the antenna is 102 inches, for this length represents a wavelength quarter. It is, however, impossible more often to mount an 8.5-foot antenna to a semi-truck. To skirt around this problem, many manufacturers wound or coiled wires tightly along the body of the antenna to compensate for the shorter length of the antenna. So, with the coil, a shorter antenna can work as if it is 102-inch long.
This coil is concentrated on a specific portion of the antenna. It can be at the middle, bottom, or top part. Moreover, this process is more practical and allows for the use of a shorter antenna.
The coiled portion of the antenna is the point wherein the antenna receives and transmits the strongest signals. The coil, however, should be over the roofline to avoid the blocking of the line of signals.
Technical Quality
When selecting an antenna, you also must consider the technical aspect of the product carefully. For example, if you are a long-distance truck driver who traverses various states, you might as well go for an antenna that has ready access to weather channels. Weather-related information is crucial to safe travel. You should also go for something compatible with almost all CB frequencies to maximize the use of your antenna.
Nevertheless, if you are a fast driver who drives faster from one place to another, you might as well go for something that is sturdily mounted, like a rigidly mounted magnetic base. If you doubt the capability of the magnet, you can settle for the screw-on method of mounting, which is more traditional but often reliable.
---
Frequently Asked Questions
If you know the abovementioned most recommended CB antennas for semi-truck and 18-wheelers, you might as well learn about the following frequently asked questions about CB antenna, for they may also be the questions playing in your mind:
How far is the reach of a CB Radio?
The range of a CB radio is from one to fifteen miles between the transmitter and the receiver. Nevertheless, some factors can affect the transmission of signals. Such factors include the length of the antenna, the surrounding terrain, the quality of the antenna, the installation type, and even the ionosphere status. If you transmit between mobile and base, you can get a range of five to ten miles. But between base units, you can expect a range of ten to thirty miles.
How can you install your CB Radio on a Semi-truck?
Installing the CB radio on your semi-truck requires you to follow the user's manual of the CB radio. Yet, to give you a good idea of how to install your CB radio, you can simply mount the antenna, first, onto the spring. Make sure that the tip doesn't hinder the roof. Then, mount onto the magnet mount the spring.
Then, connect the coax cable to the read end of the CB radio. Make sure that there are not many wrinkles in the coax wire connection. Afterward, connect the mic to the radio. Gain access to the RED+ wire. Then, clip from your radio the RED= wire. Once connected, locate the metal screw attached to the metal bodyboard of your vehicle. Then, pleat the Black-wire finish onto the bolt.
How would you set the SWR on your CB Radio?
To complete your antenna installation, you need to engage in CB Radio arrangement. You would need to use the SWR meter for this purpose. The SWR meter will enable you to know where you will install your reception apparatus.
The SWR meter can be built-in or a separate unit. If you use a separate SWR meter, you must use a coaxial link jumper to connect it to the CB radio. The jumper usually comes with an AUSWR SWR meter.
How can you lower the SWR on your antenna?
You want to bring to a 1:1 ratio the SWR proportion, for it is the reasonable thing to do. You can also move the antenna to an ideal location to get the right spot for installing it on your truck. To achieve this ratio, park your car in an area that has no blocking features. Then, adjust the meter and test the SWR by squeezing the channel one key and the channel forty key.
If you get a reading that got channel 1 higher than that of channel 40, you can extenuate the reception apparatus by going in for a 1/8″ incremental increase. If it is lower, then start shortening your antenna and engage in a retest.
---