August 27, 2021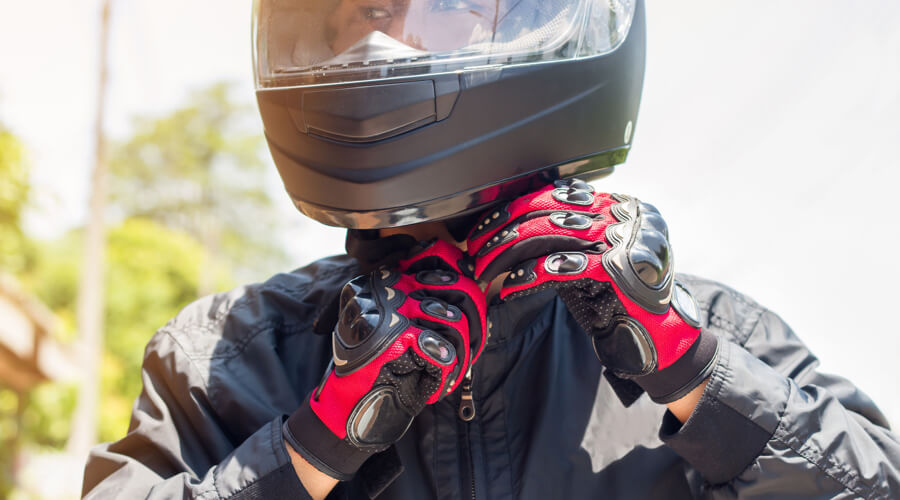 "It was in 1900 when motorcycle helmet was created", says Helmet Saves. Dr. Gardner and Mr. Moss are the names behind the design of the first helmet. To be specific, the first motorcycle helmet, which was made of shellac and canvas, amazed the world in 1914.
This was used to protect the motorcycle riders' sensitive parts of the body.
As to the design, it was changed a couple of times since 1914. The earliest versions of motorcycle helmets are more geared towards fashion over safety. It cared less about protection and strength, not until the 1970s. Basically, more and more motorcycle riders started using it as they travel miles with their bikes during this year.
Motorcycle Safety Foundation (MSF) recommended wearing helmets while riding a motorcycle. Accordingly, it is a must-have protective gear for any motorcycle rider. Statistics revealed that in 2017, approximately 5,200 motorcycle riders lost their lives due to road accidents. With motorcycle helmets, the number was reduced by 37%. Advocates for Highway & Auto Safety and the CDC (Centers for Disease Control and Prevention) also believed that head injury was trimmed down by 69% since the invention of motorcycle helmets.
But here's a catch.
These helmets must gain approval from the Department of Transportation or Dot for use in highways. To ensure protection, your motorcycle helmet must fit your head perfectly. This is regardless of the brand, though.
What Made the Safest Helmet?
1) Shell-built Design
Whenever you buy yourself a motorcycle helmet, keep the design in mind. Choose a shell-built one. Motorcyclist Lifestyle, a known motorcycle blogger, said that a shell-built designed motorcycle helmet protects your head from direct contact with the road whenever you are tangled on a road accident. Just like any other motorcycle riders, this is your first line of defense against head injuries. So, go ahead and check your helmet for reinforced composite shell-like polycarbonate or thermoplastic on it. The absence of any of these elements means that you are not protecting yourself well. So, better get a new one.
2) Impact-Absorbing Inner Liner/Coat
Another important element of the motorcycle helmet (to be called as the finest) is the impact-absorbing liner. It does not only give your head with a comfortable feel but also take up impact whenever impacts are going on. This layer protects you from getting severe head injuries.
The latest helmet technology incorporates expanded polystyrene foam (EPS form) on helmets. This is a shock-absorbing inner liner that provides comfort to the motorcycle riders. Though such a component is often mistaken as a protective element, it is firstly intended for ease rather than protection. The same EPS foam is found in areas that protect the jaw and face. Best motorcycle helmets have a chin strap too. Helmets can only work its job well not unless its strap is on.
Most motorcycle riders look at the price as an indicator of safety. For them, the higher the cost, the better protection it gives. This might have been one of the reasons why full-face helmets have become a popular pick. But the truth is that the cost does not go with safety.
Motorcycle helmet manufacturers strictly follow a set of requirements and standards like that of the Department of Transportation or DOT, European Safety Standard 22/05, and Snell Foundation.
These regulations guarantee that all the helmets that are out in the market are of high quality. The cost, in particular, is more defined by the features that these motorcycle helmets have, the kind of materials used in making them, and the visual aesthetics as well.
3) Fit &Comfort
To find a helmet that best suits you, fit is a worth-considering element. Take an approximate measure of your face, specifically from above your eyebrows and around your head.
Don't hesitate to try it on to check its fit. Tighten the chin strap until only two fingers can fit amid the head and the strap. Gap at the top, on the sides, or at the top is a no-no. But, it must not be excruciatingly tight.
Your cheeks must move when attempting to turn it around. If it slips or moves along with you, wear it off and look for another one. The fit isn't good. Have time checking the chin strap by looking down. The same rule applies. It would be a lot better to wear it a few minutes more to judge it as to fit.
Aside from all these safety measures, there are few non-safety-related aspects that you ought to consider when choosing a motorcycle helmet. To tell you honestly, these factors can make a huge difference.
The feel that the helmet's safety liner provides you is one of these factors. The shape and size of the eye-opening and the quantity of the airflow are significant to riders like you. To some extent, the sound level affects your hearing as you drive. You can't afford to be distracted with too much wind noise when driving, can you? Lastly, weight is an essential consideration. It affects the level of comfort you get while putting the helmet on. At some point or another, a heavier helmet can make a different level of safety during road accidents.
Safest Motorcycle Helmet Type
Though there are various styles of helmets these days. The full face, the ½ helmet, and the ¾ helmet are the three most popular motorcycle helmet designs that you must surely want to know about.
When we speak of safety, the full-face helmet makes the best pick. It properly covers your neck and head. Moreover, it also gives you protection from the location where you are riding- including debris, bugs, and bad weather.
A full-face helmet has a chin bar, a feature that ½ and ¾ helmets don't have. Since 50% of the motorcycle accidents result in chin injury, a full-face helmet has gone all the rage. It offers motorists the protection they need to keep their jaw and chin safe whenever accidents happen.
Modular Helmets Vs. Full-faced Helmets
Are modular helmets safe? This type of helmet has a hinge that you can open up. A full-faced helmet does not have this alternative. But, here is something that you must recognize when wearing a modular helmet. Avoid riding open-faced. This type of helmet can only be flipped up when you are not on the move like when parked or on a stoplight.
Speaking of comfort, you can never go wrong with modular helmets. Aside from protection on impacts, modular helmets offer comfort when worn. But because of its unflappable chin bar, it tends to be wobbly at some point in an impact. Both the full-faced helmet and the modular ones are great for street racing.
These two types of helmet are not the only types that the market makes available of motorists like you.
Open-faced helmets are designed to cover the top, back, and side of the head. The rider's face is left completely uncovered. It is a popular pick among low-speed bikers and scooter riders. As to protection from high-speed impact, this type of helmet is not a clever pick.
Off-road helmets, on the other hand, have lots of ventilation and are lightweight. Although this type is not designed for high-speed riding, it can provide the riders the chin protection they need whenever there are impacts on the road.
There is no much insulation inside them.
A dual-sport helmet is a perfect option for when you keep an eye on protection for different riding types. This dirt bike helmet type is engineered with more sophisticated features for protection and comfort.
Lastly, a half-shell helmet gives riders a minimum coverage. It doesn't give a higher level of protection from impacts.
---
Conclusion
Be clever in choosing the right helmet for you. Choose a helmet that works with that shape aerodynamically. Choose something that is based on how you take those extra miles on. Make sure that it is DOT-certified. Riding at a higher speed needs a helmet that offers the most protection. Yes, a full-faced helmet is a perfect choice for this.
The best motorcycle helmets are the ones that fit a motorist's head safely and comfortably. It must move with your head. It is not fitting appropriately if your head moves inside it. Experts say that a well-fitted helmet is far better than an expensive one.