June 17, 2021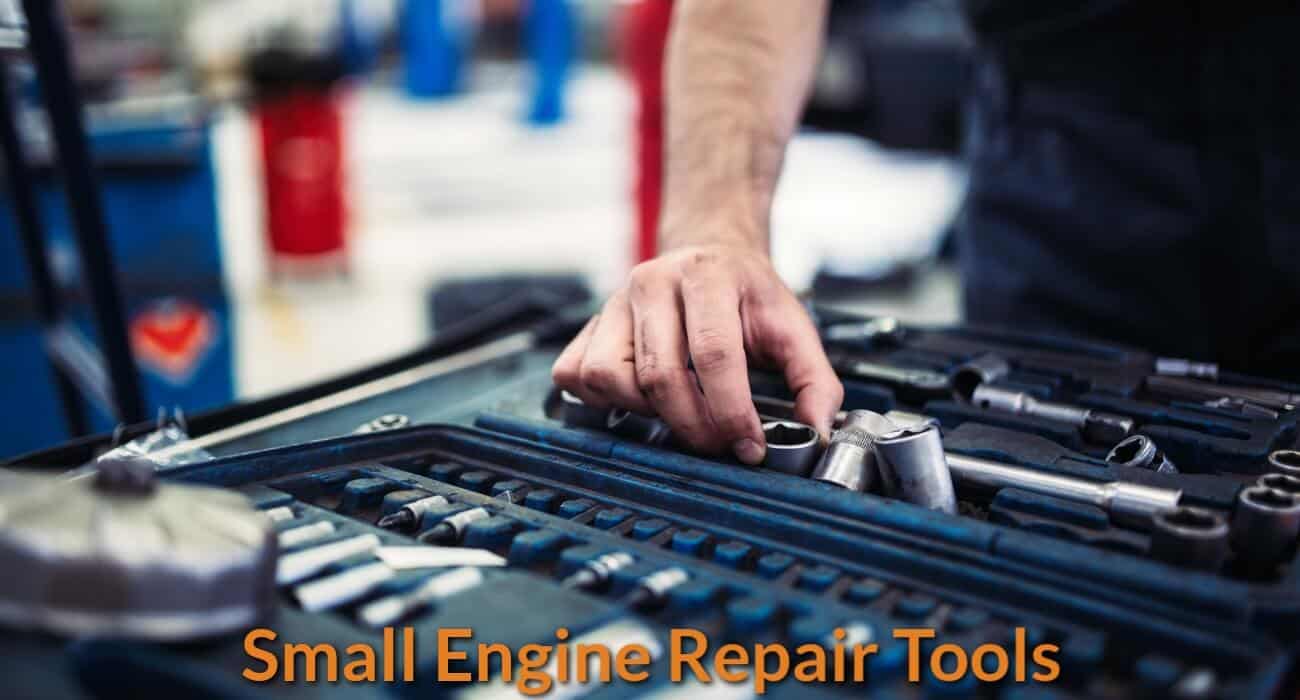 Small engines are typically used in many applications. They usually power lawn mowers, portable generators, garden tillers, different kinds of pumps, ATV's, go-carts, motorcycles, forklifts, and snowmobiles, and even refrigerated trailers. These small engines used in these vehicles are usually characterized by single-cylinder and four-stroke air-cooled motors whose range of power is from 5 to 15 hp or greater. Moreover, small engines have varied crankshafts. Some have horizontal crankshafts while others have vertical crankshafts. Furthermore, there are also four-cylinder, three-cylinder, and v-twins small displacement engines, and some of which are capable of 75hp or more. Some small engines also run on propane, diesel, and natural gas.
Many factors could lead to the malfunctioning of the small engine. Hence, sometimes, these small engines—especially those of lawn mowers, motorcycles, or boats—need repairs. You would require highly specialized tools when engaging in small engine repairs. The tools that you need usually depends on what type of small engine you are going to repair. However, there are essential tools that you should have at hand, and these most basic tools are the following:
This article contains all the information that one needs to know about small engine repair tools. It talks about the necessary tools one should have while maintaining their own equipment's, the advanced tools you'll need in case of rebuilding small engines, and the tools which are specific to maintaining and repairing chainsaws.
---
Hand Tools
The most commonly used tools for the repairs of small engines are the hand tools. Hand tools are very portable because they are small, and they are very convenient to use. If you are going to look into a mechanics' kit, you will surely find a handful of hand tools for small engine repairs. Using hand tools, you can easily remove parts of the small engine, and you can also secure parts of the small engine. Examples of these hand tools include pliers, wrenches, and screwdrivers.
Hand Tools Set
If you are someone who is just starting, 142-450 piece set from Dewalt, WorkPro & Craftsman is a decent and affordable kit. It comes with three distinct sizes of ratchets, lots of wrenches and includes a driver set as well. A built-in little storage box comes in the case for any extra bits and pieces that one may end up with at the end of a project.
Spark Plug Wrench
This wrench helps in the fitting of the spark plug in an engine.
It will help you to change a faulty spark plug. Moreover, no specific skills are needed to use this tool.
---
Diagnostic Tools
It is essential to know the main reason why a small engine is malfunctioning. Hence, before you even tinker with your small engine, you need to know the main reasons why the small engine is not working correctly. For this purpose, you need diagnostic tools. There are plenty of diagnostic tools and gauges that you can use for getting good readings on the real score behind the subpar performance of your small engine, and these diagnostic tools are very important because they give you an inkling on the reason behind the malfunctioning of your small engine. Examples of diagnostic tools include small devices, compact devices, large devices, stationary equipment, and sophisticated devices.
For itinerant mechanics, the portable compact devices are more useful because he can easily tag along with these compact devices wherever there is a need for small engine repair. The smaller compact devices include those tools like the compression gauges, voltmeters, ammeters, and computerized analyzers that are used for tuning engines and those tools that are used for detecting bad engine parts.
Small Engine Tachometer
A device used to measure the rotation speed of an object like an engine shaft in the car is called tachometer and is usually restricted to electrical or mechanical instruments. This device indicates revolutions per minute or RPM performed by an object.
---
Specialty Repair Tools
Some specialty tools are needed to remove and install the small engine parts such as valve springs, piston, liner and etc.
While removing the exhaust and intake valves, one should compress the tiny coil spring (or springs) holding each valve. Once the height of the spring is reduced, a 2-piece collar can be released. The 2-piece collar is near the groove, located at the top of the valve stem. Then lift off the spring container, and by sliding the valve down the valve guide, you can remove the valve from the cylinder head easily.
Piston Ring Expander
For installing piston rings, which are new on the piston, the piston ring must be expanded, so that it can slide onto the piston. Since piston rings are delicate, and without having a ring expander, there is a high possibility that one can break the delicate piston ring.
Piston Ring Compressor
After placing the new rings onto the piston, one needs to have piston or ring assembly to put it back into the cylinder. For doing that, one should compress the piston rings on the piston. After that, the whole process is easy.
Seal Installation Tool
This tool is best used for installing as well as removing the carburetor seal. It is an easy tool to use, and when needed, it can easily remove the seal.
It is irrespective whether one is using a push mower or a ride-on mower, but procurement of all the tools for proper maintenance is the first step.
Once one can maintain the lawnmower properly, the use of this regularly will become easier.
You can save a lot in maintenance costs when one maintains the lawnmower himself/herself.
---
Power Tools
For complex types of repairs, you may be needing power tools like electric screwdrivers, grinders, and drills. You can use the grinders and drills for adjusting parts of the small engine, while the electric screwdrivers can enable you to secure and remove nuts and bolts very quickly.
Other Possible Tools You Would Need
There are other possible tools that you may be needing in your small engine repair. These tools include the following:
Equipment Lift
The equipment lift is a tool that could help technicians work quickly and freely. This equipment lift will lift the equipment that you need to repair up so that you can peruse this equipment easily and conveniently. The use of this tool may allow you to work even if you are alone and without the help of someone to lift the small engine parts. This tool exposes the underside and bottom of the small engine that you need to check up.
Mechanical Shop Tools
Aside from the mechanical jacks and power tools, you will also be needing some mechanical shop tools like a sizeable air tank as a compressor with 200 pounds of air. You may also be needing a very accurate drill press if you need to bore perfectly perpendicular and parallel holes.
Mechanical Jack
You will also be needing a mechanical jack if you need to lift heavy equipment. If you want to access parts of the engine underneath, you can use the mechanical jack for this purpose. These mechanical jacks are convenient and portable as compared to the huge hydraulic jacks. In the absence of these huge hydraulic jacks, the mechanical jacks can surely come in handy.