June 7, 2023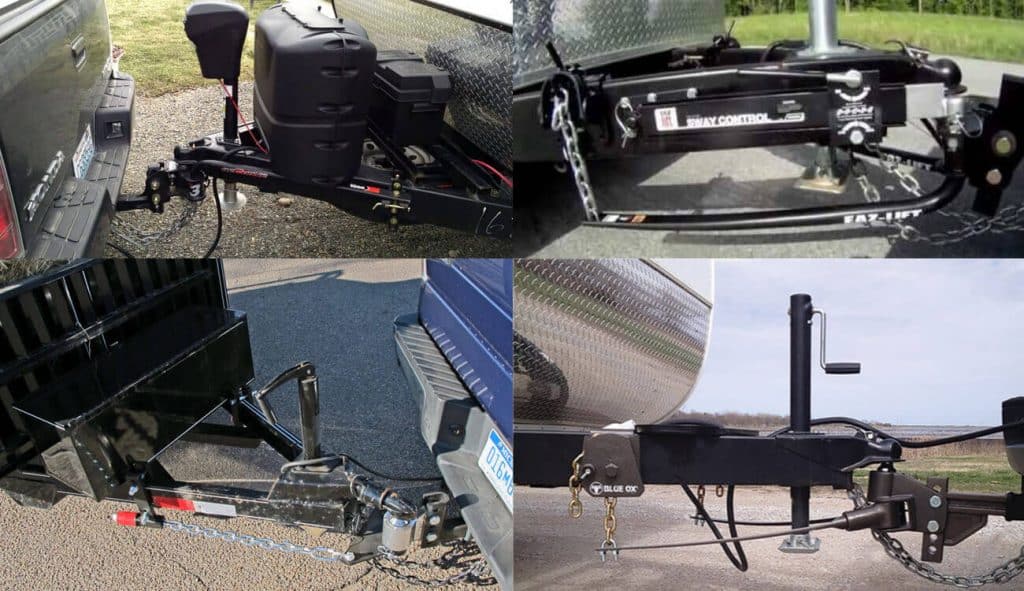 After almost tipping off your trailer, you may feel a bit nervous driving it again. But instances like this may lead you to a greater understanding of the safe ways of driving trailers. It may also push you to learn how to calculate the gross trailer weight. Furthermore, it may also lead you to inquire about what is "weight distribution system".
There are risks concomitant with driving trailers. These risks include the risks caused by crosswinds, inadequate spring bar tension, and poor trailer loading. Yet, you can reduce these risks by learning about weight distribution systems.
Some drivers use weight-distribution hitch. They think that this tool can completely end trailer sway. It does help reduce trailer sway due to poor trailer loading; moreover, it also reduces sway caused by inadequate spring bar tension. But it will not completely end trailer sway due to crosswind. But what is this trailer sway?
Understanding Trailer Sway and Trailer Sway Control
As mentioned above, several factors can cause trailer sway. Poor trailer loading may lead to trailer sway. Inadequate spring bar tension and crosswind can also cause trailer sway. Moreover, trailer sway, if not reduced, may lead to accidents. Thus, it is necessary beforehand to minimize the risks of the onset of trailer sway. You can use a weight-distributing hitch to reduce trailer sway. But it can only reduce trailer sway due to poor trailer loading and inadequate spring bar tension. But if you want to reduce trailer sway due to crosswind, you should look further for a sway-control device.
You have two options when it comes to finding the right sway-control system.
First, you can either have a sway-control kit that decreases the sway right after it occurs.
You can also go for a sway kit that prevents the onset of sway.
Sway-control hitches also have four different types of built-in systems, include the 2-point, friction, dual cam, and 4-point systems. All these types combine both weight distribution hitch and sway control systems. Thus, you don't need to install them individually.
As a regular driver of tow vehicle and trailer, you should prioritize the aspect of sway control. If money isn't an issue, you should go for a 4-point system.
Recommended Sway Control Weight-distributing Hitches
1) Equal-i-zer 4-point Sway Control Hitch
The Equal-i-zer 4-point Sway Control Hitch is an integrated 4 Point Sway Control hitch that offers the fantastic resistance level to the tendency of your trailer to sway. Its hitch's weight distribution design can effectively transfer the tongue weight of the trailer to the different axles. This keeps the tow vehicle's front solidly rooted on the road along your driving journey.
Beside that, It also provides both weight distribution and sway control. Thus, with its use, you can efficiently steer and brake, while allowing the system to distribute weight properly. Its design is well-engineered. It works perfectly with all types of bumper-pull trailers. It also works well with horses, RV, cargo, boat, trailers with surge brakes, and utility trailers. Its shanks likewise are available in different sizes. Thus, with the Equal-i-zer, you can go for a custom-fit hitch.
When it comes to tongue and GTW ration, it offers five choices. 400/4,000lbs, 600/6,000lbs, 1,000/10,000lbs, 1,200lbs/12,000lbs, and 1,400/14,000lbs. Out of the box, you'll get a hitch, weight distribution shank, 2 sway control brackets, patented weight distribution head, 2 spring bars, snap-up lever, spacer rivet and washers, and hitch clip and pin. The Equal-i-zer is impressive, and it is one of your best choices for your weight-distribution needs on your trailer.
---
2) Blue Ox BXW1500 SWAYPRO Weight Distributing Hitch
The Blue Ox BXW1500 SWAYPRO Weight Distributing Hitch is a very reliable weight distribution system. It is quick to install. You'll take around 15 to 20 minutes to install it. Its design is awesome with its open design for quick removal of the hitch ball. It is also easy to connect and disconnect. Moreover, it features a powder-coated steel finish for longevity. Its spring bars lock automatically into its place. You can remove it by turning it 90°.
The Signature series Rotating Latches and spring bar attachment automatically checks sway control. Its weight distribution hinges on its hitch head. Hence, you don't need to fine-tune it or adjust it. You can use this with trailers that sports tongue weight of 1,000lbs to 1,500lbs and 15,000lbs gross towing weight.
As a premium weight distribution hitch, it includes a top-notch sway control system. This sway system is compatible with the majority of electric trailer brake controllers. It definitely makes trailer sway almost non-existent. The Blue Ox stacks up better than the other types of weight distribution hitches. Hence, it is surely a good choice.
---
3) Andersen Hitches Weight Distribution Hitch
If you are looking for a reliable sway control kit, you should check out the Andersen Hitch with the capacity of 1400lbs tongue weight. It offers excellent sway control device that comes with an innovative design. It adjusts itself naturally to accommodate any possible swaying, and if you necessitate backing up, this one will give you no problem. 
It is very lightweight at 60 pounds. Yet, despite its being lightweight, it is known for its durability. It is easy to install. You won't be needing any pry bars to install it. It also comes with the ball whose size hinges on the model you would choose.
Pros:
It is easy to install and release.
It is lightweight.
It comes in many weight rating sizes.
You can also reverse-drive when using it.
It works quietly and doesn't need heavy lifting.
Cons:
It is not ideal for very heavy trailers.
---
4) Husky 32218
The Husky 32218 is another great option if you're looking for a weight distribution (hitch) kit. Its gross weight rating is around 12,000 pounds. Its tongue weight rating is 1,200 pounds which is pretty high for a hitch kit. Moreover, it is already equipped with a ball hitch and all the necessary hardware for installing it. 
The Husky 32218 is also reasonably priced, given its excellent weight rating. It also comes with a handy guide for installation. One downside, however, of this kit is its weight. It is pretty heavy, which makes it a bit difficult to install. It is also challenging to move this device around when it is detached from the vehicle.
Pros:
It is reasonably priced.
It is of excellent quality.
It offers a high-weight rating.
Cons:
It is pretty heavy.
It isn't easy to install.
---
5) EAZ LIFT 48069 1200 lbs Elite Kit
The EAZ LIFT 48069 1200lbs Elite Kit includes a 1,200-lbs weight distributing hitch sway control. It also comes with a 2 5/16 hitch ball. The hitch ball and sway control ball come pre-installed. They are even torqued to exact specifications on the adjustable ball mount.
It comes with U-bolts and chain package. These are pre-installed on its spring bars. It has a maximum tongue weight capacity of 1,200lbs. Its maximum gross weight rating, however, is 12,000lbs.
As the most cost-effective option among the three, this one is surely good for those on a budget. With the EAZ, your choices are 600, 800, 1,000, and 1,200lbs when it comes to tongue weight. Its maximum gross weight, of course, is 12,000lbs. Being easy to install with its hitch ball and sway control pre-installed and torqued to perfection, the EAZ LIFT is surely a good choice.
---
6) Reese Pro 49903
The Reese Pro 49903 has everything you need to install a weight-distribution hitch to your SUV or truck. It also comes with the hitch ball. This kit comes with a head that has a ball that is already installed. It also comes with spring bars (tapered) and a drop shank, as well as control brackets. 
The Reese Pro 49903 comes with a lift-assist bar, as well as other hardware. It also comes with a head (fabricated) and hitch bar (welded). Moreover, it comes with everything that is necessary for enhancing towing. Besides, it is safe to use and offers sterling performance.
Pros:
It is inexpensive.
It is easy to install.
It is heavy-duty.
Cons:
It's quite heavy and a bit noisy.
---
7) CURT 17063
The CURT 17063 comes with a built-in lubrication system that ensures constant lubrication via its zerk fittings. This lubricating system, therefore, allows it to have a smooth and quiet operation. The kit is also covered with a carbide (black powder) coat as a durable finish. 
The CURT 17063 is very versatile. Its two-inch shank is adjustable and readily attaches to a (two-inch) hitch receiver. It also comes with a pre-installed ball that is also pre-torqued.
This sway control kit comes with a maximum of 1,400 pounds tongue weight. On the other hand, its gross weight is up to 14,000 pounds. So, it is versatile enough for use in various trailer types and ranges of weight.
Pros:
It is made of durable material.
It is corrosion-resistant.
It comes with an internal lubrication feature.
It offers heavy-duty performance.
Cons:
You may need to engage in drilling when installing it.
---
---
Buyer's Guide: Factors To Consider When Buying A Load Leveling / Weight Distribution Hitches with Sway Control
There are also several factors that you should consider when trying to eliminate trailer sway. These factors include the following:
Gross Trailer Weight (GTW)
You may be saying that you don't need to be a mathematical wizard just to drive a trailer. Yet, you definitely need to calculate if you are a trailer driver. In a way, you should practice your simple mathematical knowledge and calculate the GTW. "But how do I calculate the GTW?" you may ask. Well, GTW is the weight of the trailer right after you have loaded all your loads. This means any weighty object you load into your trailer increases the GTW. So, there's no need for elaborate formula. Just add all the weights of your loads and voila—you get the GTW.
Swing Bars
Weight distribution system necessitates the use of swing bars. Without swing bars, you will find it difficult to leverage the weight on your trailers. Hence, swing bars are crucial to any weight distribution system. Swing bars, however, can be either rounded or trunnion swing bars.
Tongue Weight
You may be laughing by now upon reading the terms "tongue weight." You may guffaw and say that tongue weight is easy to measure. All you need to do is get a sharp cutter, a weighing scale, and a lot of guts to cut your tongue. But tongue weight is a figure of speech. Well seriously, tongue weight refers to the downward force that the trailer's tongue exerts on the tow vehicle's hitch.
The trailer's hitch, as well as the tow vehicle's rear axle, will dive if there is an imbalance between the tongue weight and the gross trailer weight. In such a situation, if you abruptly step on your brake, your tow vehicle may lose its braking traction. Eventually, you may also lose steering control of the front wheels. This situation may prove dangerous. On the other hand, if the tongue weight is too light, you may also be in for a big problem. Your trailer will likely sway. Eventually, you may end up being out of control.
Many experts pegged the acceptable tongue weight at 9 to 15% of the GTW. They got reasons for this calculation. Thus, it is not unwise to follow their advice.
Trailer sway occurs when the trailer's tongue does not properly push the tow vehicle's hitch ball downward. This means that the tongue weight of the trailer is too light. This situation is dangerous for it will lead to "trailer sway. The tongue weight also affects the steering of the wheel of the tow vehicle if the tongue weight is too much.
Sway Control Function
You usually buy a trailer sway control to ensure that you can control the trailer. Thus, when choosing a trailer sway control kit, you need to ensure that your choice can reduce sway. It should be capable of excellent sway control when you make turns or abrupt stops.
You will usually find two sway control types: one which stops the swaying completely and one which only reduces or lessens the sway when it happens. Both options, of course, are viable, yet, you only need to figure out which between the two is best for your needs.
Maximum Load Capacity
Another crucial factor to consider is the max load capacity of the trailer sway control. The load capacity may have two aspects: the gross weight of the trailer and the tongue weight. Gross weight, of course, pertains to the kit's maximum weight capacity to handle. On the other hand, the tongue weight shows the downward force that the trailer exerts on the hitch.
Hence, before purchasing a sway control kit, you better figure out first the maximum weight of the things you need to tow. Once you get your calculation right, you can buy a kit that can handle more than you have calculated.
Durability
As you consider the prices of most sway control kits, you will surely understand how important it is to buy something durable. The kits' prices are not low, so you might as well invest in something that will last longer. Hence, when choosing a kit, it will be best to go for those kits that are wrought in durable materials.
Safety
Since you will be hauling heavy loads using your trailer, it will be best to consider your safety when choosing a sway control kit. So, when buying a kit, ask about the safety features that the kit provides. Does it come with a safety chain? Is the kit made of quality materials? You should bear all these questions in mind to ensure that you will zero in on something that can provide you with utmost safety.
Ease of Installation
You will find it a bit challenging to install a sway control kit. Hence, it is critical that you choose something easy to install. However, you can make the installation process easy by choosing something that features pre-installed parts. In this way, you can minimize the time and effort you will use to install it. It is also essential to choose something that you can easily uninstall if you don't need to control the sway.