May 31, 2020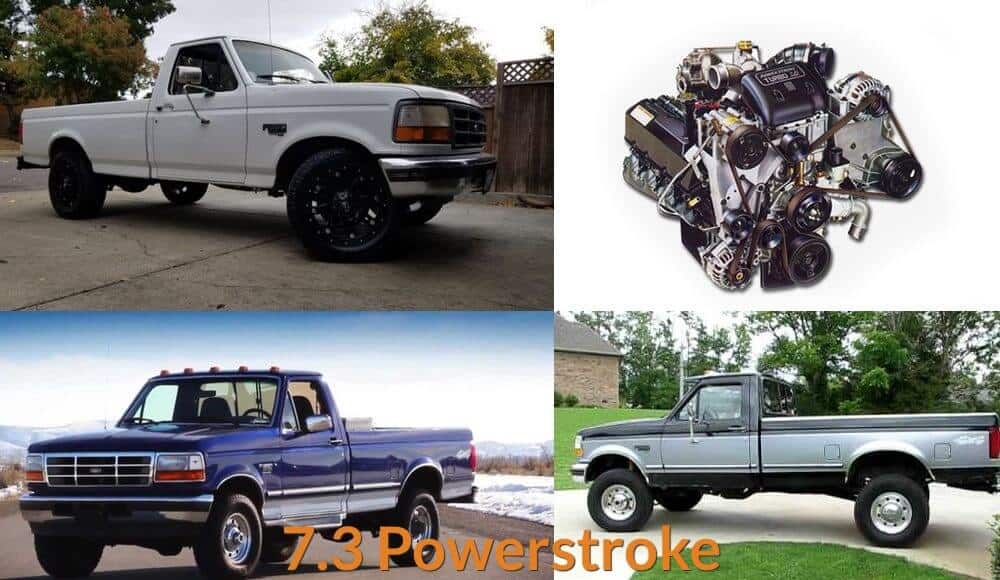 Ford Motor Company has been producing great trucks, both light and heavy, for consumers. These trucks are equipped with powerful engines. And one of the popular diesel engines for Ford's trucks is called "Power stroke engines." Power stroke refers to a term used to refer to a diesel engine made for Ford's trucks since the year 1994. Its applications include those of the Ford F-Series, Ford E-Series, Ford LCF (commercial truck), and Ford Excursion. The Ford Ranger's South American production also once used the name "power stroke" for another engine.
Ford had Navistar International under contract to produce engines for its 1-ton pickup and heavy-duty Ford 3/4-ton trucks. Hence, from 1994, Ford had been rebranding the Navistar T444E Turbo-diesel V8 engine for its use. Its Ford rebranded version is the 7.3L Power Stroke V8. Ford uses these Power Stroke engines for its medium-duty trucks.
Navistar International, of course, is known for producing great diesel engines for trucks. However, Ford began producing diesel engines in 2010 with the introduction of the engine 6.7L PowerStroke V8. The PowerStroke Engine was then marketed as a competition of the GM Duramax V8, Dodge Cummins B-Series inline-six, and large-block V8 and V10 gasoline engines.
---
Understanding the 7.3 Power Stroke Engines
Navistar had been under contract with Ford to produce diesel engines for its light and medium trucks. Hence, the first engine that bore the name of Power Stroke produced by Navistar International for Ford is the Navistar T444E turbodiesel V8. This engine bears the name of 7.3L Power Stroke V8 as a rebranded engine.
The 7.3L Power Stroke V8 was first introduced in the year 1994. The purpose of its launch was to replace the 7.3L IDI V8 at that time. During that time, this engine was new. It had a commonality with its predecessor. Its similarities with its predecessor, however, lie in its stroke dimensions and its bore. Thus, it had identical 444 cu in. or 7.3L displacement as that of its predecessor.
The battle-tested 7.3L Power Stroke is the most desired engine among the engines used by Ford. It differs significantly from its predecessor, 7.3L IDI. Hence, you should not be confused with these two different engines. The IDI, of course, is a reliable engine. Yet, the 7.3L presents a more powerful performance. Moreover, if you have this engine, you can expect it to be perfectly functional even after 350,000 miles.
Its automatic transmission may not be that spectacular. Yet, it is very much reliable. Moreover, you can buy many upgrades at hand if you want to sell your Ford engine.
The good thing about this engine is that you can modify it. You can also tune it to give it substantial horsepower or torque. This engine also offers respectable fuel use as compared to that of the IDI. Yet, this depends on your manner of driving.
---
How Does Power Stroke Perform?
This engine features a direct-injection engine that is electronically controlled. Its bore is 4.11 x 4.18 inches. Its stroke creates a displacement of around 444 cubic inches or 7.3 liters. Its compression ratio is 17.5:1. This engine, of course, can produce up to 250 hp. It is also capable of producing a maximum 505lb.ft or 685N.m of torque in most automatic transmission trucks. It is also capable of 275 hp or 525 lb. ft of torque in trucks with manual transmission. It can store oil of up to 15 US qt. Its oil pan can hold up to 15 US qt. Its top-end, however, can bear an added 3 US qt of oil. Thus, its total capacity is 18 US qt.
---
Evolution of Power Stroke Injector
Since its introduction in 1994, the DI power stroke from 1994to 1997 features HUEI injector. It is a single-shot type of injector named HEUI (hydraulically actuated electronic unit injection) fuel injectors. The introduction of the HEUI injector was one of the breakthroughs made by Ford during that time.
Let's explore more detail about this type of fuel injection breakthrough. These fuel injectors were tagged as AA code injectors, though those coming from California got AB code injectors. To create the needed oil pressure for firing the fuel injectors, it is equipped with a high-pressure oil pump (HPOP) that has a 15° swashplate angle.
It is, somehow, also related to the development of the fuel pump. However, Trucks made during the year 1995 to 1997 carry a cam-driven fuel pump characterized by two stages. On the other hand, during the year 1999 between 2003, all the Powerstroke trucks come with a deadhead fuel system.
According to comments and feedback given by the previous and existing owners, Powerstroke 7.3 that made in the year 1997, is the best Powerstroke model that they ever have. It's more robust and quality.
The trucks from California, however, of models of the 1996-1997 models come with 129-cc split shot fuel injectors, though other trucks have not been equipped with split-shot injectors until the year 1999. The split-shot injectors are designed to lessen the knock or sharp combustion and lower NOx emissions. It does exhibit a better and more complete burn.
However, the 1994-1997 engine is characterized by a non-waste-gated turbocharger. It also has a 1.15 A/R turbine housing size. It also has an air-to-air intercooler to produce highly charged air coming from the engine's turbo to allow for a greater and higher air density. This adjustment is mainly to improve its engine performance. With this new addition of intercooler, the engine will have an increased horsepower potential. This new intercooler will also reduce the overall temperatures of the exhaust gas.
In 1999, there was a change in his turbine housing to a .84 A/R. Shortly after the beginning of the year 1999, the maker of this engine added a wastegate. The 1999 engine received likewise 140 cc injectors, which increase its capacity from 120 cc. This change increased its HPOP capability, and it now uses a swash plate with a 17° angle to handle the larger and high-flowing injectors.
If you are going to upgrade the manual performance, it is but fitting that you upgrade to a performance clutch. This will help the engine hold better without slippage due to a higher level of power and performance. Thus, you should choose a clutch with a higher power rating for optimal performance and long life.
---
Issues Concomitant with 7.3 PowerStroke
The 7.3 PowerStroke is not without its concomitant issues. Here are some issues that usually hound the use of 7.3 PowerStroke.
1) Because of the higher pressure on the valve-train that has a 6.0-liter engine design, the rocker arm tips impact or produce great friction after reaching 100,000 to 150,000 miles.
2) Failures of the piston ring in number 7 and 8 cylinders because of the regeneration process. During the regeneration process and exhaust stroke, fuel is injected to enhance the temperature of the exhaust for DPF cleaning. This process, however, makes the piston rings more vulnerable to excessive heat that can make the piston rings to lose some of its tensions. This causes, then, a decrease in compression or no compression at all. It also causes excessive blow-by.
3) Failures of the Turbocharger bearing seal may lead to leaking of lubricating oil to the bearing seal. This is due to the regeneration process that pushes increased exhaust temperatures via the turbocharger. This will cause a speedy and early DPF clogging. This, then, keeps the engine in the regeneration mode. You should correct this condition quickly. Otherwise, the engine oil will pump out of the engine through the leaking seal. This will, in turn, let the engine oil via the exhaust. This, in turn, will lead to complete engine failure because of the absence of lubrication.
4) It exhibits higher cavitation erosion incidents of the front cover because of the speed of the bigger water pump impeller. This causes the coolant to leak and combine with the engine oil.
5) Since its cylinder head valve guides don't carry bronze sleeves. This, however, lets excessive wearing and leakage of oil around the valves. This is also an issue with the 6.0L.
6) Moreover, the cost of repair parts and service may be very high in comparison to other PowerStroke.
7) Upgrading the engine with aftermarket tuning may introduce excessively advanced fuel injection timing that may result in the crackling of the cylinder's heads. This can lead to too much combustion temperatures.