June 7, 2023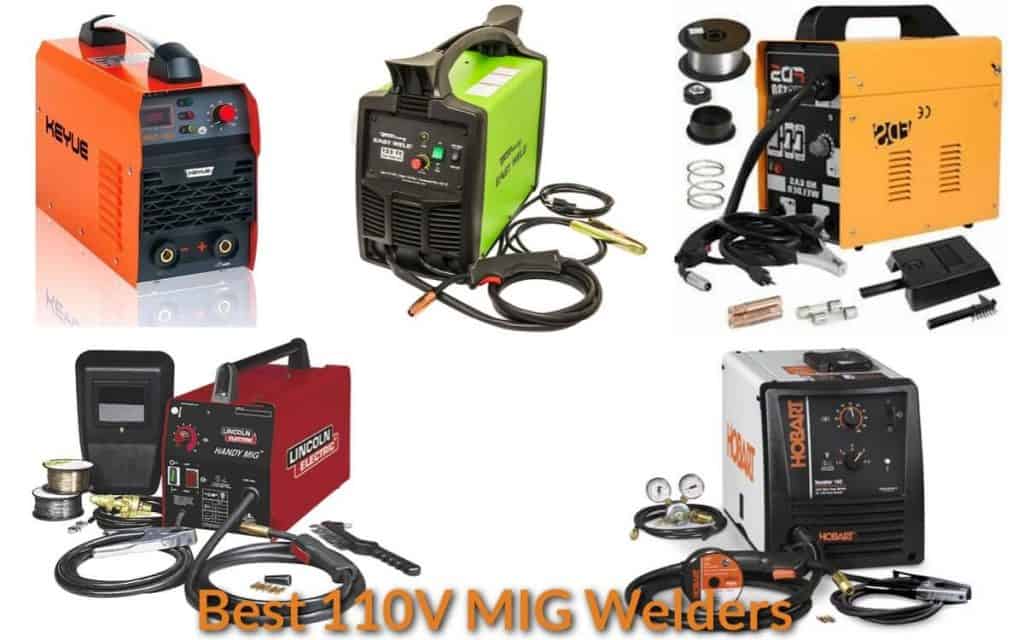 There are myriads of MIG Welders available on the market today. Given this significant number of brands and models of MIG Welders, you would surely find it challenging to choose the right MIG Welder model to buy if you are just beginning to learn the art of welding. Moreover, many MIG welders are meant for small-scale projects.
But if you want to upgrade to something that you could use for large projects, you would surely need something that could handle heavier materials. In this review, therefore, we would like to help you search for a quality 110V MIG welder. We have delineated here a list of quality MIG welders from which you can choose. We've also listed the factors that you need to consider when buying a MIG welder along with the pros and cons of the MIG welder models listed below.
---
7 Most Recommended 110V MIG Welders
To facilitate the process of choosing the ideal 110V MIG welder for your needs, we have delineated here the most highly recommended 110V MIG welders on the market today:
1) Weldpro MIG200GDsv
If you're looking for a dual-voltage input welding machine, you should check out the Weldpro MIG200GDsv. The good thing about this machine is you can plug this machine into both 220-240-volt and 110-120-volt power outlets. Moreover, this machine is affordable and is appropriate for beginner's use. Nevertheless, despite being suitable for beginners, it also offers professional performance.
The Weldpro MIG200GDsv lets you TIG or stick weld using this compact unit. This welder is perfect for various applications like fabrication, construction, farm work, and DIY welding. It is an entry-level welding machine, but it can indeed provide you a broad scope of applications. With it, you can carry out some welding tasks like flux core welding, MIG welding, Lift TIG welding, and stick welding. However, the TIG process is not available for aluminum welding.
This welding machine lets you weld mild steel with a maximum thickness of one-half inch using 220 volts. You can also simultaneously adjust wire speed and voltage by manipulating the dial when engaged in MIG welding. Besides, this dial is easily controllable and does away with the need for fine-tuning. Moreover, it comes with three primary wire settings (40,30,23). Plus, it is lightweight at 30 pounds.
Pros:
It offers both TIG and MIG torches.
It comes with a (MIG) gas regulator.
It also comes with a dual digital display for easy adjustment.
It is portable, compact, and lightweight.
It is safe to use with its additional safety features like overload protection and VRD high-temperature protection.
It allows you to work using three welding processes.
Cons:
It doesn't come with a spool gun.
---
2) Hobart 500559 Handler 140 MIG Welder 115V
One of the most popular brands when it comes to welding is "Hobart." Hobart's most popular MIG welder, however, is the Hobart 500559 Handler. Hobart Handler is known for its quality and durability. It is a wire-feed welder and is MIG-ready. It is portable and easy to transport from one place to another, allowing you to weld anywhere there is a need for some welding job.
The Hobart 500559 Handler provides an excellent arc performance that makes it a very versatile MIG welder. It operates on 115V current with a 20-amp circuit recommendation. It is a 5-position welding device that features a voltage selector that allows you to readily fine-tune its arc.
Its design features a built-in drive system made of industrial cast aluminum, along with its heavy-duty work clamp.
When it comes to setting up, it is quite easy to set up. If you are a first-timer welder, you would surely find this one easy to operate. It comes with a weld setup guide for easy operation.
The Handler 140 is great for DIY projects like welding autobody panels, trailer frames, mower decks, exhaust systems, garden equipment, and many more.
The Hobart Handler comes with an affordable price tag. Out-of-the-box, you would find practically everything that you need to operate it in the package.
Pros:
It is easy to use.
It comes covered with years of warranty.
It is lightweight and easy to transport.
It is also straightforward to set up.
Cons:
Its voltage capability is small, and thus, it may not be appropriate for use in big projects.
---
3) Lincoln Electric K2185-1 Handy MIG Welder
The Lincoln Electric K2185-1 features a compact and very lightweight welder, which is a great choice if you want to engage in welding as a hobbyist. It allows for both MIG and flux-cored welding. In our opinion, Lincoln Electric is considered as one of the best 110V MIG welder on the market today.
The Lincoln Electric K2185-1 is capable of welding up to 1/8″ of mild steel. It is very portable and comes with a good design. Its dimensions are 18 x 11 x 17 inches, and it weighs around 49 pounds.
The Lincoln Electric K2185-1 features an easy-to-adjust wire feed control that you would surely appreciate. It is easy to operate. You simply need to plug it to a 20-amp outlet. It can be operated using gas, but it can also operate without gas.
Out of the box, it comes with everything that you would need to start welding. It comes with the gun, cable assembly, clamp, work cable, hose, gas regulator, and many more. To engage in welding, you only need to have a protective gas source at hand.
Pros:
It is known for its durability and solid design.
It is compact and lightweight.
It welds both flux-core and MIG.
Cons:
It is not designed for heavy-duty applications.
It is limited to welding up to 1/8″.
It does not have shielding gas.
---
4) Goplus MIG 130 Welder Flux Core Wire Automatic Feed Welding Machine w/Free Mask
The GoPlus MIG 130 features a very compact and exquisite design that is made of stainless-steel body that is meant for durability. It makes use of flux-cored wire that readily releases inert gas during the welding process. When it comes to controlling setup, it features a four-level current flow setting. It also comes with a wire-feeding speed rotary knob for adjusting feeding speed. It basically comes with a ten-level feeding speed.
The GoPlus is capable of welding thin steel and even iron. It is ideal for use in DIY projects. When it comes to transportability, the GoPlus is quite easy to transport. It comes with an easy carrying handle. It is also lightweight with compact design for easy storage.
Another salient feature of the GoPlus is its two air vents for heat dissipation. It also comes with an on/off safety control for the welding gun. Moreover, it comes with a welding wire reel plus protection mask and chipping hammer. Just like the Super Deal Pro, it is very affordable.
Pros:
It can help you achieve your small DIY welding projects.
It is very affordable.
Cons:
It is not meant for larger welding projects.
It is not intended to last longer as compared to Lincoln Electric K2185-1 or other more expensive brands.
---
5) Super Deal PRO Commercial MIG 130 AC 110V Welder
The Super Deal PRO Commercial MIG 130 AC 110V welder is made of quality PVC material that is delicately treated. Its design basically integrates easy and high-precision operation and comfortable grip. It also utilizes a highly advanced control technology that comes with an adjustable inductor allowing you to adjust its inductance according to the welding requirements. This feature allows for soft electric arc, reduced spatter, increased depth of fusion, and high-quality welding performance.
The Super Deal features an AutoMIG control panel that is both intuitive and offers a clear overview. It also features a range of temperature controls and wire feed speeds. Its metal tip doesn't let the slags to accumulate when you are welding. It also comes with a cooling fan along with thermal overload protection. The Super Deal Pro is lightweight at 38 lbs. Though lightweight, it is a powerful welder. Lastly, it is very affordable and unbeatable when it comes to price.
Pros:
It is easy to set up.
It is very affordable.
Cons:
It is not meant for large welding projects.
---
6) Forney 298 Arc Welder
If you want a stick welder, you can consider the Forney 298 Arc Welder. It features a ninety-amp output as well as a 120V input. Moreover, it is easy to use. You only plug it in, and you're off to go. When it comes to portability, the Forney 298 is known for its excellent portability. It is undoubtedly lightweight, allowing you to tag it along anywhere. Besides, it is only around seven and a half pounds. Its cord is also about six feet long.
When it comes to durability, it is known for withstanding the test of time. It can also be used for both indoor and outdoor settings. It also features a carrying handle wherein you can coil the cords for better organization. It also features a built-in fan that turns on when you start welding.
Pros:
It doesn't necessitate any battery.
It is portable and comes with a convenient handle.
It comes with TIG capability, allowing you to switch between stick and TIG welding with ease.
It doesn't require compressed gasses.
It can weld at varying distances.
Cons:
It is devoid of a gas hookup.
It can TIG weld, but you need to buy your TIG torch.
The product seems to be overpriced.
It only operates by AC.
---
7) Lotos MIG140 MIG Welder
If you're looking for an excellent MIG welding equipment, you better check out the Lotos MIG140. It can be your starter welder. It is pretty quick to set up, and within ten minutes, you can already begin welding. Moreover, its digital displays are excellent in helping you adjust its settings. Its 20% duty cycle rating is also a remarkable improvement from other entry-level welding machines.
As a welding device, it is versatile, allowing you to weld different types of metals. Its quick connector (ground cable) has been designed innovatively to let you switch from positive polarity to negative polarity.
The Lotos MIG140 is perfect for hobbyists and beginners.
Nevertheless, it seems inappropriate for use in a workshop that sees a heavy workload because it is a bit light duty. Furthermore, it features a 2T/4T switch. This switch lets you select between automatic and manual feeding of flux wire. You can also use this machine for welding aluminum. However, you need to buy a spindle feeder for aluminum for optimal performance.
Pros:
It is easy to set up.
It is versatile, allowing you to weld different metals.
Its digital displays are very useful.
Cons:
Its price is not low as compared to other models for beginners.
It doesn't come with a welding chart.
---
Things to Consider When Buying a 110V MIG Welder
When buying a 110V MIG Welder, there are several factors that you need to consider. These factors include the projects you would engage in, type of welder, power options, duty-cycle requirements, type of welds, and your budget.
Materials that You would Weld
If you are going to do some home projects that are small scale, you would need something that is simply designed for small scale projects. But if you are going to weld thicker and heavier materials, you would surely need something heavy-duty. Your choice of MIG welder will inevitably boil down to the kind of projects that you would like to engage in and the materials that you would work on.
Type of Welder
When it comes to welding, you basically have three primary types of welders to choose from. You can go for a Stick welder, MIG, or TIG welders. Of course, the most popular option is the MIG welder because of its less expensive price tag.
If you are a tyro in welding, you should opt for the MIG welder because it is easy to use and is applicable for use in different project types. MIG welders generally make use of a wire feeder, allowing you to operate this type of welder faster than those of the TIG and the Stick type of welders.
Duty Cycle Requirements
Welders are usually categorized according to their duty cycles. Duty cycle, of course, refers to the amount of work a welder can operate a load within a given time. The given time is usually ten minutes. So, if you have a welder that has a 60% duty cycle given 150A, you need to cool down the welder after 6 minutes of operation.
Power Option
Another factor that you need to consider is the power options of the welder. Welders usually vary in power voltage. If you have a high-voltage welder, for example, you should not immediately use it out of the box for high-voltage welders require a different power supply system. But welders for small-scale projects do not necessarily require elaborate power supply setup. Thus, if you are using low voltage welding machine, you can immediately have it plugged into the nearest power outlet to operate it.
Types of Welds and Methods of Welding
There are various types of welds. Some types of welds include butt joint, T-joint, lap joint, corner joint, double welds, edge joint, and many more. There are also different types of welding methods to accomplish these different types of welds. These different types of methods include Shielded Metal Arc Welding (SMAW), Gas Tungsten Arc Welding (GTAW), Gas Metal Arc Welding (GMAW), Flux-cored Arc Welding (FCAW), Submerged Arc Welding (SAW), Electroslag Welding (ESW). It is of value that before buying a welder, you are already aware of these different types of welds and the abovementioned methods of welding.
Conclusion
MIG welding is popular for beginners for it is a great process to begin your welding career. MIG welders, of course, produce nice-looking welds. Moreover, it is easy to learn and is inexpensive. Besides, MIG welding is the easiest to learn among the welding process. When buying a MIG welder, you also have a choice between a 110-volt welder and a 220-volt welder. The 110V MIG is easy to use, and you can plug it into any 110V outlet.
Nevertheless, you are limited when it comes to the amperage that your MIG welder will produce via the 110V outlet. So, you can only weld metals that are as thick as 1/8″ and below when using 110V. If you necessitate more power and want to weld something that is 1/2-inch thick in one pass, you should go for a 220V welder.