June 7, 2023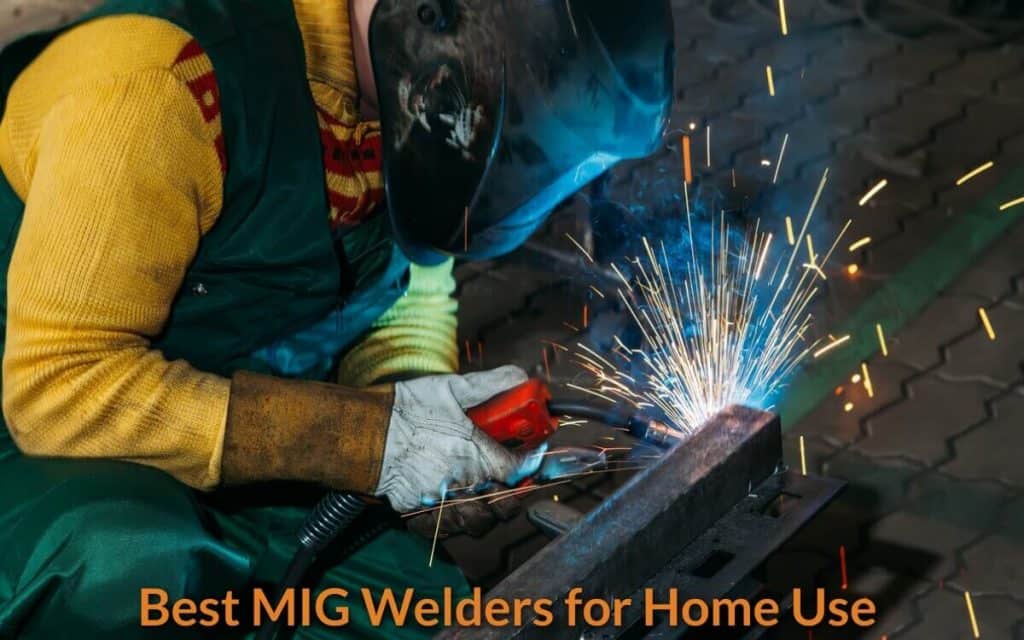 You would sometimes find yourself needing to do some repairs at home, and doing repairs is part and parcel of home maintenance. If you do not have the necessary tools like a MIG welder, you may end up unable to engage in little repairs at home. Finding the right MIG welder for your home welding needs, however, requires being informed of the fundamental factors when buying a MIG welder.
Why Choose MIG Welding Procedure For Home Use?
If you are a beginner who is still trying to figure out the brand and model of MIG welder that you are going to choose, you would probably get a bit confused because of the myriads of brands and models out on the market today.
Wire feed welding, like MIG welding, comes with several benefits. First, it offers greater efficiency over the use of stick welding. Second, it doesn't require elaborate welding skill on your part and is easily learned. With the use of stick welding, however, you would need greater motor coordination which means your hand movements should be highly coordinated to accomplish the feeding of the electrode rod into the wed puddle while you press the weld and trigger.
Hence, if you are a beginner who is trying to learn the rudiments of welding, your best choice is wire welding. MIG welding is perfect because it offers you a wire feed welding process that is easy to learn.
MIG welding is also a perfect choice for home welding if you want your weld to look better because it produces less amount of spatters. Moreover, the use of MIG welder applies to a wider range of welding applications. You can use it for welding thinner materials. You can also use it for joining different types of materials, including stainless steel or aluminum.
With MIG welding, however, you will need a shielding bottle gas; hence, if you are concerned with convenience and portability, you may find MIG welder a less attractive option.
Joints that are done using MIG welder, however, are stronger and are more ductile. They also come with less distortion.
Other aspects that you need to consider when welding include wire position and speed, meter volts, and amps. You also need to have a consistent current supply of power with minimal voltage drop. Moreover, you need to watch over your machine to prevent overheating.
Factors to Consider When Buying a MIG Welder
When choosing a MIG welder for home use, you need to consider several essential factors.
1) First, You Need to Consider Your Welding Needs
Knowing your reasons in buying a MIG welding will surely help you get the ideal welder for your needs. Since home welding basically entails small-scale welding tasks, you don't have to buy something heavy-duty. You also don't want to buy something that has more power than what you need. Moreover, you don't want something that has less power than your requirement.
2) Consider the Available Input Power
You should, at the onset, consider the input power you have at home. If your only available input power at home is 115V, then, you should go for a welder that is within the range of 115V. If you have an input power of 230V at home, then, you could choose a machine that has greater voltage capabilities.
3) Your Budget
The higher your budget is, the more options you will have when it comes to finding the best MIG welder at hand. You can also find something that has better features. Your limits in your choice basically boil down to how much budget you have at your disposal.
4) Thermal Overload Protection & Duty Cycle
One problem you may encounter while welding is the overheating of your welding machine. Hence, you should consider the thermal overload protection and duty cycle of the machine that you are going to choose. If you want to avoid thermal overload, you need to buy a MIG welder that features thermal overload protection. This thermal overload protection feature can act as a guarantee that your machine will last longer.
You should also measure your welding output before choosing a MIG welder. This welding output is aptly measured via amperage and voltage. This measurement is called the "duty cycle." Duty cycle refers to the time that a welder can operate within a certain output without the welding components bogging down because of overheating. A 20% duty cycle at 180A/240V means you can operate it for two minutes given the abovementioned output.
5) Thickness of Metal Materials To Be Welded
MIG welders are best for 24 to 12-gauge materials. The output amperage of the machine, however, generally determines the maximum thickness of the materials you can weld. On the other hand, the material thickness will also determine the welding process that you should choose. If you intend, for example, to weld 1/8″ materials most of the time, you would need to select a 230V machine.
If you would use mostly weld materials with thickness below 1/8″, you would need something like a 115V MIG welder. When choosing a welder, you need to look at the machine's amperage ratings. Don't overburden your machine by frequently welding above the recommended amperage.
6) Safety Issues
Another critical issue that you need to address is the safety issue. You should look for a MIG welder that offers great safety features. Ensure that you are safe when you engage in any welding undertaking. Moreover, ensure that your choice is working well and has safety features that make your welding job highly secure.
7) Wire Type and Size
You should also consider the capabilities of your machine and its intended applications. So, always find the spool size that the welder can handle. Moreover, you should choose the wire that is best suited for the task at hand. Some all-purpose wires and wires are best for welding dirty and rusty metals.
Most Recommended MIG Welders for Home Use
To make it easy for you to find the ideal welder for your home use, here is a list of the most recommended MIG welders on the market today:
1) Everlast Power MTS 251S1
Everlast Power MTS 251S1 features a digital IGBT inverter built that is very versatile to use. It is a multi-process welder that comes with MIG/TIG features. It is capable of stick welding, likewise. It is a compact welding machine that belongs to the fourth generation of multi-process inverter welders that are digitally controlled. It is designed for versatility, being capable of DC MIG, Stick, and TIG welding capabilities as well as Pulse MIG and Pulse TIG welding capabilities.
The most distinctive feature of the Power MTS 251S1 is its ability to allow an operator to select between the high-frequency touchless start and lift start via TIG mode. It is also easy to set up and operate. The controls are mostly located on its front panel. Moreover, they are grouped based on their functionalities.
The Everlast Power MTS251S1 weighs around 80 pounds. It comes with 12-ft TIG torch along with a 35 DINSE-style connector. It also comes with a 10-ft Series 24 MIG torch along with a Euro-style easy-connect fitting. Moreover, it comes with a stick electrode holder along with 10-ft cable. Lastly, it also comes with a consumable starter kit and a foot pedal as well as an Argon regulator.
---
2) Hobart Handler 140 MIG Welder
One great choice when it comes to 110V welding machines is the Hobart handler 500559. This welding machine is solidly built as compared to other brands. Its shell is constructed of sturdy and thick steel. Moreover, its wire feed assembly is perfectly made of metal. Thus, you can be sure that it is strong and long-lasting. Its 10-foot long clamp and gun are likewise longer as compared to those of other MIG welders.
It seems that every part of this machine is well-chosen and well-built, including its gas regulator. This welding machine is American-made, and its quality is sterling.
With the sterling features of this welding machine, the only reason you would hold back from buying this MIG welder is its price. It may be pricey as compared to other lesser quality brands, but you would surely get something of high quality with this welding machine.
A good welder is best evaluated by the way it can pull and push bead. In such an aspect, the Hobart Handler excels. You can, in some way, compare the Hobart to the Millermatic 200 when used with lighter material. Lastly, Hobart Handler 140 is considered the top MIG welder model in its class.
---
3) Lincoln Electric Handheld 120 VAC
The Lincoln Electric Handheld 120 VAC is considered to be on top among MIG welders. In the class of 120V wire welder category, Lincoln Electric is considered to be the best. It can inevitably weld different types of metal. It can weld stainless steel as well. The Lincoln Easy MIG 140 can be powered both by 120V to 230V power output.
The Lincoln MIG 140 is very easy to use. It is versatile as a handheld gear. You can carry it around without immediately tiring your arms and hands. The most salient features of the Lincoln 140 MIG welder, however, is its wide range of welding capabilities. It can do the welding task with ease and automatically. As mentioned above, it can weld thick and thin metals.
When it comes to ease of use, it has easy settings, and it is easy to set up. It comes with auto set options that make it convenient and easy to use. It also produces a clean weld. It is capable of both flux and MIG welding. It is also capable of aluminum welding using a spool gun. It is quite easy to set up for deep penetration on thick steel for flux-cored welding. You can also set it up for gas-shielded MIG welding on thinner gauge steel. Lastly, Lincoln 140 is a great choice if you want to have an impressive welding machine for your welding needs.
---
4) Forney Easy Weld 299 125FC Flux Core Welder, 120-Volt, 125-Amp
Forney Easy Weld 299 125FC Flux Core Welder, 120-Volt, 125-Amp is a piece of flux-cored welding equipment that some people call a MIG welder despite not needing a shielding gas. Some also refer to it as a piece of wire-feed welding equipment although you can't really add gas when using this machine.
The Forney Easy Weld is highly recommended for use by beginners who want to try their hand on welding and who want to learn the rudiments of welding. With this machine, you can gain confidence and improve your welding skill. You can also begin welding your broken metal equipment and engage in small-scale projects within your home.
The Forney Easy Weld features a ground clamp as well as a MIG gun. It makes use of .030″ flux-core wire. This implies that the flux comes along, built-in with the wire, and readily provides the necessary shield for the weld puddle.
If you are going to weld thin material, you can set this machine at high wire feed speed. With thicker materials, you can set it with a low wire-feed on a steel plate. Lastly, when welding with this equipment, you should ensure that the ground clamp is properly attached to the metal workbench.
---
Conclusion:
Doing repairs at home will unquestionably become accessible with a reliable MIG welder at hand. Finding the right MIG welder, as mentioned above, may not be easy for those who are first-timers in using MIG welder. Hence, we've engaged in this simple review to provide you the reasons why you should go for a MIG welder and the factors that you should consider when buying a MIG welder.
The abovementioned MIG welders are popularly known for their great features. You can choose any of them, and each of them will surely deliver the best results. Though we favor Lincoln Electric Handheld 120 VAC among the four choices we've given, it doesn't mean that the other three are not that good. It's just that there are some advantages in using the Lincoln 120 if you are just a tyro in welding.