June 7, 2023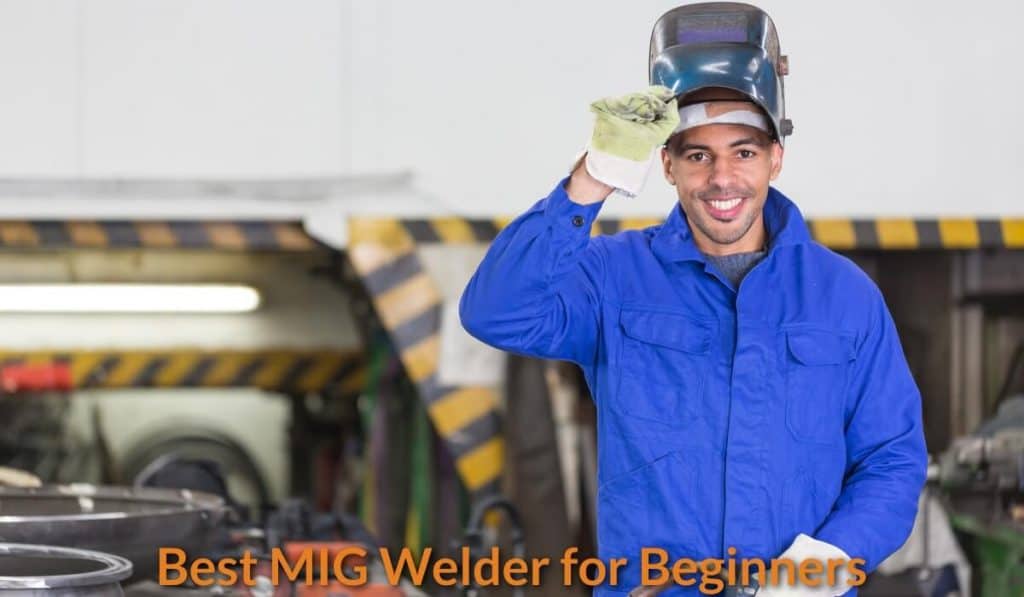 Underlying the contemporary progress of human civilization is the importance of welding materials like steel, brass, aluminum, and many other materials, without which, progress is impossible. Thus, welding is vital to industrial development and growth. There are, however, many types of welding, and the most popular among them is the Gas Metal Arc Welding (GMAW). GMAW is likewise known as Metal Arc Gas (MIG) Welding—MIG welding, being the most-known type of GMAW.
Why is MIG Welding Best for Beginners?
You can go straight to stick welding or TIG welding as a beginner. However, let me give some compelling reasons why these two are not ideal for use by beginners. Stick welding, for example, has been here for a long time. As a welding process, it is definitely great! However, it isn't best for beginners because it entails a steep learning curve to master it. You'll be required to practice a lot just to perfectly strike the arc or lay down quality and strong weld.
With Stick welding, you would surely find it hard to see the weld puddle. Hence, it is advisable to start with the MIG welder, because, with MIG, the weld puddle is easily visible.
On the other hand, TIG welding is a more advanced type of welding. This is because it entails more advanced welding skills. You would be holding in one hand a torch while you drip a filler rod into the given weld puddle. Moreover, you would need to control your amperage using your foot while you perform the abovementioned tasks. So, it requires more practice and better coordination on your part.
Most Recommended MIG Welders for Beginners
To facilitate your search for the ideal MIG welder, here is a list of the top and highly recommended MIG welders for those who are tyros in the field of welding:
1) Hobart Handler 190 230V
One of your best options when welding aluminum is the Hobart Handler 190. It comes with a range of output power from 25A to 190A. Moreover, its 30% maximum duty cycle at 130A is perfect for welding aluminum, stainless steel, and mild steel. You can use this for welding materials with a gauge from 24 to 5/16 inch. It is also perfect for many metal fabricating jobs like construction, maintenance, auto body repairs, and many more.
The design of the Hobart Handler 190 is well-thought. It is well-built to last longer, and it provides excellent weld. The Hobart Handler 190 is spool-gun ready for aluminum welding. This eliminates the feeding problem associated with aluminum wire welding. It is undoubtedly perfect for beginners who are just learning the rudiments of MIG welding.
Hobart 190 is also equipped with an 8″ spool adapter, .03 flux-cored sample spool, .030 contact tips, and setup guide. Moreover, it comes with short circuit motor protection that is self-setting and a self-setting thermal overload.
When it comes to portability, it is barely 68 pounds, and hence, quite portable. You can power this using a generator with a minimum wattage of 7000W. The Hobart Handler 190 is surely perfect for beginners who would like to try their hand on welding for the first time.
---
2) Hobart Handler 140 115V
The Hobart Handler 140 is perfectly designed for beginners. It comes with high quality and durability, Hobart—is known for quality and durable products. Its design is simple and sterling. Plus, it features easy-to-use settings. It is also easy to power up, plus it is very portable. It is undoubtedly a breeze to use for beginners.
The Hobart Handler 140 is designed for tackling any type of welding project. It can weld 24-gauge metals up to 1/4″ mild steel. Therefore, It is very suitable for welding copper, iron, titanium, brass, alloys, magnesium, cast iron, and flux-cored aluminum.
You can operate it at home using 115V standard current with 25 to 140 amperage output. It also comes with a 5-position voltage control selector. Moreover, it is known for producing a very stable arc.
The versatility of this equipment makes it ideal for use by beginners and welders who engage in household repairs, farm projects, auto-body repairs, or any type of small-scale projects. Its spool of wire readily functions as its filler material. Thus, it is easy to use and features a quick-release lever that gives the welder complete control over the weld. It likewise does not leave nor create slags. So, if you are a beginner in the art of welding, you can consider the Hobart 140 since it is the primary choice of most welding experts for use by beginners.
---
3) LOTOS MIG140 140Amp MIG Welder
Lotos MIG 140 is another great choice for beginners. It comes with a lot of nice features. You can use it with flux-cored welding wire; you can also use it with a solid wire along with separate shielding gas.
It can weld from 24-gauge stainless steel up to 3/16 inch. It can also weld from 24-gauge mild steel up to 3/16 inch. Moreover, it can weld aluminum with a thickness of 1/8″ via the use of compatible Lotos spool gun. With this welder, you can use either shielding gas or flux-cored wire.
If you intend to engage in fixing or modifying your machinery, you can always count on this welding machine. You can also use this equipment for major repairs. The Lotos MIG 140 is also easy to operate. Additionally, you can easily connect this unit to any existing 110V wall outlet.
It is also very portable and lightweight at 54 pounds and has the following dimensions of 22 x 10 x 16 inches. Lastly, its price is within the affordable range of the welding equipment.
---
Other Factors Beginners Have to Cope With when Welding
There are several factors that a beginner should worry about when beginning to weld.
Controls
First, he should worry about controls. MIG welder readily gives you a sense of control when you start to weld. Thus, it is really a good idea to begin with MIG welding.
Power Source & Output
Another factor that you should worry about is the source of power for your welder. MIG welder can be readily operated using 115/120V. If you're going to use a welding machine that your home breaker can't handle, you are certainly courting disaster
Another thing to worry about, as a beginner, is about the consistency of the welds that you produce. So, it doesn't matter at the onset whether your welder is powerful or not. What is important is that it can produce consistent weld output.
Weld Consistency
To achieve such consistency as a beginner, you need a piece of welding equipment whose variables are consistently the same every time you weld. In this case, you need a welder that is equipped with a built-in regulator. Without a good built-in regulator, you may have to deal with the issue of sputtering when trying to achieve a good weld. So, to cap it up, you basically need simple controls, low power source, consistent welds, and affordable equipment.
---
Factors to Consider When Choosing a MIG Welder
There are many brands and models of MIG welders on the market today. Choosing the ideal one for your use sometimes poses a problem because of the great number of brands and models at hand. Thus, later in this article, we are going to list down some great choices of MIG welders for your convenience.
Quality, of course, is an essential factor when choosing a MIG welder. However, to facilitate the process of selecting the Best MIG Welder, we are giving here some salient factors for you to consider.
1) First, You Need To Understand Your Welding Needs
You should primarily know why you want a MIG welder and what for are you going to use it. Are you going to use it domestically and occasionally or are you going to use it heavily? So, basically, you need a welder that would be apt to the tasks that you have in mind.
2) Do You Need A Multifunction or a MIG/Flux-cored Welder?
Most welders on the market support flux-cored functions. But some still don't. If you intend to use your welder for diverse purposes, you should go for MIG/Flux-cored welder. This is to ensure that you get the most out of your machine. Look, therefore, for features like thermal overload protection and auto-set system.
3) Consider Your Power Requirement
If you intend to use your MIG welder at home for engaging in small-scale projects, you simply would require something with 115V requirement. Of course, such equipment is incapable of handling thick metals. But as a beginner, you should be contented with learning the basics of welding. You can, of course, opt for something that runs on dual power sources like the Millematic 140. But we would adamantly suggest that as a beginner, it is better to stick to 115V.
4) Consider Quality
Quality, of course, should be paramount in your choice of MIG welder. You don't want to buy something like a knockoff. Remember, quality really matters when it comes to welding. If you have an excellent MIG welder, you can surely improve on your skill and avoid the hassles concomitant with using a cheap MIG welder.
---
Conclusion:
The objective of this review is to give you an overview of how to go about with learning the rudiments of welding. We also aim to provide you with a simple guide on how to get started with MIG welding. Welding is surely an engaging undertaking that is quite fulfilling and rewarding.
The mastery of the craft like the art of welding, however, requires practice and proper guidance. Given the proper tools at the onset, you can smoothly proceed from learning the basics of the art of welding to the masterly of the craft. Your initial choice of a welder, however, can greatly facilitate the learning process for you.