June 11, 2021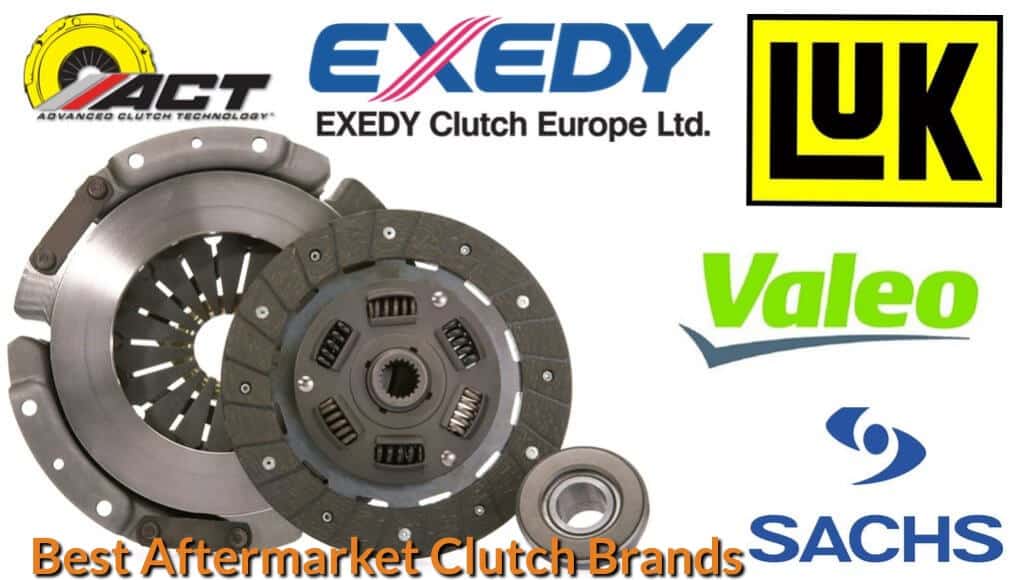 There are many quality aftermarket clutch brands and makers todays. It is a known fact that automatic transmission makes light work when driving. However, some car lovers will pick a manual transmission over an automatic transmission because they feel more in control when operating in a manual car. This thanks to the ability to manually use the clutch and switch from one gear to another. Furthermore, in a time were most cars being produced are automatic, settling for a manual car will give you a different driving experience, which reminds one of an aging past. Despite all these, the clutch which beautifies that driving experience in manual transmissions tends to fail. Below are some things you should know if you have to change the clutch of your car.
Top Aftermarket Brands For Clutch
1) EXEDY
EXEDY is a top-tier Original equipment manufacturer (OEM) and supplies equipment to a large number of automobile manufacturers around the world. This includes the whole Japanese car manufacturing industry, among others. EXEDY is also known for producing standard clutch kits for the aftermarket. Here, individuals can get clutch kits that suit their specifications. Furthermore, EXEDY does good by ensuring that their aftermarket kits are similar to the OEM product that initially came with the car. You can be assured of a reliable and long-lasting product when it comes to EXEDY. That is one of the reasons they dominate the market.
2) LUK
LUK is another top supplier of OEMs to automobile manufacturers around the globe, especially American brands. Famous manufacturers such as GMC, Ford, Chrysler, and Toyota use parts from LUK. The original equipment maker is also a recipient of many patents, which cuts across a wide range of products. This is an indication of the manufacturer's commitment to improving the automobile industry. This is one of the things that places it high in the industry. In addition to supplying manufacturers, there also provide spare parts, including clutch kits to the aftermarket. If you settle for a LUK clutch kit, you should know that you went for quality.
3) ACT
ACT is popular rolling out high-performance products usually designed for competitions. However, they still produce clutch kits that are fit for everyday use. The clutch kits produced by ACTS are put through a series of tests to certify the quality of the products. After this has been determined, they are then put up for shipment. Another benefit of settling for an ACT product is the fact that it comes with a one-year warranty. So, this can be summarized as a good buy, and we recommend it.
4) VALEO
Valeo is another clutch kit producer you should look out for, especially those that bear their distinct technology. The Self-adjusting Technology, which is also called SAT, is a technology that generally helps reduce wear in the clutch by compensating for worn surfaces on the pressure plate. This increases the lifespan of the clutch and increases the ease of using the clutch pedal. It is targeted mainly for truck makers. Valeo supplies OEM and aftermarket clutch kits, which happen to be similar.
5) Sachs
Sachs is arguably one of the best producers and suppliers of original equipment in the world of automobiles. They manufacture products for all types of vehicles, and their products are widely used. Also, Sachs clutches are known for their lasting durability. Besides making clutches, Sachs also manufactures other parts, for example, shocks and struts, which are essential suspension components. It is easy to find a Sachs clutch and also replace them as a result of their widespread usage. Therefore, it is not a bad decision if you go for a Sachs clutch kit.
---
How To Choose The Best Car Clutch: Things To Look Out For
When you set out to get an aftermarket clutch, there are some essential things you have to take into considerations. Among them are features such as the material the clutch is made of, the break-in period, wear properties, durability, the maximum temperature range, clamping force, etc.
Knowing these things and more will help you get the best clutch that suits your transmission. Failure to recognize these things is you planning to fail, below are other important facts you should be aware of to choose the best clutch.
Clutch Stage of the Brand
Clutch performance is usually grouped into stages by aftermarket clutch manufacturers. However, these stages are not well defined and can be confusing at times. The properties of a standard stage one clutch from one manufacturer may differ from that of another manufacturer. Therefore, you have to pay more attention to the properties and specifications listed for each distinct clutch. Let us take a look at the stages.
Stage 1: The clutches that are usually found in this stage are the closest clutch to the OEM clutch; that is why they are labeled as stage one. They exert a higher clamp force and can increase the torque of a car by about 100 ft-lbs. They come with a complete clutch disc, a friction surface made from organic compounds. These features make them street-worthy.
Stage 2: Clutches that fall under this stage retain more power than those found in stage one. Also, they offer better performance when compared to the first stage. However, some stage one clutches can still give you the above-listed functions.
Stage 3: The stage three clutch is designed for racing cars or drivers who are generally fond of high-performance cars. Also, vehicles that are used to carry heavy loads and navigating tough terrains can use this clutch. Their friction surface is usually designed with carbon or ceramic material, which helps the clutch to perform swiftly and powerfully.
Assembly
As there are different clutches, so are there different methods in assembling them. Most of these assembling methods are distinct for individual clutches. You should have this information in your mind when you set out to get a new clutch. Also, you should know that some methods of installing clutches are easier than others.
To save yourself this stress, it is best to go for the clutch you are familiar with, or the one you are confident has an easy installation feature. When you get the wrong clutch for your car, it will most likely be hard to install. This is not a situation you want to be in; that is why it is essential to consider all possible factors before purchasing a clutch or any other product.
Size
You have to factor in the size of the clutch because it matters. Things you can look out for when dealing with size are the type of material used in designing the clutch and the shape of the clutch.
If you settle for a clutch that is bigger than the space allocated for a clutch in your car, then there will be a problem because it won't fit. Therefore, to save yourself that stress, know the size of the clutch you need and stick to it.
Weight
Just as the size is essential, so is the weight of a clutch. The weight of different clutches varies, and you must consider this. You don't want to burden your car with an extra load it was not designed to carry. Furthermore, this will have a negative repercussion on your car.
Therefore, know the ideal weight of the clutch your car can take and go for it. This will help prevent unnecessary spending in the future.
Clutch Types
There are many types of clutches in our world today. However, they are broadly categorized into two groups, which are the diaphragm and the long style clutch.
Older cars feature the long style clutch more, while newer models settle for the diaphragm clutch. You can get a good level of pressure and work with the clutch pedal more on the long style clutch.
The crucial thing is to know the clutch type that suits your car. After you have noted the peculiarities of your car and what suits it, then you can go out in search of a new clutch. Also, do yourself the favor of not compromising on what you want.