June 7, 2023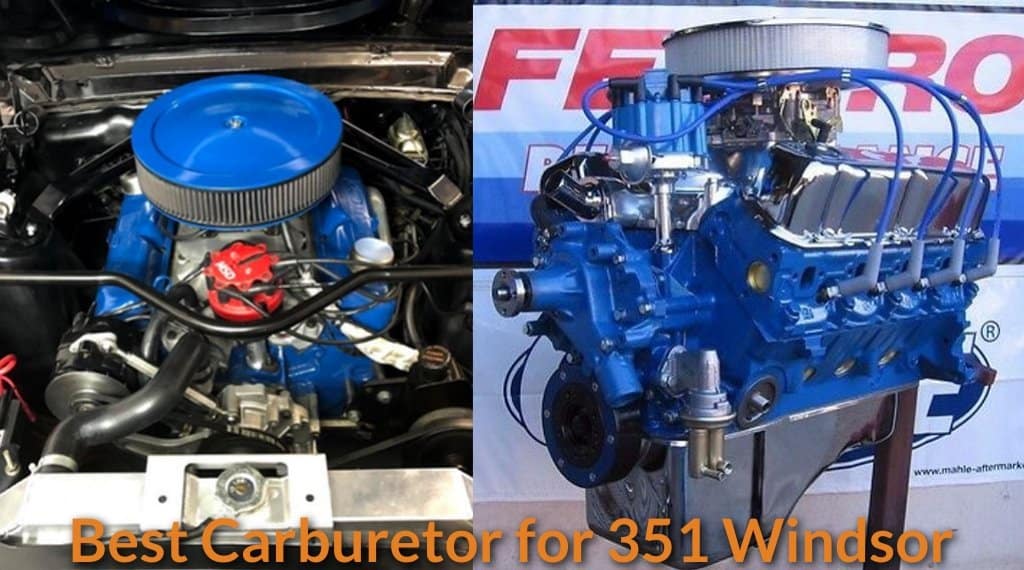 One of the longest-serving types of engines produced by Ford Motor Company is the Ford Small Block 351 cu in (5.8 L). This engine comes in a series of automobile V8 engines. But it was first rolled out by Ford in July 1961. It stayed in use until its use for trucks was discontinued after 1996. Later in 2001, its use was also discontinued for new SUVs (Explorers).
Ford did not name this series of engines. But to distinguish it from the Cleveland 335-family engines, it was called "Windsor." Though introduced in 1961, it was only in 1962 when it was completely uncovered. It was then used for Mercury Meteor and Fairlane Models.
The small-block Ford 351 Windsor features 351 cubic inches 5.8L V8 engine. It was named "Windsor" to distinguish it from the Cleveland 335 family, which is smaller. You will also find a Cleveland 351, though this is distinct from the 351 Windsor. This designation, however, was derived from the city of Windsor, Ontario, where it was manufactured. On the other hand, Cleveland was also derived from Cleveland, Ohio, where these engines were manufactured.
This engine succeeded the Ford Y-block engines. At the onset, it has a displacement of 3.6 L or 221 cu in. Afterward, its displacement was increased to 5.8 L or 351 cu in. It was also marinized for smaller recreational boats.
---
Carburetors that are Recommended for 351 Windsor
If you are still using a 351W, you can still buy a carburetor for this model. Here are some of the aftermarket carburetors that you can buy as replacements for your engine's carburetor:
1) 2 Barrel Carburetor Carb 2100 2150 For Ford 289 302 351 Cu Jeep Engine with Electric Choke
This aftermarket 2-barrel carburetor replacement is a suitable carburetor replacement being of heavy-duty metal construction. It adds more horsepower to your engine while allowing your engine to maintain near-stock fuel mileage.
You can directly replace your old broken carburetor with this one. It fits perfectly well, and its shafts are really tight. Moreover, it needs minimal adjustments. You should run this carburetor with a fuel filter before the inlet 1.08 Venturi 0.049 jets. It also comes with a mounting gasket and seal.
It is perfect for engine models of Ford 289, 302, and 351. It also fits well with 360 engine models. You should make sure, however, to check the fitment table before you buy or replace the carburetor of your engine. This two-barrel carburetor replacement will generally fit the following models and makes of engines:
Jeep Wagoneer 360 Cu 5.9L engines of 1964 to 1978.
Any Ford Mustang 289 Cu 302 Cu 351 Cu 4.7L 5.0L 5.8L of 1968 to 1973.
Any Ford 100 or 289 Cu 302 Cu 351 Cu 4.7L 5.0L 5.8L of 1964 to 1978.
Any Ford F250 289 Cu 302 Cu 351 Cu 4.7L 5.0L 5.8L of 1964 to 1978.
Any Ford F350 289 Cu 302 Cu 351 Cu 4.7L 5.0L 5.8L of 1964 to 1979.
Any Mercury Comet 289 Cu 302 Cu 351 Cu 4.7L 5.0L 5.8L pf 1964 to 1982.
---
2) Mophorn Carburetor Heavy Duty 2100 2 Barrel Carburetor
The Mophorn Carburetor Heavy Duty 2100 2 Barrel Carburetor is an aftermarket carburetor. It features a Ford Autolite 2100 Replica. As an aftermarket carburetor, it is capable of delivering 300 CFM for stock performance. It is made of aluminum and zinc. It also features a 1.14″ venture size.
This Mophorn Carburetor is equipped with a mounting gasket and seal. It also has a universal fit for different applications. Yet, before you install it, you should ensure that you have already cleaned the oil channels. If you have the 424 CFM, you need to get the 1.33-inch Venturi Model.
As the standard stock replacement model for any 351W model, this carburetor model will fit the following engines:
Any Ford Mustang Engine 289 Cu, 302 Cu, 351 Cu of 1968-1973 model.
Any Ford F100 Engine 289 Cu, 302 Cu, 351 Cu of 1964-1978 model.
Any Ford F250 Engine 289 Cu, 302 Cu, 351 Cu of 1964-1978 model.
Any Ford F350 Engine 289 Cu, 302 Cu, 351 Cu of 1964-1979 model.
Any Ford Comet Engine 289 Cu, 302 Cu, 351 Cu of 1964-1982.
---
3) AutoHorizon 2 Two Barrel Carburetor
The AutoHorizon 2 Two Barrel Carburetor is a Ford Autocraft 2100 Replica. It features a 154 twin-barrel design. It is considered a universal replacement part for different engine models. It also features a 1.14″ venturi size.
The AutoHorizon 2 Two Barrel Carburetor delivers 300 CFM. This replacement part features a casting that is made of zinc and aluminum. Before installing, you should ensure that you have already cleaned the oil channels.
You need to get a 1.33″ Venturi Model if you have 424 CFM. The AutoHorizon 2-Barrel Carburetor comes with a one-year warranty. This carburetor replacement fits the following engine models perfectly:
Any of the Ford Mustang 351 1964-1978 Ford 100 351 of 1968-1973 models.
Any Ford F250 351 of 1964-1978 models.
Any of the Ford F350 351 of the 1964-1979 models.
Any of the Mercury Comet 351 of 1964-1982 models.
---
4) AUXMART Carburetor (New 2100)
If you are still using a vehicle equipped with a small block engine by Ford, and you want to replace its carburetor, you might as well consider the AUXMART 2100. This carburetor can enhance your engine by as much as five to ten percent horsepower. It also enhances throttle response and helps your engine maintains its mileage (near stock fuel).
It is a two-barrel carb and is well-crafted for superior reliability and durability. It is designed as a replacement for your old carburetor.
The AUXMART Carburetor is easy to install, and you can install it within an hour or less using standard hand tools. Nevertheless, when purchasing this carburetor, it will be best to check for its compatibility. Moreover, this carburetor is wrought in aluminum and zinc. Plus, it necessitates cleaning before installing this carburetor.
---
5) A-Team Performance 154 Carburetor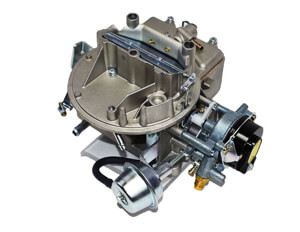 Another attractive option if you are looking for an aftermarket replacement carburetor is the A-Team Performance 154 Carburetor. This carburetor is a 154 model (twin-barrel) one that you can use as a replacement for your old carb. This carb is a replica of the Autolite 2100; as such, it is an excellent replacement for your 351 Windsor. 
Sometimes, you need to make modifications to this carb's design to have it installed properly. Nevertheless, this carb is compatible with F100, F250, Ford Mustang, and many other engines.
---
Additional Information You Should Know About 351 Windsor's Engine & Carburetor
Distinguishing Features of 351W
The 351W is different from the 351 Cleveland, although both have identical displacement. Moreover, it should be distinguished from the 302 because it has a taller deck height. It is very much related to 289-302 in terms of configuration.
The 351W shares almost the same motor mounts, bell housing, and other small components with the abovementioned engines. Yet, it is unique because it has a tall-deck block and larger main bearing caps. It also has thicker and longer connecting rods.
Plus, it has a distinct firing order (1-3-7-2-6-5-4-8 against 1-5-4-2-6-3-7-8). This enables it to lessen the excessive load on the main bearing. Its distributor likewise differs slightly. This is because it can accommodate a bigger oil pump shaft along with a larger oil pump.
Another unique feature of the 351W is its head. Its head optimized torque with high-rpm breathing. Yet, this head is often replaced with aftermarket heads by enthusiasts. They do this to get better performance from this engine.
Throughout the years, the heads had evolved. The Early 1969 and 1970 heads carry larger valves as well as larger ports. From 1969 to 1976, however, the head castings and the sizes of valve heads were also different. In the 1977 models and onward, the 351W sported an identical head casting as that of 302 with a minor difference in bolt hole diameters.
Early blocks, likewise, had sufficient metals on their bearing saddles (2,3,4) for 4-bolt mains. Thus, they exhibit superior strength as compared to most late model castings that were lightweight. The 1969 to 1974 models were considered far superior and stronger than succeeding blocks. Thus, they were highly desirable than the succeeding SBF engines.
The 80s, however, saw the reintroduction of the four-barrel version for vans and light trucks. Fuel injection, however, replaced this four-barrel carburetor in 1988. Afterward, 1994 saw the introduction of Roller camshaft/lifters in the engine.
Between 1969 to 1996, there had been almost 8.6 million 351W engines that had been rolled out by the Windsor Engine Plant Number 1.
Introduction of MAF
In the 1990s, there was a change from speed density to mass airflow (MAF). This change radically affected the performance of the engines. Prior to 1994, 5.8L engines were equipped with speed density. Speed density is a program coding that the vehicle's computer has. It tells the motor the amount of air it should get. With this programmed code, the motor gets the appropriate fuel amount.
However, in 1994, MAF was introduced. Through this program, the computer could read the amount of air that the engine receives via a sensor. Hence, the computer could then increase the fuel amount that an engine gets once the airflow is raised. This led to better performance of the engine. Without this mechanism, 5.8 L engines will not perform better.
The 351W 1969 model was capable of delivering 250HP. It also utilized a two-barrel carburetor. There was also a 290 HP model that utilized a four-barrel carburetor. At present, the 351W engines are already heavily modified to come up with a high-performance output.
How To Calculate Your Carb Requirement
When selecting a carburetor, you should consider the CFM of the Carb. Since your engine requires a specific CFM measure, you need to calculate the CFM. The CFM formula is equal to Cubic Inches multiplied by the RPM multiplied by the Volumetric Efficiency divided by 3456.
The ordinary engine would have approximately 80% volumetric efficiency, while if you have a rebuilt engine, it will have around 85 % volumetric efficiency. But if your engine is a race engine, it will have a volumetric efficiency of around one hundred ten percent. Let me provide you an example of how to use the abovementioned formula to calculate CFM.
If you have a 351W engine, you need to multiply it with the maximum rpm. 351 X 4,000 = 1,404,000. Then, you should multiply 1,404,000 with .85, given the volumetric efficiency is at 85%. The result will be 1.193,400. Afterward, divide the 1,193,400 by 3456, and you will get the CFM. In this case, the result is 345 CFM.
This result implies that the ideal stock CFM for the said engine is approximately 350. Moreover, anything that is over four hundred will provide improved performance. Anything below the said CFM will provide stock performance.