June 7, 2023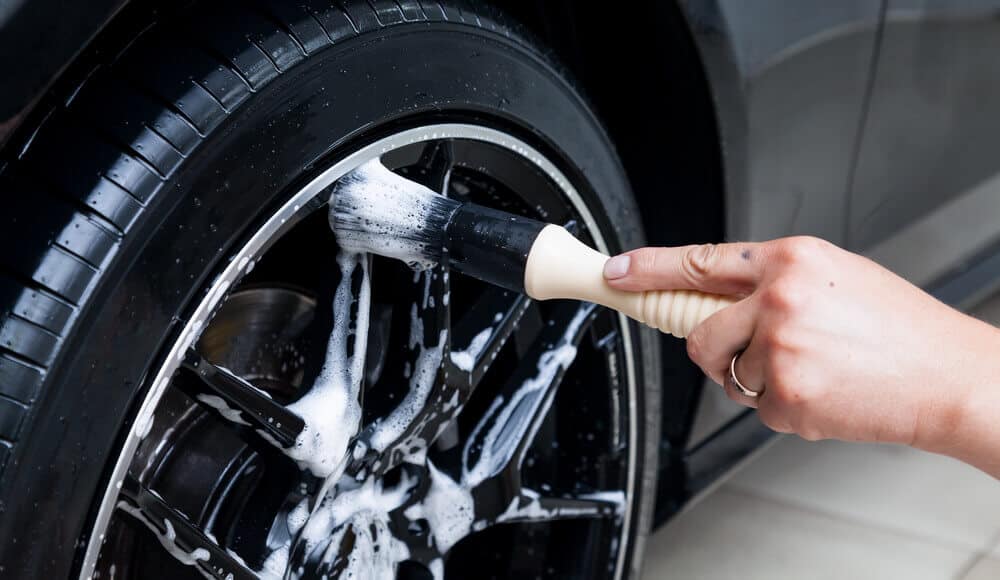 Ever noticed a black, gray, or copper dust coating the wheels of your car? Nope, it is not dirt or grime that accumulated over time, but what you would call the brake dust. It is quite normal for your wheels to have brake dust as it is a natural byproduct of a brake operation.
Types of Wheel Cleaners
Scrub-free
There are wheel cleaners that offer the most convenient way of cleaning the dirt on the wheels, particularly the brake dust, without having to scrub them off. You would only have to spray it on the wheel, and a few minutes after that, you can just use your water hose to wash it all away. If you want, you could still use the brush to ensure that every spot is thoroughly cleaned.
Acid-Free
If you are thinking that stubborn dirt or brake dust would require the use of a stronger cleaning solution, you might be right. However, you have to consider the surface of the wheel, specifically the kind of material or coating used, because you could harm it if you are not careful with your wheel cleaner. Usually, metals can stand up to most chemicals, but you might end up damaging the surface of the painted wheel, especially with prolonged use. Make sure that whatever you use on the wheel is acid-free, so you do not get rid of one problem by creating another.
PH Neutral or PH Balanced
Some cleaners might be able to remove all the brake dust, grease, dirt, and grime on the wheel, but it might come at a price. You might end up causing damage to the finish of the wheels if the cleaner that you used is too strong or if it does not react well with the paint or alloy of the wheel. A cleaner that is pH balanced or neutral would ensure that it would not ruin the finish or surface of the wheel. It might not totally work on those hard‑to‑remove contaminants, but it would be helpful with maintaining the cleanliness of the rims.
Color-Changing
The formulations of some wheel cleaners for brake dust would react with the particles on the wheel when used. It is of a different color in its container, but once it was sprayed onto the wheel's surface, it would turn to red. This simply means that it is working – it is softening up the brake dust to easily be removed by using the appropriate wheel scrub brush. You could wash it off later with water using a hose and dry it off with a towel.
Best Wheel Cleaners For Removal of Brake Dust
1) Car Guys Wheel Cleaner 1 Gallon Bulk Refill
The pH balanced and environmentally-friendly formulation of this wheel cleaner from Car Guys can easily remove the caked grime, dirt, and brake dust on wheels and tires; just do some scrubbing on hard-to-remove deposits if needed. What's even better is that the concentrated gel is safe to use on painted, anodized, chrome, polished, aluminum, and other materials.
---
2) Griot's Garage 1107 Wheel Cleaner
There is no such thing as tough to clean dirt, grime, grease, and brake dust when you have the Griot's Garage 110 Wheel Cleaner. It is specifically designed to eliminate stubborn deposits and contaminants on the wheel as it loosens them up upon application, making them easy to remove. You only have to wait about half a minute after spraying it on the damp surface to let its magic work, then brush it gently for thorough cleaning of those a bit hard to reach places. Its high-tech formula and premium quality ingredients ensure that the cleaner is safe to use on basically any type of wheel, including powder-coated, polished, chrome, steel, or aluminum.
It is reliable and useful, which is why it is not surprising that Tire Rack, BBS, and Dayton Tire Wheel gave this wheel cleaner their approval.
---
3) Sonax (230241) Wheel Cleaner Plus
With Sonax Wheel Cleaner Plus, which is 30% stronger than the Wheel Cleaner Full Effect, there is no brake dust, grease, and grime that it cannot remove, leaving your wheels thoroughly clean. The extra-strength formula is pH balanced and acid-free, so it is safe to use on most wheels; caution is advised when using on anodized wheels and brake system. Upon application on the brake dust of a cool, dry wheel, let it sit for as long as 10 minutes (reapply if it dries), and watch as the color turns to purple or deep red. You can agitate on areas with a massive buildup of grime and other deposits. Rinse well.
---
4) Eagle One A2Z All Wheel & Tire Cleaner
If you want to remove the brake dust, grease, and grime on your wheels, this is the perfect solution for you because the cleaner's thick foaming action would take care of all that. The Eagle One A2Z All Wheel & Tire Cleaner is acid-free and safe to use on all factory-coated wheels, so you would not have to worry about damaging the surface finish. The 2-in-1 formula breaks up the tough deposits eliminating the need for scrubbing with the bonus of restoring the black color of the tire, making it look new. It is easy to apply as it comes with a hose sprayer that you only need to attach. The process is simple as it only involves spraying, rinsing, and then repeat.
---
5) Meguiar's G-9524 Wheel Cleaner
Those who have tried this Meguiar's G-9524 wheel cleaner call it a miracle worker because of how effective and dependable it is. Its Xtreme Cling Foam would cling to a vertical surface after application to dissolve the buildup of brake dust and grime on clear-coated wheels. Keep in mind that there are other products that can be safely used on different types of the wheel surface.
Before applying this cleaner, you should rinse the wheel with cold water. From a distance of 6 to 8 inches from the surface, spray it on the wheel and leave it on for 15 seconds or a maximum of 30 seconds; do not let it dry. You may use a brush on areas with stubborn dirt. Rinse it with water thoroughly. Use a towel to dry the wheel.
---
Conclusion
You might be surprised at how good your wheels look after using a high-quality brake dust cleaner. Whichever one you choose to use, make sure that you read the instructions on properly using it to get the desired result. Also, even if advertised that it is just a spray-rinse process, cleaning might require some gentle scrubbing depending on how much brake dust, grease, or grime buildup is on your wheels as well as how often you do the cleaning. Do not forget to take into consideration the make or surface finish of your wheel so you can make sure you would only use products with formulations that are safe to use on your wheels. Wear protective gloves if necessary or as indicated by the product's manufacturer.
Buying a bigger bottle or multiple bottles might be required depending on how often you need to clean the wheels of your vehicle. If you are buying a refill pack, you need a spray bottle to apply it.
What Causes The Brake Dust On Your Car Wheels?
Whenever you apply the brakes to your car, the brake pads are compressed against the rotors, which creates friction that causes the vehicle to stop. The friction produces heat that wears down the pad and rotor surface. When this happens, the metallic or iron particles get a static charge making it cling to the wheels' surface.
What Can Brake Dust Do To Your Car?
Having brake dust does not mean that there is something wrong with your brake system. Although it is mostly just unsightly or annoying to look at, not removing it for a long period might cause some damage to parts of your vehicle. Depending on the material or substance that makes up the brake pads, there is a chance that the brake dust would become corrosive and would affect the aluminum or metal parts of the wheels.
How To Prevent or Minimize Brake Dust Accumulation?
Some said that choosing the right kind of brake pads can help with the brake dust problem. However, it is not that simple nor entirely true. The different types of brake pads do have their own pros and cons, depending on their application or intended use. The non-metallic ones are said to be gentle on the rotors but create more dust. The semi-metallic pads may last longer as they are harder than the metallic pads, but it would cause the rotor to wear down much faster. Ceramic pads produce less dust; it might be more durable and fade-resistant, but there is a tendency for the brake system to warp due to the heat not cooling well.
You need not change your brake pads as the brake dust would still be present, although the degree or amount might vary. If you want to avoid the buildup of brake dust, the best solution is to deal with it head-on by cleaning the wheels regularly.
Getting The Right Wheel Cleaners For Brake Dust
Soap and water would remove dirt and caked mud on the tires, but the brake dust is much harder to get rid of without the appropriate wheel cleaner specifically made to address this problem.