June 7, 2023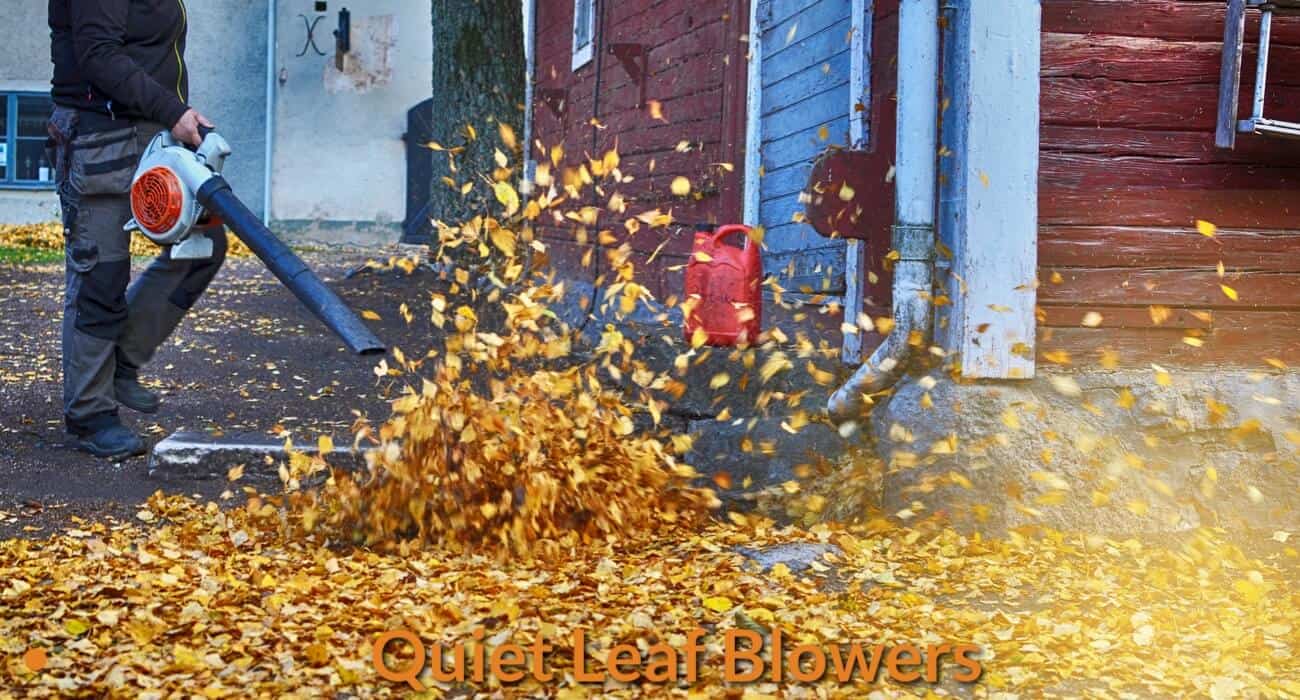 Leaf blowers can either be electric- or gasoline-powered. It is an important garden tool for moving grass cuttings and leaves. It functions by propelling air out of its nozzle. The expelled air then moves the debris towards the designated direction.
Cleaning leaves is necessary because leaves will inevitably pile up on your backyard and along the alleys if you would not clean them. Yet, using a broomstick, for example, to sweep the leaves off your backyard or alleys would be backbreaking. It would surely be great if you would make use of advanced technology to facilitate the cleaning process. Your cleaning work, likewise, would be made easy if you would purchase a quiet leaf blower that you can use to blow away the leaves.
However, most leaf blowers make noise within the range of 70 to 90 decibels which is beyond the comfort level of your neighbors. So, if you use a noisy leaf blower, you may end up with your neighbors complaining against you for noise pollution. 
Leaf Blower Noise: Everything You Need To Know
The use of leaf blowers, however, has been regulated in the United States and other countries. This is because it has environmental impacts and occupational impacts. Its emissions, for example, pollute the surroundings, especially, if it is gas-powered. Moreover, the dust, raised by its use, can cause allergies and irritations to other people. Lastly, it gives off much noise. The sound produced by the engine of the leaf blower is way above the tolerable decibel level.
The noise created by leaf blowers has two sources:
Air Velocity: First, it comes from the air that rushes out of its nozzle. The velocity of this air is tremendous and thus of higher decibel.
Vibration: Next, there is the noise created by the vibrating engine. This noise is a combined by-product of both fuel combustion and the oscillations of the engine cylinders on its crankshaft. These vibrations radiate to the other parts of the blower.
Hence, if you intend to buy and use a leaf blower, you need to find one that is quiet enough.
The Quietest Leaf Blowers on the Market Today
1) Best Partner 18V 130MPH Cordless Leaf Blower
By far, this model is the quests leaf blower you can ever find on the market right now, with merely 59dB of the noise level. Ryobi RY40470VNM is a brushless leaf blower designed with the jet fan concept, and it's featured with 125 MPH and 550 CFM.
Furthermore, it does feature a "Turbo" button to blow at the maximum power whenever you need it.
---
2) Echo's Handheld Blower, Gas, 354 CFM, 191 MPH
Echo's Handheld Blower, Gas, 354 CFM, 191 MPH is powered by a 25.4cc professional grade, 2-stroke engine. Thus, it can perform the removal of debris and leaves powerfully. This leaf blower is considered the quietest among leaf blowers. It can generate up to 64 dbA/decibels, max of noise that is way manageable for the ordinary ear. Thus, this model of gas leaf blower can be considered as the quietest gas leaf blower in the market today. It doesn't produce that high-pitched whine that many leaf blowers usually produce. Its noise level is lower than most of the electric leaf blower brands. As the noise level of most branded electric/ cordless leaf blowers exceeds the noise level of 64 dbA.
It has a maximum air speed of 191 mph which is the leaf blower with highest mph in this review. Its fuel tank capacity is 16.9 oz. And it comes with powerhead, pipes, operational manual, and 2 stroke oil. It is EPA compliant. This leaf blower is produced by Echo. This company spent a lot of its resources in figuring out how to minimize the whining sounds produced by leaf blowers. It came up with this model. This model is definitely your best choice if you are wary of irritating your neighbors.
---
3) BLACK+DECKER LSW40C 40V Max Lithium Sweeper
This is a powerful leaf blower that is capable of up to 125 mph of air power. It can quickly clear the decluttered debris from any hard and uneven surfacer. It is characterized by low noise emission. It also features with an indicator that shows you if it is running out of battery. It is also very lightweight at 4 lbs. Moreover, it has a compact design and is quite easy to handle.
Furthermore, It has a maximum initial battery voltage of 40V. Its nominal voltage is at 36V. It also comes with a limited 3-year warranty. You can use this for clearing sidewalks, driveways, garage, decks, and other hard surfaces.
---
4) Best Partner 18V 130MPH Cordless Leaf Blower
The Best Partner 18V 130MPH Cordless Leaf Blower is operated on an 18V 2.0 Ah Lithium-ion battery. Hence, it doesn't emit harmful gases. It also produces low noise. It is very lightweight at 3.67lbs and is fast charging. Its battery attains full charge within an hour and half.
It has an airspeed of 130mph. It is definitely perfect for cleaning leaves and other debris off hard surfaces like patios. It also comes with a 30-day money back guarantee and one-year replacement warranty.
---
5) DEWALT Leaf Blower (DCBL722P1)
If you are looking for the most silent leaf blower, you should check out the DEWALT DCBL722P1. This one is battery-operated and has a maximum of 450 CFM (air volume). It can blow up to 125 mph and comes with a concentrator. Its axial fan is innovatively designed.
This leaf blower is cordless, and thus, it is easy to carry around and has a longer run time. The noise level it produces is about 66 dB and is perfect for use in a noise-sensitive community. It features a brushless motor that enables it to extenuate its run time.
DEWALT DCBL722P1 is lightweight. Moreover, it comes with an ergonomic design that makes it easy to carry it around and control it. It also features a speed lock and variable trigger to let you control it perfectly. Its maximum run time is eighty-seven minutes on a fully charged battery.  
---
6) EGO Power+ LB5300
Another great option when it comes to a low-noise leaf blower is the EGO Power+ LB5300. It comes with turbine technology and is characterized by a quiet and efficient operation. It also features variable speed options. This leaf blower is cordless, allowing you excellent flexibility. It also delivers around 64dB of noise. It features a brushless motor and operates with minimal shaking and vibrations. Because it exhibits fewer vibrations, its motor lasts longer.
This leaf blower also comes with an ergonomic design to make it convenient and comfortable to operate. The variable speeds of its motor range from 250 to 530 CFM. The maximum speed provided by this leaf blower is 110mph. So, in this respect, it is slower than Dawalt DCBL722P1.
---
7)ZIVNIA 21V
Another great option is the ZIVNIA 21V. This leaf blower comes with a brushless motor that provides it with maximum efficiency. This brushless motor also makes it more durable. In addition, it comes with more speed selection options at six and an air nozzle with two sections. You can use it for cleaning your yard and doing away with dust, snow, and debris.
The ZIVNIA 21V can reach the spots that are difficult to reach with ease, given its two-section nozzle. Moreover, it is easy to use and set up. You can assemble it in just around five seconds. Besides, it comes with easy control for excellent use and operation.
---
---
How To Determine the Noise Level of a Leaf Blower
So, if ever you would decide to purchase a leaf blower, it will help if you carefully select the leaf blower you would buy. Choose something that doesn't produce much noise, something that produces only a noise somewhere in the range of 60 to 70 dBA. Most leaf blowers that produce noise within this range are battery-operated.
Well, most manufacturers indicate the noise level produced by their products during operation in the leaf blower's manual. Yet, some manufacturers may not divulge the actual score when it comes to the noise level. So, if you are shopping around for a leaf blower, you can test the noise level by standing around 25 to 50 feet away from the operating leaf blower. Then, you can figure out how much noise the leaf blower will produce when you are operating it from that distance.
If you only stand near the working leaf blower, you will never gauge the real noise it makes. Moreover, you should also be cognizant of the community's regulations concerning noise created by running devices. Know also the "Quiet Hours" of the community to not to end up in hot water in your community.
---
Buyer's Guide: Options You Can Take Into Consideration
Electric or Gas
You have two options when it comes to how your leaf blower would be fueled. You can either opt for a gas-powered leaf blower or an electric-powered leaf blower. If you opt for a gas-powered one, you basically need to be physically conditioned for the rigor of operating a gas-powered leaf blower because you would be required to give it a hard yank to start it. Moreover, most gas-powered leaf blowers feature a two-stroke engine. This type of engine necessitates a mixture of oil and gasoline. Hence, you are required to prepare this mixture before you can operate the gas-powered leaf blower.
On the other hand, if you opt for the electric one, you need to recharge the battery before you can use it. If it is corded, you need to be near an electric outlet. The cord may get in your way while using the blower. Additionally, you need to choose a model that could provide you with total control over the speed of the blower. You should, therefore, choose one that allows greater maneuverability and has substantial power. A leaf blower that is maneuverable and powerful will undoubtedly be ideal for use in a large yard. A leaf blower with less power will, on the other hand, suffice for smaller yard cleanup.
Cordless/Corded Electric Powered Leaf Blowers
First, there are cordless or electric powered leaf blower models on the market. Hence, if you would purchase a leaf blower, you would be required to choose between a cordless and a corded electric-powered leaf blower. The corded blowers may be a cheaper choice, but if your lot is large, you would surely appreciate the advantage afforded by the cordless option. It should also be capable of functioning effectively all year long.
Convertible To Vacuum Mode
Second, you should remember that most leaf blowers can also be readily converted into a vacuum mode. In vacuum mode, you can easily pick up piles of litters. Hence, it would be good to choose a leaf blower that is easily convertible into the vacuum. Furthermore, you need to consider the fact that blower can be very bulky. For this reason, it would be good to consider the size of the blower if you have limited storage space in your house.
Brushed or Brushless Leaf Blowers? (If You Are Looking Into The Electric Models)
The brushed motor tool is subject to carbon friction as the carbon brushed installed in contact with the slip rings permanently. It will create problems such as over-heating, vibration, higher noise level, and carbon erosion issues. And one significant aspect of using a brushed leaf blower is that it is noisier than the brushless model if you compare them side-by-side with the same CFM rate. The brushless leaf blowers are quieter and generate lower noise.
---
Factors to Consider When Buying a Leaf Blower
There are important factors you must consider to zero in on the ideal leaf blower for your needs. Here are some of these succinct factors that you should consider:
The Level of Convenience Afforded by The Leaf Blower
The ideal leaf blower generally offers different speeds. With variable speeds, you can set the leaf blower on a speed that is appropriate for the task at hand. A leaf blower usually features numbered knobs adjacent to the handle of the blower. Sometimes, you can control the speed of the blower based on how tight you squeeze the handle lever. With this feature, you can conveniently control the blower's speed. Moreover, if the blower has a vacuum option, your job of cleaning your backyard is all the more facilitated. However, if your leaf blower comes with a vacuum function, you are often required to look for added accessories or attachments for a specific task at hand.
Performance
Leaf blowers are sometimes categorized based on their performance, and the leaf blower's power is usually determined by its velocity (in kilometer per hour) or speed and its volume (measured in cubit feet) or air flow. You should look at these measurements to figure out the capability or power of a leaf blower. Most handheld leaf blowers only reach maximum 400cfm and 160kph. Backpack blowers, on the other hand, can run between 400cfm and 700cfm and have push air speeds of up to 320kph. If you want a powerful leaf blower then, you need to opt for backpack blowers because they can handle virtually all debris like leaves, dust, twigs, gravel, and chippings. These backpack blowers, however, are noisier and necessitate more fuel.
It is imperative that you consider the performance of the leaf blower and your needs before buying a leaf blower. It would help if you also considered the abovementioned two factors, namely, the air velocity that comes out at the end of the nozzle and the volume of the air that could be forced by the unit. Its air velocity is its capability to lift debris that you want to sweep away, and the air volume is its capacity to carry these debris away. The air volume usually corresponds to the unit's horsepower. Hence, if you choose something with higher horsepower, you can expect that it can perform better. One horsepower can generally supply around three-hundred cubic feet of air/minute at its nozzle. However, the larger your blower is, the noisier it would be.
Noise Level
If you are living in a tightly-knit community, one possible factor you must consider is the noise generated by the operation of the leaf blower. Your neighbors will surely complain if your leaf blower is noisy. If you are using a gas-powered blower, you will surely irk your neighbor with your leaf blower's noise because gas-powered is usually louder than the electric-powered. The noise it creates may awaken all your neighbors, and for this reason, you need to take into consideration this factor carefully. Moreover, it is the impeller of the leaf blower that often causes this high-pitched and very annoying noise. For this reason, you should choose a leaf blower with excellent impeller design for quiet operation.
Weight
Weight can become an issue when choosing a leaf blower. As mentioned above, there are myriads of brands of the leaf blower at hand. Hence, you need to pick something that you can easily operate and something that is not cumbersome to carry around when operating it. The typical leaf blowers usually weigh several pounds. And the weights might vary for different brands and models. So, if you intend to use your leaf blower for more extended hours, you need to opt for something that would not break your back after prolonged use.
---