February 9, 2022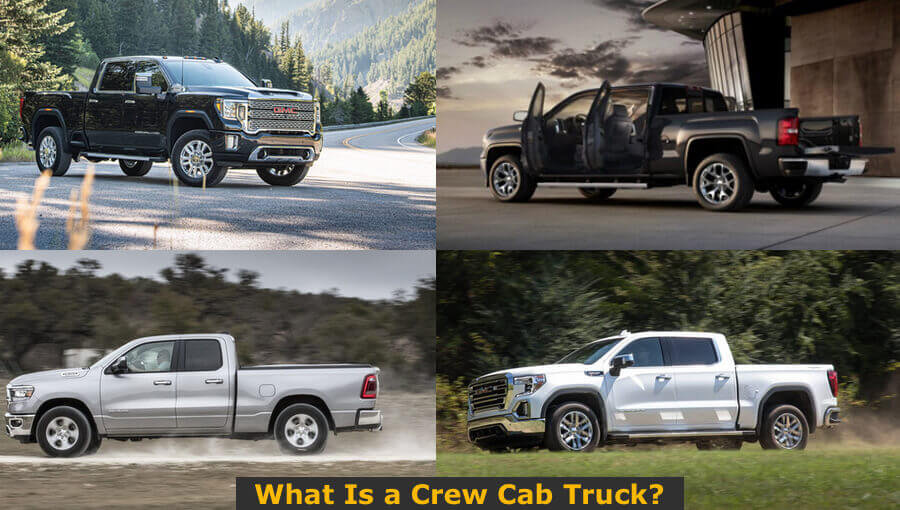 One of the most common types of pickup trucks is the crew cab, which has four typical front opening doors as well as two rows of seats that can accommodate four to six passengers. If you want to know more, please continue reading this article for more information regarding crew cab pickup trucks.
History of Crew Cab Truck
Pickup trucks with full-sized backseats and four doors are called "crew-cab trucks". Cyrus McCormick invented the International Harvester.s With the help of a capitalist and industrialist, Morgan, it was successfully established when he started investing in merging several companies such as McCormick, Deering, and Milwaukee. They started introducing the first crew cab truck out in the late 1950s, and it was received with interest and sales. In the later 1990s, when many Americans purchased pickup trucks with four doors as their main vehicles, the popularity of crew cab pickups skyrocketed!
For a vehicle that's best known for its usefulness as a workhorse, it's certainly worth a try. When pickup trucks have four doors and a standard backseat, they become multifunctional vehicles that can transport people and goods while also towing a trailer. Larger and better equipped than their standard counterparts, crew cab pickups are usually available at the higher trim levels, implying that they're better equipped than others in the market.
Its dual-row seating identifies the crew cab with a complete complement of four doors as opposed to the dual-door pickups, which accommodate only two or three people in one row. Having a short bed is another visual indicator that you are driving a crew cab truck.
The Growth of Crew Cab Truck
Before trucks like the Toyota Tundra existed, a type called the International Harvester was way ahead of its time. It was made with a cab-over-engine design that is full-sized and heavy-duty, so it was more capable than other models. Pickups almost always had just two doors, and only seats for two or three have been a staple of the industry for many years. However, the crew cab is become the most common truck model, accounting for around three-quarters of all pickup sales in the United States.
Extending cabs and two-door standard cab trucks make up the rest of the sales. Budget-minded fleet operators and those interested in spending less money on their business are heavily leaning on them. Expandable cab versions usually include two rear-opening back doors and fold-down jump seats or a small backseat fitted for children. Behind the front seats, the space is frequently used to store freight rather than passengers.
The Honda Ridgeline and Jeep Gladiator are the only pickups marketed for 2020 with four doors and a crew cab version. Even while trucks continue to be widely known among consumers, this vehicle type is entirely foreign to anybody unfamiliar with typical truck features and terms, which may serve as a barrier to shoppers who are enthusiastic about checking out a truck but don't know where to begin. Take a glance and find out what makes them distinct from other pickup trucks with various kinds of cabs.
Current Crew Cab Truck Models
Several truck manufacturers try to keep it simple by using common-sense naming standards, which benefit consumers. A basic crew cab body design is available on several models presently on the marketplace, including the Ram 1500, GMC Canyon, Nissan Titan, Chevrolet Silverado, GMC Sierra 1500, and Chevrolet Colorado the Nissan Frontier.
Advantages of Using a Crew Cab
Since crew cab trucks are among the most popular truck types available, getting one at your local dealer will be a simple job. In recent years, manufacturers have given modernized trucks interiors that are both functional and comfortable! Several experts are saying that these truck cab models feature exquisite car-like interiors, providing comfort and conveniences. These vehicles have ranked well in our latest truck market standings.
Due to the higher price point of crew cab models, you're more likely to discover innovative and advanced features on such vehicles; but there are certain standard features you'll find in a crew cab that is not present in a regular car.
The primary advantage of a crew cab vehicle is its accessibility. The rear doors are designed to let passengers get in and out of the back row. The back seat in a crew cab is usually smaller than the front row. Hence adults may find it uncomfortable for more extended travels, but it's suitable for children.
A kid's booster seat may be securely mounted in most crew cab trucks since they are equipped with the Latch child safety hardware in the back row. Using a pickup truck as a family car is not something we encourage, but it is feasible. Certain crew cab pickups have a folding rear row of seats for transporting goods you would not want in the truck bed, making it handy for things like groceries, cargo, or other materials.
Disadvantages of Using a Crew Cab
Even though having more passenger capacity is advantageous, most crew cab trucks use the space in the bed instead of the passenger compartment. In other measures, in order to retain an acceptable overall length, the extended cab necessitates a shorter bed. The standard cab trucks' bed usually measures around eight feet, while the cab crew's beds are generally five feet. Otherwise, the trucks would have a monstrous length and be a bit more costly. Thus, If you need to keep storing or carry things more than five feet in the truck bed frequently, find a cab crew pickup truck that can be modified with the bed size you require or consider an extension for your truck's bed.
A further possible drawback of a crew cab truck is the cost itself compared to other truck configurations. Put another way, the larger the vehicle, the more costly it is. In addition to investing more money, purchasing your new truck with an extended cab or crew cab will undoubtedly cost you more in the long run since one heavy truck will consume more fuels throughout its lifetime than a small, lightest truck. However, some professionals recommend that you are repaid with a higher resale value away in the future. There are, of course, many engine choices across the present market for pickup trucks, so select cautiously!
Although numerous high-end pickups with active safety systems and driver support features are available, it is worth noting that trucks may be a bit more hazardous to operate than passenger cars. When it comes to safety, crew cabs are particularly vulnerable since they are so lengthy, thus increasing the driver's blind spot!