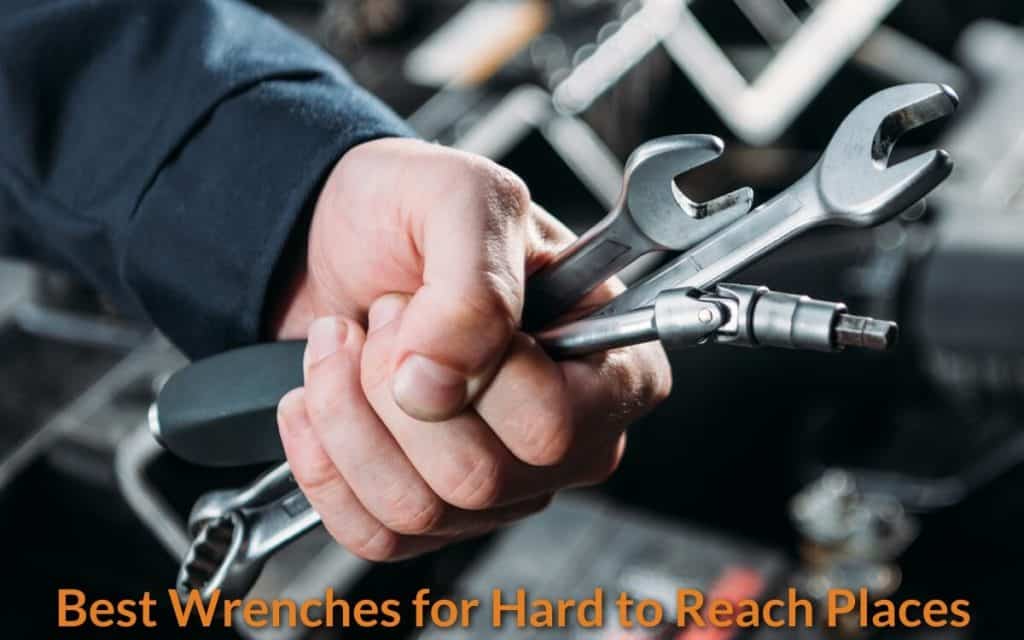 The specialty wrenches are very useful to tighten and loosen the bolts and nuts that seated in the deep and tight places.
One of the most indispensable tools for mechanics is the wrench. In commonwealth English, it is called "spanner." However, in North America, it is termed as "wrench." But whatever you may call it, it is a "must-have" tool to any mechanic. The primary function of the wrench is to provide great grip for the mechanic when applying torque to bolts or nuts. It is used to loosen or tighten the fastener, and as such, it is very important in any mechanical task.
The market is flooded with different brands and models of wrenches. So, you will surely get a bit confused if you are just beginning to build your own arsenal of specialty tools for your daily use. When using a wrench, you would notice that size really matters a lot. Thus, you would usually buy a set of wrenches for various sizes and multiple applications.
Removing a nut, for example, using a wrong wrench would surely cause you a lot of trouble. First, you will fail to remove the nut. Second, you may end up damaging the edges of the nut. If you damage enough the nut, you may end up unable to budge the nut even if you have already shifted to the use of the right size of wrench.
The good thing, however, about the set of wrenches is that you will surely get something that fits the size of the nut that you would want to remove. There is a wrench size that fits each size of bolts and nuts. All you need to do is find the right size that complements the size of the bolt or nut.
Factors to Consider When Choosing Wrenches for Tight Spaces
Wrenches are not only designed to remove or turn bolts that are obvious. There are also wrenches that are designed for fitting into tight spaces. So, if you are shopping around for a set of wrenches, make sure that you choose a set that has provision for tight spaces. Look for a set that includes pivoting ratchet ends for tight spaces. You should also look for stubby wrenches or short-bodied wrenches for working on spaces that a standard wrench could not tackle.
1) Quality
It is invaluable to evaluate the quality of a product before you shell out your hard-earned money for a product. Similarly, if you intend to buy a set of wrenches, you should go for high-quality. You should refrain from purchasing sub-standard wrenches that would only cause you a lot of troubles and downtime in your work.
2) Go for Highly Accurate Tools
When choosing wrenches, you should choose highly accurate wrenches. Wrenches came in different designs and made. Moreover, some brands are known for producing highly accurate products. There are also different types of wrenches. There are electronic torque wrenches and slipper-type torque wrenches. Accuracy, of course, is intricately intertwined with quality.
3) High Capacity
There are different high-capacity torque wrenches on the market today. These high capacity torque tools likewise are categorized based on their sizes and capacity. So, if money is not an issue for you, always go for high-capacity torque wrenches.
4) Types of Wrenches
There are basically two types of wrenches for tight spaces. They are tight-reach extension wrench and crowfoot wrenches. Tight wrenches are perfect for reaching hard-to-reach areas. But these wrenches are not only designed to access hard-to-reach areas. They are basically designed to reach the hardest-to-reach areas. Crowfoot wrenches, on the other hand, are perfect when reaching around any obstacle.
---
Most Recommended Wrenches
Wrenches are wrought differently using different manufacturing processes. The best wrenches, however, are made via drop-forging technique and heat-treating technique. To help you in the process of buying the best set of wrenches, we are delineating here a list of the most recommended set of wrenches on the market today:
1) Ratcheting Wrenches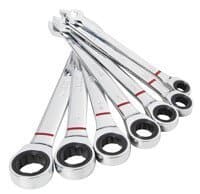 The ratcheting wrench comes with a ratcheting box-end as compared to the traditional wrenches that are thin-walled and come in 6 to 12-point designs. The ratcheting wrench is specially designed for fast driving of fasteners. This is possible because you do not need to reposition the ratcheting wrench after every turn. 
Its open ends, on the other hand, is used for freeing tight fasteners. The use of this wrench can help prevent the wrench from being trapped under a particular condition.
2) Specialty Ratcheting Wrenches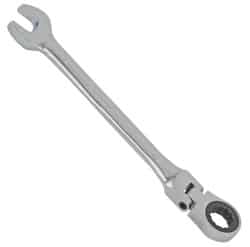 The reversible and zero-offset ratcheting wrenches are the popular types of wrenches. However, there is another type of wrench, and it is called "specialty ratcheting wrenches." These wrenches are made explicitly for specific purposes. These specialty wrenches include S-style, elbow-pivot, and half-moon wrenches that are designed to reach around any obstruction to reach the fastener. 
Specialty ratcheting wrenches also include locking flex-head and flex-head ratcheting wrenches. These wrenches are designed to access the above obstacles to reach the fastener.
3) Breaker Bar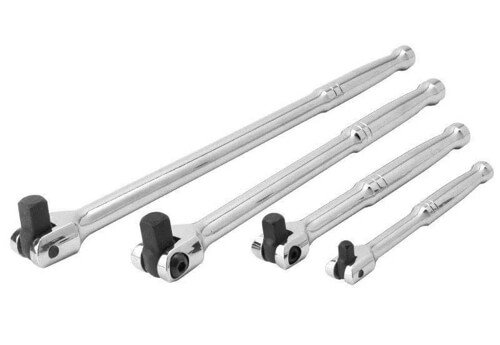 Ratchet can be easily damaged if you don't use them right. If you would use, for example, a cheater bar or a pipe for more leverage, you may end up damaging the ratchet. You may avoid damaging the ratchet by using a breaker bar.
A breaker bar is a bar that features a head that is non-ratcheting. Its square-drive head pivots, allowing you to free super-tight fasteners. The breaker bar is usually longer than the similar drive size ratchets, and they are specifically designed for handling difficult torque situations.
---
Other Top-rated Specialty Wrenches